Packers fans must've been on the nice list this Christmas because they got quite the present on Sunday: not only a 26-20 victory in Miami but another week of meaningful football!
Indeed, thanks to the Packers' second-half heroics (and Dolphins quarterback Tua Tagovailoa's lack thereof), Green Bay's postseason hopes lived to see another Sunday. And thanks to several other gifts landing in the Pack's stocking courtesy of Seattle, the New York Giants, Detroit and Washington losing over the weekend, those postseason hopes not only survived but thrived, pushing this rough season even closer to playoff redemption. Because as the Philadelphia Phillies taught everyone in the MLB postseason this year, all you have to do is get into the dance – then it's an all-new season.
Don't pop the green-and-gold champagne too early though. There still are two games left to win – and many more gifts that need to come from the rest of their NFC competition. But in the meantime, let's savor some of the best moments from Sunday's holiday fish fry in Miami.
1. Sombrero Claus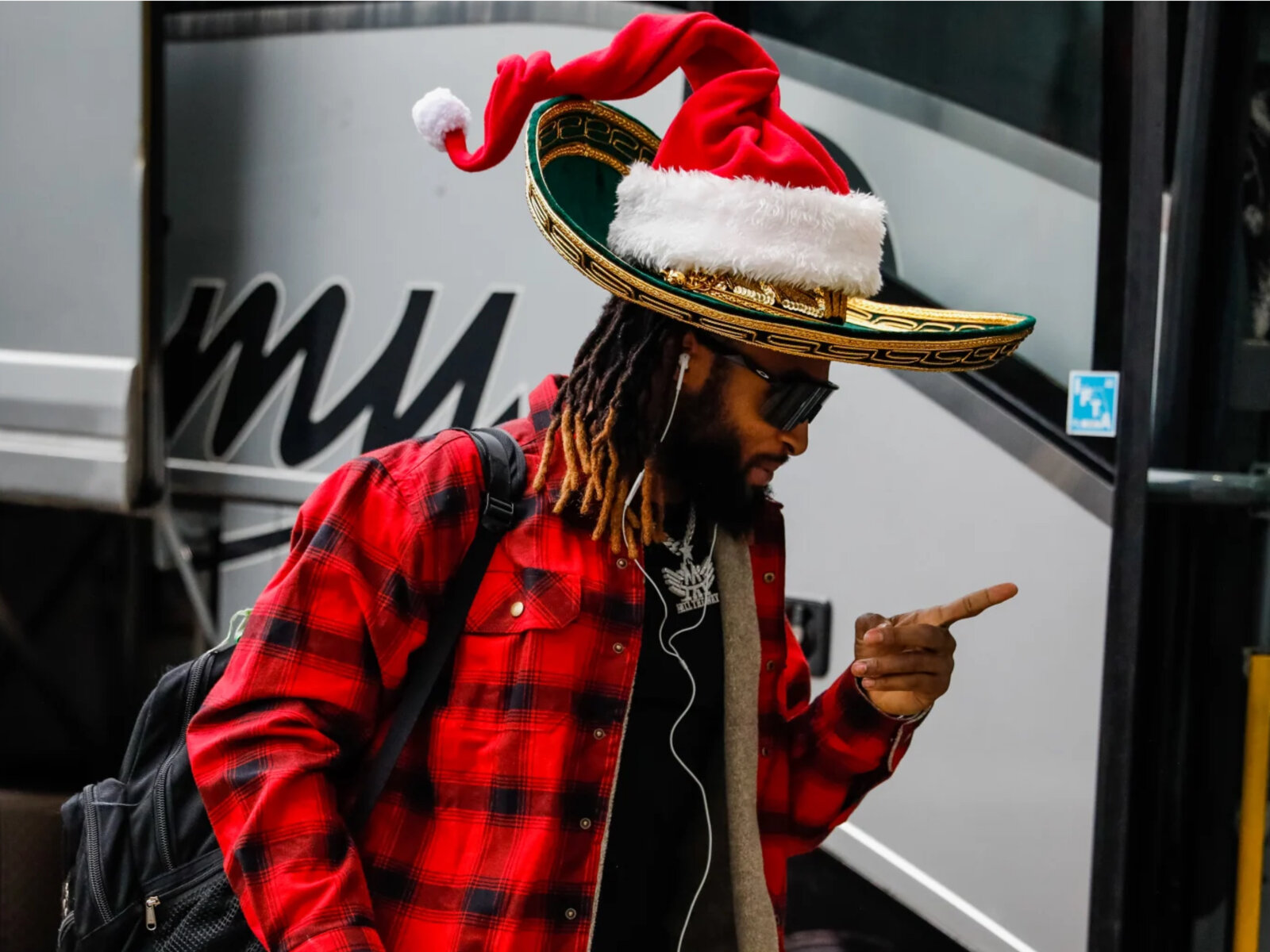 Aaron Jones always rocks some of the most fashionable headgear in the game – but he was really on trend for Sunday's Christmas clash, putting a hat on a hat, quite literally, with a Santa hat on top of his signature sombrero. Jones didn't look quite as good on the field, totalling just 25 yards on six carries plus two catches, but no matter the case, a victory is always in style.
2. Can't miss Crosby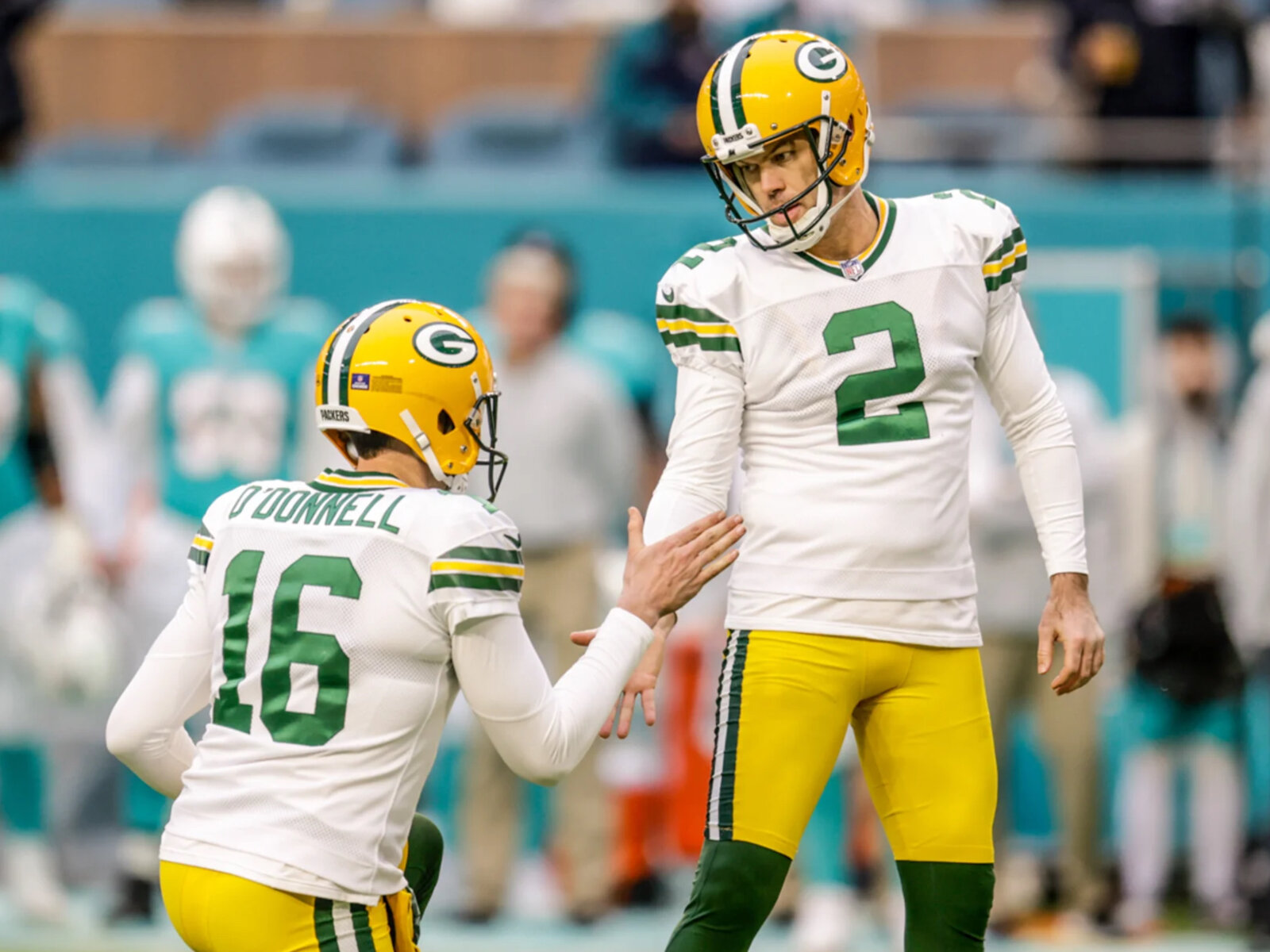 Sunday didn't just mark a key game for the Packers. It was also personally a landmark game for kicker Mason Crosby, who set the franchise record for most consecutive games as a Green Bay Packer. He celebrated in style as well, nailing both of his extra point kicks as well as four critical field goals to keep the Pack in the game even when it threated to get out of reach.
3. Kicking themselves
Keisean Nixon is doing everything he can to help the Packers // @keiseannixon pic.twitter.com/MmP97sgA6c — IKE Packers Podcast (@IKE_Packers) December 25, 2022
Keisean Nixon once again had the Packers special teams department kicking themselves for not giving him the returner job far sooner this season. To kickstart their first possession of the game, Nixon almost brought the ball all the way back, returning the Dolphins kickoff 93 yards to the Miami 9-yard line. Unfortunately the Packers wouldn't go anywhere on the drive – actually, nowhere would've been better, losing nine yards before settling for a field goal – but Nixon can't be blamed for anything this season.
4. Left in the dust
Jaylen Waddle's speed and acceleration is just hilarious. pic.twitter.com/z0nU0mmHLZ — Ari Meirov (@MySportsUpdate) December 25, 2022
The Packers defense was the story of Sunday's victory – but it seemed like it was going to be for all the wrong reasons in the early going. While the Packers held the Dolphins to just a field goal on their initial drive, it only took Miami one play on their second possession to score a touchdown as Jaylen Waddle cut through the defense and ran 84 yards all the way to the endzone. At the end of the day, even though they came up with the win, the Green Bay defense gave up two 100-yard receiving performances – 143 for Waddle and 103 for fellow speedster Tyreek Hill – something that still needs to be fixed for the future. Especially since the future holds Justin Jefferson next week with the postseason on the line ...
5. The old guard
Marcedes Lewis still doing his thing pic.twitter.com/rw1q7JLqUQ — Bussin' With The Boys 🐺 (@BussinWTB) December 25, 2022
The new faces in the Green Bay receiving room have gotten all the attention this season. But it was one of most familiar faces who made two of the most important catches of the game: the ageless Marcedes Lewis, who at 38 years old snagged the team's first touchdown of the game – Aaron Rodgers' only TD toss of the afternoon – as well as a 31-yard bomb to start the second half and set up the game-tying Green Bay touchdown. With plays like those, Lewis looks just fine postponing any retirement talk a little longer.
6. Defense delivers
Is Tua…..bad? pic.twitter.com/RFqS45Ch0c — Barstool Sports (@barstoolsports) December 25, 2022
Joe Barry and the Packers defense have had an unpleasant 2022 – and, as Waddle and Hill's receiving numbers show, it's not like Sunday was a defensive showcase. But when it came time to take the lead and hold off the Fighting Fish, the defense made plays – including a trio of critical turnovers gifted to Green Bay that helped grow the Packers' lead and sink the Dolphins. If they make the postseason, the Packers aren't likely going to play any teams that heave that many interceptions in a single game – much less a single quarter – but it's nice to see the playmaking defense of the past make a present day showing. And just at the most important time of the season.
7. Thumbs up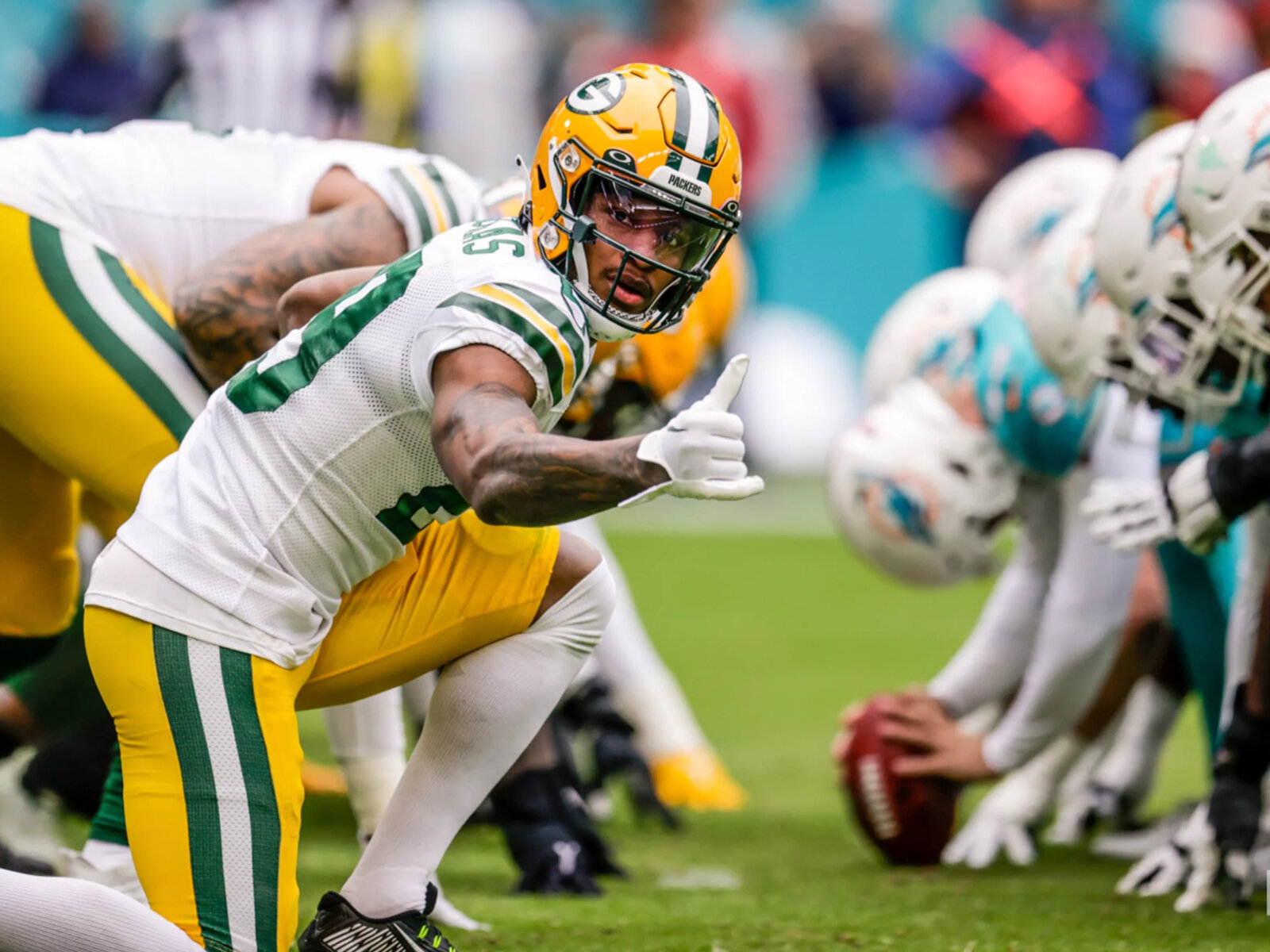 Honestly, I just included this photo because I really enjoy it. Every game album features the two teams lined up – but very few feature a player looking almost directly into the camera, as if there's a record scratch and he's saying, "Yep, that's me. You're probably wondering how I got into this situation."
8. Third time's the charm
Tua really said I got one more in me pic.twitter.com/IVPq75yGMW — Barstool Sports (@barstoolsports) December 25, 2022
Dolphins fans would've probably preferred coal on Christmas Day as opposed to what they got from Tua Tagovailoa, who threw three interceptions on the afternoon – all three in the fourth quarter as the game slipped out of the Fins' fins. It was revealed on Monday that Tagovailoa – who only tossed five interceptions total this season before this weekend – was put in Miami's concussion protocol, which might explain some of the questionable throws that helped gift-wrap this big Green Bay win.
9. Two more to go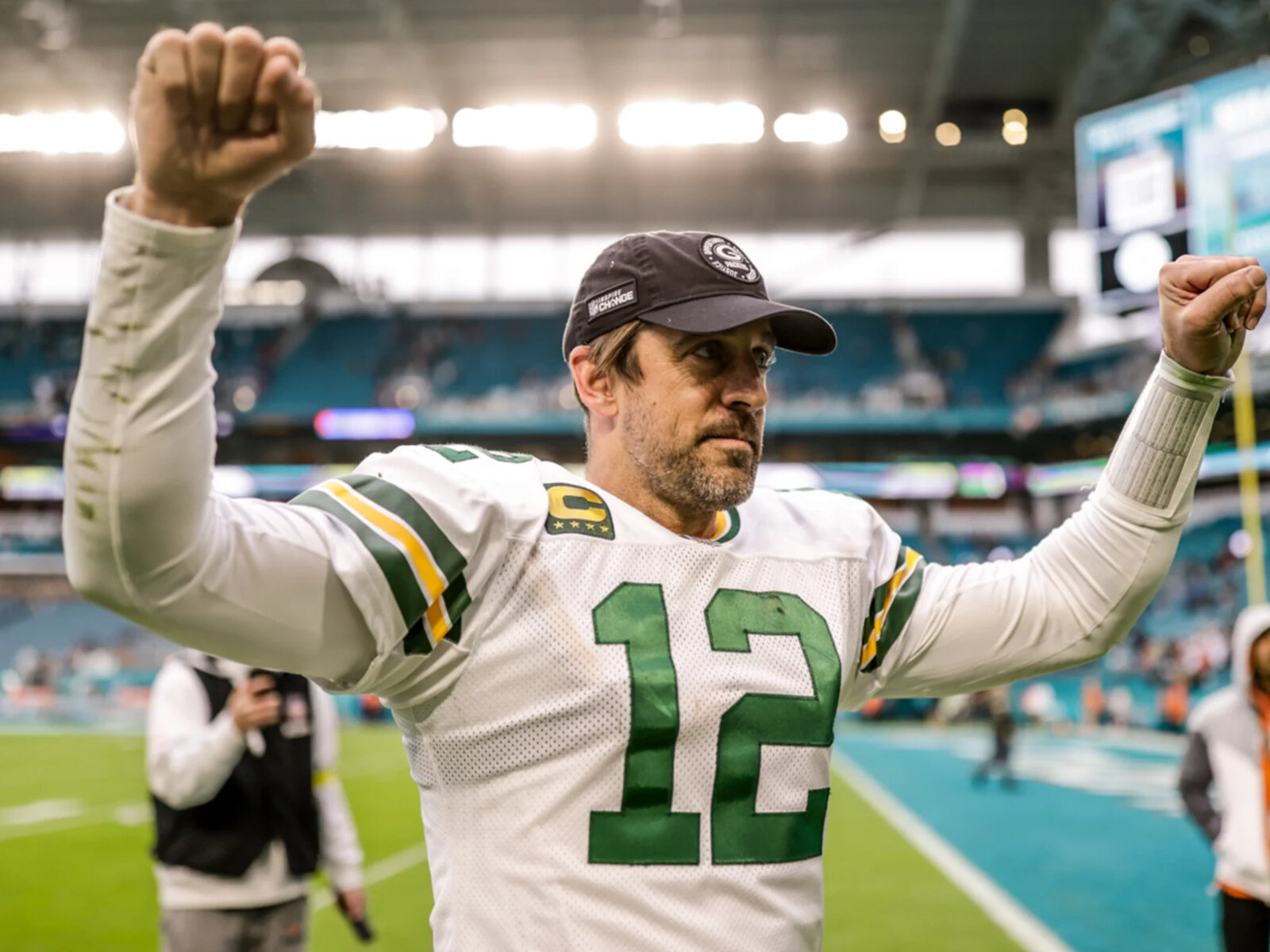 About a month and a half ago, I called the Packers' loss to the Lions "season-ending" – and considering how many of the next several games went, like that Thursday night loss to the Titans and the defenseless decimation by the Eagles, that term seemed accurate. And yet here we are, two weeks away from the postseason with somehow two weeks of meaningful football.
Again, a lot has to go right for the Packers to fully resurrect this season from the dead; they're still behind three other teams, several with the tiebreaker over the Pack, and require some more losses outside of their control. And Green Bay still has to win out against two divisional rivals also still in playoff positioning mode.
But when the Packers walked off Ford Field in early November, fresh off their fifth loss in a row, did anyone think their second matchup against the Lions in January would mean anything beyond pride and draft position? Even if they fall short of the playoffs, at least they gave us some hope – and a Christmas that wasn't blue.
As much as it is a gigantic cliché to say that one has always had a passion for film, Matt Mueller has always had a passion for film. Whether it was bringing in the latest movie reviews for his first grade show-and-tell or writing film reviews for the St. Norbert College Times as a high school student, Matt is way too obsessed with movies for his own good.
When he's not writing about the latest blockbuster or talking much too glowingly about "Piranha 3D," Matt can probably be found watching literally any sport (minus cricket) or working at - get this - a local movie theater. Or watching a movie. Yeah, he's probably watching a movie.