The Packers sure don't make it easy on their fans, but in the end, Green Bay won yet again, taking out the scuffling Philadelphia Eagles at Lambeau Field, 30-16. It wasn't pretty in the final frame, as the Packers forgot that there are FOUR quarters in a football game, but they still secured the win – and, most importantly, moved up to second place in the playoff standings, remaining one game behind the still Drew Brees-less New Orleans Saints. Somehow, despite themselves, the Packers may end up being the best team in the NFC.
Let's take one final look back at Green Bay's latest victory, remember the best parts, enjoy some of the best photos and highlights, and just nicely forget about that whole final quarter situation.
1. Imagine a better world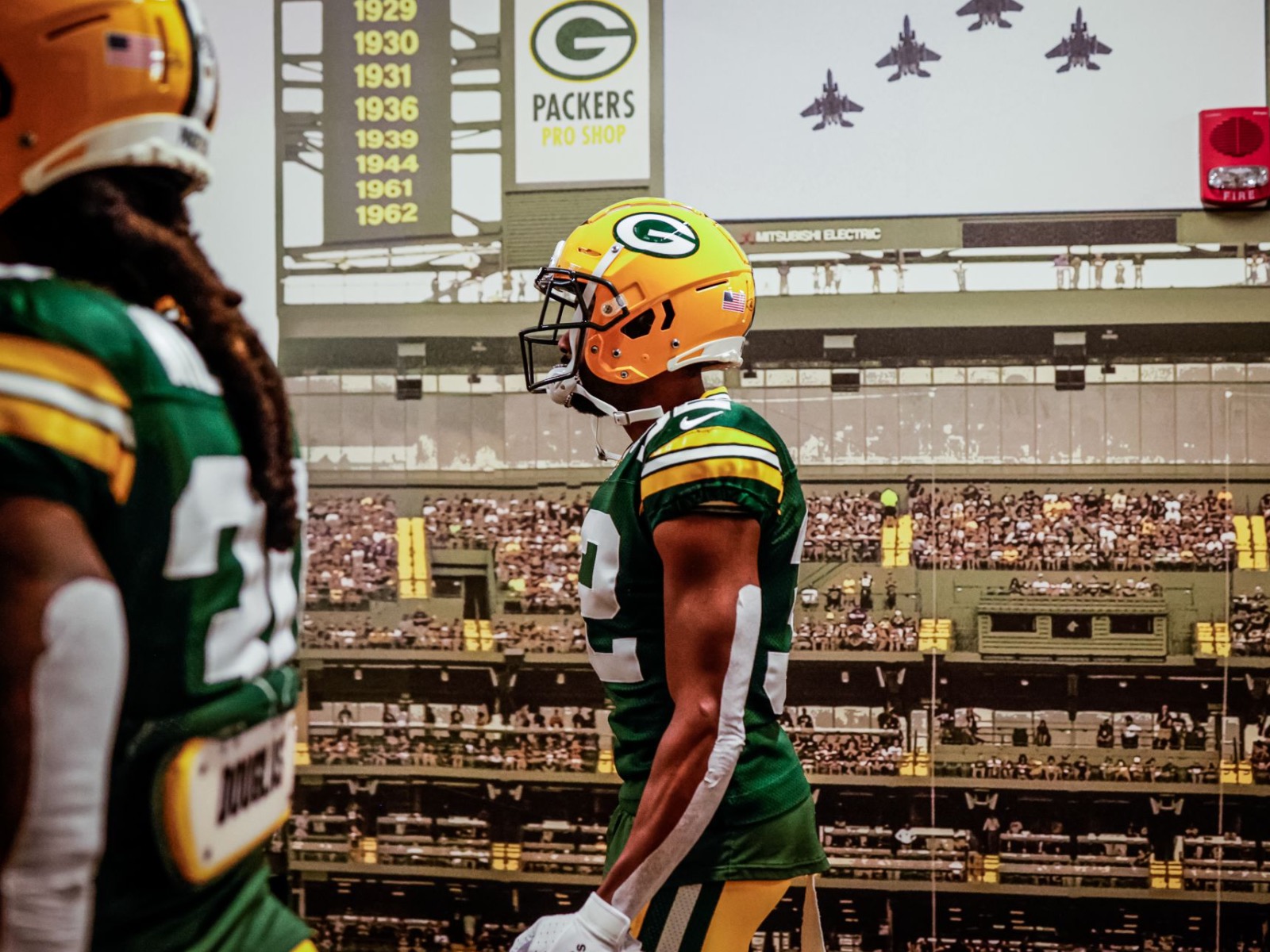 Large numbers of fans are stilll not allowed inside Lambeau Field for games, so enjoy this nifty visual eye trick in the home team's tunnel that makes you think we're living in better times where things are normal and the Frozen Tundra is rocking.
2. Magic act
I dare you to tell me this isn't one of the most incredible passes you've ever seen 🤯#GoPackGo #GOAT #One7 pic.twitter.com/r0GLPxsGQt — Eli Berkovits (@BookOfEli_NFL) December 7, 2020
It was another one of those weeks where you really didn't want to face Davante Adams in fantasy football, as one of the best receivers currently playing the game racked up another impressive tally: ten catches for 121 yards and two scores. Adams now ranks fifth in the entire league in total receiving yards and tied for first with 13 touchdowns ... despite playing two fewer games than everyone else thanks to his injury earlier this season. If MVP wasn't essentially exclusively a quarterback award these days, Adams would be in the conversation.
Speaking of MVP conversations, though ...
3. Making his case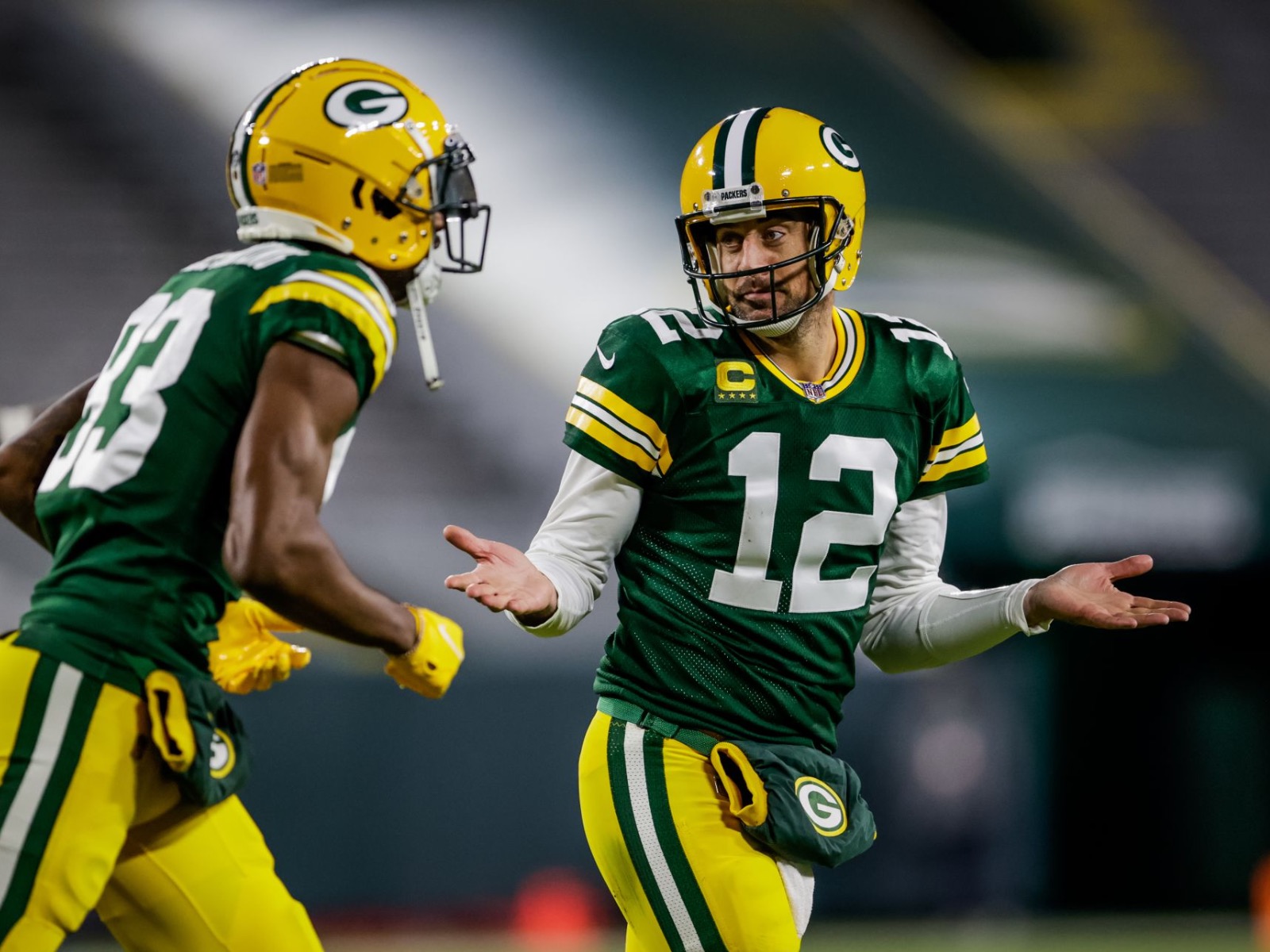 While Russell Wilson was scuffling across the country amid a loss to the hapless New York Giants (is losing to a New York City team even allowed?), Aaron Rodgers put up yet another carefree impressive performance, putting up almost 300 passing yards and three touchdowns without an interception. Rodgers is now fifth in passing yards and tops in the entire league with 36 touchdowns – and only four interceptions, which is arguably high for A-A-Ron. After this weekend, the MVP race is now likely a two-man competition between Rodgers and Patrick Mahomes in Kansas City. No matter who wins, State Farm will be happy.
4. History
The 400th TD 🏈 for 1️⃣2️⃣! #GoPackGo pic.twitter.com/1LFmcjDcq5 — Green Bay Packers (@packers) December 6, 2020
Sunday's win was mostly a forgettable game, but history won't forget it as Rodgers threw for his 400th career touchdown – the fastest any quarterback has hit that milestone. It wasn't a signature Rodgers dime; in fact, Davante Adams did most of the work, nabbing a short screen pass like an isolation play in basketball and taking an Eagles cornerback on one-on-one to the endzone. But it still counts, and Adams recognized the significant moment, presenting the football to his quarterback after his impressive run to paydirt. It's still wild how lucky Wisconsin sports fans got, having a Hall of Famer like Brett Favre only to immediately follow him up with somebody even better.
5. The starting job Wentz out the window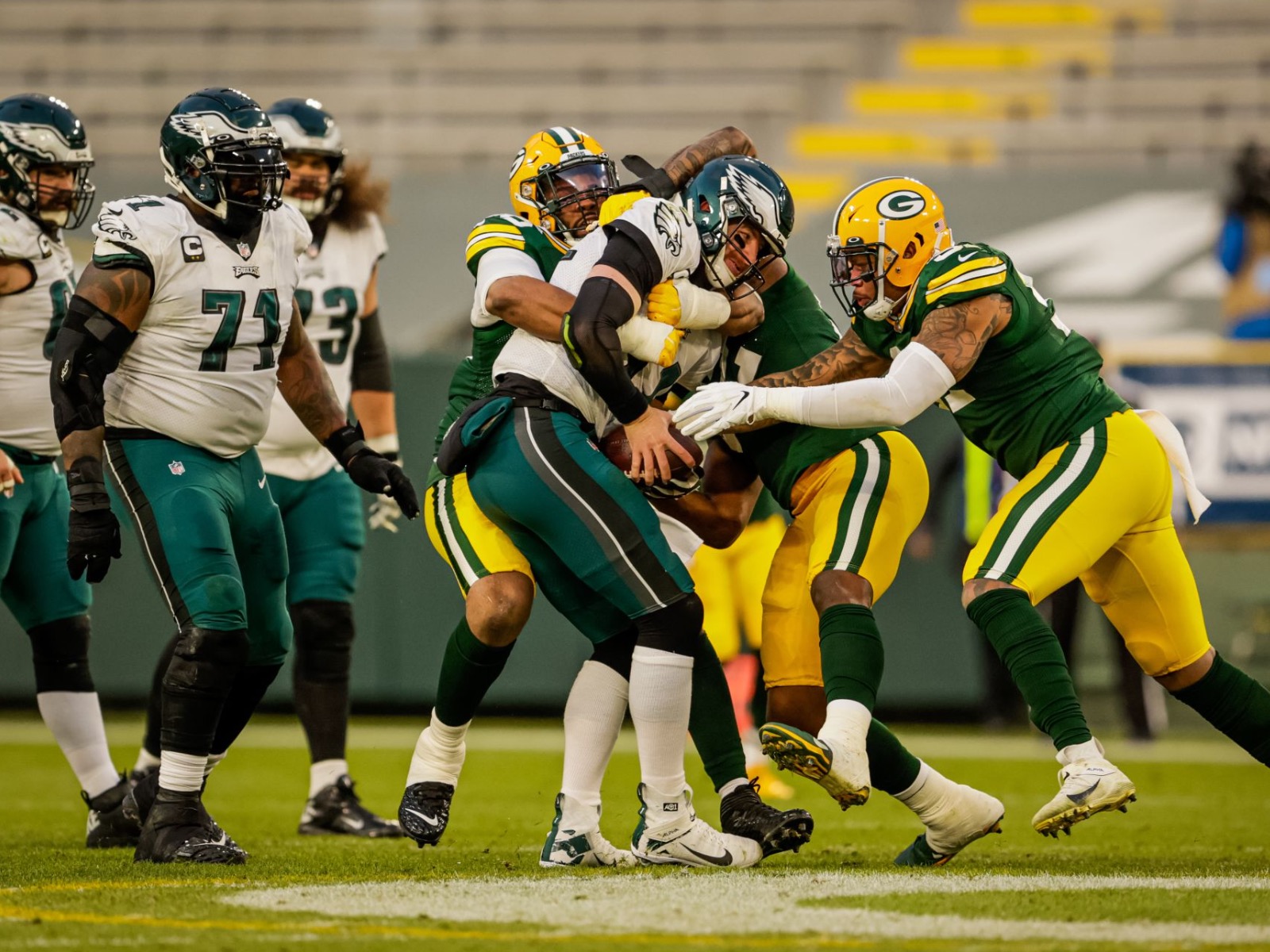 While Green Bay''s quarterback was having a fun day, the other sideline was a completely different story as Eagles leader Carson Wentz struggled yet again – to the point that Philadelphia benched its starter for rookie Jalen Hurts in the second half. On one hand, it's hard to blame it all on Wentz; he's got almost nothing around him to work with, and that's even before most of his offense got hurt this season. But on the other hand, his decision making is often brutal, leading to even worse turnovers, and he's en route to finish in last place in the horrific NFC East – despite the Eagles being the only team whose starting quarterback isn't on the injured list. Everyone else is passing them with their back-ups at the helm; might as well see how Philadelphia does with theirs, I guess!
6. The least special teams
74-YARD PUNT RETURN TD!!!

The Eagles have had 2 TDs in 1:22!!! pic.twitter.com/Zha4vKMRx3
(via @NFL) — NFLonCBS (@NFLonCBS) December 7, 2020
It wouldn't be a Packers game without things getting unnecessarily tense! And indeed, after taking a comfortable 23-3 lead in the fourth quarter, Green Bay started napping and gave up a touchdown drive followed by a punt return to make things a one-possession game with way too much time left on the clock. Luckily, they were playing the Philadelphia Eagles – but between giving up touchdowns on returns or fumbling away the football, the Packers' special teams department has been misnamed this year to say the least.
7. There is your dagger
Aaron Jones said SEE YA on this 77-yard TD run 👋 #GoPackGo @Showtyme_33

📺: #PHIvsGB on CBS
📱: NFL app // Yahoo Sports app: https://t.co/5w0t6mAzQq pic.twitter.com/PQR701wYEc — NFL (@NFL) December 7, 2020
That sound you just heard was an entire state sighing in relief. After hemmorrhaging away their comfortable lead, the Pack officially put the game away with this gorgeous touchdown run from Aaron Jones, showing off both his speed and his patience to get into the endzone. It was the best cure for panic-induced heart palpitations – now if only the Packers could stop giving us heart palpitations in the first place.
8. Breathing again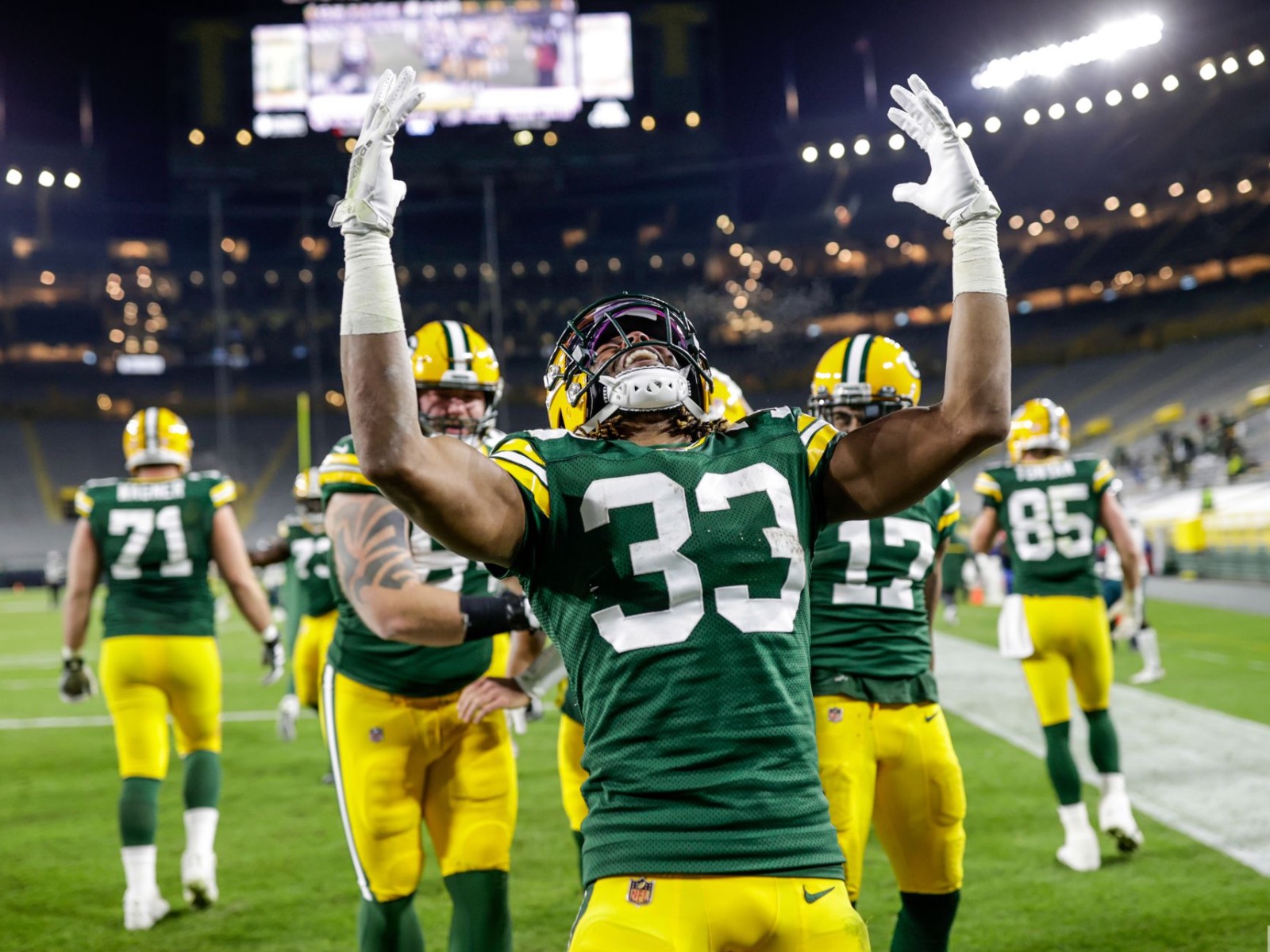 TFW you're not going to blow a big lead to the 3-7-1 Eagles at home in the middle of a playoff chase.
9. Everybody Hurts
The Packers 2019 1st round pick reels in his 3rd interception in his last 2 games

Savage Mode: Activated @darnellsavage_ pic.twitter.com/6Un32sLaxC — IKE Packers Podcast (@IKE_Packers) December 7, 2020
Taking the crummy Carson Wentz's place, rookie Jalen Hurts didn't look bad in the second half of Sunday's game, helping kick off something resembling a comeback for Philadelphia. But then he threw this pick while trying to hit ... honestly, I have no idea what he was throwing at. But it was great, and I was a big fan! Here's to Hurts having an impressive NFL career ... but after this game.
10. The look of victory
Aaron Jones at the podium #Packers pic.twitter.com/jYbEAcubvJ — Wes Hodkiewicz (@WesHod) December 7, 2020
You lock the game up with a touchdown run over 75 yards long? You were the victory sombrero at the postgame press conference. That's in the rulebook.
As much as it is a gigantic cliché to say that one has always had a passion for film, Matt Mueller has always had a passion for film. Whether it was bringing in the latest movie reviews for his first grade show-and-tell or writing film reviews for the St. Norbert College Times as a high school student, Matt is way too obsessed with movies for his own good.
When he's not writing about the latest blockbuster or talking much too glowingly about "Piranha 3D," Matt can probably be found watching literally any sport (minus cricket) or working at - get this - a local movie theater. Or watching a movie. Yeah, he's probably watching a movie.