Well, the Packers weren't going to go undefeated forever.
Last night at Lambeau Field, Green Bay suffered its first loss of the season, 34-27, coming at the hands of the Philadelphia Eagles. The Packers certainly had their chances, bringing the ball down the field and into the red zone on several occasions – especially late – only to fall short and come away with no points, and therefore no win.
But it wasn't a full-scale collapse, however. Rodgers, while still not as pinpoint accurate as we've come to know, threw for over 400 yards while the receiving corps looked deeper and stronger than it had this season – including the biggest game of the year for star Davante Adams. Plus, the Packers were in the game throughout, resulting in one of the rarest sights in professional sports: a compelling and competitive Thursday Night Football contest.
Here are some of the key images from last night's NFC showdown.
1. Fashionable arrivals
(PHOTO: Evan Siegle/Packers.com)
Players have to show up to the games in every league, but only the NBA has turned the simple act of arriving at the arena into a cool opportunity for personalities, fashion choices and stars to shine. Maybe the NFL is learning, though, because the Packers have gathered photo galleries of players walking into the stadium – and there are some real gems in the mix, including the adorably delightful one above.
But that's just the tip of the iceberg! There's this photo of Aaron Rodgers looking like he's the lead in a Michael Bay movie:
(PHOTO: Evan Siegle/Packers.com)
And this photo of fan favorite Danny Vitale rocking his signature "Make Fullbacks Great Again" hat with a T-shirt celebrating the game-changing abilities of punter J.K. Scott: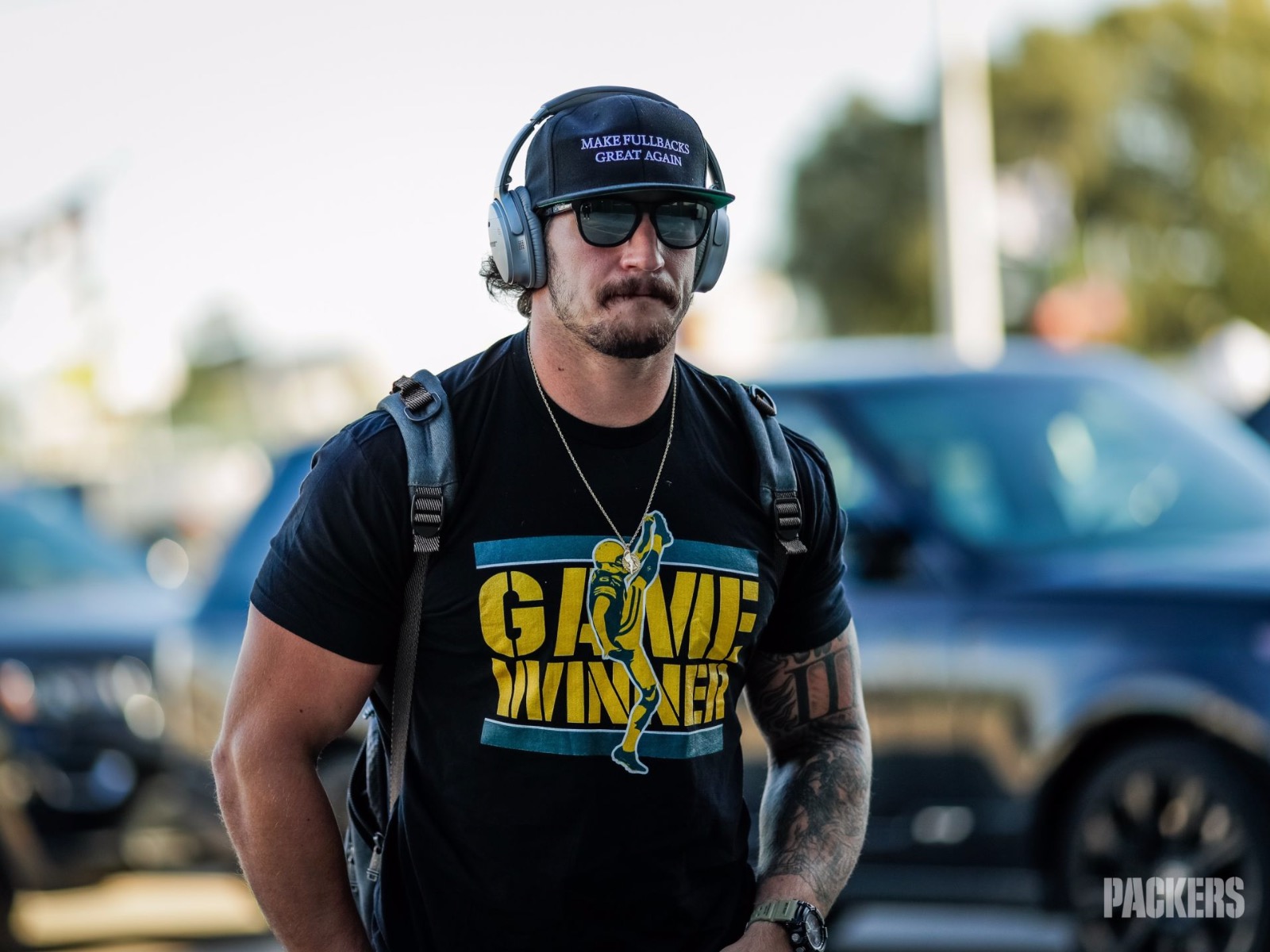 (PHOTO: Evan Siegle/Packers.com)
And speaking of J.K. Scott, here's him showing up with exactly as much swag as you'd expect from a punter:
(PHOTO: Evan Siegle/Packers.com)
2. Dirty birds
Update: Jamal Williams was carted of the field after this hit. He is headed to the hospital, but has feeling in all his limbs. Prayers up for Jamal. 😔💚 pic.twitter.com/zEuAmdznAm — Boom, It's Football! (@OfficialFBall) September 27, 2019
The game certainly got off to an auspicious start – especially for the Eagles and the officials – as running back Jamaal Williams was sent off the field in a cart, unmoving, after the above hit from Philadelphia's Derek Barnett that was egregiously late at best and dirty at worst. Reports say Barnett won't be suspended for the destructive hit (player safety!), but at least, according to the team, Williams has movement and feeling in his extremities.
Unfortunately, this wouldn't be the cart's only appearance in Thursday's game, as Philly cornerback Avonte Maddox was also gingerly taken off the field after suffering a devastating injury in the game's final moments, bookending an otherwise entertaining game with ugliness. A FUN SPORT WE'VE GOT HERE!
3. Lights off
.@AaronRodgers12 places a perfect ball right into the hands of @TheJimmyGraham for a @packers TOUCHDOWN! 🙌 #GoPackGo #PHIvsGB on @NFLNetwork | @NFLonFOX | @PrimeVideo
How to watch: https://t.co/32PKxts362 pic.twitter.com/SF1FoJZ43o — NFL (@NFL) September 27, 2019
Before the season, the Packers announced that the stadium itself would get into celebrating touchdowns for the home team, programming a special light show for scores. A fun idea in theory ... a very annoying thing to see in practice.
Every time Green Bay scores, I thought the power just went off at Lambeau Field and had horrible PTSD-flashbacks to the 49ers/Ravens Super Bowl delay. Even ignoring those heart attacks, though, the effect creates less excitement and creates more confusion as the TV dims and makes the ACTUAL on-field celebrations hard to see – and I can't even imagine how hard it gets to see the players from a distance in the seats in the actual stadium.
Guys, we already have a great touchdown celebration. It's called the Lambeau Leap. No need to manufacture a tradition that, in the process, makes me wonder if my TV just broke.
4. But seriously, stop turning the lights off
❗️PACKERS IMMEDIATELY RESPOND❗️

Rodgers caps off an impressive drive with this throw to Geronimo Allison 💪

pic.twitter.com/opMSw2Q3iA — PointsBet Sportsbook (@PointsBetUSA) September 27, 2019
Congratulations, Ezekiel Elliott's stupid "feed me" move: You may no longer be the most annoying celebration in the NFL.
5. Leaping Lewis
(PHOTO: Evan Siegle/Packers.com)
72-year-old Marcedes Lewis has seemingly been in the NFL since marching bands played the Super Bowl halftime show. (OK, he's just 35 – but it's felt much longer.) So pardon me if I didn't expect him to have the hops to literally hurdle an approaching defender. BUT BOY WAS I GIDDY TO BE PROVEN WRONG!
6. Davante's big night
Have a night!

Davante Adams has now set a new career high for Rec Yards in a game (167). pic.twitter.com/0d7u78kFOZ — FOX Sports: NFL (@NFLonFOX) September 27, 2019
Packers fans have been happy with Green Bay's start to the season, but fantasy football owners couldn't have been – particularly those who drafted Davante Adams, who's been held out of the end zone thus far this season and only cracked 100 yards once. That changed Thursday night, as Davante Adams set a new career high and almost doubled his total yardage on the season – 180 versus 198 in the first three games – in practically just one half against Philly's struggling secondary. It was a monster game that was setting up to be even bigger.
Until ...
7. Welp ...
Davante Adams leaves the field with a limp. He was forced out late with a foot injury.

(via @lanceallan)pic.twitter.com/hNTFhrWN47 — B/R Gridiron (@brgridiron) September 27, 2019
Unfortunately, Aaron Rodgers' favorite weapon had to be holstered for the game's final stretch with what turned out to be turf toe. Here's to a long week between games hopefully working its magic on Davante's foot.
8. Ravaged by the run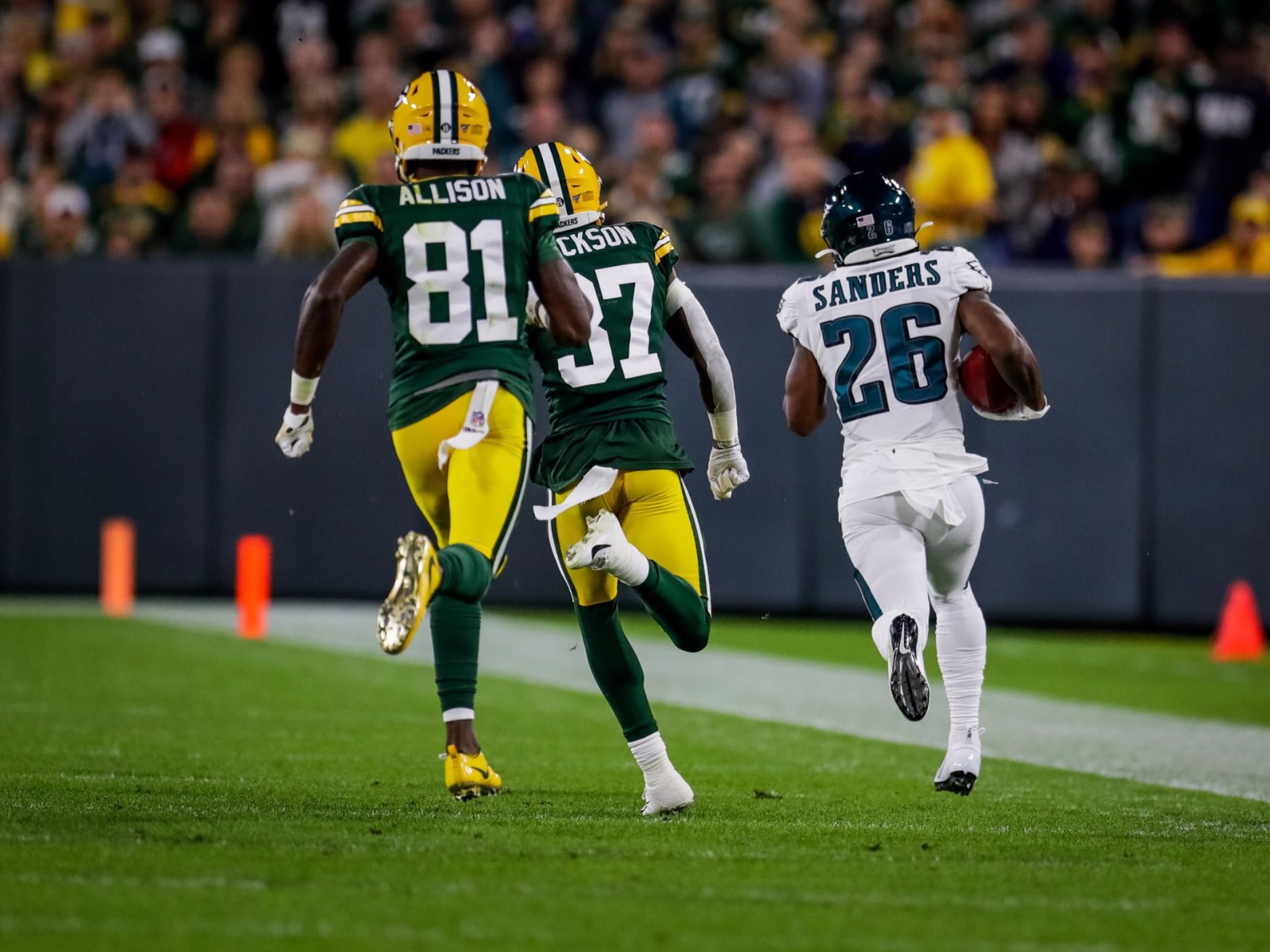 (PHOTO: Evan Siegle/Packers.com)
The Packers got a defense – the best we've seen in years, at least four games in – but that doesn't mean it still doesn't have its holes. And its obvious, glaring hole is clearly stopping the run.
Minus the first game against the Bears when nobody on any offense looked right, the Packers gave up 154 yards to Dalvin Cook – a career high – then gave up two touchdowns and 81 yards to Phillip Lindsay in the Denver game. The Eagles clearly noticed, focusing their offense on the ground game and going hard at the Packers D-line with Miles Sanders and Jordan Howard, pounding out more than 150 yards combined and two touchdowns for the latter.
It's something Green Bay will certainly have to fix – and quickly considering Ezekiel Elliott is on deck next.
9. So what's pass interference?
This seems worth reviewing @NFL pic.twitter.com/4zV4HPG4Tw — Marcus Mosher (@Marcus_Mosher) September 27, 2019
Good thing the NFL now reviews pass interference calls! Would hate to see a close non-call decide who wins and who loses!
Still, while this is an easy scapegoat for the Packers' loss Thursday night, Green Bay had several other opportunities to win the game – on past drives and on this final drive – without the refs bailing them out. It was yet another imperfect game for the Packers – but the first one where they weren't able to cling the win at the end of it.
But hey, considering the drastic offseason changes and the tough early schedule, I'll still take 3-1.
10. Well, at least they called this one
This wasn't the most discussed pass interference to come from Thursday night – which is a shame because I'd much rather talk about Allen Lazard's just hilariously savage response to an Eagles defender's all-too-early taunts than harrumph missed calls.
As much as it is a gigantic cliché to say that one has always had a passion for film, Matt Mueller has always had a passion for film. Whether it was bringing in the latest movie reviews for his first grade show-and-tell or writing film reviews for the St. Norbert College Times as a high school student, Matt is way too obsessed with movies for his own good.
When he's not writing about the latest blockbuster or talking much too glowingly about "Piranha 3D," Matt can probably be found watching literally any sport (minus cricket) or working at - get this - a local movie theater. Or watching a movie. Yeah, he's probably watching a movie.