What do you do with a game like Sunday night? Do you come away optimistic because the Packers offense actually looked effective against a pretty capable Philly defense, racking up a season-high 33 points? Or do you come away even more disappointed by this team because their defense was so monumentally ineffective, like they'd all just met and found out their opponent 20 minutes before kickoff?
Take what you will from the offensive fireworks and defensive floppery – but in the end, it's just another loss in a lost season as the Packers were out-gunned by the Eagles on Sunday night, 40-33, falling behind early and admirably coming back only to come up short. Technically, the Green Bay season isn't over yet – but the question for fans at this point is less "can the Packers make the postseason?" and more "how much Jordan Love will we see by season's end?"
Let's talk about Jordan Love, though – as well as the other ten key moments and images from the Packers' latest and definitely-not-greatest Sunday night effort.
1. Hurts so good
Jalen Hurts is electric with the ball in his hands. Against a spy it doesn't even matter and he moves the chains. pic.twitter.com/mM3VN2RaDa — Shane Haff (@HAFFnHAFF_TPL) November 28, 2022
Let's get it all out of the way right away: The Packers defense looked wretched on Sunday night. The offense finally showed up, only for the defense to stay in the parking lot all night long. Jalen Hurts is a very good football player who might just win the MVP this season ... but the Packers looked like they'd never seen him play before, giving him the entire field to run around and gain 100 yards in the first quarter alone. (And that's not even bringing up Miles Sanders, who along with Hurts ran for a ridiculous 300 combined yards.)
I've tried to be kind to the Green Bay D – that maybe their struggles to halt late drives was because they were tired thanks to the offense not giving them a break – but Sunday was embarassing. And yet again, it's not just that they get beat: It's that the opposing teams consistently make it look easy, grabbing chunks of yards without a defender seemingly in sight. A good defense is too much to ask for; we just want something resembling resistance at this point. But that's OK, at least another running quarterback isn't on the (*looks and sees Justin Fields of the Bears next up*) oh no.
2. Oh, so it's gonna be THAT kind of game
The #FlyEaglesFly defense comes up with the INT! #GBvsPHI on NBC and @peacock. pic.twitter.com/XE1Mgc2by0 — Sunday Night Football on NBC (@SNFonNBC) November 28, 2022
If Packers fans wanted to watch something else Sunday night, the team seemed to give them an out early on. After a terrible opening drive that the Eagles comfortably waltzed through to the endzone, Rodgers then threw this doinky interception – his first of two on the night – to put the Eagles in prime position for their second touchdown. A 13-0 lead against this team? Might as well be 130-0 ... or not apparently.
3. Dillon domination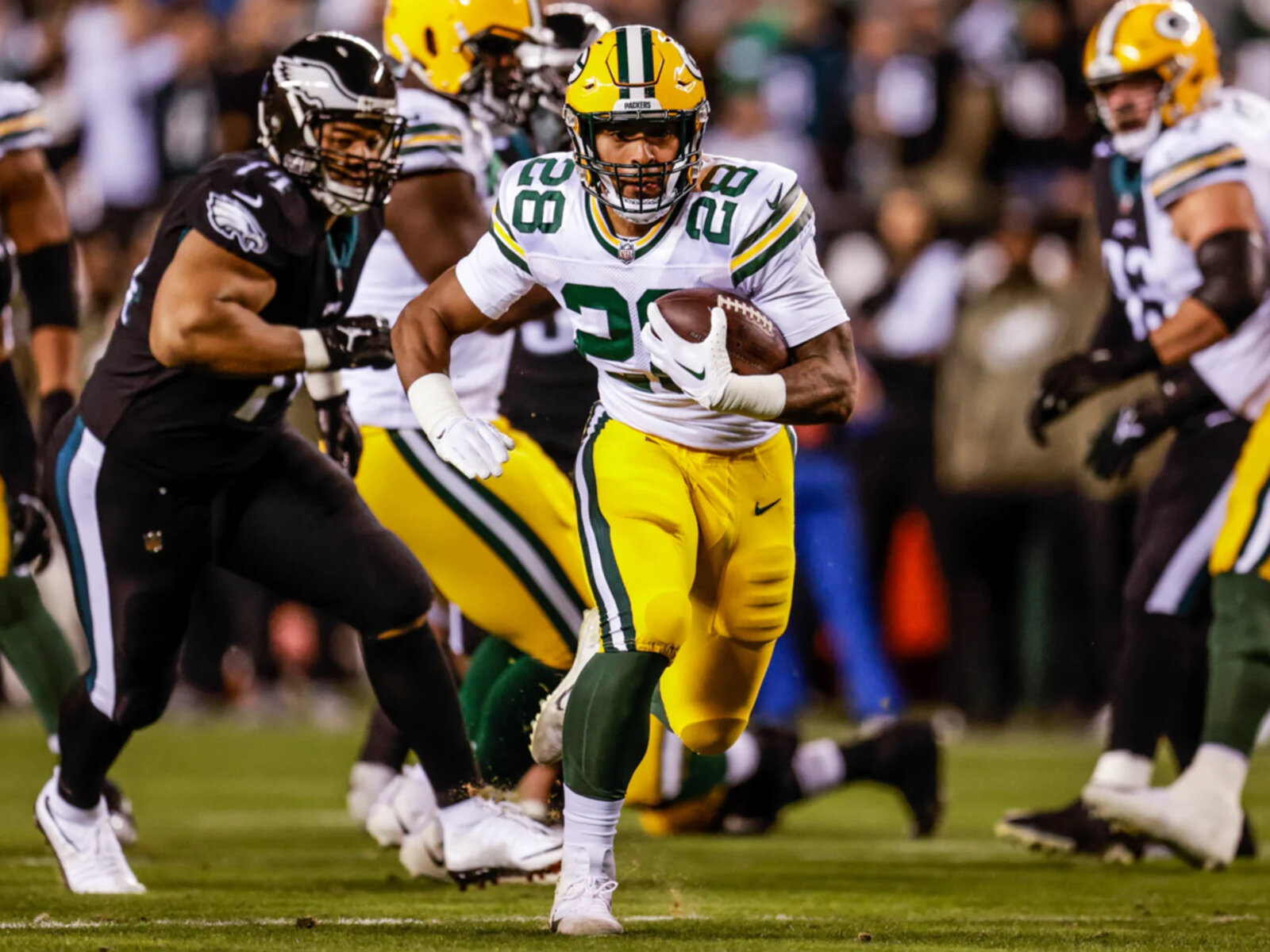 Fans have been chanting for more Aaron Jones this season – but while he got more carries on Sunday night, it was Dillon who led the Green Bay rushing attack with an impactful 60 yards on just eight carries, including the first touchdown of the night. It was a critical score at that, a much-needed response after falling behind two touchdowns providing evidence that the Packers weren't calling it a night quite yet. Or at least the offense wasn't.
4. Classic Pack
Doesn't get more vintage Aaron Rodgers to Randall Cobb than this... pic.twitter.com/C98AZdJJ6z — Eli Berkovits (@BookOfEli_NFL) November 28, 2022
Go figure: The week Aaron Rodgers finally opens up and admits that his hand is injured and has impacted his play is one of Rodgers' better weeks, hitting Randall Cobb on this classic touchdown connection. Rodgers would end the night with 140 yards, two scores and two interceptions – not a perfect night by any means, especially with that second pick, but one with moments of the four-time MVP looking more like a four-time MVP than usual this season.
5. The rare defensive highlight
Quay Walker almost took the fumble back for a TD ‼️

📺: #GBvsPHI on NBC
📱: Stream on NFL+ https://t.co/FRZHlv4OoL pic.twitter.com/wOumNSaeFl — NFL (@NFL) November 28, 2022
The Packers didn't just manage to come back down thirteen points on Sunday; they came back and took a lead thanks to this impressive fumble return from rookie Quay Walker, putting the Pack in prime position. The Green Bay defense was on the wrong end of a number of Philadelphia highlights during the game, making this turnover a pleasant rarity.
6. A kick ... returner?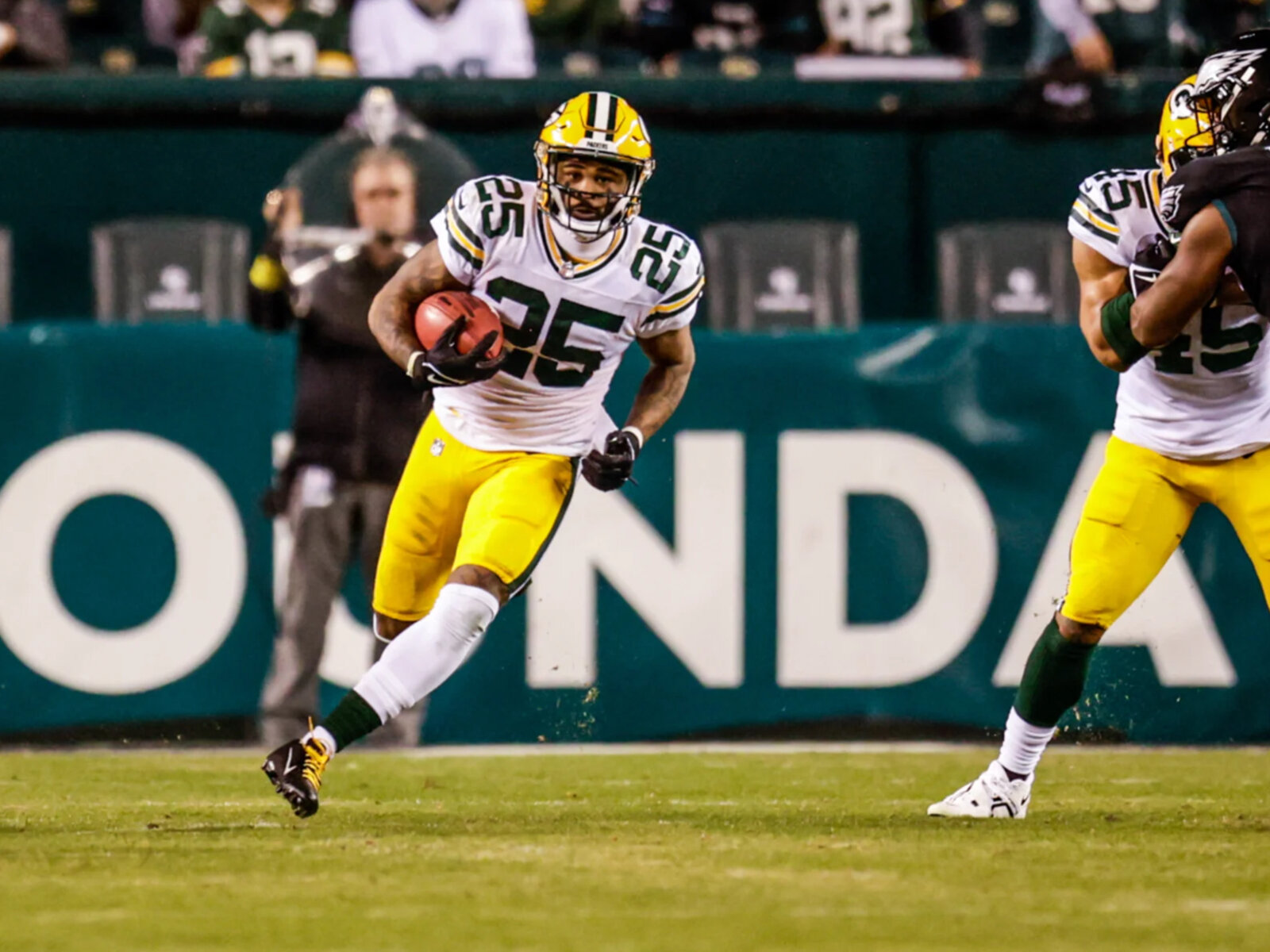 Hold on, returners are allowed to return kicks? Not just muff them to the other team or immediately get tackled for a paltry five-yard gain? Indeed, not that a new guy would have to do much to improve on the Amari Rodgers experience, but Keisean Nixon proved himself to be the team's most capable returner in years, busting out several solid returns on Sunday night and putting the Packers offense in great position throughout the evening. The only question now: What took so long?
7. A first-half flurry
Aaron Rodgers and #GoPackGo have TIED it up. #GBvsPHI on NBC and @peacock.

(Via: @NFL)pic.twitter.com/rZrMDwlKKZ — Sunday Night Football on NBC (@SNFonNBC) November 28, 2022
Somehow every play thus far was JUST from the first half. I know it may be cliche to say something made you feel all the emotions ... but the first half of Eagles-Packers truly was all of the emotions: anger, destitution, hopelessness, confusion, hope, doubt, confusion, excitement, annoyance. In the words of Stefon, the first 30 minutes of Sunday Night Football had everything – including this vintage Aaron Rodgers touchdown heave to Aaron Jones that almost managed to send the two squads into the halftime all tied up. But unfortunately, the Packers defense had something to say about that ...
8. Passing on defense
Big time 3rd down throw by Jalen Hurts. Even made Jaire Alexander glitch #FlyEaglesFly pic.twitter.com/1S1NmAWvW1 — Matt Martellucci (@mattlucci12) November 28, 2022
Jaire Alexander is the highest paid cornerback in the league – though you wouldn't know it considering how the Packers defense utilizes him. Or considering how this third down pass (en route to yet another Eagles touchdown) broke his brain.
9. One last look?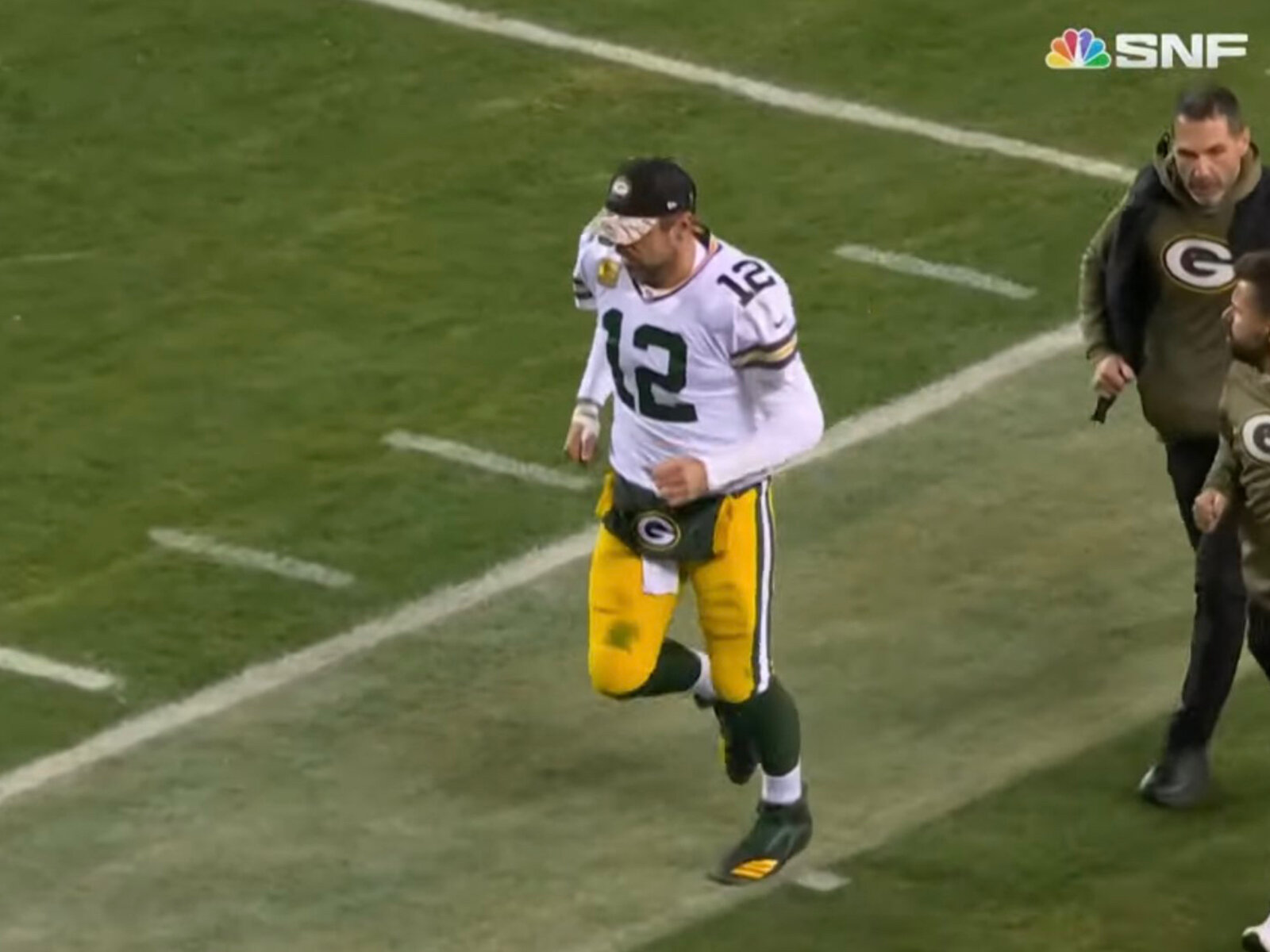 Rodgers has played through a busted hand for much of the season, but after hurting his ribs on Sunday night, the injuries became too much, sending the quarterback into the locker room early. With the playoffs practically out of reach and Rodgers not looking healthy, people had to ask: Is this the last time we'll see #12 in a Green Bay jersey?
Well, I'll answer: No. Rodgers is still signed for another season in Green Bay – and unless there's a team willing to eat more than $30 million for one year of an aging (and, this season, deteriorating) quarterback, and unless Rodgers suddenly finds himself disinterested in having $30 million, he'll be back. In fact, he might even be back this year still; after the game, Rodgers said that the injury left no serious damage and that he wants to play as long as the team's mathematically able to make the playoffs. Soooo probably just next week's game then – but at least it gives him one more chance to own the Bears.
10. The future
WOAH. Are you seeing this too??

With Aaron Rodgers exiting the game with an injury, Jordan Love is under center for the first time this season. And he DELIVERED.

First drive - 3/3 for 75 yards & a touchdown

Is this Jordan Love's moment? 👀 #NFLpic.twitter.com/1SHycOlS5u — Benjamin Cure (@BenjaminCureTV) November 28, 2022
There was a time when Rodgers running into the locker room injured would be an immediately foreboding, depression-inducing sight for Packers fans. In Sunday night's case, however, it opened the door for a brief glimpse of optimism – at least for the future as Jordan Love took the field and almost immediately threw three completions, highlighted by this toss to rookie Christian Watson. And because Watson only catches touchdowns, he accordingly ran this pass 63 yards to paydirt.
Love would finish with 113 passing yards, driving Green Bay to a touchdown and a field goal to keep the game in range. Sure, the Eagles probably weren't playing their most intense defense at that point in the game – but while the Packers' present looks awfully hideous, between Doubs' early-season impact, Watson's late rise up the ranks and Love's solid showing, their post-Rodgers future looks increasingly impressive.
11. Tough season gets tougher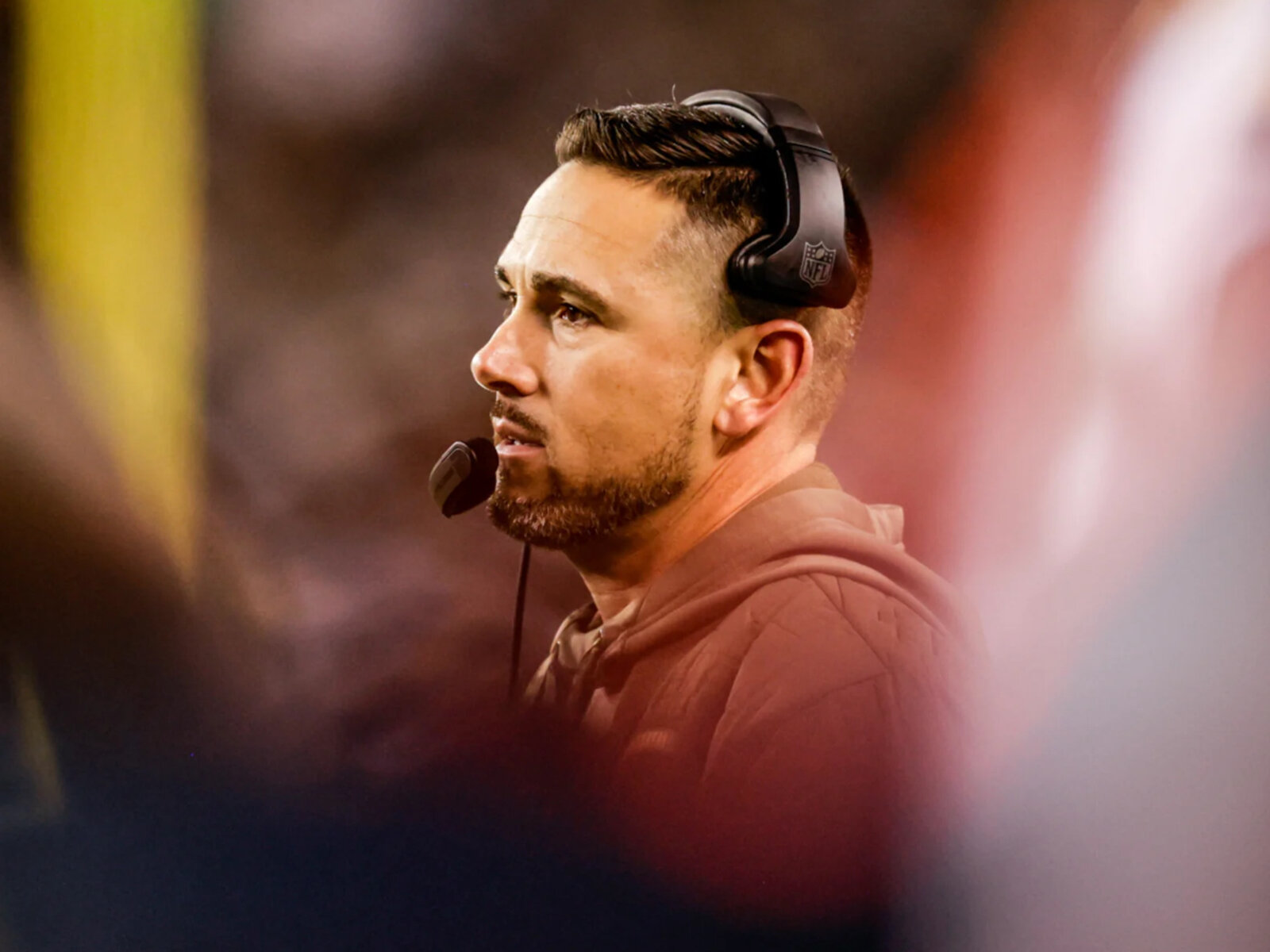 Safe to say this season hasn't gone as planned for head coach Matt LaFleur – and somehow it won't get any easier as he's going to have some tough decisions to make about his defensive coordinator Joe Barry.
After giving Mike Pettine the axe, Barry was LaFleur's personal pick to replace him – but after a woefully underperforming season that reached its embarassing nadir on Sunday night, it sure looks like it's Barry's turn to be replaced. The Packers, however, historically have often been slow to react – and you could see LaFleur and company blaming this year's scuffling defense on injuries and the offense's inability to keep them off the field, giving Barry one more year to fix things. But this is a defense that went from a supposed top-five contender to hemorrhaging 40 points without a care on primetime.
Is LaFleur willing to risk another disappointing year on the defensive side of the ball – during Rodgers' potential final run next season, at that? I can't imagine many fans, especially of the #FireDomCapers variety, will be ...
As much as it is a gigantic cliché to say that one has always had a passion for film, Matt Mueller has always had a passion for film. Whether it was bringing in the latest movie reviews for his first grade show-and-tell or writing film reviews for the St. Norbert College Times as a high school student, Matt is way too obsessed with movies for his own good.
When he's not writing about the latest blockbuster or talking much too glowingly about "Piranha 3D," Matt can probably be found watching literally any sport (minus cricket) or working at - get this - a local movie theater. Or watching a movie. Yeah, he's probably watching a movie.