I'll be honest: I was nervous for Monday night's game. The Packers are normally good for one head-scratcher of a loss per season (remember the Chargers game last season? I try not to!), they were signing guys named Reggie Begelton to catch passes since everyone other receiver was down, and the Atlanta Falcons looked primed for an angry performance after blowing two wins before and becoming the league's laughing stock. Add in a bye week to look ahead to, and Monday night was a trap game if I ever saw one.
Good thing I don't bet.
Instead, it was a Monday funday thanks to the Packers as Green Bay smoked the impressively unimpressive Atlanta Falcons in an empty Lambeau Field, 30-16, taking the Pack to 4-0 and enhancing their status as an early Super Bowl favorite. So let's take a final look back at how wrong I was about Monday night's matchup.
1. Pack snack attack
There was no Packers football game to watch this weekend thanks to Green Bay's Monday night booking, but at least Aaron Jones kept us entertained by digging on some Fruit By the Foot during media availibility on Saturday.
#Packers RB Aaron Jones enjoying some fruit snacks before talking to the local media via Zoom. pic.twitter.com/h6Ql3Fv7u4 — Tom Silverstein (@TomSilverstein) October 3, 2020
I hope this becomes a running gag with Jones and that next he's noshing on some Dunkaroos.
2. The tweet heard 'round the world
This Just In🚨

Davante Adams ready to go, but not allowed to play tonight vs Atlanta pic.twitter.com/pSvglko2tj — IKE Packers Podcast (@IKE_Packers) October 5, 2020
The game might've lacked tension, but there was plenty of drama before kickoff as star wide receiver Davante Adams took to Twitter early Monday afternoon to report that he would miss another game with his gimpy hamstring – with more than a little vinegar in his message than expected, seemingly harrumphing at the Packers health staff for keeping him out (before deleting the tweet).
He may not like to hear it, but with an off week coming up and a not-quite-marquee matchup on Monday night, it made sense to hold Adams out and make sure his leg was entirely healed. (Just ask Julio Jones on Atlanta's sideline, who played Monday and had his own hamstring injury act up and take him out of most of the game.) Plus, it turned out they didn't need Davante anyways!
3. If it's a Packers game, it must be sombrero o'clock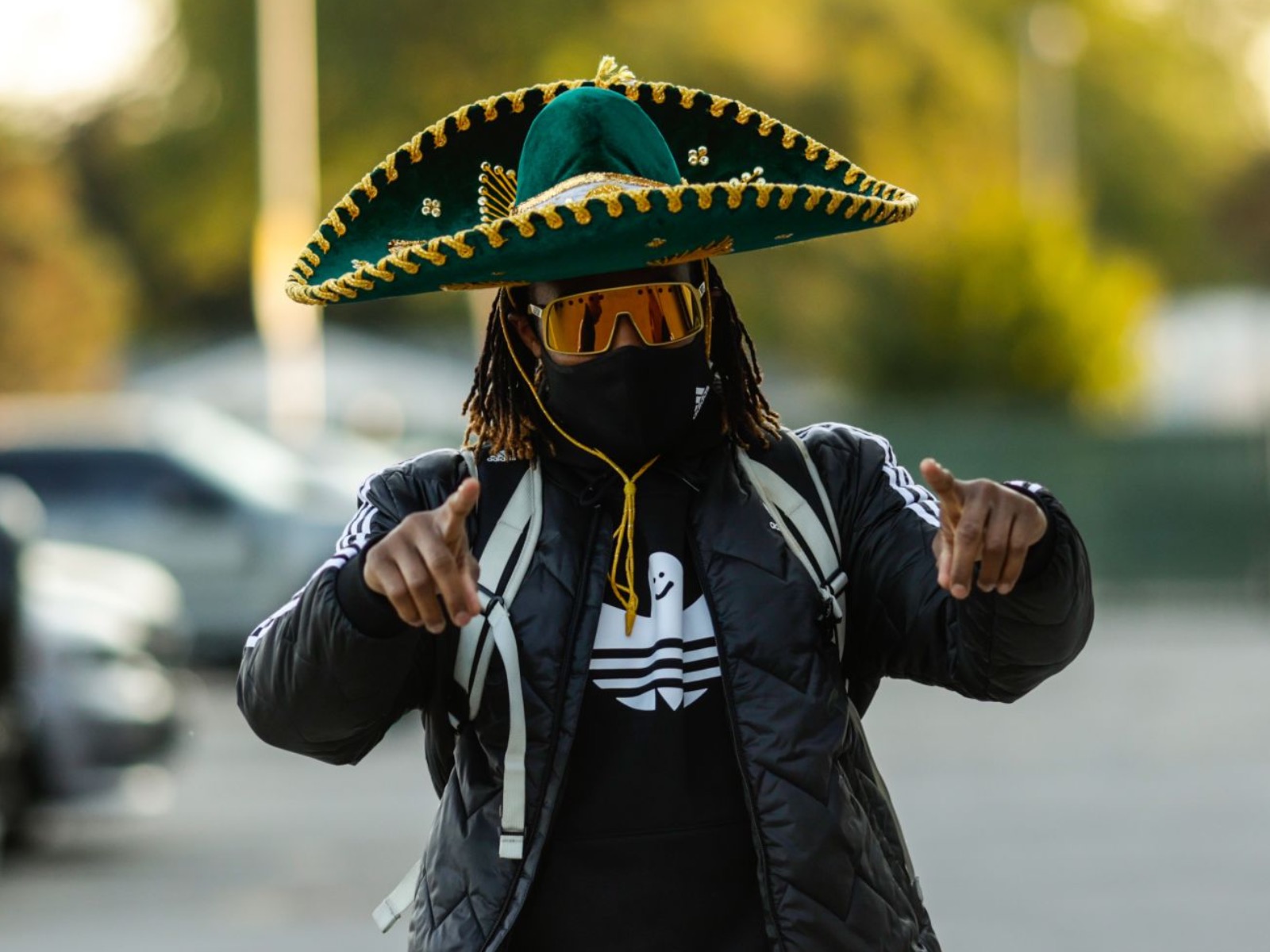 Listen, I'll stop posting photos of Aaron Jones' pre-game sombreros when the Packers stop performing like one of the best teams in the NFL. Plus, I had to post this image because, with the giant goggle-eyed shades on, the Green Bay running back looks like he's about to be the most stylish skiier on the slope.
4. Jamaal meets the Jumbotron
I have a very important update: Jamaal Williams and his pregame dance relaxation have discovered the endzone celebration screens. OK, not that important – but very entertaining!
Jamaal Williams is really a vibe 😂 @jswaggdaddy @packers pic.twitter.com/sRIA3R2YrQ — The Checkdown (@thecheckdown) October 6, 2020
Even before they take the field, the Packers are the most fun team to watch in the NFL – with the results in the box score to match. Just ask Williams, who led the team with eight receptions and almost 100 yards.
5. Lights out
Starting the night with a @Showtyme_33 TOUCHDOWN catch! 🙌#ATLvsGB | #GoPackGo

📺 ESPN
📱 https://t.co/2UxGSiVlvn pic.twitter.com/mRD8aaKt7e — Green Bay Packers (@packers) October 6, 2020
The Packers came out of the gate strong with an early touchdown drive, ending with a touchdown pass to a wide open Aaron Jones with no Falcons defenders anywhere in the same area code. The only thing I don't like about this play? The return of the flashing stadium lights celebration, which still looks less joyous and more like a breaker just busted. And who are these flickering switches for anyways? There's no fans in there! Just launch some fireworks and let the guys Lambeau Leap. I really like that these are my only complaints about the Packers right now.
6. A winning combination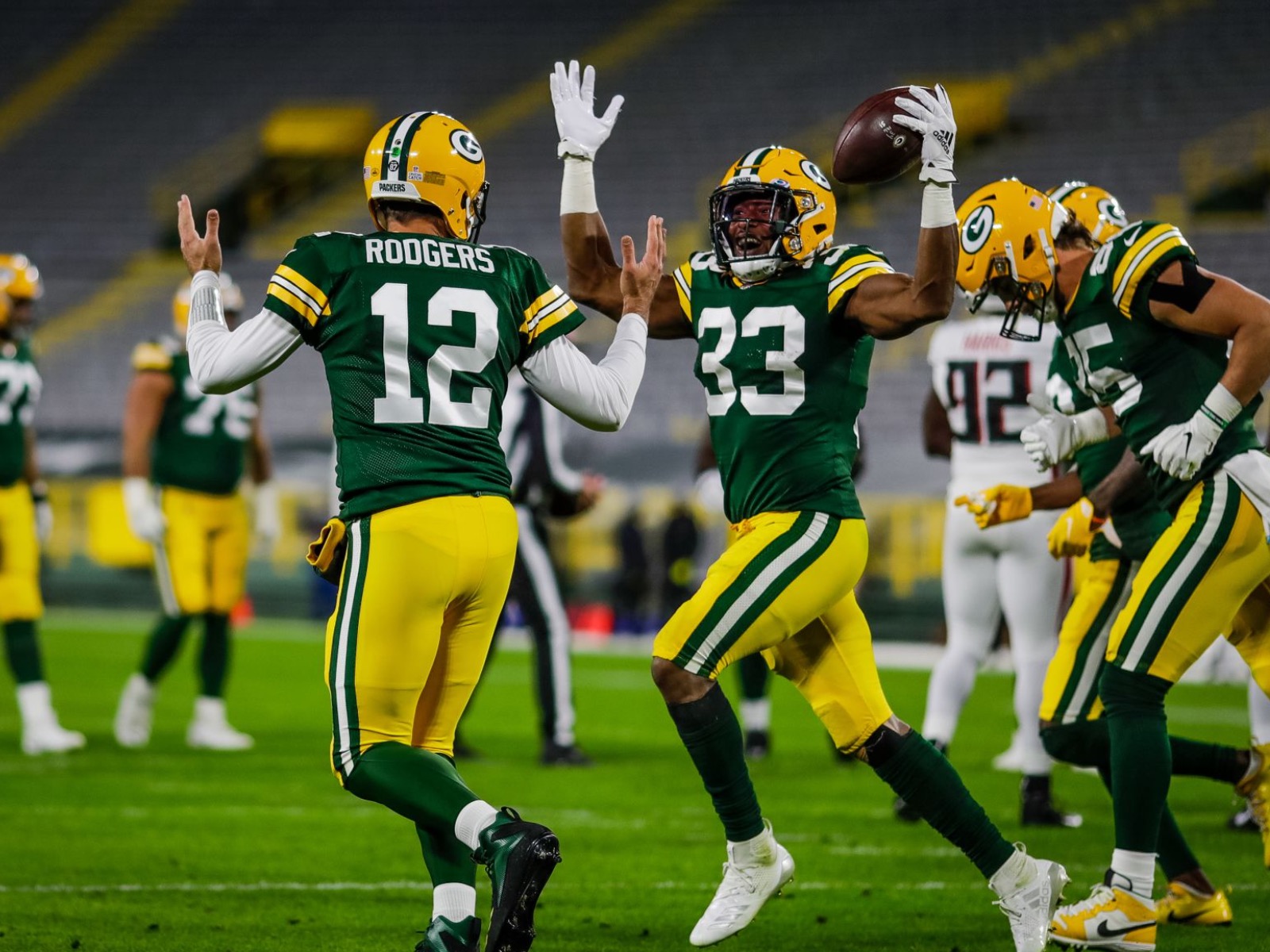 See?! Look at how much fun they are! Look at Aaron Jones' face! Who needs the putzing with the light switches?! And to think I was scared about tonight's game ...
7. Making his celebrations count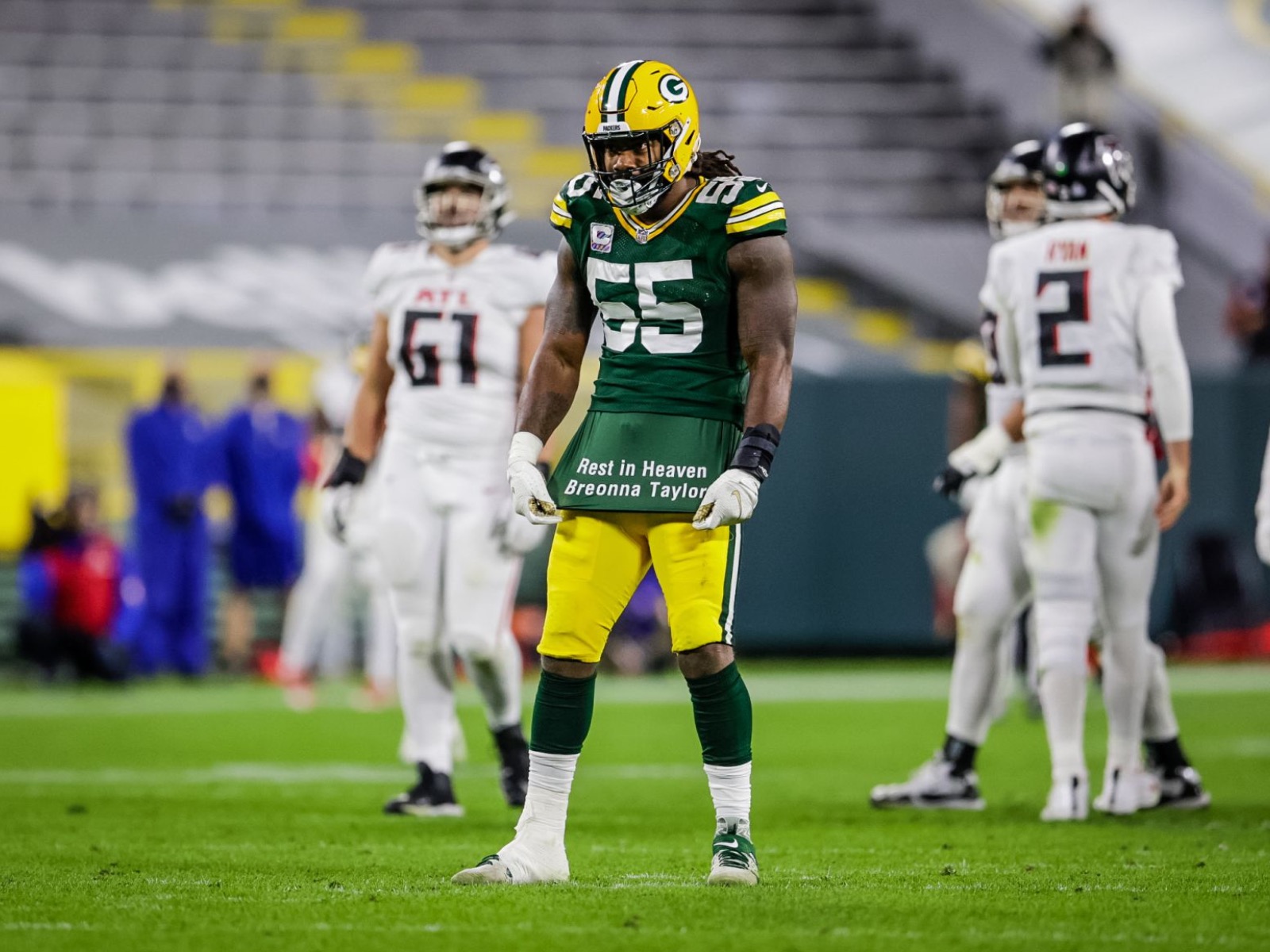 Za'Darius Smith's popular sack celebrations have moved from entertainment to awareness this season. In the week two home opener, Smith topped off the big play with an even bigger statement, paying tribute to George Floyd. Then Monday night, Smith finished one of his three sacks on Matt Ryan with another shirt salute, this time to Louisville police shooting victim Breonna Taylor.
8. A well-earned flex
Mood @packers pic.twitter.com/NKebIfXXfE — FOX Sports: NFL (@NFLonFOX) October 6, 2020
You almost get the impression something happened this offseason to light a fire under Aaron Rodgers! Even without either of his top pass catchers, the Green Bay star was undeterred, throwing four touchdowns and more than 325 easy-going yards to a bunch of mostly miscellaneous guys. This two-time MVP is looking hungry for a third.
9. Meet Robert Tonyan
Robert Tonyan on this play:

• Ran his route
• Got tackled
• Got up
• Caught a TD

(via @thecheckdown)pic.twitter.com/fW1J95m1EC — ESPN (@espn) October 6, 2020
With their top two receivers and even their best tight end Marcedes Lewis out of the game, the Packers were going to need somebody to step up and catch some passes. Boy, did Robert Tonyan fill the need, catching six passes for 98 yards and an impressive three touchdowns – including the highlight above that even features a brief accidental John Woo tribute with a somersault in the middle. For comparison's sake, Tonyan only caught 100 yards IN TOTAL last year and only caught two touchdowns over his first two seasons in the NFL. No one would blame you if you had no idea who Big Bob Tonyan was before last night. But with Monday's performance, he went from some guy to the guy.
10. Is he counting Tonyan's touchdowns or the number of MVP awards he'll have at the end of the season?
Aaron Rodgers counting Robert Tonyan's touchdowns tonight for him🤟🏽 pic.twitter.com/uIWum1vwFo — IKE Packers Podcast (@IKE_Packers) October 6, 2020
Did I mention that this team is a lot of fun to watch? Because the Packers are really fun to watch – and not just because they can't stop winning. They're confident and getting better each week and playing giddy on the field – and they're not even at full strength. And, yes, they also can't stop winning. Well, next week they will ... because it's their bye week.
11. Tonyan smash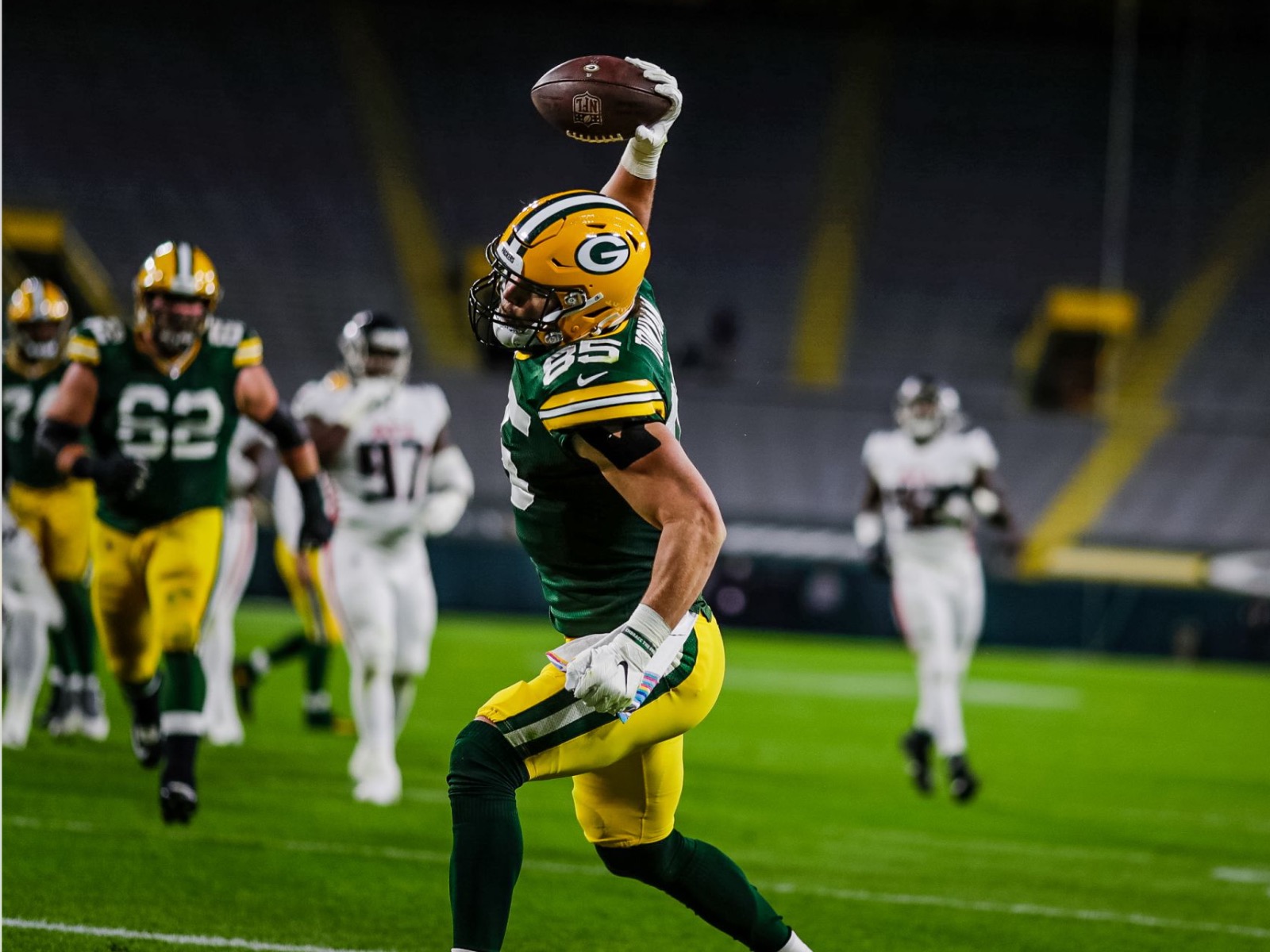 Jeez, you think he'd be in a better mood after putting up not only his best performance ever, but one of the best performances ever from a Packers tight end. Maybe he left himself on the bench in fantasy football.
As much as it is a gigantic cliché to say that one has always had a passion for film, Matt Mueller has always had a passion for film. Whether it was bringing in the latest movie reviews for his first grade show-and-tell or writing film reviews for the St. Norbert College Times as a high school student, Matt is way too obsessed with movies for his own good.
When he's not writing about the latest blockbuster or talking much too glowingly about "Piranha 3D," Matt can probably be found watching literally any sport (minus cricket) or working at - get this - a local movie theater. Or watching a movie. Yeah, he's probably watching a movie.