The Packers were routed by the Ravens on Sunday, an embarrassing home loss in which they scored no points. The six-sack, five-turnover ordeal was the first time Green Bay had been shut out since 2006.
But fans at one local Wisconsin bar at least got to wear the thickest of beer goggles while watching the ugly, mistake-filled affair.
The Bavarian Bierhaus in Glendale offers free beer on game days until the Packers score, a promotion that, with Aaron Rodgers at quarterback, probably wouldn't be too uneconomical. But last week, as Brett Hundley tossed out interceptions, Devante Mays fumbled the ball around and Mike McCarthy provided no fixes for his impotent offense, the free suds just kept flowing.
General manager Scott Bell told CBC Radio's "As It Happens" that the Bierhaus served free brews for the entire game, nearly 3.5 hours, and estimated that it gave away between 275 and 300 cups. He said, "typically, historically, we've been done serving free beer by the middle of the first quarter," but "Sunday's game didn't work out that way."
Bell added, "Statistically, we've looked at the last couple of years of Packer play, and, generally, it's on the first drive. I mean, Packers football with Aaron Rogers at the helm quarterbacking the team, first drive, second drive, usually a field goal or some sort of red-zone activity into the end zone. So, it was not quite expected that it would go the whole, entire game. We did have a backup quarterback in and all those kinds of things. But, in reality, you know, it was kind of a shocker."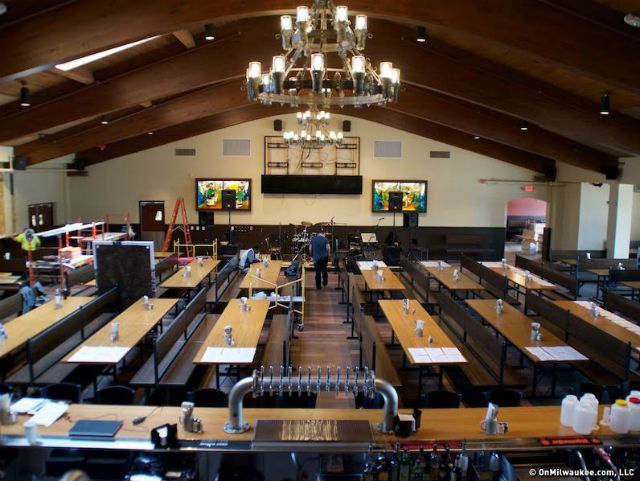 Unsurprisingly, the patrons loved it, and Bell insisted "it was fun," though he said many people – returning to the bar for more draughts, especially as the drought continued – actually apologized for taking advantage of the offer and hoped the Packers would get some points.
This week, struggling Green Bay is on the road against the 8-2 Pittsburgh Steelers, who've won five straight games and allow the second-fewest points in the NFL. But Bell said the Bavarian Bierhaus isn't going to cut off its (probably suddenly-more-popular) promotion.
"We're going to have a whole lot of beer available, just in case the same thing repeats itself," he said. "But I'm confident that we'll have maybe addressed a couple things and put some points on the board this week. That's my goal. And maybe even a victory. Who knows?"
The Packers play the heavily favored Steelers at 7:30 p.m. on Sunday Night Football, and at the very least, fans will have plenty of suds in which to drown their sorrows.
The Bavarian Bierhaus opened in 2016 and features a large beer hall, a 15-barrel brewery and multiple indoor and outdoor event spaces. Visit the Bierhaus website for more information. Read CBC Radio's full interview with Bell here.
Born in Milwaukee but a product of Shorewood High School (go 'Hounds!) and Northwestern University (go 'Cats!), Jimmy never knew the schoolboy bliss of cheering for a winning football, basketball or baseball team. So he ditched being a fan in order to cover sports professionally - occasionally objectively, always passionately. He's lived in Chicago, New York and Dallas, but now resides again in his beloved Brew City and is an ardent attacker of the notorious Milwaukee Inferiority Complex.
After interning at print publications like Birds and Blooms (official motto: "America's #1 backyard birding and gardening magazine!"), Sports Illustrated (unofficial motto: "Subscribe and save up to 90% off the cover price!") and The Dallas Morning News (a newspaper!), Jimmy worked for web outlets like CBSSports.com, where he was a Packers beat reporter, and FOX Sports Wisconsin, where he managed digital content. He's a proponent and frequent user of em dashes, parenthetical asides, descriptive appositives and, really, anything that makes his sentences longer and more needlessly complex.
Jimmy appreciates references to late '90s Brewers and Bucks players and is the curator of the unofficial John Jaha Hall of Fame. He also enjoys running, biking and soccer, but isn't too annoying about them. He writes about sports - both mainstream and unconventional - and non-sports, including history, music, food, art and even golf (just kidding!), and welcomes reader suggestions for off-the-beaten-path story ideas.