The land of Big Ben rang up an even bigger bummer on Sunday, as Packers faithful not only lost sleep but lost their big London game against the New York Giants, 27-22.
It didn't all look bad; the Packers actually had a 20-10 lead going into the halftime break, with the Green Bay offense looking mostly in rhythm, the defense halting New York power running back Saquon Barkley and the soccer stadium across the pond sounding like a Packers home game. But then, as has become tradition in the Matt LaFleur era, Green Bay let the boot off the neck and let the Giants back into the game – so much so that they eventually just took over the whole thing, outscoring the Packers 17-2 in the second half. (And those two Green Bay did score were from a late intentional safety on their opponent's part.) The offense looked hapless, the defense looked limp, and when special teams is the only department playing with purpose, something's clearly going wrong.
So the Packers hop back over the pond with an underwhelming 3-2 record, with a home game against the other New York team on deck – an otherwise unassuming bout that now all eyes will be on for a response. And as for this historic game? Let's take one final look back before never speaking of The Letdown in London ever again.
1. London calling
An unique football game in an unique destination requires unique pregame activities, such as ...
Football is life. @TedLasso ✖️ @AaronRodgers12

📸 @USWNT @isiphotos pic.twitter.com/hcNfrrTzGm — Green Bay Packers (@packers) October 8, 2022
A very good football player meets a very good doggo in the UK 😊🐶@AaronRodgers12 | #GoPackGo pic.twitter.com/qfNJVItnQl — Green Bay Packers (@packers) October 7, 2022
If anyone was curious on an update about how many #Packers fans and Wisconsinites are over in London for the game - a friend sent this picture to me and it explained everything. 🤣 pic.twitter.com/Q18Ik0ziKD — Kyle Malzhan (@KyleMalzhan) October 9, 2022
OK maybe not THAT unique in the case of Wisconsin drinking bars out of beer.
Hey, at least we all had fun before the game!
2. Seeing double (again)
Aaron Rodgers snd not Aaron Rodgers #doppleganger in London #Packers pic.twitter.com/YEItWxFcZH — Deb Kreuer (@krewmom) October 9, 2022
After coming over to our side of the pond for a Green Bay game, it's only fair that the Packers returned the favor for everyone's favorite (or least TV's favorite) Aaron Rodgers look-alike and played in Europe. Disappointing that, throughout the second half, Rodgers played more like his doppleganger was in the pocket rather than the four-time MVP.
3. Officially touching down in London
A laser to Lazard for the @Packers TD! #GoPackGo

📺: #NYGvsGB on @NFLNetwork
📱: Stream on NFL+ https://t.co/miBTGIf2La pic.twitter.com/tUuWTy2fd5 — NFL (@NFL) October 9, 2022
No matter what happens in the rest of his career, Allen Lazard will always have a place in Packers history as the franchise's first touchdown caught in London, giving Green Bay an early 10-0 lead. And what better way to tribute a score in Britain than by giving a nod to the other brand of football, as Lazard did his best impression of Manchester City goal-scoring beast Erling Haaland and his signiture celebration. A shame the team played more like they were relegation-bound rather than a title contender in the second half.
4. Memories from better times
#Packers Jaire Alexander destroys Saquon Barkley. pic.twitter.com/4Z9EqlCCTw — NFL Unlimited (@NFLUnlimited) October 9, 2022
Look! A strong defensive stop for the Green Bay Packers! Indeed, during the fun half of the London game, the talented Green Bay cornerback truck-sticked Saquon Barkley and gave the impression this overseas trip was going to be no holiday for the Giants. Instead, the second half turned into a breeze for New York, and it was Barkley who would deliver the key devastating hit on the Pack where it counts most: the scoreboard.
5. Fancy footwork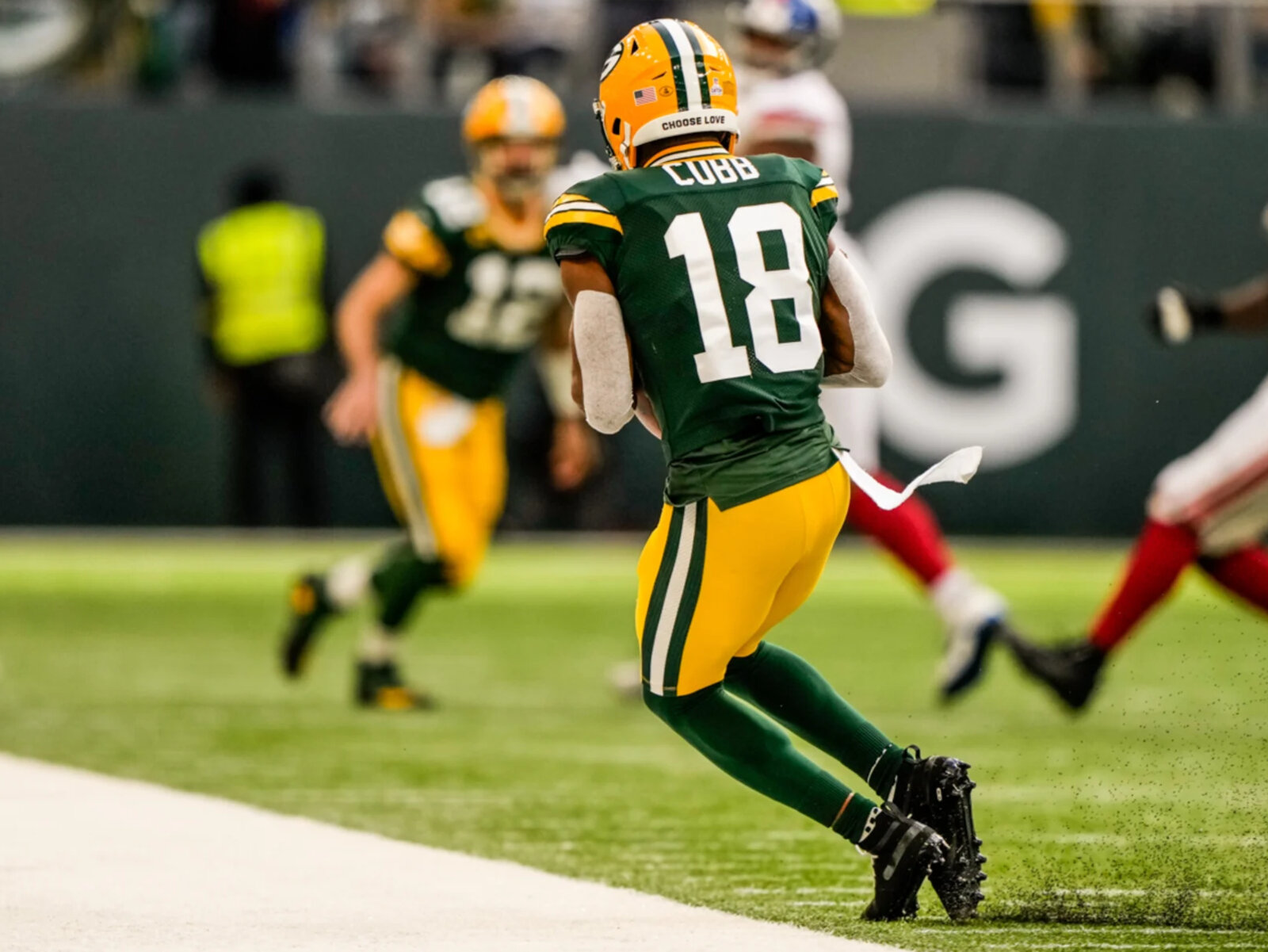 The only thing we'll likely remember from this British excursion is being bummed out before noon – which is a shame because it wastes a vintage Randall Cobb performance. The veteran receiver led the team in catches and yards on Sunday, with seven snags for 99 yards – including this pretty toe-tapping sideline grab that was so pretty, the refs didn't believe it was a catch at first. Unfortunately it was all for naught.
6. Now that's what I call an offense
Aaron Rodgers is an elite actor pic.twitter.com/jphpfhvnvT — IKE Packers Podcast (@IKE_Packers) October 9, 2022
Hard to believe now in retrospect – but there was a time when Sunday's game looked like it might become a laugher, especially after this lovely red zone play that gifted Marcedes Lewis a wide-open touchdown. The score would give the Packers a 17-3 lead – and considering how much the Giants offense was struggling and how nicely the Packers offense was clicking, it seemed like the gap would only grow. Instead, the lead did its best British Empire impression and got clobbered out of existence.
7. And this is not what I call an offense
pic.twitter.com/ZdmseMyfGR — lowlight heaven (@lowlightheaven) October 9, 2022
All that rhythm and offensive success in the first half? The jetlag must've set in, because it was nowhere to be found in the second half. Instead of the balanced attack that gave the Packers a ten-point halftime advantage, Green Bay seemed to lean into a flat passing game that Rodgers and company couldn't get clicking – and only got worse as the Giants turned up the pressure and tightened the margin on the scoreboard.
The most notable, and increasingly notorious, case: After the Giants drove down the field and tied the game up at 20 with a relentless grinding drive in the fourth, the Packers responded ... with three empty incompletions that didn't appear to have a prayer. It was the moment the momentum in the game clearly officially switched sidelines – as well as the moment where Packers fans watching across the globe got that sinking feeling that perhaps it wouldn't be our day.
8. Barkley bites back
He's here!
He's there!
He's every ---where!

📺: @nflnetwork pic.twitter.com/2HOpIpX6je — New York Giants (@Giants) October 9, 2022
If you told me before the game that the Packers would hold star running back Saquon Barkley to just over 100 total yards on the game – only 70 on the ground and 36 through the air – I'd feel pretty good about the final result going Green Bay's way. Unfortunately, most of those stats seemed to come in the second half – even after Barkley seemed to get injured for a number of plays – as the Giants came back with explosive moments from their running back along with confident and composed play from quarterback Daniel Jones. As for the Packers' offense? Significantly less confident and composed ...
9. Over before it even started
pic.twitter.com/BKqmAQJn1q — lowlight heaven (@lowlightheaven) October 9, 2022
Third and two, from within the New York ten-yard line: Surely the Packers' offense can manage at least two yards and at worst push this game into overtime, right? Unfortunately, as became the trend in the second half, Green Bay abandoned the run and instead ran two limp passing plays that could barely get past the line of scrimmage as the Giants batted both passes out of contention. Sure, there was an attempt at a Hail Mary after this – but when Rodgers and company failed to make anything of this golden opportunity in ugly fashion, that was the dagger.
10. Tough talk
Aaron Jones on #Packers passing 3rd & 2, 4th & 2 nearing one minute left at the 6-yard line down a touchdown.

"I'd put my money on giving me or AJ Dillon two downs to get two yards, I'd put my money on it." pic.twitter.com/FL1sLZqYzi — Cody Krupp (@CodyWKrupp) October 9, 2022
The flight home was already going to be longer than usual, but considering the way the Packers were talking after the loss – with Aaron Jones above seeming to question the playcalling in the clutch, Jaire Alexander already worried about losing to the Jets and Aaron Rodgers not happy with the tone in the locker room – one imagines it'll be a potentially eventful journey back, maybe complete with a players-only meeting in the plane.
Allow me to be odd optimistic: Maybe ... this loss is exactly what the Packers needed? Across LaFleur's tenure, the Packers have regularly gotten away with playing with fire and skated into the playoffs – with disappointing results in the postseason. Perhaps a regular season where they're forced to learn hard lessons, where they have to scrap and dig deep to keep their championship ambitions alive rather than comfortably lock up a slot with a month or two to go, will benefit Green Bay in the end. After all, they didn't win their championship with their best regular season (or, to jump to another sport, neither did the Bucks). So maybe this unimpressive start to the season will lead to an impressive finish ... or so I'm going to try and convince myself.
As much as it is a gigantic cliché to say that one has always had a passion for film, Matt Mueller has always had a passion for film. Whether it was bringing in the latest movie reviews for his first grade show-and-tell or writing film reviews for the St. Norbert College Times as a high school student, Matt is way too obsessed with movies for his own good.
When he's not writing about the latest blockbuster or talking much too glowingly about "Piranha 3D," Matt can probably be found watching literally any sport (minus cricket) or working at - get this - a local movie theater. Or watching a movie. Yeah, he's probably watching a movie.