The Green Bay Packers named longtime scout Brian Gutekunst their new general manager on Monday, as part of an organizational restructuring that promoted Russ Ball to executive vice president/director of football operations and brought Gutekunst, Ball and head coach Mike McCarthy under the direct report of team president Mark Murphy.
At their introductory press conference, both Murphy and Gutekunst made comments indicating the Packers – one of the NFL's most consistently successful, if conservatively run, franchises – were going to be doing things quite a bit differently going forward.
Murphy lamented departmental "silos" and "breakdowns in communication," which many read as discord between former GM Ted Thompson and McCarthy, as well as among factions within the front office. Murphy, who will have sole authority to hire and fire the coach, also suggested he'd be more involved with football decisions; that would be a major departure from the previous arrangement when Thompson had near-hegemonic control over personnel. Clearly, Murphy sought to balance the power and responsibilities held by Thompson, whose job title was executive vice president, general manager and director of football operations.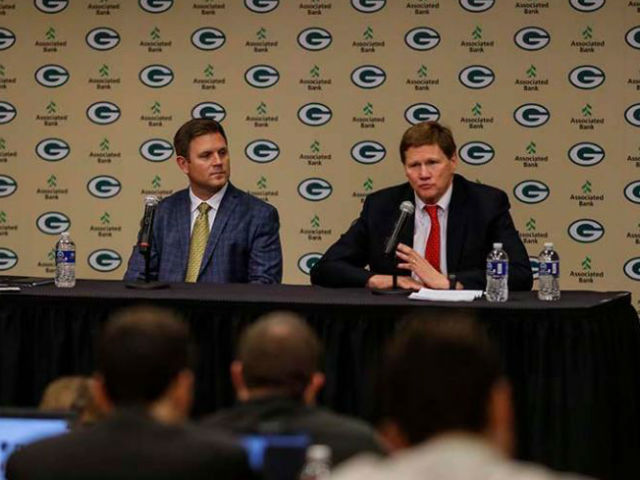 As for Gutekunst, he was straightforward in describing his roster-building philosophy, which sounds like it will conform more to the style of former GM Ron Wolf, who hired him in 1998, than his immediate predecessor. Thompson, shrewd, stubborn and private, largely eschewed free agency – and in recent seasons was content to let many of his own players walk, even when there was no proven replacement – in favor of developing draft picks and mining undrafted free agents for diamonds in the rough. It was a budget-conscious approach – and Green Bay was almost always in sound salary-cap shape – but left the team vulnerable and with little depth when injuries inevitably struck.
Gutekunst was asked how he will construct his team.
"Obviously, our foundation is going to be the draft," Gutekunst said. "But I think (free agency) is an absolute must as an accessory piece. The thing that I've already told our guys is that we're not going to sign every player. We're not going to be able to make that the foundation of our team. But we want to be in it and we want to be in the know of everything that's going on and, if it makes sense for us, not to be afraid. We have to be prepared enough to pull the trigger.
"We're not going to leave any stone unturned as far as every avenue of player acquisition. Doesn't mean we're always going to get to the finish and actually sign the guy, but we're going to go throughout the entire process and be in on every possible acquisition. Our guys are really excited about that."
The loss of Aaron Rodgers for two months due to a broken collarbone was the obvious main reason the Packers struggled to a 7-9 record and missed the playoffs for the first time in nine years. But backup Brett Hundley also was not good enough, and whether because of misevaluation by the front office, lack of development by the coaches or a combination of the two, Green Bay's poor quarterback play revealed a major problem at a key position and an underlying personnel issue.
Of course, there were other places where major underlying problems existed and were exposed seemingly annually, and it took until the Packers' 2017 collapse to compel action on them. The defense ranked in the league's bottom half for the sixth time in the last seven years, with an impotent pass rush and an inept, injury-ravaged secondary that once again relied on experienced fourth- and fifth-stringers. Defensive coordinator Dom Capers was fired immediately after the season, but it's hard to argue Thompson gave him the best pieces to work with.
Green Bay spent its first two picks in the 2015 and 2017 NFL Drafts on defensive backs, and yet by the end of the season was depending on undrafted free agents like Lenzy Pipkins, Josh Hawkins and Jermaine Whitehead in the secondary. Unearthing an undrafted hidden gem – such as former cornerbacks Tramon Williams and Sam Shields – can provide enormous value, but Gutekunst acknowledged that, especially on defense, the team needs more talent.
"We've got some good players; we didn't play well as a team. The team has to be greater than the parts," he said of improving the defense. "I don't know that I'd phrase it that the cupboard was bare. I just think that there became opportunities for guys and they didn't (take advantage). Now there will be new opportunities and there will probably be new faces and things like that to take on those opportunities.
"I learned a long time ago, from the beginning, that you always want to create competition. And once you kind of realize a player isn't good enough you need to move on. Even if the player you bring in you're not quite sure is good enough either, it's better to move on and bring another player in and see if he can do it rather than stick with the player you know can't. I think that's part of it. I don't think comfort on a roster for players is good."
Now that he's the Packers' general manager, in charge of free agency and the draft and trades and other personnel decisions, here are Brian Gutekunst's top priorities this offseason:
1. Extend Aaron Rodgers' contract
Rodgers signed a five-year, $110 million contract in 2013, at the time a record-breaking deal, but its structure allowed for a possible renegotiation after the 2017 season. Now, after multiple quarterbacks have surpassed his salary, Rodgers is due a big raise, which will once again make him the NFL's highest paid player. Thanks to Thompson frontloading the recent extensions for Davante Adams and Corey Linsley, so that much of the money could be prorated over the 2017 season, the Packers are in good salary-cap shape and prepared to absorb the financial hit coming with Rodgers' contract. At 34, the two-time league MVP is still in his prime, and his new deal could pay him $30 million a year.
2. Deepen the offensive line
The offensive line looked to lack sufficient depth coming out of training camp and following Thompson's 53-man final roster cuts; and it proved almost immediately to be so once the season began. The Packers started seven different offensive line combinations in their first seven games of 2017, and by the end of the year pedestrian backups Justin McCray and Lucas Patrick were playing heavily. By nature, the offensive line endures major attrition; last season Green Bay, which drafted just two linemen in the three previous drafts, wasn't ready for it. In 2018, the Packers need both quantity and quality depth.
3. Rework receivers' contracts
The Packers accomplished one of their personnel goals by re-signing Adams to a four-year, $58 million extension in late December, keeping their best playmaker in Green Bay and appeasing Rodgers, who'd publicly lobbied for his return. In 2017, Adams emerged as the Packers' No. 1 wideout, but the team is still paying Jordy Nelson and Randall Cobb top-receiver money – both more than $12.5 million in 2018 – despite diminished production. It's hard to imagine the Packers paying more than $35 million combined next year to three receivers, so Gutekunst could ask Nelson and/or Cobb to take a pay cut, with the alternative being their release.
4. Find a difference-making tight end
After the 2016 season ended, Rodgers said of his tight end and favorite playoff target, "Jared Cook, I think, needs to be near the top of the priority list, the way he played this year." The Packers let Cook leave, signed Martellus Bennett to replace him, and that didn't work out, with Bennett being waived midway through the season after the quarterback got hurt. Rodgers is at his best when he has an athletic, playmaking, game-breaking tight end to stretch the field, which complements the other receivers and improves Green Bay's passing game. The top four receiving tight ends this season were on playoff teams. The Packers don't need to find the next Rob Gronkowski; but they can't go into 2018 thinking Richard Rodgers and Lance Kendricks are suitable.
5. Acquire an elite cornerback
The Jacksonville Jaguars' sudden leap from NFL doormat to Divisional Round playoff team is thanks to their league-best passing defense. And that passing defense got to where it is now because, in two years, the Jaguars added to their secondary three free agents and a first-round draft pick, all four of whom start and make up the best defensive backfield in football. The Packers spent their first two draft picks on defensive backs in 2015 and 2017, but it's unclear if any of them will be a consistent starter, let alone Pro Bowl-caliber player. Gutekunst can try to take another swing at a cornerback in the draft this year, or – like Jacksonville did with Barry Church, Tashaun Gipson and A.J. Bouye – he can sign a veteran free agent to improve the dreadful secondary.
6. Draft a pass rusher
The Packers' up-and-down, high-potential and low-production pass rush was on display again in 2017, with Nick Perry injured for a quarter of the season and Clay Matthews inconsistent throughout. Green Bay recorded a franchise record seven sacks in a Week 13 win over the Buccaneers, but then had just three in the next two games. Edge rushers are overvalued and expensive in NFL free agency; while Thompson didn't have much luck drafting impactful outside linebackers, perhaps Gutekunst – with his extensive background in college scouting – can find a good one in the middle rounds to add some juice to the Packers' defense.
Born in Milwaukee but a product of Shorewood High School (go 'Hounds!) and Northwestern University (go 'Cats!), Jimmy never knew the schoolboy bliss of cheering for a winning football, basketball or baseball team. So he ditched being a fan in order to cover sports professionally - occasionally objectively, always passionately. He's lived in Chicago, New York and Dallas, but now resides again in his beloved Brew City and is an ardent attacker of the notorious Milwaukee Inferiority Complex.
After interning at print publications like Birds and Blooms (official motto: "America's #1 backyard birding and gardening magazine!"), Sports Illustrated (unofficial motto: "Subscribe and save up to 90% off the cover price!") and The Dallas Morning News (a newspaper!), Jimmy worked for web outlets like CBSSports.com, where he was a Packers beat reporter, and FOX Sports Wisconsin, where he managed digital content. He's a proponent and frequent user of em dashes, parenthetical asides, descriptive appositives and, really, anything that makes his sentences longer and more needlessly complex.
Jimmy appreciates references to late '90s Brewers and Bucks players and is the curator of the unofficial John Jaha Hall of Fame. He also enjoys running, biking and soccer, but isn't too annoying about them. He writes about sports - both mainstream and unconventional - and non-sports, including history, music, food, art and even golf (just kidding!), and welcomes reader suggestions for off-the-beaten-path story ideas.