No one is interested in watching the Jacksonville Jaguars – the NFL's red-headed stepchild that the league desperately wishes they could ship off to England – and judging by the Packers' performance on Sunday, no one is particularly interested in playing against them either.
That would help explain the Pack's listless 24-20 victory, an oddly tight game that seemed like no one on the Green Bay side of the ball set their alarm for. Luckily, the Jags are the Jags – and not only that, the Jags with a rookie backup under center – and couldn't take advantage of the Packers' somnolent showing. But even though they scored the W, it wasn't the kind of performance that has the green and gold faithful seeing confetti in the team's future – even if the Pack's still tied for the best record in the NFC and their competition's quarterback, Drew Brees, is currently getting an MRI for a rib injury.
So let's take a final look back at 11 key moments from Sunday's game and then forget that it ever happened. Not that there's much to remember anyways.
1. You know what time it is ...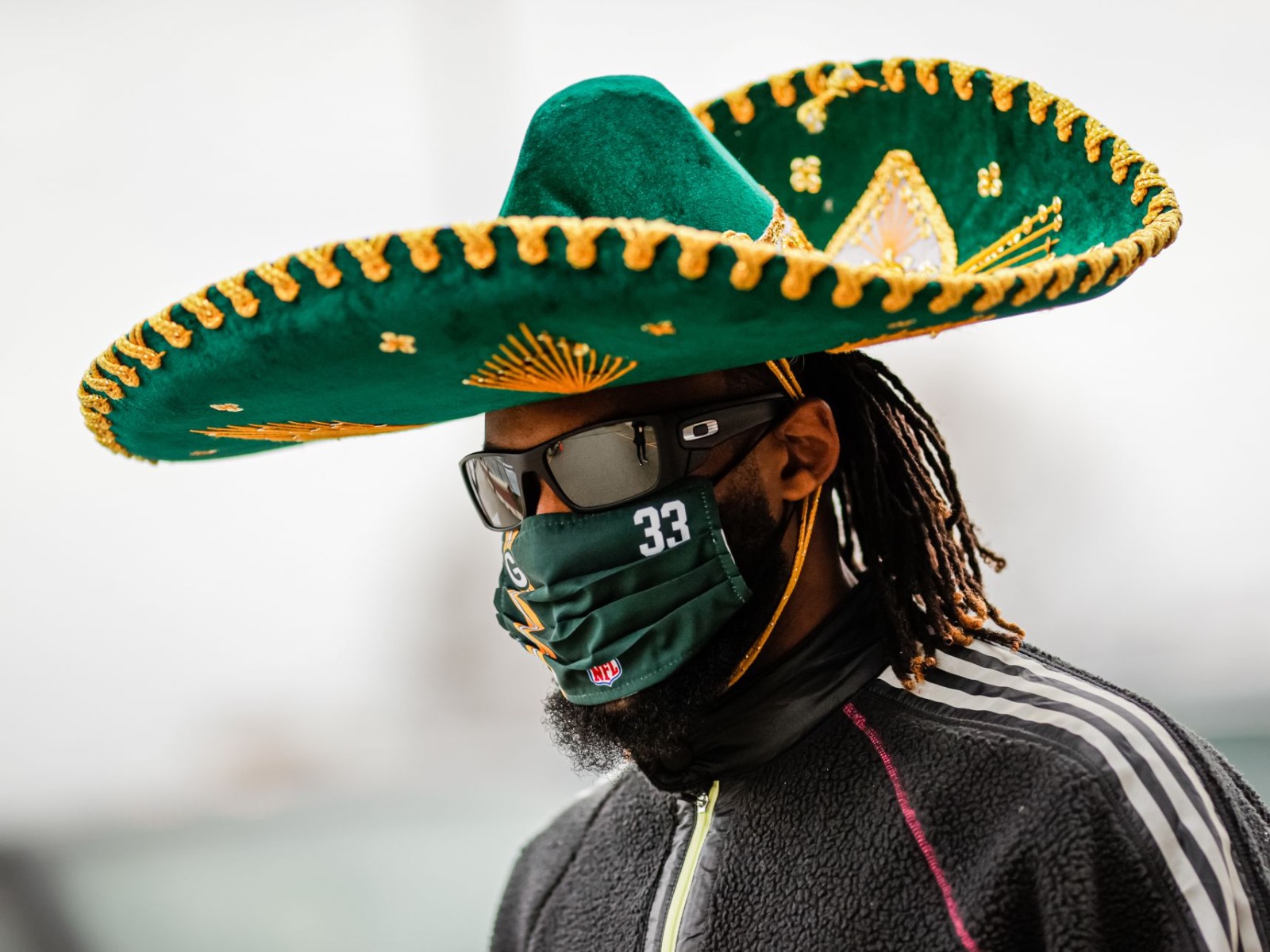 It's Sunday, and the Packers are playing, which means it's sombrero o'clock for the Packers' best dressed and most fashionable player. But wait ...
2. A new fashion-forward player has entered the chat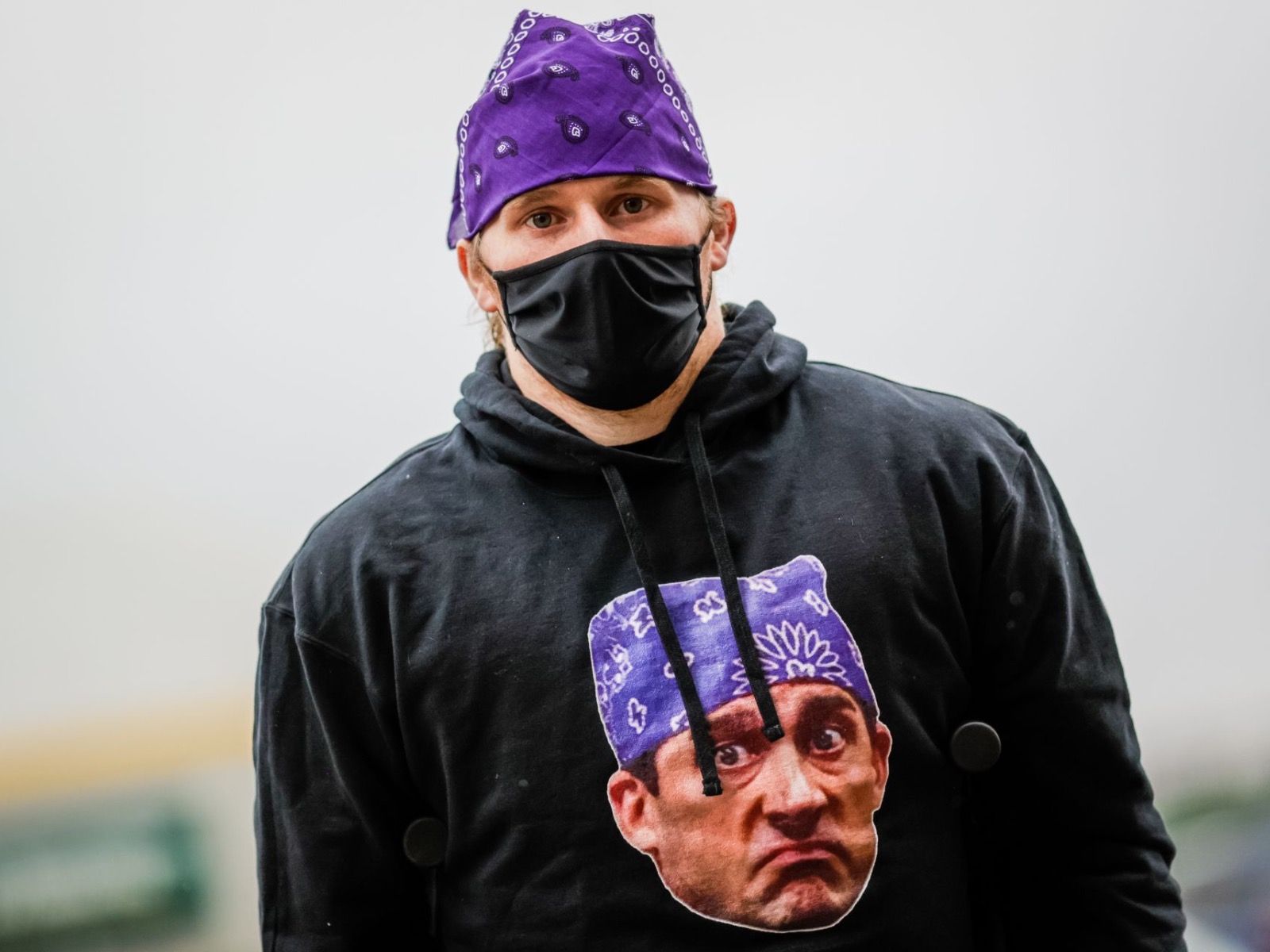 Wearing a Prison Mike sweatshirt? Already a fashion victory. Wearing a Prison Mike sweatshirt WHILE ROCKING THE PRISON MIKE BANDANA LOOK?! Well, somebody should get an invite to the Met Gala or at least a Vogue cover. (In related news, I clearly know nothing about fashion, high or low.)
3. A helpful assist
The Packers looked as drowsy as we all feel in the first quarter, registering three straight uneventful punts and falling behind 3-0 after 15 minutes. Thankfully, they finally struck paydirt on a deep fling to Marquez Valdes-Scantling ... complete with some assistance from a well-positioned referee.
Marquez Valdes-Scantling used the referee as a moving screen on this 78-yard TD.pic.twitter.com/Hmdmcu4fb7 — NFL Update (@MySportsUpdate) November 15, 2020
4. MVSuccess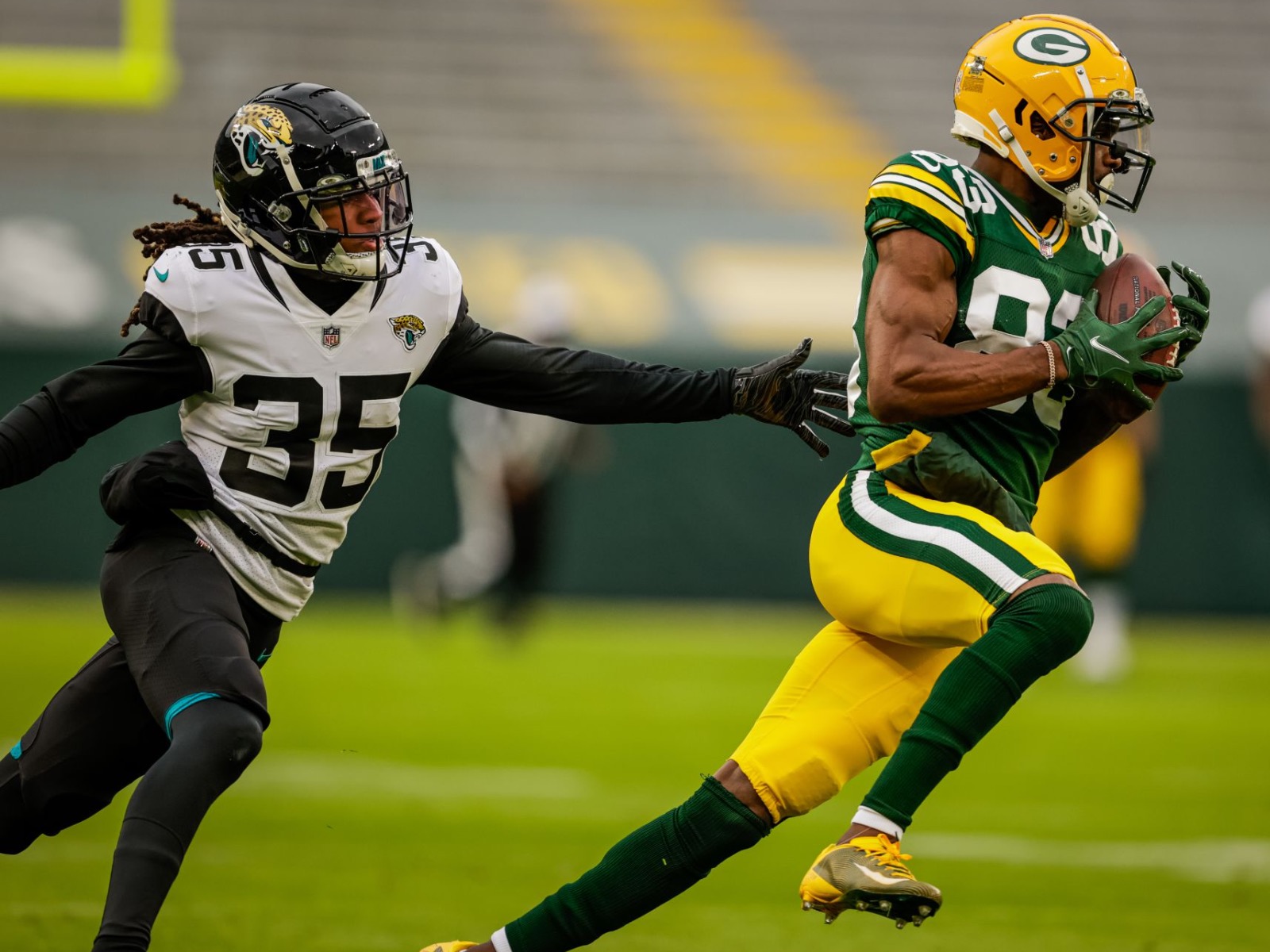 We've spent a lot of time ragging on Marquez Valdes-Scantling these past few seasons, ridiculously his all-too-regular drops and pointing to him as the prime example of why the team needed to draft or trade for receiver depth. So it's only fair to give him some credit as well when he has a good game – like, say, Sunday when he led the team with a personal record 149 yards on four catches and his game-awakening touchdown.
5. A no-good, very bad day
Listen, a win is a win is a win – but it's certainly more fun when it doesn't look like farts on the field. Against a one-win foe, the Packers looked particularly disinterested throughout Sunday's game. Aaron Rodgers tossed a rare interception, the offense scuffled for much of the game – failing to score in the first quarter for the first time this season – and they gave up this half-hearted punt return touchdown.
KEELAN COLE 90-YARD PUNT RETURN TD 🔥

(via @NFL) pic.twitter.com/DpoN50C2QZ — Bleacher Report (@BleacherReport) November 15, 2020
I want to say this was a trap game, that they were simply looking ahead to next week, but it's not like the Indianapolis Colts are a sexy matchup that would distract from the current week. So maybe the tryptophan just kicked in early this year?
6. The "JK" in JK Scott stands for "just kicks"
Let's just take one final look back at punter JK Scott's "tackle attempt" on that punt return, a moment that set kickers back approximately 45 years.
Keelan Cole did JK Scott dirty 😂 pic.twitter.com/qmloL3TaNt — Andrew Gibson (@1010XLAG) November 15, 2020
I've never seen a player scare another player into not tackling him.
7. It's no belt, but it'll do
Aaron Rodgers scampered into the endzone for a touchdown on Sunday, but what's more important is his two-part celebration. The first segment was a classic riff on the Lambeau Leap, though it looked more like a Green Bay Bodycheck if you ask me. The second part? Well, that's more of a mystery ...
This Aaron Rodgers' celebration 🤣 pic.twitter.com/zyQlhBy2vi — Lily Zhao (@LilySZhao) November 15, 2020
Social media seems to think it's either a reference to "Goldmember" or his take on Rudy Guiliani yelling "THE NETWORKS!" at the Four Seasons Total Landscaping. Either way, it's a solid sequel to the Hingle McCringleberry against the Bucs – and better yet, this time the touchdown counts!
8. Timely defense? What's that?!
Green Bay's defense has deservedly taken the brunt of the blame for when the Packers come up short this season – and considering they still gave up a 100-yard performance to Jags running back James Robinson and only won by one possession, Sunday's performance wasn't exactly redemptive. But the Pack did get the kind of timely big plays their defense desperately needs to survive against Jacksonville, from an Adrian Amos interception leading to a key field goal at the end of the first half to back-to-back sacks on the Jags' final drive to seal the game. So we can allow this post-interception celebration:
The D-🚂 hits the #ShowtimeCam after the @_SmashAmos31 pick! #JAXvsGB | #GoPackGo pic.twitter.com/4eAIKNPNMb — Green Bay Packers (@packers) November 15, 2020
I miss the days of organized celebrations. Where is the D-train, I ask!? Anyways, the clear winner of this celebration is Chandon Sullivan having his own little dance party in the right corner.
9. Iced it
Going 🆙

TOUCHDOWN @tae15adams 🙌#JAXvsGB | #GoPackGo

📺 FOX
📱 https://t.co/2UxGSiDK6N pic.twitter.com/YxOJOhqkDf — Green Bay Packers (@packers) November 15, 2020
It was certainly more tense than preferred, but the Packers eventually took the lead, and never gave it back, in the middle of the fourth quarter on this touchdown snag from Davante Adams – who, speaking of unneccesarily dramatic, lost a fumble during the game and was also sidelined for at least a drive with a gimpy ankle. Again, this game was a whole lot of no fun to watch.
10. A fitting end
Jags rookie quarterback Jake Luton didn't have a fond first trip to Lambeau Field – and not just because it definitely sounded like the Fox announcer forgot who he was early in the first quarter. ("The Jacksonville offense takes the field, led by ... *sound of ruffling notes* ... Jake Luton?") The former Oregon State Beaver rarely looked comfortable, throwing for a measly 169 yards, tossing one pick, getting sacked three times and ending the Jags' final gasp on a play that was only missing the Benny Hill theme music.
fairly certain Jake Luton lost all spatial awareness after getting pressured on 4th-and-26 pic.twitter.com/uUSB6iFRsb — Christian D'Andrea (@TrainIsland) November 15, 2020
I can't think of a better way for this ugly game to come to a close than this ugly-arse play: a whole lot of running around and flailing and meandering about, leading to absolutely nothing.
11. The ultimate winner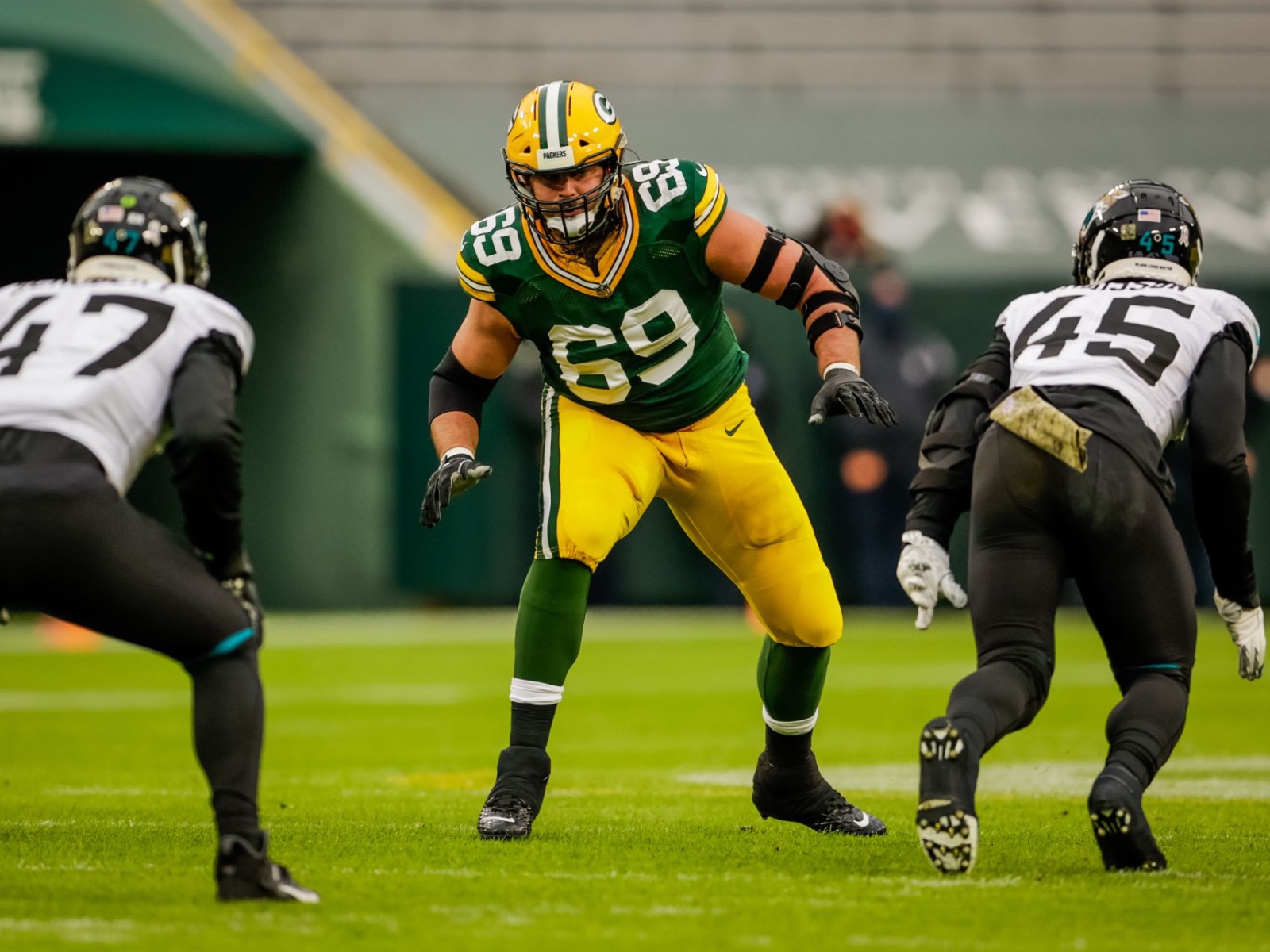 Offensive lineman and "Pitch Perfect 2" star David Bakhtiari was already having a good weekend. His team won, he returned to the field after several weeks on the sideline with broken ribs and he along with the rest of the line only sacrificed one sack on the game. And in case that wasn't enough, after the win, reports came in that Bakhtiari signed a new deal with the Packers the night before, keeping him on Aaron Rodgers' guard for another four years with a deal up to $105.5 million – making him the richest offensive lineman in NFL history. Talk about a productive weekend!
And how does one celebrate a record-breaking payday and an on-the-field win?
How will @DavidBakhtiari celebrate his historic contract extension tonight?

"With my fiancé, pups, a stogie and some beer, a lot of beer, and more beer."  pic.twitter.com/a4QPawEioZ — Stephen Watson (@WISN_Watson) November 15, 2020
Celebrate well, Mr. Bakhtiari; we'll see you again on Sunday against the Indianapolis Colts.
As much as it is a gigantic cliché to say that one has always had a passion for film, Matt Mueller has always had a passion for film. Whether it was bringing in the latest movie reviews for his first grade show-and-tell or writing film reviews for the St. Norbert College Times as a high school student, Matt is way too obsessed with movies for his own good.
When he's not writing about the latest blockbuster or talking much too glowingly about "Piranha 3D," Matt can probably be found watching literally any sport (minus cricket) or working at - get this - a local movie theater. Or watching a movie. Yeah, he's probably watching a movie.