Things were looking a little dire for the Packers after their week one clobbering at the hands of the New Orleans Saints – a loss that only looked worse after the Saints were themselves clobbered by the Carolina Panthers on Sunday. But thankfully, when life has you down, there's always beating the Detroit Lions to put you back up on your feet – and indeed, Green Bay got the relief they needed at the expense of the silver and blue, taming the Lions, 35-17, in the Pack's home opener.
Now, things did always look so cheery for the green and gold – they were down at the half, 17-14, after all – and they did beat a very bad football team that was this close to pulling fans out of the stands to play cornerback. But a win is a win – and at least now we know the Packers can score points, beat the teams they're supposed to beat and (brace yourselves for this) even get a defensive stop. WHAAA!?
Indeed, it was a rare mood-improving Monday in Wisconsin – so let's take a look back at some of the highlights, on and off the field, from the Packers' first win of the 2021-22 season.
1. Bravo, indeed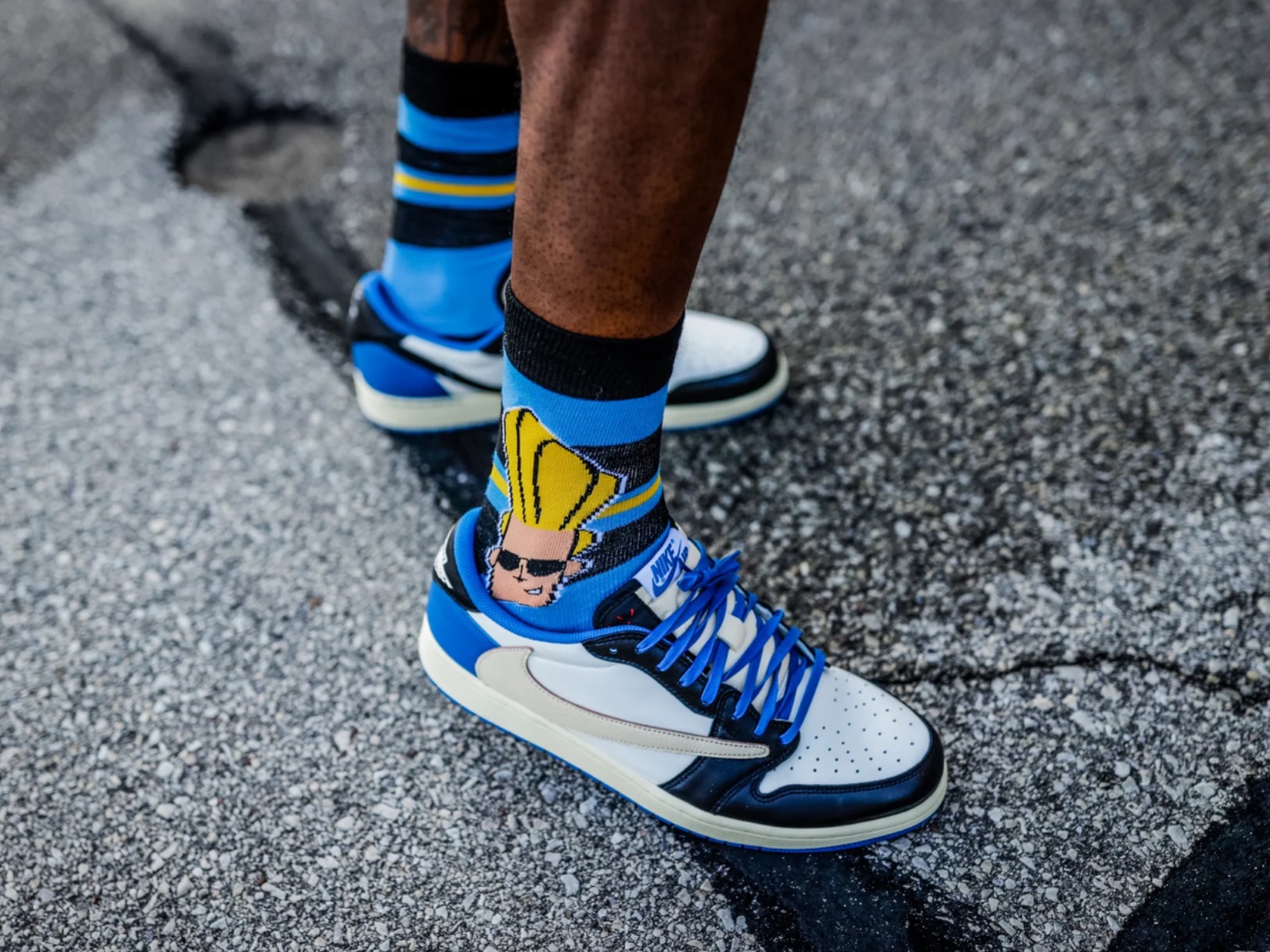 Aaron Jones' sombrero: You have competition now for the finest pregame fashion statement. I'm not even sure whose "Johnny Bravo" socks these are ... but bravo, indeed. I hope he rocks a new Cartoon Network show each home game. (Fingers crossed for "Courage the Cowardly Dog" next!)
2. Hello, old friend
Petition to have Jamaal Williams mic'd up every game 😂

pic.twitter.com/u3veWW9l7Y — Action Network NFL (@ActionNetNFL) September 18, 2021
His former backfield buddy would be the feel-good story of Monday night, but prior to the game, the return of sideline-dancing fan favorite Jamaal Williams was the subplot of choice – especially after this outstanding press conference soundbite, talking about what happened between him and Green Bay. He wouldn't end up making much of an impact on the game for Detroit – seven carries for just 25 yards, three catches for a mere 12 yards – but it's clear everybody in Packers Nation still loves him.
@jswaggdaddy is playing catch with @packers fans at Lambeau, and it makes me miss him that much more 🥲 pic.twitter.com/5kmm0vOC67 — Logan Winser (@logan_winser) September 20, 2021
In fact, we might even love him a bit more after that meh performance against us! We appreciate it – and needed it!
3. Home sweet home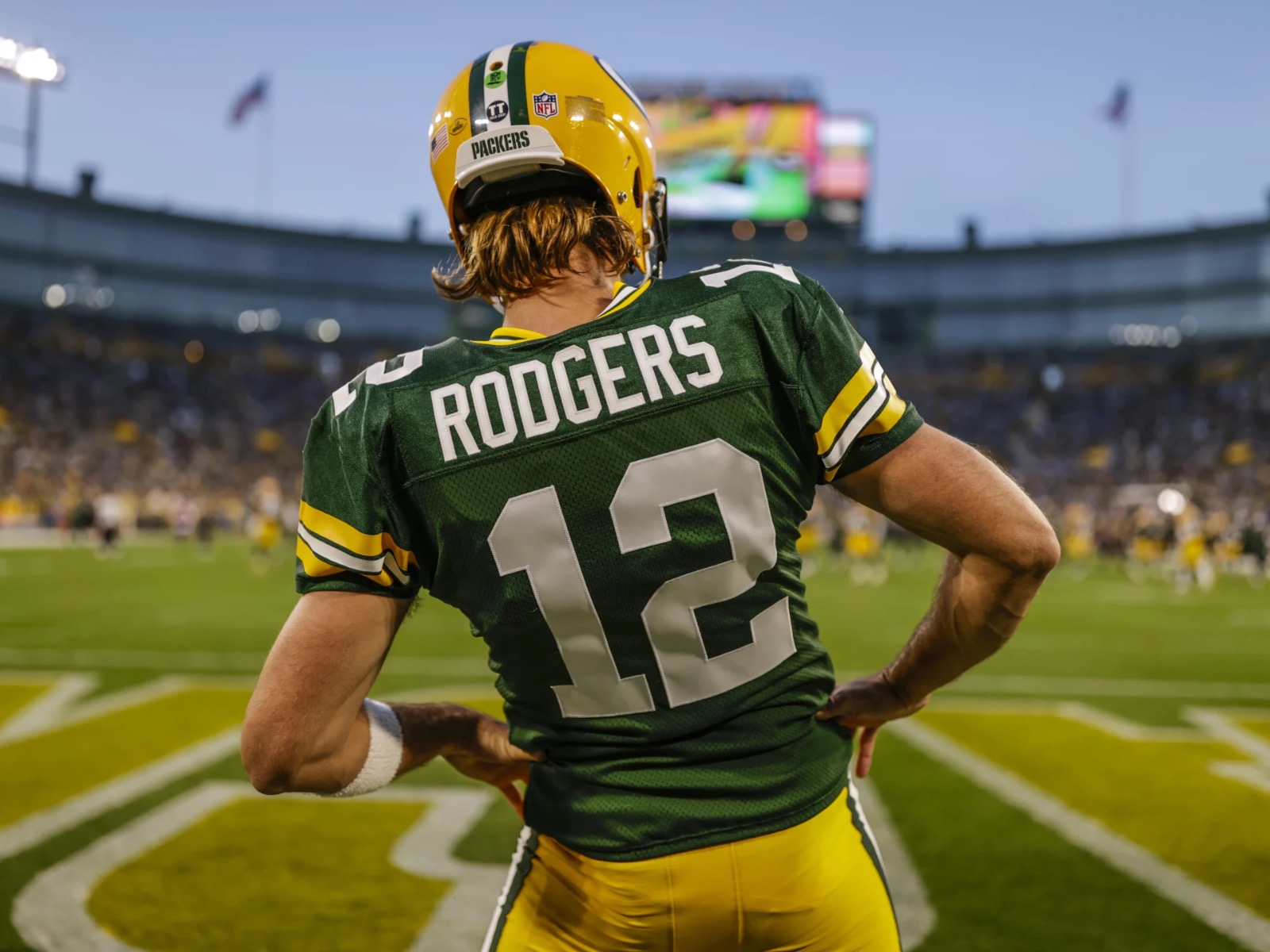 After opening with a bizarre road game in the wrong team's stadium, the Packers not only got to play the Lions but got to come back home to Lambeau – and not just Lambeau, but a filled Lambeau after a season of limited crowds. And with that setting greeting them, Aaron Rodgers and the Packers looked far more, well, at home, looking far more effective on all sides of the ball. Unfortunately, it's back on the road next week to San Francisco ... but anywhere's better than Jacksonville again.
4. Sombrero meets sombrero
¡Gran noche para @Showtyme_33! #GoPackGo pic.twitter.com/xVY3WkACwx — Green Bay Packers (@packers) September 21, 2021
Sombrero forces united last night as Aaron Jones celebrated one of his many, many touchdowns on the evening by scampering over to his fellow sombrero-sporting Packer backer: Señor Cheesehead aka Marcos Flores, a Green Bay superfan all the way from San Antonio who's also formed a bond with the former Texan Jones. Sorry, Lambeau Leap, but you had to wait your turn on Monday – though, by the end of the night, Aaron Jones scored enough to perform just about every kind of endzone celebration.
5. A different kind of Lambeau leap
Did I mention Lambeau Leap? How about this bound from backup running back and kick returner Kylin Hill: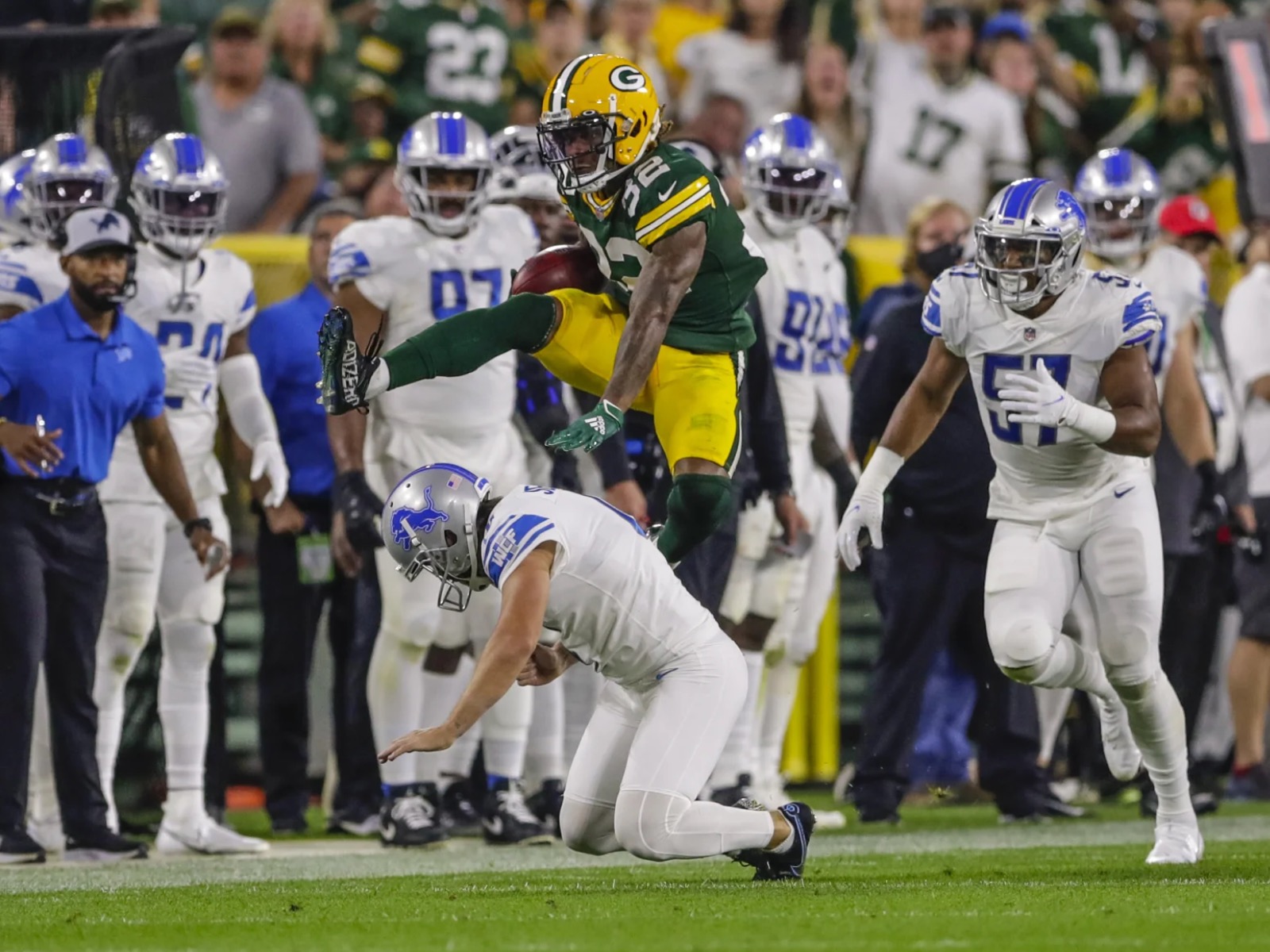 Sure, it's over a punter which takes a little of the air out of the play – but still, it's a highlight from the Packers special teams department! IT'S A MONDAY NIGHT MIRACLE!
6. Man-on-Manning
"His arm is elastic, he can make all those throws. I'm jealous of Aaron Rodgers."

—Peyton Manning on Rodgers' throwing ability pic.twitter.com/oXZ8jA8sPi — ESPN (@espn) September 21, 2021
If you're like me, you got awfully tired of the main ESPN team spending the first half constantly giving the Lions credit for merely showing up and putting their helmets on correctly, as if they're Bishop Sycamore and not a professional football team. We get it: Detroit's supposed to be bad this season – but they showed grit last week too putting up a fight against the 49ers while the Packers proved they were far from perfect, so a competitive, high-scoring affair shouldn't have been an gobsmacking result, fellas.
So I turned over to the Eli and Peyton broadcast – and while lacking polish (like, any of it), it's easily the best way to watch a game right now. The two brothers can really break down a game with speed, with sharp analysis and with an obvious fan-like love of football, and while it's messy – especially when a third person joins aboard – Eli and Peyton have some good chemistry. (Eli seems to know Peyton's the louder and bigger personality, so he smartly shifts to host mode regularly, helping organize things.) It's like watching the game at the bar and talking about it with the cool guys next to you ... who just happen to be Super Bowl winners.
7. A tribute for Ted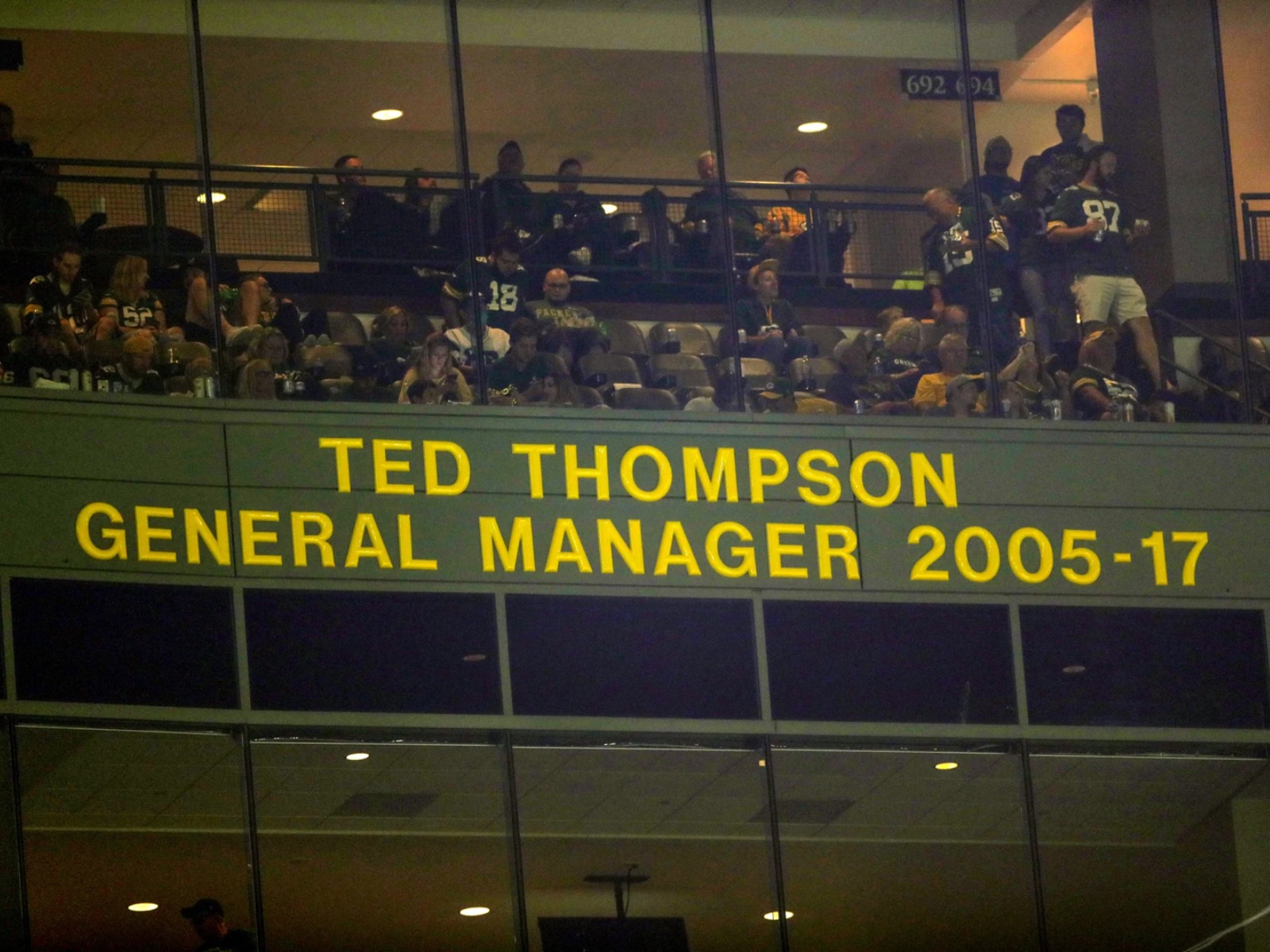 At halftime, the Packers paid well-deserved tribute to the late Ted Thompson, the GM who helped cement this consistently contending football team, made Aaron Rodgers a Packer and brought the Super Bowl trophy back to Green Bay. He passed away earlier this year in January, but now with fans in attendance, the Packers were able to give him a proper formal tribute as well as the best honor a Packer icon could ask for: a win.
8. History after halftime
Aaron Rodgers hits Davante Adams and passes John Elway for 10th all-time in NFL career passing yards. #GoPackGo pic.twitter.com/a9z5JiY6kU — Justin Groc (@justgroc) September 21, 2021
A beautiful deep bomb to Davante Adams? That doesn't seem that special – even during this uncharacteristically rough start. But that's actually a historic pass, the one that locked Rodgers into the top ten all time in passing yards, pushing aside John Elway. Consider it revenge for Super Bowl XXXII, John.
9. That thing about being back on track
Rodgers throws a DIME 🎯

(via @NFL)pic.twitter.com/FbCXJyLur3 — Bleacher Report (@BleacherReport) September 21, 2021
Weird, the cries for Jordan Love to start got a lot quieter this week. While he still missed a few deep bombs on Monday night, Aaron looked much more like Aaron, hitting 22 of his 27 throws for three touchdowns – including this precise missile to Robert Tonyan for the score that would put the Pack up the rest of the night. We'll see how he plays against a real defense next week against the Niners, but it sure looks like that rust has been cleaned. Now if only we could clean up his hairdo ...
10. Hard-nosed defense
Coach hit his face on the helmet 😅

(via @thecheckdown)pic.twitter.com/lhL05Y2mOm — B/R Gridiron (@brgridiron) September 21, 2021
It looked like the same-old sieve-like defense for the Packers in the first half, with the Green Bay D making Jared Goff look like the second coming of Jameis Winston and giving him so much unharried time in the pocket that he could've delivered that "Queen's Gambit" Emmys speech with time to spare. And you guessed it: Kevin King got burnt ... again.
But then, the Packers D (and, yes, some rain) showed up in the second half and they finally starting getting some stops, including the above fourth-down incompletion that defensive coordinator Joe Barry celebrated by head-butting a guy wearing a helmet. Hmm, the defense's struggles make a little more sense now.
But the defense didn't stop there, earning a fumble recovery on a botched snap AND an interception. Sure, the Lions' playcalls were suspect, Goff is no great arm and the rain earns an assist – but at least we now know it's possible to get a stop when needed, a positive development going into San Francisco and playing a better team but also a beatable one with its own offensive shortcomings and struggles to exploit. But please, Joe, stop head-butting the players – for your own sake.
11. Jones-ing for the endzone
Somewhere out there someone said, "Yeah I should win fantasy this week, just as long as Aaron Jones doesn't drop 40 points or something." 🙃

(via @NFL) pic.twitter.com/WR2xOy1D2H — FOX Sports: NFL (@NFLonFOX) September 21, 2021
Huh, funny how the offense looks better when you actually remember you have a running game.
A week after geting abandoned shortly after the opening kickoff, Aaron Jones showed why he should be fed early and often on Monday night, running for 67 yards on the ground, nabbing 48 yards on six catches in the air and scoring a total of four touchdowns on the night. And somehow those numbers fall short of capturing what a key cog he was Monday night, trampling all over the Lions' depleted defense. And in case Jones wasn't having a good enough night, when he thought he lost his necklace containing his father's ashes in the endzone – a fitting tribute and final resting spot if there ever was one – the grounds crew ending up retriving the meaningful piece.
Overall, it was a great night for Jones – and a terrible night for the Lions D. And for me, who was definitely the "someone" alluded to in the above tweet. What, AJ Dillon couldn't have vultured just one of those scores!? You win some, you lose some ...
As much as it is a gigantic cliché to say that one has always had a passion for film, Matt Mueller has always had a passion for film. Whether it was bringing in the latest movie reviews for his first grade show-and-tell or writing film reviews for the St. Norbert College Times as a high school student, Matt is way too obsessed with movies for his own good.
When he's not writing about the latest blockbuster or talking much too glowingly about "Piranha 3D," Matt can probably be found watching literally any sport (minus cricket) or working at - get this - a local movie theater. Or watching a movie. Yeah, he's probably watching a movie.