The Packers' disappointment-filled 2022-23 season saved its biggest one for last, as Green Bay choked in front of their home crowd and lost 20-16 to the Detroit Lions, blowing their chance at the postseason and ending their campaign early.
I feel like an idiot for letting this team trick me into thinking they were good. For letting them trick me into thinking they would show up for a meaningful game – something they steadfastly refused to do for most of the season, ignoring get-right game after get-right game against seemingly inferior squads like the Jets and Commanders. For letting a comeback win against the worst team in the league, a comeback win against a concussed quarterback and a win against a Rams team entirely on the IR fool me into thinking this team was improving. For letting them get my hopes up for nothing. This team had a chance, against all odds, to earn a playoff spot on Sunday night. Instead, they earned a loss – a truly earned final L, coughing up opportunities and just plain playing stupid. At least they saved us all the indignity of having to pretend they were actually a playoff-quality football team for one more week – though I guess they could've saved us even more time by doing that back when the Lions ended their season the first time two months ago.
So yeah, bad day. Let's quick run through the eleven main takeaways and key moments from Sunday night's final wretched display – and then say good riddance to this miserable Packers season. I don't know what I was expecting from a team that thought it could replace one of the best receivers in the league with Sammy Watkins – but somehow it was more than this.
1. Mythbusters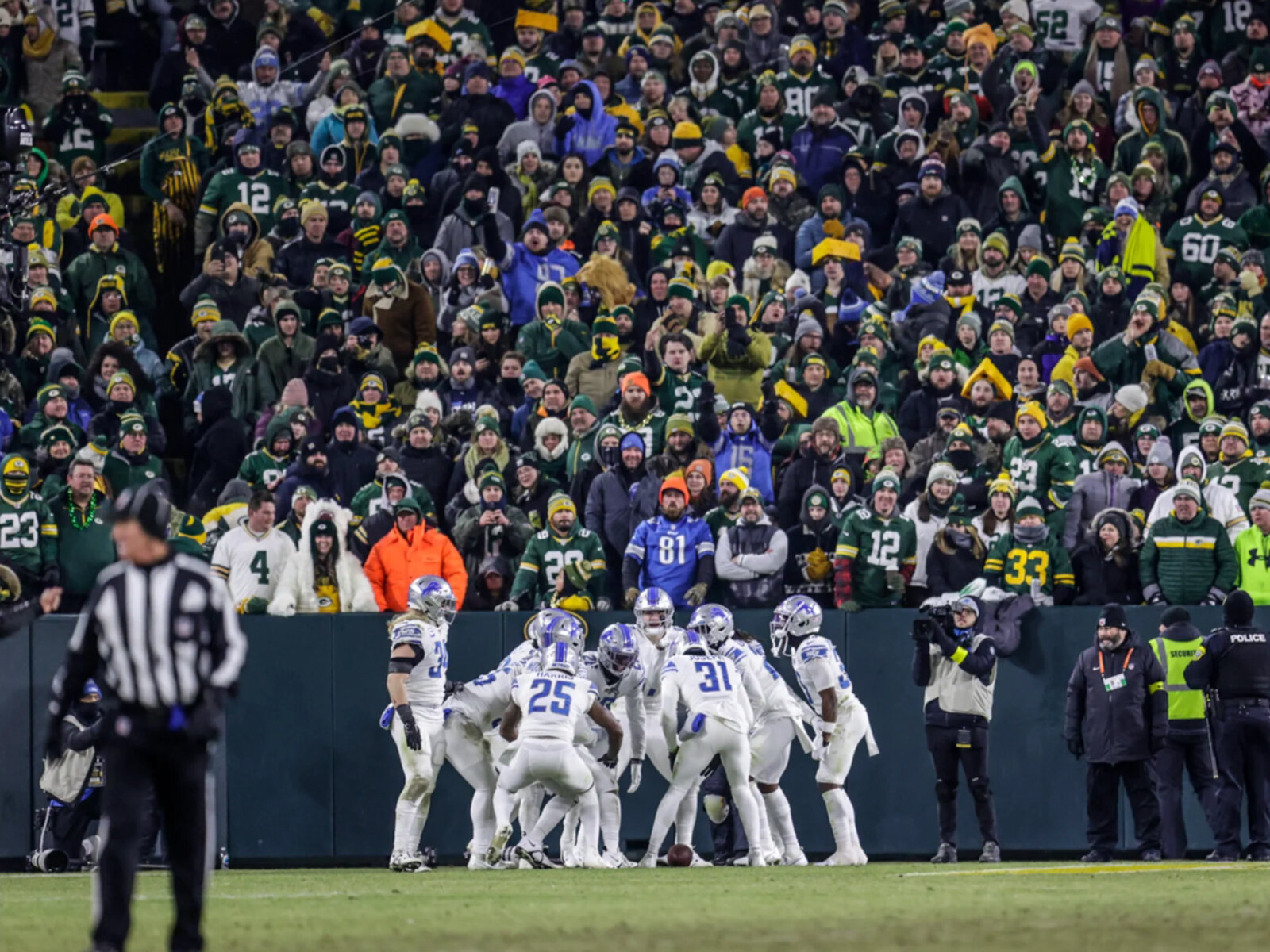 We need to be honest with ourselves: Lambeau Field is just another stadium now. Sure, it holds an impressive history and a meaningful place in sporting mythology – but when it comes to on-field impact and home-field advantage, it's just a football field with great PR. After all, thanks to last night's failure, the Packers' Super Bowl dreams have come to an end at Lambeau Field for three straight seasons, each one arguably more soul-crushing than the next. If there is any Lambeau luck or frozen tundra advantage, this era of the Green Bay Packers sure isn't making use of it.
2. Fourth and dumb
Aaron Rodgers & Packers STOPPED On 4th down …Allen Lazard goes down 👀 pic.twitter.com/WFihZqqOeO — NFL Daily (@SportsContent23) January 9, 2023
When the Packers lost to the Lions earlier this season, one of their sins was getting too cute, busting out trick plays and putzing with their food rather than, you know, scoring points and winning a football game. So surely head coach Matt LaFleur wouldn't bust out more strange playcalls in round two, with their season on the line against a defiantly better Lions team, right? RIGHT!?
Early on in the game, facing a fourth and short on their own side of the field, the Pack went for it. A bold decision – surely made because LaFleur and company had a great play that would continue the drive and push the Lions further to the brink, yes? Apparently no, because the play would turn out to be a sloppy and slow end around for Allen Lazard – by no means the team's fastest asset – that was immediately snuffed out for a drive-murdering loss. Between that and the first drive petering out into just a field goal, it sure felt like deja vu all over again for this Packers team – whether you were flashing back to the Lions game earlier this season or the Niners game in the playoffs last year where Green Bay kept finding ways to lose.
3. It's about the details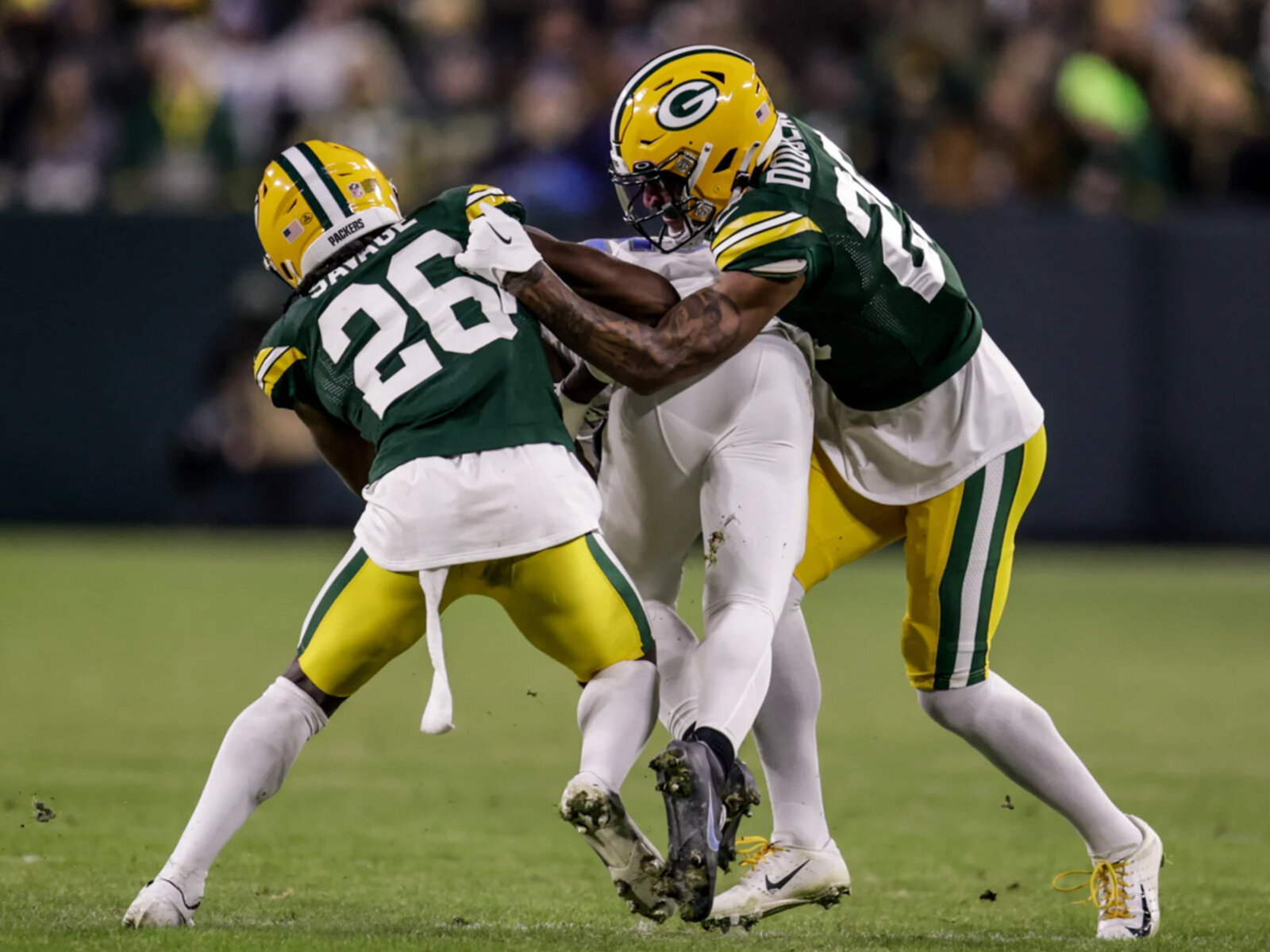 The above photo wasn't the most critical play of the game – but it sure feels like it embodies Green Bay's annoyingly poor play on the night. On a third down, Darnell Savage and Rasul Douglas had a chance to take down a Lions pass catcher for a short gain and a drive-halting fourth down. But instead, Savage tried to strip the ball rather than just make the tackle, and the Lions player managed to power through for a first down. Why (*rubs forehead in irritation*) are you trying so hard to get a turnover when just tackling the guy would result in a punt and getting the ball back anyways? This has been a regular problem for Savage this season – one that must be addressed come next year.
4. Jonesing for some better gloves
Aaron Jones FUMBLE #GoPackGo pic.twitter.com/aleSUmtiG9 — Bye Week 🎙 (@podbyeweek) January 9, 2023
Aaron Jones is arguably the Packers' most valuable offensive weapon, and the team plays better when he is highlighted. Unfortunately, he also has a fumbling problem. Last night's coughed-up ball was his fifth of the season – a career-high. But to make matters worse, the fumble came on a very promising drive at the end of the first half, when it seemed like the Packers were at the very least about to take a two-possession lead on the Lions and maybe score the first touchdown of the game right at the break. It was a moment all-too-reminiscent of his significant fumble in the 2021 NFC championship game against the Tampa, when he fumbled away the ball – and any momentum – on their first drive of the second half. Aaron Jones is a remarkable game-breaking talent – but his fumbles are breaking games toward the other team.
5. What are you doing?
Rasul Douglas : 5 tackles & a 15-yard personal foul penalty pic.twitter.com/XzHPw4mOQj — Lee Harvey (@MusikFan4Life) January 9, 2023
Between dropped passes, baffling play calls and fumbled drives, the Packers worked really hard to not win on Sunday night. But the most perplexing of the Packers' faux pas came right at the end of the half, when Rasul Douglas decided to ... wander into the Lions' field goal formation, swat at the ball and then get into a tiff with the Detroit players, complete with taking a swing at one of them. The confrontation resulted in a 15-yard penalty on the Pack, turning a 48-yard field goal for Detroit's kicker (who'd already missed one from that distance on the night) into an easy 33-yarder. The Lions may have won on Sunday night, but the Packers did their damnedest to beat themselves.
6. I repeat: WHAT ARE YOU DOING?!
Assaulting a first repsonder pic.twitter.com/eFFKkgoIGV — PFT Commenter (@PFTCommenter) January 9, 2023
Quay Walker had a generally solid rookie year ... a fact no one will remember after Sunday night when he decided to push around a Lions training staff member trying to get to an injured player. Because it's not like we've spent a whole week talking about how valuable these team's training staffs are to the health of these men playing a dangerous game and how important it is to let them do their work.
Walker was ejected for his idiotic behavior – the second time on the season he was shown the door early for pushing a non-player. Walker could have a very promising career with the Packers, but if he can't contain himself and keeps making moronic decisions like pushing a doctor trying to help an injured player, it'll be much shorter than expected.
7. Bright future
Christian Watson is that guy pic.twitter.com/KI0QCPrEh1 — Lily Zhao (@LilySZhao) January 9, 2023
This was easily one of the most upsetting Packers seasons I've been alive for – not the worst but the most frustrating. But that doesn't mean there weren't bright spots – and clearly one of those was Christian Watson. Between the opening weekend drop that every channel is mandated to rerun every Sunday and injuries keeping him out of rhythm, Watson got off to a rough start – but he ended the season with more than 600 yards and seven touchdowns, topped off by five catches for 104 yards on Sunday night. There are a lot of questions about Green Bay's future – but who will be their number one wide receiver doesn't appear to be one of them.
8. Replay
KERBY JOSEPH. HIS THIRD INT OF RODGERS THIS YEAR.

📺: #DETvsGB on NBC
📱: Stream on NFL+ https://t.co/9hDtJVDM1m pic.twitter.com/yuOfeiio8d — NFL (@NFL) January 9, 2023
Stop me if you've heard this one before: Aaron Rodgers, panicked at the end of a critical game, hoists up a prayer of a pass doomed to be intercepted or incomplete. Yep, it happened again on Sunday night, this time falling into the arms of the Lions' Kerby Joseph, who caught three interceptions against Rodgers this season – and could've had one or two more, as he dropped one earlier on the night on a wheel route play to Aaron Jones that he saw coming a mile away. There was hope that, maybe with a defensive stop, the Packers still had a chance – but it was quickly clear that Green Bay used up all their miracles over the past month.
9. Gluteus maximus
Remember when Amon Ra St. Brown's butt ended the Packers' season?

pic.twitter.com/OyZlXCmkXh — BetMGM 🦁 (@BetMGM) January 9, 2023
Despite some bone-headed penalties and not being able to get off the field at critical moments, the Packers defense actually did a decent job reining in the Lions' offensive attack. They held Detroit to one of their lowest point totals of the entire season and kept star receiver Amon-Ra St. Brown to just 49 yards on six catches – though unfortunately one of those catches was this miraculous clench by his thighs and booty. Because who needs hands!? In case all evidence prior wasn't enough, this was the final clue that, nope, it just wasn't gonna happen Sunday night. When an opponent's butt can catch better than some of your receivers on the night, fate has spoken.
10. Heart of a lion
One of the greatest mood switches in post game interview history.

Stop playing with Jamaal Williams! pic.twitter.com/gdsyIaSXtl — Barstool Sports (@barstoolsports) January 9, 2023
A lot of people argued that the Packers had an advantage going into Sunday night, considering that if the Seahawks won earlier that day, the Lions would be eliminated from the postseason and have nothing to play for. Those people were idiots. We had 17 weeks of football and a whole dang reality TV show telling us who Dan Campbell's Lions were: a team that plays hard no matter what, that may not be the best squad on the field but will always be the hardest working. So even though Detroit only had pride to play for on Sunday night, apparently that was enough. Perhaps it's fitting that this year's Packers – a team that regularly (and mistakenly) played like all they had to do was show up to win – would get eliminated by their polar opposite.
11. One final time?
It's enough to make you cry pic.twitter.com/wMsVQLTgIG — PackersHistory.com (@PackersHistory1) January 9, 2023
The Packers season is now over – which means it's now AaronWatch season, every Green Bay fan's favorite part of being a fan!
Going into the game, I was confident we'd see Rodgers again in a Packers jersey next year – after all, he's got more than 50 million reasons to come back, plus a bit of redemption after one of his most disappointing seasons both on the stat sheet and in the standings. But boy, it's hard to watch him and Randall Cobb walk off the Lambeau Field turf, looking all melancholy, and not think there's more going on there than just two guys sad about losing a game. Add in the scenes of him telling a Lions player that he's holding onto this particular jersey after the game, and talking openly to the media about feeling content about all of his offseason options, and it's quite possible that we've seen the last of our four-time MVP, Super Bowl-winning quarterback on the field.
Still, if I had to bet? I think he's back. Because otherwise, what a bummer of a final bow.
As much as it is a gigantic cliché to say that one has always had a passion for film, Matt Mueller has always had a passion for film. Whether it was bringing in the latest movie reviews for his first grade show-and-tell or writing film reviews for the St. Norbert College Times as a high school student, Matt is way too obsessed with movies for his own good.
When he's not writing about the latest blockbuster or talking much too glowingly about "Piranha 3D," Matt can probably be found watching literally any sport (minus cricket) or working at - get this - a local movie theater. Or watching a movie. Yeah, he's probably watching a movie.