This past week marked one of the greatest weeks in Wisconsin sports history ... that is, until last night.
With as young and inexperienced as this year's team is, Green Bay was inevitably going to lose a bowser of a game this season – and boy, did they on Thursday night, doing their best impression of Packers fans in Lambeau last night and failing to show up against the Detroit Lions, 34-20. And that score implies that the game was somewhat close. It was not. It was full-scale domination for almost the entire 60-minute game, with the Pack eventually down 24 points at the half before a wheezing gasp of a comeback took place late in the third quarter.
There's going to be a lot of questions coming out of Thursday night (most notably: how did so many Lions fans get so many tickets?!) and Matt LaFleur and the Packers will have plenty of time to try and answer them, with a week and a half before their next game. But in the meantime, let's take a final look back at the key takeaways from Thursday night's shellacking – and then never speak of it again.
1. All dressed up, nowhere to go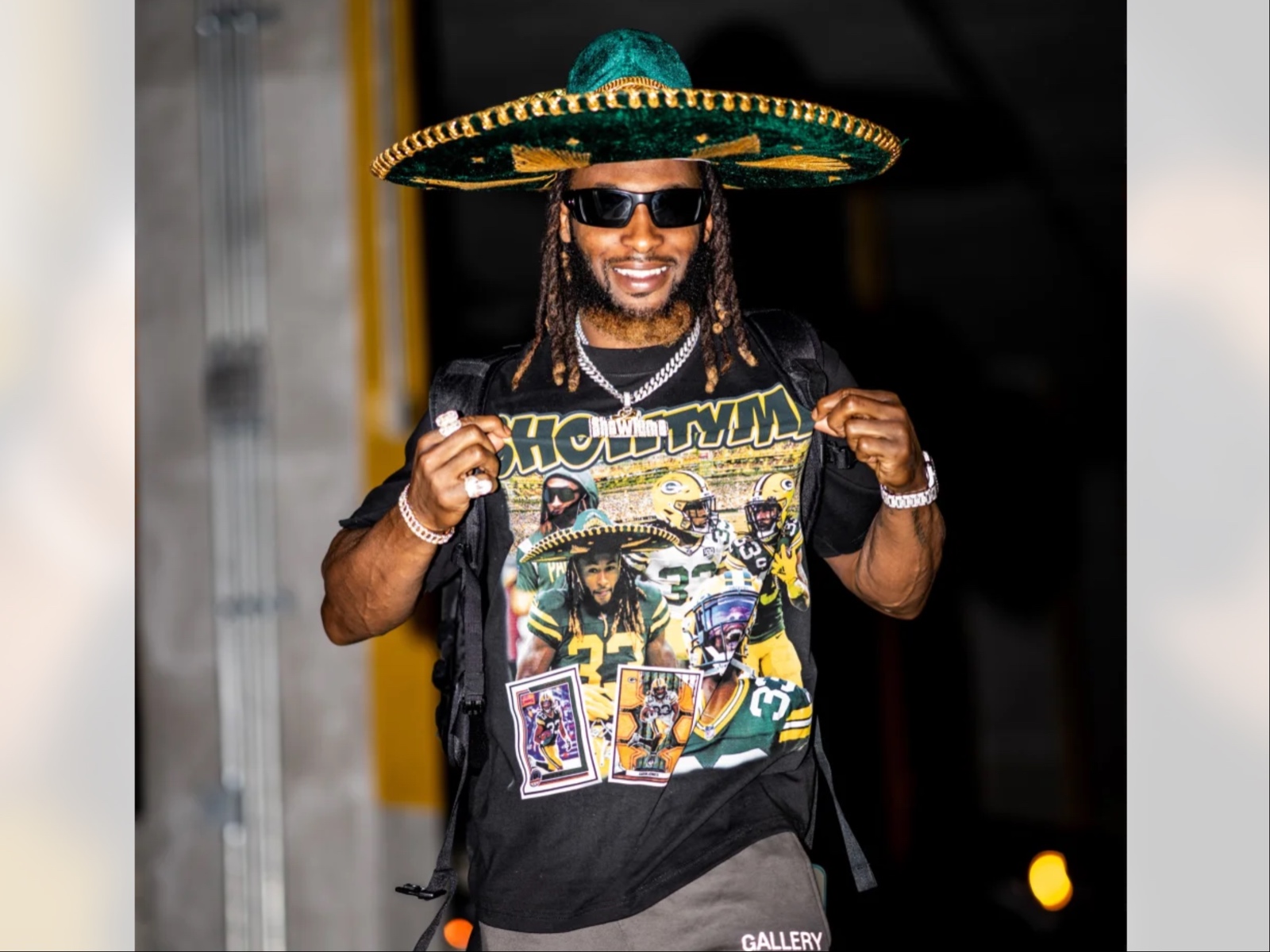 Packers fans at least had some reason to cheer before kickoff, as the injury report revealed star running back Aaron Jones – after taking the last two games off due to a nagging hamstring injury – would be back on the field for Thursday Night Football. That statement, however, would need asterisks upon asterisks, as Jones would only get the ball five times on the night and wouldn't get his first rushing touch until the second quarter with the team already down three touchdowns. Maybe Jones' leg wasn't truly at full strength and, sure, game flow made running the ball obsolete quickly – but this isn't a new trend. I'm not sure who Jones has upset in Green Bay HQ over the years, but for some odd reason, from the McCarthy era to now, this team absolutely hates using its best player – and it's costing them points and wins.
2. 6 Foot 7 Foot, 24 points down
Lil Wayne at Lambeau Field for Lions-Packers 🔥

(via @NFLonPrime)pic.twitter.com/YHTG7s9sZ3 — Sports Illustrated (@SInow) September 29, 2023
Lil Wayne is a true Packers fan. That being said, he may be banned from Lambeau considering how poorly last night went in his presence. That game was the worst thing he's been involved with since "Rebirth."
3. Tough start
VIDEO: Amon-Ra St. Brown scored a touchdown and found Lions fans in the front row for the Lambeau Leap

🎥: @Lions pic.twitter.com/j7OjZYAIxb — Brad Galli (@BradGalli) September 29, 2023
For the second straight game, the Packers collectively thought the game started after halftime.
Indeed, after an early rare interception from Jared Goff in prime territory, Green Bay's offense managed literally no yards and just a field goal. And things got worse from there, as the Lions would go on to score 24 straight points without breaking a sweat while the Packers offense wouldn't get a first down on their own accord until the final drive of the half. The Packers just looked weak – and sure, you could say it was a short week, but it was short for the Lions too, and they looked more than ready to play. The Pack, meanwhile, looked like they were already booking tickets for Blue Man Group in Vegas next week.
4. Running ruckus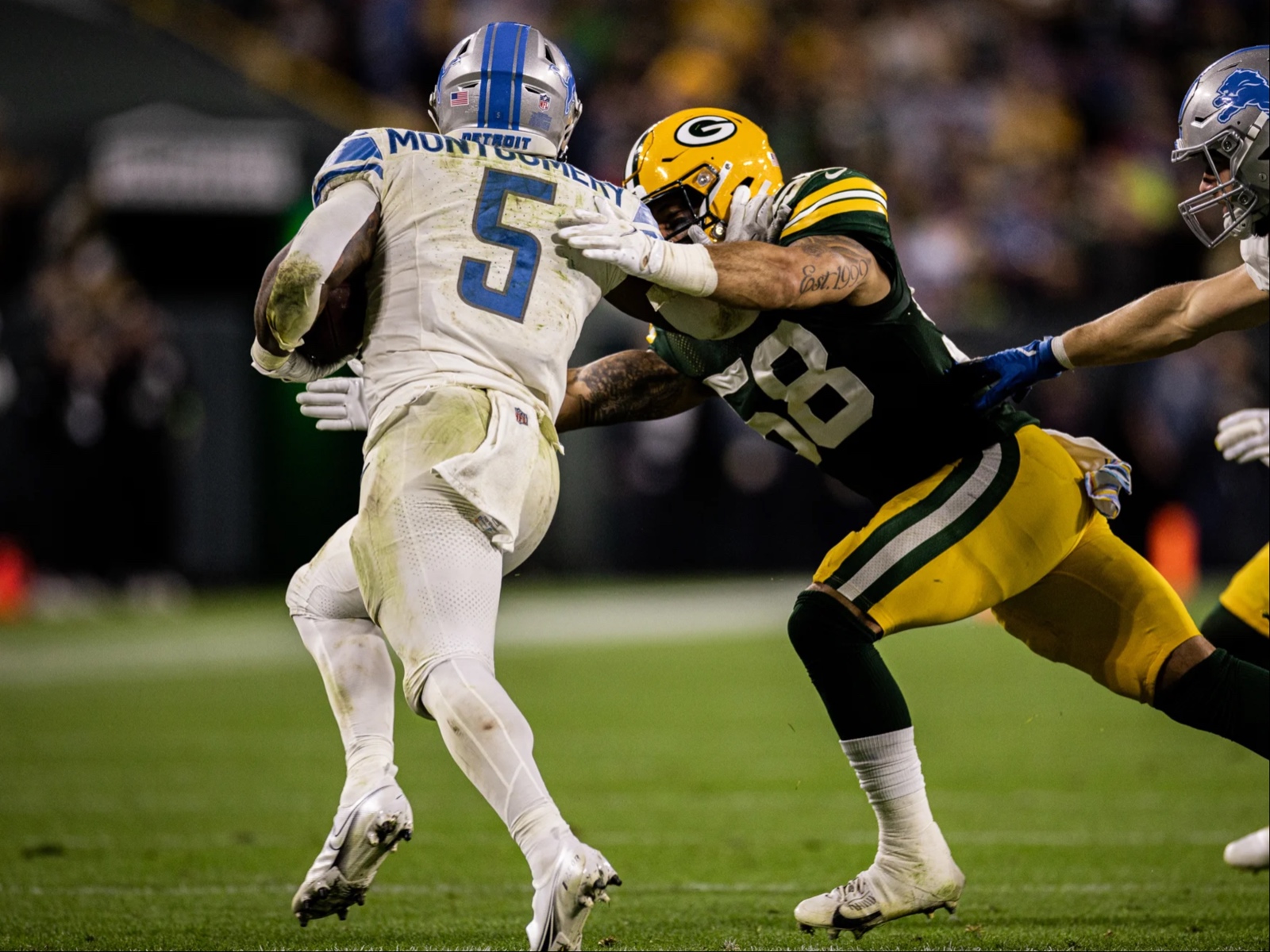 Stop me if you've heard this one before: The Packers got totally gashed by an opponent's running attack. Yep, once again, the Packers seemed ill-equipped to stop the rush, giving up 132 yards and not one, not two but three touchdowns to David Montgomery – plus an additional 40 yards from rookie Jahmyr Gibbs. It may be a new era, but it sure looks like the same disappointing Joe Barry defense – so much so that even Matt LaFleur seemed just as annoyed as fans after the game.
5. Comeback, take two?
.@ChristianW2017 with the TD! #DETvsGB | #GoPackGo

📺: Prime Video pic.twitter.com/4NEEiUgJaJ — Green Bay Packers (@packers) September 29, 2023
It took a while, but signs of life eventually emerged from the green and gold sideline on Thursday night as Christian Watson returned from the injured list to score his first touchdown of the year and give Green Bay fans hope for another wild comeback. Misplaced hope, it would turn out – but here's something more worthwhile to believe in: The team's got their speedster deep threat weapon back! And perhaps this offense can look more coherent and consistent with their best field-stretching receiver back on the field.
6. A lack of Quay-lity football
Man…that's a back breaker by Quay Walker pic.twitter.com/bZd6q8gvrC — JPAFootball (@jasrifootball) September 29, 2023
Not that anyone REALLY believed a comeback was happening considering how ramshackle the Packers looked ... but any belief or sense of positivity was definitely crushed under Quay Walker's ill-advised jump during the fourth quarter.
After getting within ten points and holding the Lions to a field goal, it appeared the Packers were just two scores down with the ball coming back to them. But after an ad break, a late penalty flag revealed Walker tried jumping over the offensive line on the field goal attempt – a no-no for years now – and what was a wide but not-insurmountable 30-17 deficit with about eight minutes to work with became a back-breaking three-possession 34-17 gulf with just six minutes to play.
It's Walker's first notable mistake of the season thus far – but making a bad choice like that, coming off the infamous ejections and critical whoopses from his rookie year, it unfortunately looks like he's still got some learning to do.
7. And there is your dagger
I'm Lovin' It#DETvsGB | 📺 @NFLonPrime pic.twitter.com/1mAtGxUhN5 — Detroit Lions (@Lions) September 29, 2023
Not that there was much hope after the Walker penalty/Lions touchdown combo platter of nightmares, but this pick – at the end of an actually impressive Packers drive in the fourth – murdered any remaining optimism. Love wasn't terrible on Thursday – 246 yards with a touchdown pass as well as a touchdown run, all while avoiding the Lions pass rush and attempting to execute a poor offensive strategy – but this interception was suboptimal. As much as he's looked like a legitimate NFL quarterback to start this season, he's also still learning.
8. In our feelings
📍Whambeau Field pic.twitter.com/XA0AwygbdA — Bart Winkler (@WinksThinks) September 29, 2023
Like Packers fans watching this debacle, Coach LaFleur seemed moved almost to tears by the underwhelming effort he was seeing. But really, why was he surprised? Mediocre starts, middling efforts, confusing offensive plans, defenses failing to adjust: This has been the usual for the past few seasons.
Before this year's slate started, I and many others noted that this wasn't going to be as much of a referendum on Jordan Love as much as it was going to be a referendum on Matt LaFleur, no longer having the Aaron Rodgers shine – or shadow – to deflect from issues. In past years, when the offensive gameplan looked shaky and scattershot, the excuse was always that Rodgers loved changing the plays at the line. Well, unless he's busting out some darkness retreat voodoo we don't know about, Rodgers can't change anything anymore – and the offense still looks miscalculated, confused, occasionally panicked and just plain bad, unable to start a drive much less maintain one and turn it into points. And that's not even getting into the odd "oh, the other team is going to hit hard and try? We weren't prepared for THAT!" on-field effort that pop ups every fourth or fifth game or so for this Packers squad.
The Packers are now 2-2 on the season, and it's hard to make many conclusions yet. They had one great game (against a distinctly not-great foe, admittedly), one mostly good game until a collapse, one mostly bad game until a comeback and one unmitigated disaster. It's been the full gamut of results, but one thing's consistent through them all: Not everything has changed from past failed seasons. It should probably start.
9. Home field advantage
You can hear "Let's Go Lions" RINGING through the broadcast at Lambeau.

Unreal. This fanbase has been ready to burst through with this feeling

pic.twitter.com/T9t5rqXtR0 — Brad Galli (@BradGalli) September 29, 2023
Just in case last night's on-field results weren't embarassing enough, there was this off-field embarassment, too: a primetime divisional Lambeau Field home game that sounded plenty like a Ford Field crowd. Packers fans like to pride themselves on being the ultimate sports fanbase. Well, the best fans in football wouldn't totally sellout their team and their home field advantage, right? I'm sad to see Cheap Brewers Fan Sellout Fever spread to the Packers like this.
Hopefully the Packers – both the fans and the team itself – will put on a better showing in Vegas than we showed in our home state on Thursday night.
As much as it is a gigantic cliché to say that one has always had a passion for film, Matt Mueller has always had a passion for film. Whether it was bringing in the latest movie reviews for his first grade show-and-tell or writing film reviews for the St. Norbert College Times as a high school student, Matt is way too obsessed with movies for his own good.
When he's not writing about the latest blockbuster or talking much too glowingly about "Piranha 3D," Matt can probably be found watching literally any sport (minus cricket) or working at - get this - a local movie theater. Or watching a movie. Yeah, he's probably watching a movie.