GREEN BAY – This weekend, the Packers will take their three-game winning streak to the Windy City, where they'll face the rival Bears in what is expected to be a not-very-warm showdown.
Chicago may be about 200 miles south of Green Bay, but current forecasts for Sunday call for a high temperature of minus-1 degree and winds of 10-20 mph. To make matters worse, Soldier Field's grass is notoriously bad, especially late in the year, when it freezes and becomes uneven, making for tenuous footing and lots of slippage. Perfect for a game Green Bay must win in order to continue its last-gasp push toward the playoffs!
And despite Aaron Rodgers' annual criticisms of the field surface, for the Packers, no player will be more affected by such adverse conditions than Mason Crosby. The veteran kicker knows it could be a thoroughly unpleasant afternoon, and the outcome of a sloppy game could rest on his shoulders (or, more specifically, right foot). But he's confident, having been practicing in the Green Bay elements the past couple of weeks, preparing the best he can and possessing a decade's worth of experience with harsh weather.
"I've done it for 10 years now and been in some very cold games," Crosby said Wednesday. "Obviously, this one is looking like it's going to be extreme, so you just prepare for that mentally as much as you possibly can.
"For me, it's all pregame. I just go out in pregame, make sure I have the right cleats on my plant foot. Obviously the turf, I don't know what it's going to be like, but sometimes late in the year it's a little tough, so just make sure I have good plant and then trust it. We'll get good work with the operation."
Saying Chicago's turf could be "a little tough" is a diplomatically tremendous understatement, of course. Jay Cutler said his home stadium was "one of the worst fields in the league" and longtime former Bears linebacker Brian Urlacher once called the footing "horrible."
Crosby said he looked at the weekend forecast for the first time on Tuesday and couldn't help but shake his head and laugh. He took a screenshot of his phone and sent the picture of the predicted Chicago weather to punter/holder Jacob Schum and long-snapper Brett Goode. "I just said, 'all right, we're getting our first real taste of winter now.'"
Crosby said the Packers are going to practice outdoors on Thursday, when it will be about 5 degrees in Green Bay, and the field-goal unit will have plenty of opportunities to work in the cold.
"We'll get a feel for it, try and shock the body a little bit, and then you're just preparing and building to the game and getting your mind right for the game," Crosby said. "For three hours, you've got to lock in and try and block (the weather) out as much as possible and just trust that your body is still going to be able to do some of the things it's used to doing. You just have to battle through those conditions."
This year, Crosby has made 21 of 25 field-goal attempts (84 percent), with a long of 46 yards. The Packers' all-time leading scorer is 34 of 36 on extra points. He made 1 of his 2 field-goal tries in a chilly game at Lambeau Field last week against the Seahawks, missing from 51.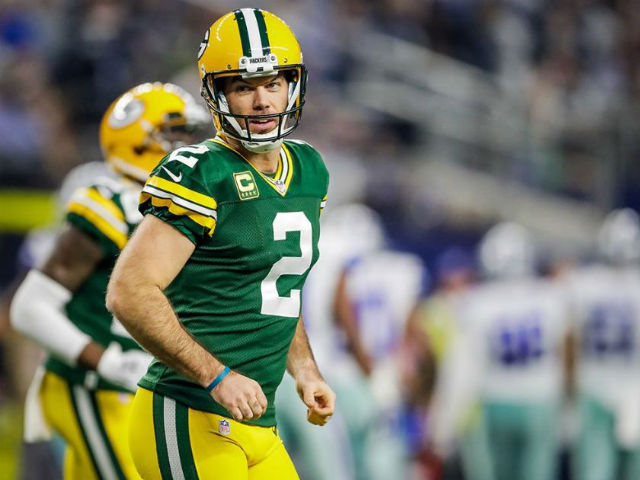 So what is it actually like to kick a frozen football at sub-zero temperatures?
"Descriptive-wise, the leather gets really tight and really hard and it's really cold, and then the bladder kind of restricts a little bit, so the sweet spot gets smaller, and it's like slapping a piece of hard leather," Crosby said. "If you go out and kick your car tires right now, you'll probably get an idea of what it's like.
"It's all about ball contact, ball-striking, making sure my technique and fundamentals are as consistent as possible. Just don't over-swing it, don't try to do too much, don't try to create power out of somewhere and just do what I always do."
Crosby said wind and other weather variables influence decisions on distance and whether to go for a field-goal attempt – "one of the bigger things is being realistic about not trying to stretch it out too far or do anything outside of yourself" – but they don't change the expectations of coaches, teammates or himself, all of whom demand he "perform at a high level every time," no matter what the thermometer reads.
The conditions also cannot affect his kicking style or approach, something Crosby has learned over the years. "With my experience, I know I'm not going out there just trying to rip a line drive," he said. Rather, the kicker must concentrate on hitting the ball in the same place and getting good lift on it.
"The sweet spot's a little smaller. I just try and focus in on ball-striking, try to be very consistent, very smooth," he said. "The worst thing to do whenever the weather gets bad is to try and create power. Just trust my technique."
For his career, Crosby has made 10 of 17 total field-goal attempts (58.8 percent) at Soldier Field. In the month of December overall, he's 56 of 77 (72.7 percent). And at Soldier Field, specifically, in December, he's 5 of 10 (50 percent). In five games over 10 years, his long at Chicago during the month is 33 yards.
"Gosh, in my mind, I always feel like we play there in December, I don't know why," Crosby said. "It seems like we've had a couple games in September and October, but every game I remember is in December. This is the 194th meeting; it's so awesome to be part of such a great rivalry, such a longstanding battle like this. So I take pride in that and go out and compete. The weather is what it is – my mindset is the same every time I take the field, but it is a unique challenge and we have to be prepared for it.
Crosby said there are always mixed emotions and many memories going down to play at Chicago around this time. In 2007, his rookie year, the Packers played a frigid late-December away game against the Bears and were blown out, 35-7, which "made it a little bit colder," he remembered. "I know for me, personally, on the sideline, I only kicked one extra point and two kickoffs, so I was just moving around, trying to stay loose as hell, the wind was howling across the field right in my face."
In 2008, Green Bay lost at Chicago again, before winning there in 2009. The next year, during the playoff run on the way to the Super Bowl, the Packers won at Soldier Field in the NFC Championship Game. In 2012, they won there again, and in 2013 the Packers clinched the division title on their rival's rough turf.
"I think (Green Bay) and Chicago are two of the tougher places to play," Crosby said. "Obviously, once December hits, the wind and the cold and all the different situations, all the different variables that you have to deal with become very tough and very challenging.
"But I also embrace it. I love it. That's why I love doing what I do. I get to go out there and it's a different challenge."
Born in Milwaukee but a product of Shorewood High School (go 'Hounds!) and Northwestern University (go 'Cats!), Jimmy never knew the schoolboy bliss of cheering for a winning football, basketball or baseball team. So he ditched being a fan in order to cover sports professionally - occasionally objectively, always passionately. He's lived in Chicago, New York and Dallas, but now resides again in his beloved Brew City and is an ardent attacker of the notorious Milwaukee Inferiority Complex.
After interning at print publications like Birds and Blooms (official motto: "America's #1 backyard birding and gardening magazine!"), Sports Illustrated (unofficial motto: "Subscribe and save up to 90% off the cover price!") and The Dallas Morning News (a newspaper!), Jimmy worked for web outlets like CBSSports.com, where he was a Packers beat reporter, and FOX Sports Wisconsin, where he managed digital content. He's a proponent and frequent user of em dashes, parenthetical asides, descriptive appositives and, really, anything that makes his sentences longer and more needlessly complex.
Jimmy appreciates references to late '90s Brewers and Bucks players and is the curator of the unofficial John Jaha Hall of Fame. He also enjoys running, biking and soccer, but isn't too annoying about them. He writes about sports - both mainstream and unconventional - and non-sports, including history, music, food, art and even golf (just kidding!), and welcomes reader suggestions for off-the-beaten-path story ideas.