Snow makes any football game better – and so does a Packers win, as Green Bay held on to a 24-16 clutch victory over the Carolina Panthers, rebounding nicely from their disappointing loss the previous week against the Los Angeles Chargers. The defense locked back in – a necessity when facing Christian McCaffrey – the atmosphere was classic Lambeau Field and Aaron Jones scored another three touchdowns, inspiring Wayne Larrivee to proclaim on the radio that he's "to the Packers what a shot of Maker's Mark is for a Miller Lite."
So that's the best, most Wisconsin thing to ever happen.
For 10 more awesome things from Sunday, here's some cool images from the Pack's frosty win over the Panthers.
1. The sombrero strikes again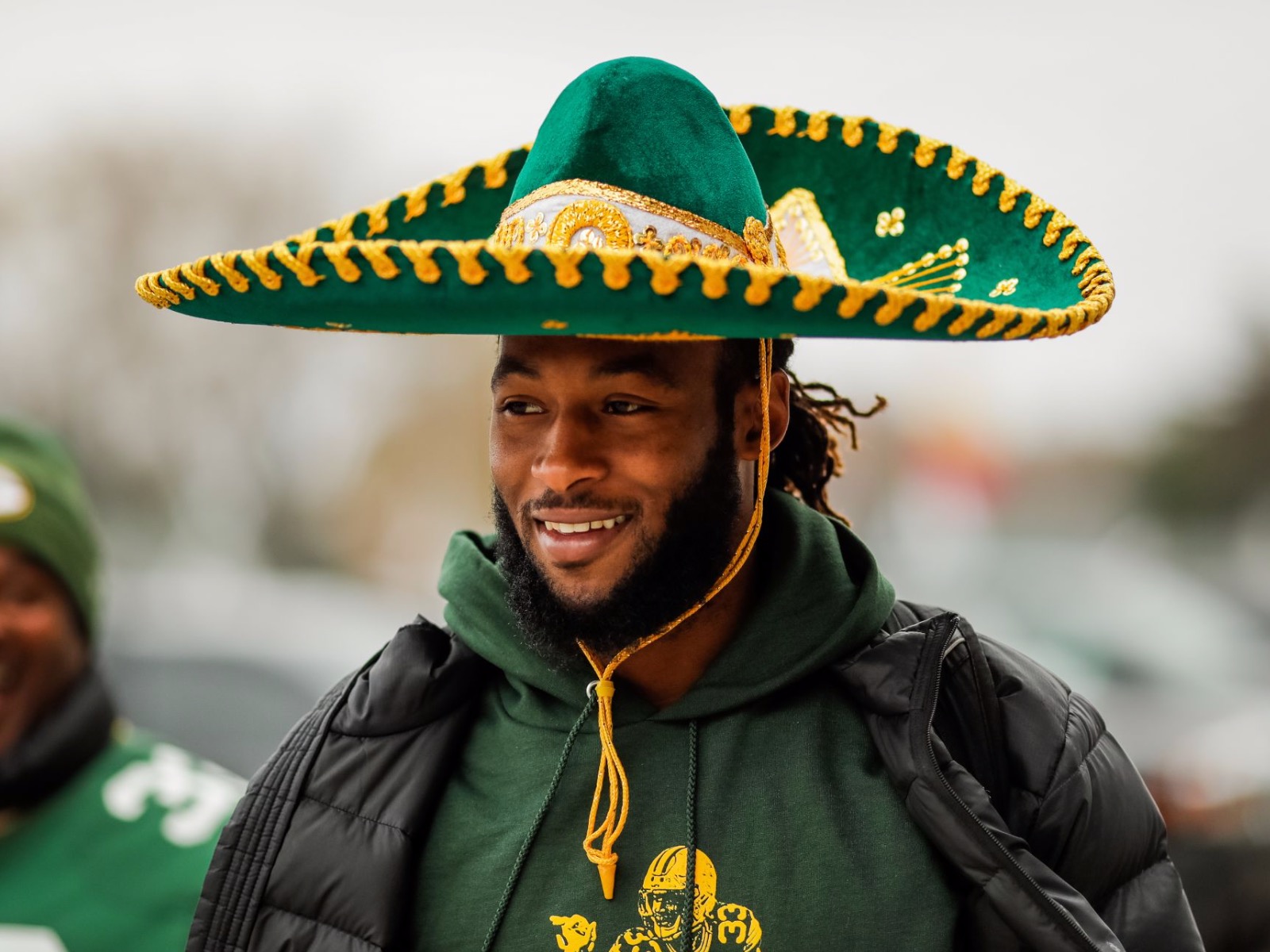 Another week, another sombrero, as Aaron Jones' lucky headwear led to another impressive performance for the Packers running back, who would go on to score another three touchdowns and wrangle up 93 yards in the process. After the game, Rodgers pointed out that perhaps the media's talking up the wrong Aaron when it comes to potential MVP candidates wearing green and gold this season – and while his numbers may not rise to that level quite yet (plus all major football awards are now essentially quarterback awards), I would very much like to see Aaron Jones wearing a sombrero and a suit at an important sports awards show. Also, bonus question: Do we think sombreros are functional in the snow?
2. Nice catch
This is just fun to watch.

pic.twitter.com/X8m8SyOHxK — Kaitlin Sharkey (@KRoseSharkey) November 10, 2019
The flag for roughing the passer may have been questionable, but there's nothing to debate about this delightful little snag by Aaron Rodgers. You should get bonus yards or points if you catch a penalty flag. If football's going to have impenetrable rules about how you can land on the quarterback and what the hell a catch is, we can at least add some rules that make the sport sound like quidditch.
3. More like McCan'tfrey, amirite
Normally giving up a 100-yard rushing performance wouldn't be cause for celebration for a defense – but that's Christian McCaffrey for you. You cannot stop the Panthers star running back; you can only hope to contain him. And Sunday, the Packers did a pretty solid job of doing exactly that, refusing to let the Stanford grad go off on one of his gamebreaking runs or soul-punching receiving scores. In the end, he only racked up 131 total yards – third lowest on the season behind both of Carolina's games against Tampa Bay's alarmingly stout run defense – and got stuffed on the final play of the game. But more on that later ...
4. Slip 'n' slide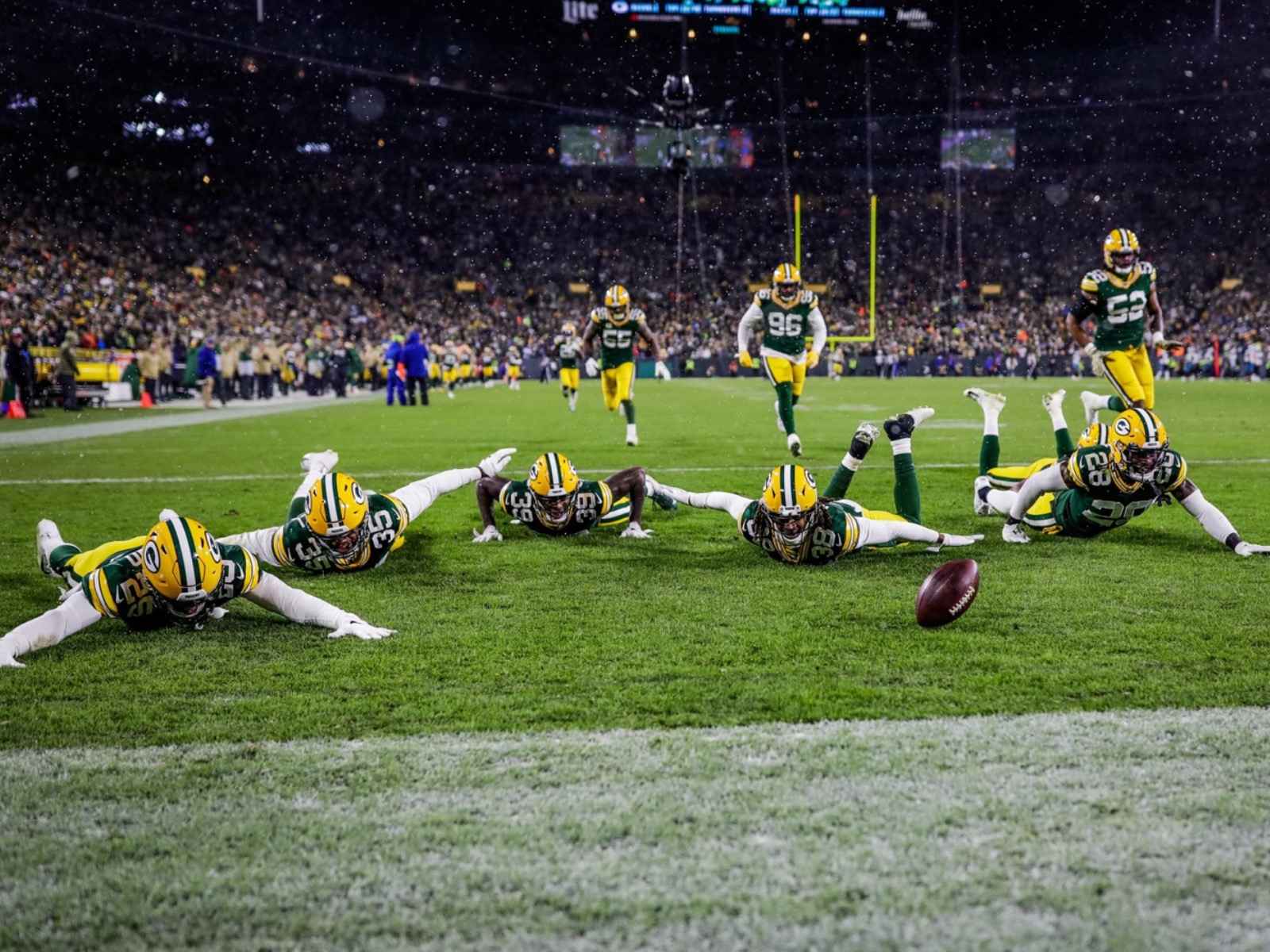 When you hold one of the NFL's prime offensive weapons in check, snag a win and two turnovers in the process, you can to turn Lambeau Field into a slip 'n' slide. Or make reverse snow angels. One of those things is definitely happening in this photo. And if they thought the ground was slick at this point in the game, they must've LOVED it later on with a fine layer of snow on the turf, making it damn near impossible to grip and move comfortably. I certainly did, because it became very entertaining to watch!
5. A blast from the past for Jimmy Graham
Jimmy Graham running like a freight train in the open field pic.twitter.com/UilEyedgvH — IKE Packers (@IKE_Packers) November 10, 2019
You know how you can tell a defense is having a rough day? When they make 32-going-on-62-year-old Jimmy Graham look elusive – though, in fairness, Graham had a legitimately good game, snagging this and another catch for 59 yards. Plus, he almost had a toe-tapping touchdown snag at the end of the first half if one of his feet got a little tangled and couldn't quite make it to the turf. Here's to more of Jimmy Graham turning back the clocks this season.
6. So close yet so far
Christian McCaffrey : 20 carries for 108 yards & a TD; 6 catches for 33 yards (Stopped short of the endzone on the final play of the game) pic.twitter.com/sERZAwQBS8 — Lee Harvey (@AyeThatsLee) November 11, 2019
Things certainly got intense at the end of the game – because of course it did. Packers fans can never have a comfortable win, can we?
After going for two on their last touchdown and failing (Sidebar: For those wondering why you go for two after scoring down 14, the strategy there is, if you complete the conversion, you now put yourself in position to win, and worse case scenario, if you fall short, you can still tie the game.), the Panthers' final drive wound up inside the Green Bay redzone. The drive seemed to stop, but an untimely offsides penalty extended the game just a bit longer, and on the final play, Carolina turned to its best weapon – McCaffrey – to hopefully dive into the endzone for the crucial score. But despite his best efforts, and the efforts of his offensive lineman literally trying to chuck him into the endzone, the Packers held the line and locked in the win.
Can we maybe just not be offsides next time and end things even just a little more comfortably? Taking years off our damn lives ...
7. Everything's cooler in the snow
An image of Aaron Rodgers walking off the field triumphantly after an important win? Very cool. An image of Aaron Rodgers walking off the field triumphantly after an important win AS MAJESTIC SNOW FALLS AROUND HIM LIKE NATURE'S CONFETTI!? The coolest.
8. No, I mean LITERALLY everything's cooler in the snow
Even punts look awesome in the snow. Motion to add snow to every football – even in Miami. Actually, ESPECIALLY in Miami.
9. D-Train rolling into the station
D-🚂!!!#GoPackGo pic.twitter.com/cfWShom4h0 — Green Bay Packers (@packers) November 10, 2019
It was, once again, bend don't break for the Packers defense this week – especially on that final drive – but the D-Train keeps rolling, with its next stop a bye week ... and then the currently undefeated San Francisco 49ers.
10. Let it go
What was it like playing in the elements?

"It felt like I was in Frozen...#Frozen2" ❄️⛄

Never change, @jswaggdaddy. 😂 #GoPackGo pic.twitter.com/eYQeEcvn9s — Green Bay Packers (@packers) November 11, 2019
This is my kind of product placement. I expect a full review of "Frozen 2" from Jamaal Williams when it comes out on Nov. 22.
As much as it is a gigantic cliché to say that one has always had a passion for film, Matt Mueller has always had a passion for film. Whether it was bringing in the latest movie reviews for his first grade show-and-tell or writing film reviews for the St. Norbert College Times as a high school student, Matt is way too obsessed with movies for his own good.
When he's not writing about the latest blockbuster or talking much too glowingly about "Piranha 3D," Matt can probably be found watching literally any sport (minus cricket) or working at - get this - a local movie theater. Or watching a movie. Yeah, he's probably watching a movie.