It may have been an unusual Saturday night game for the Packers, but their tilt against the Carolina Panthers went just like seemingly every other game this season.
Seriously, take a wild guess at how the game turned out. Go for it. A mixed bag performance in which the Packers occasionally looked like the 11-3 team that they are, but then forgot how to play football for a significant portion of the game, resulting in a shockingly tight final quarter that gave everyone heart palpitations? Bonus points if it's against a depleted foe that should've been a cakewalk but instead was a nailbiter by the end? You guessed it! That's 2020-21 Green Bay Packers football for you!
The important thing, though, is that, even despite their lack of a killer instinct, the Pack still won and still claim the top spot in the conference. So I guess we can't complain too much. (Though we definitely will.)
Let's take one final look back at Saturday night's 24-16 victory over the McCaffrey-less Panthers and try to focus on the (still significant!) positives.
1. Snack time
Unfortunately, I don't have a sombrero for you – no wonder things got dangerously close there in the second half! – but I do have this practice clip of Za'Darius Smith feeling some serious cravings.
Me: I'm on a diet
Also me:
pic.twitter.com/9u5WwJUKj0 — Baillie Burmaster (@bayburmTV) December 17, 2020
This is the most I've ever related to a football player besides that time one of the kicking Gramaticas hurt himself by being too happy.
2. Ready to perform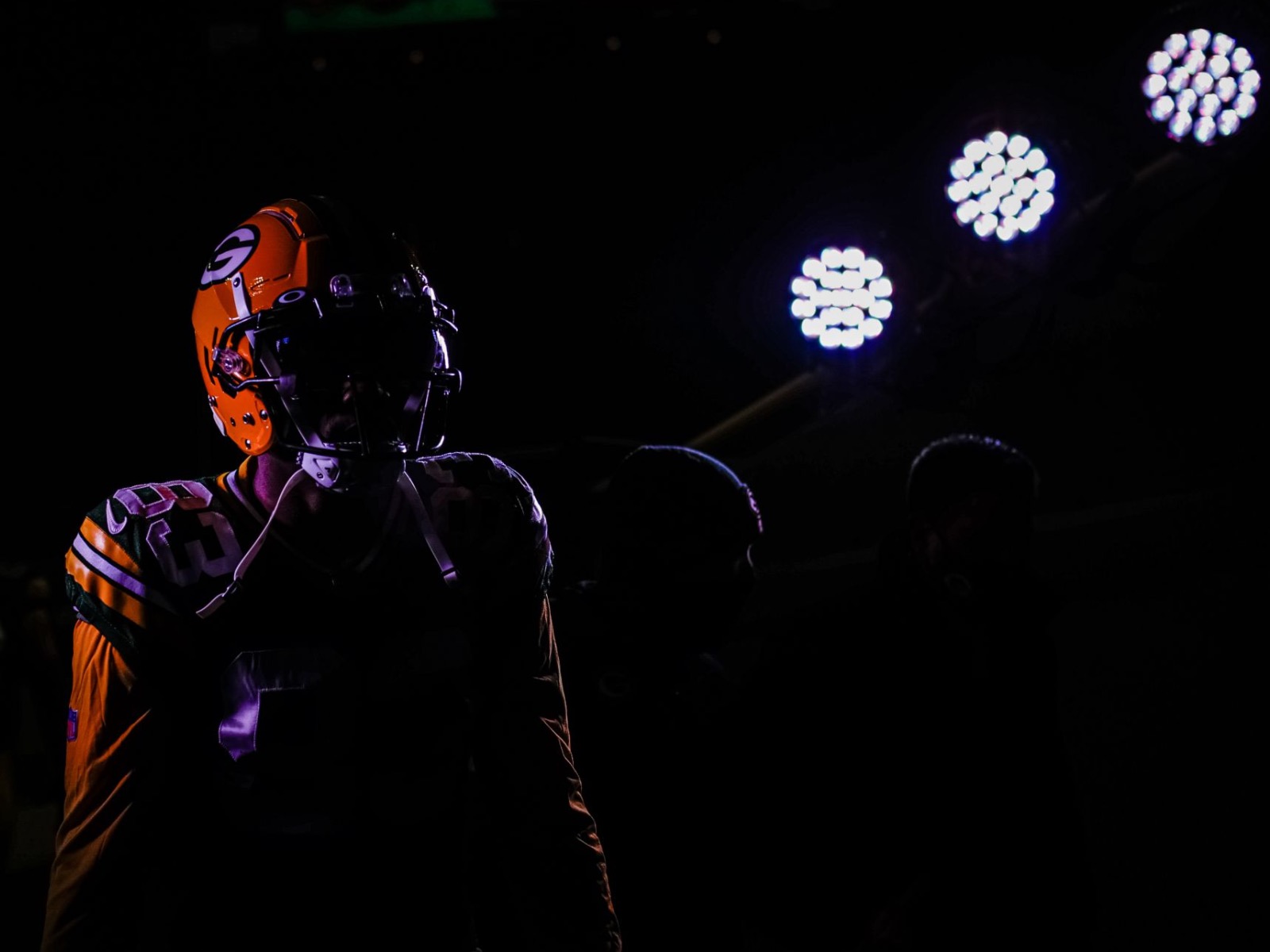 I like this photo because it looks like he's about to perform as the musical guest on "Saturday Night Live."
3. Can't beat Big Bob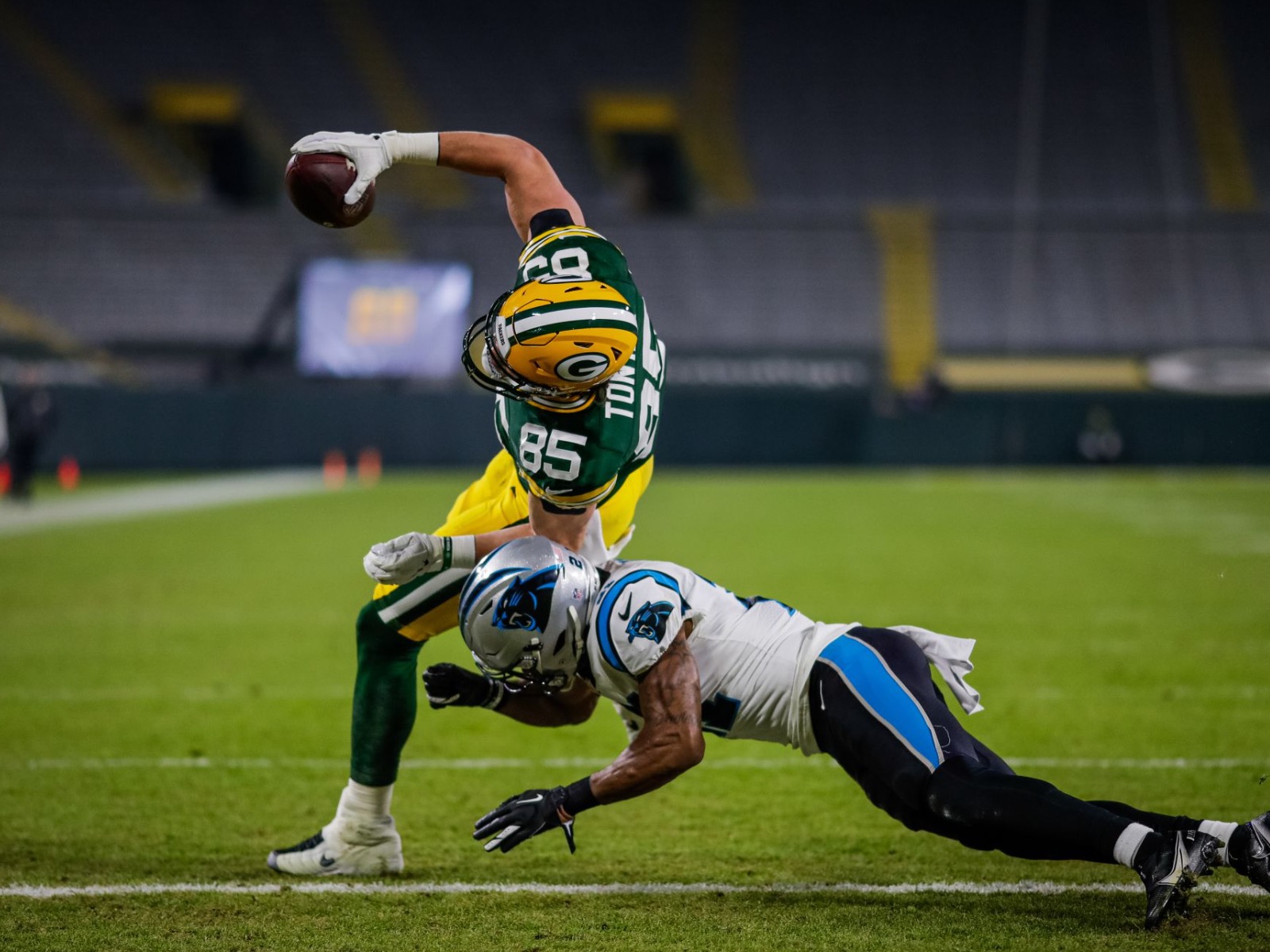 After catching a passs, forgetting where he was on the field and diving about a yard short of the endzone, Big Bob Tonyan got a second chance to score the night's first touchdown when Rodgers found him on the very next play for a one-yard touchdown. It's Tonyan's fifth straight game with a score, which I believe is pretty good.
4. Return of the discount double check
11-3 and control your own destiny to home field advantage. pic.twitter.com/v6JWXlpd2N — Stephen Watson (@WISN_Watson) December 20, 2020
Aaron Rodgers seems to have fully returned to form this season – at first with his MVP-esque numbers (though only 143 yard and two total touchdowns on Saturday night) and now with bringing back his signature celebration: the championship belt. Ah, it feels like 2010 all over again – hopefully with the Lombardi trophy to match.
5. Surely this fun will last the entire game!
"I LOVE GOOOOOLD!!!"#GoPackGo pic.twitter.com/yxvVItNiDR — Green Bay Packers (@packers) December 20, 2020
I don't how a "Goldmember" reference became the Packers go-to celebration in 2020, but I'm not against it! Here's to celebrating the win this morning with a smoke and a pancake as well.
6. No sombrero, no problem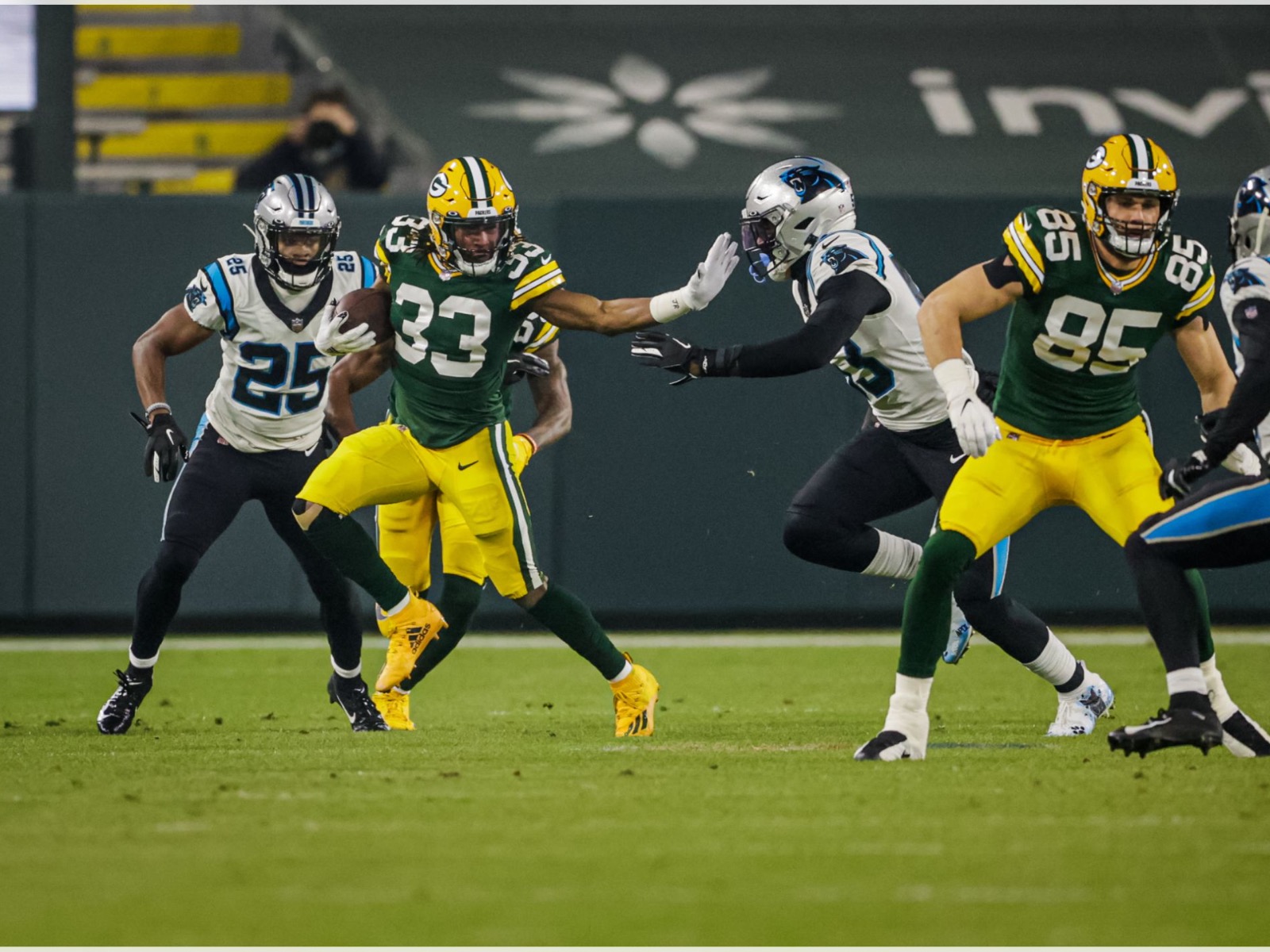 After several weeks of anonymous performances, Aaron Jones kept the Packers churning Saturday night, kicking things off with some gashing runs on the team's first few drives, scoring the Pack's third and final touchdown of the night in the second quarter – complete with a nice little high-step – and ending the evening with 145 yards on the ground. Green Bay didn't look perfect (again) but at least Jones looked ready for the playoffs.
7. Access denied
QUE JOGADA! #GoPackGo
Teddy voa sobre a defesa, Krys Barnes dá o TOCO forçando o fumble,recuperado por Kevin King, que leva a bola 48 jardas para deixar os @Packers em boa posição de campo! #NFLBrasil #NFLnaESPN pic.twitter.com/Pso4UTxOtY — NFL Brasil (@NFLBrasil) December 20, 2020
The definition of bend-don't-break Packers defense, Green Bay came up with a massive game-changing play in the first half when Teddy Bridgewater's jump into the endzone was rejected with prejudice as Krys Barnes met him above the fray and slapped the ball out of his hands like Giannis guarding the rim. Kevin King would recover the fumble and scamper down the field, swinging the game from a potentially 14-10 game to a 21-3 halftime score. It was clearly a big play when it happened – but little did we know how important it would be considering how close things would get in the final frame.
8. All the favorites
The D-🚂 hits the #ShowtimeCam‼️#CARvsGB | #GoPackGo

📺 NFL Network
Watch live 📱 https://t.co/dzY7gmkBBj pic.twitter.com/egCAbNwgZA — Green Bay Packers (@packers) December 20, 2020
First the championship belt makes a return and then the D-train pulls into the station after the Packers' massive goalline fumble recovery? Apparently tis the season for all your favorite celebrations to return home for the holidays.
9. Home field advantage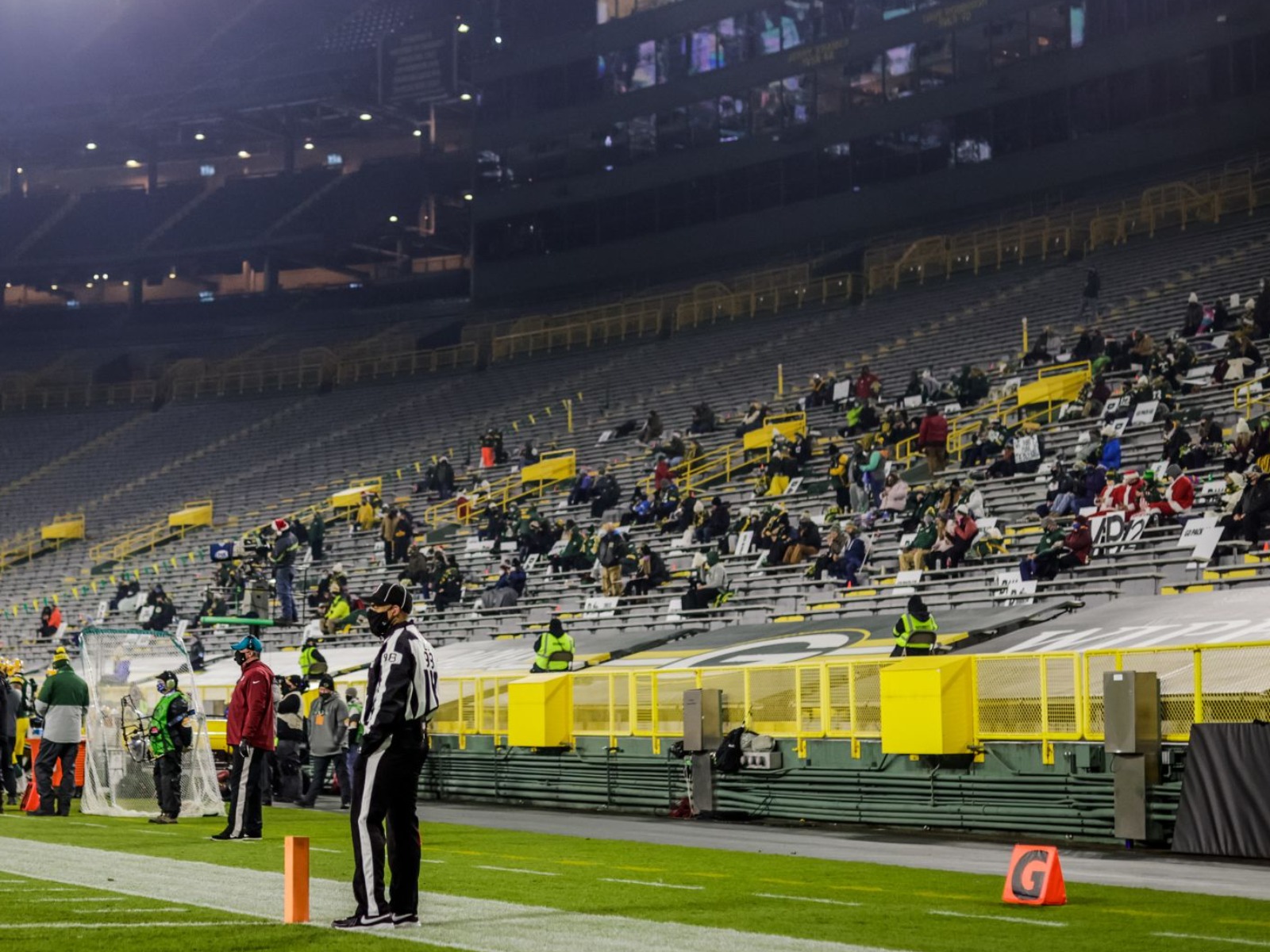 It's not the raucous Lambeau Field crowd anyone's used to, but Saturday night's game featured 250 very special fans in the seats: frontline workers and their families. A solid gesture – though can we not give them "Get loud Lambeau" signs? Seems kinda sad seeing that a 250-person crowd can only get so loud. Anyways, speaking of home field advantage, with Saturday's win, the Pack held on to the top spot in the NFC, meaning a first-round bye and never having to leave Lambeau Field – which may be quieter than usual but should be just as frosty come playoff time. Here's to holding on for two more weeks.
10. Silver Fox strikes back
51 yards?@crosbykicks2 is AUTOMATIC.#CARvsGB | #GoPackGo

📺 NFL Network
Watch live 📱 https://t.co/dzY7gmCcsR pic.twitter.com/sJJfkKD1h8 — Green Bay Packers (@packers) December 20, 2020
What, you want highlights and fun images from the second half? There are none. The Packers barely showed up, turning what appeared to be a route into yet another surprisingly tense conclusion. At some point, this inability to finish will bite Green Bay in the butt. (Oh, wait, it already did against the Colts and ... they learned nothing.) The Packers never fell behind and always kept Carolina eight points at bay – with the help of Mason Crosby's big leg yet again, helping lock in the victory late wiwth a 51-yard boot. But the Pack won't be playing any more 4-9 teams missing their best player from here on out. Taking a half off won't work anymore, and while we love the Silver Fox, it'd be nice to not have to sweat out another fourth quarter kick again this season.
As much as it is a gigantic cliché to say that one has always had a passion for film, Matt Mueller has always had a passion for film. Whether it was bringing in the latest movie reviews for his first grade show-and-tell or writing film reviews for the St. Norbert College Times as a high school student, Matt is way too obsessed with movies for his own good.
When he's not writing about the latest blockbuster or talking much too glowingly about "Piranha 3D," Matt can probably be found watching literally any sport (minus cricket) or working at - get this - a local movie theater. Or watching a movie. Yeah, he's probably watching a movie.