The Packers must've been in the spooky season spirit, because they gave Green Bay fans quite the spine-chilling scare on Sunday, barely managing to beat the New England Patriots and needing overtime to defeat their third-string quarterback, 27-24, at Lambeau Field.
Yes, the Packers – as usual, under Matt LaFleur – made things more interesting than one would hope for a Super Bowl contender playing at home against a fourth-round rookie named Zappe. The team – mainly the offense and Rodgers in particular – looked sluggish and lackadaisical in the first half, losing at the midway point before finally kicking it into gear in the second half and getting the W with the last seconds ticking away in overtime.
You'd love to be confident about the Packers – but this performance looked all too similar to the past few seasons, all of which ended sooner than preferred. But most importantly, you love to see a win – and now Green Bay's scored three of them since that disheartening opening day loss to Minnesota. They haven't been pretty – god knows this one wasn't – but thankfully there's no column in the standings for style points.
Let's take one final look at yesterday's win and some of its most notable moments ... or not, if you'd rather not remember the time that the Packers almost lost at home to Bailey Zappe.
1. Starting with the positive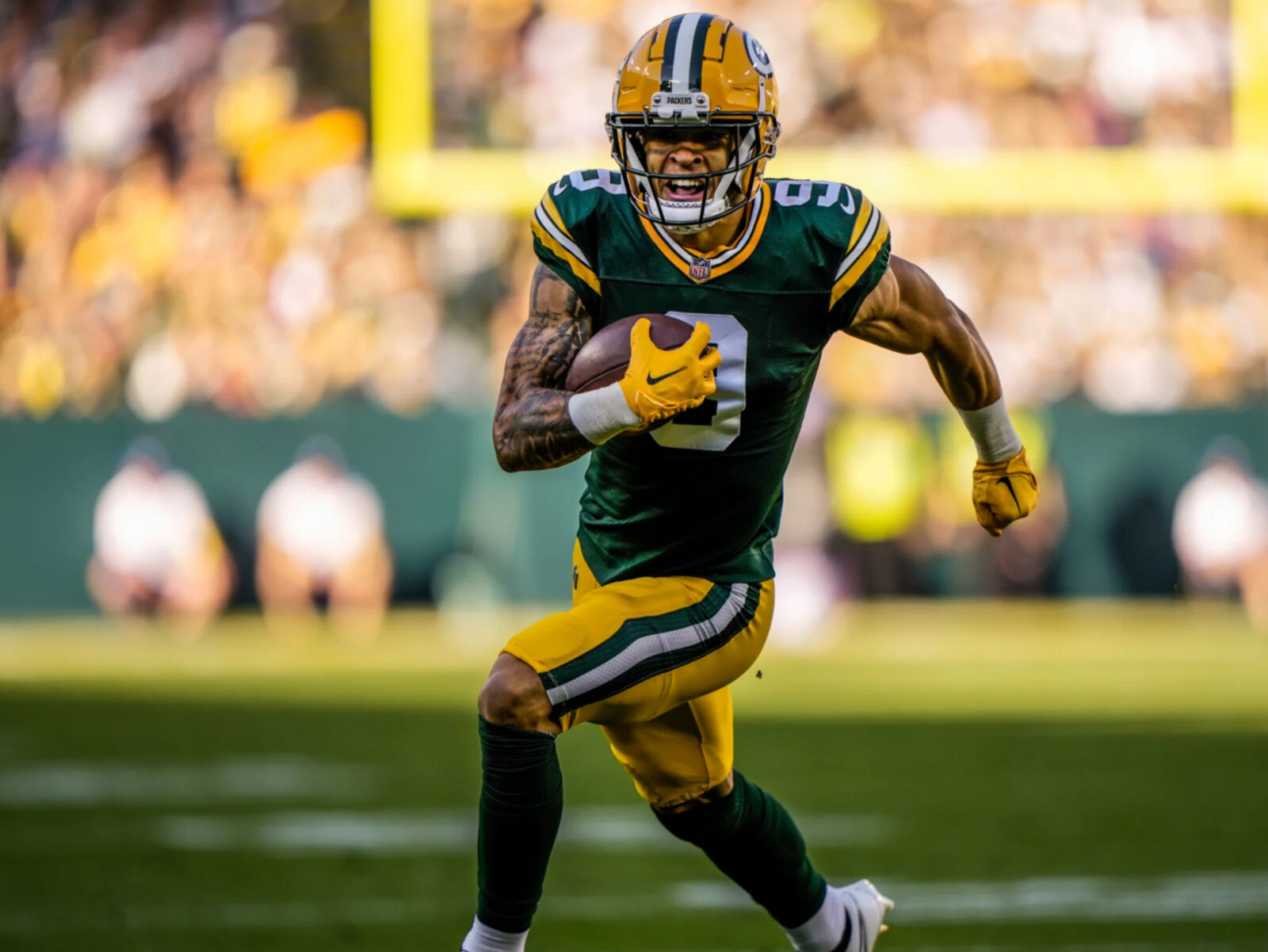 There weren't many highlights to choose for most of Sunday's game – but an obvious one came in the second quarter as the Packers scored their first touchdown via rookie Christian Watson scoring his first touchdown in the NFL, scampering into the endzone on an impressive 15-yard jet sweep run. While he hasn't done much through the air yet, LaFleur clearly loves this versatile Swiss Army knife at their offense's disposal – and is only going to get more creative with him as the season goes along.
2. Zappe-ed
Bailey Zappe vs Packers:

• 10/15
• 99 YDS
• 1 TD
• 107.4 QBR
• First rookie QB to throw a TD this season

Not bad for a fourth round pick in his first NFL action 🔥 pic.twitter.com/1eWE0yOOiO — NFL Rookie Watch (@NFLRookieWatxh) October 3, 2022
OK, so the Packers had some trouble putting the Brian Hoyer-led Patriots away – but surely they'd smoke a rookie third-string quarterback named "Zappe" taking his first NFL snaps ever, right? RIGHT!? Not the case, as the Western Kentucky star not only kept the Patriots in the game but spent most of the game looking like the best quarterback on the field. (Not a high bar, oddly.) He may not be the next Tom Brady back-up to best-in-the-game story – but for one afternoon, he gave the Patriots hope when they should've had none.
3. You done messed up, A-A-Ron
Pats rookie Jack Jones PICK-SIX on Aaron Rodgers 👀

(via @NFL)pic.twitter.com/l03xbUonW4 — Bleacher Report (@BleacherReport) October 2, 2022
In case all the Super Bowls didn't give it away, Bill Belichick is a very good head coach – or at least that's what I'm going to say to explain just how miserable Aaron Rodgers looked all game long against the Patriots on Sunday. When he wasn't missing passes, Rodgers threw this out-of-character ugly meatball to the opposing team, which quickly turned into six points for the Patriots and gave New England a lead going into the half. There were some boo birds chirping at the half at Lambeau – and you really couldn't blame them considering Rodgers' listless performance through 30 minutes.
4. Clue number one that things are going great
Tony Romo's reaction to Aaron Rodgers' F-bomb. 😂😂😂 pic.twitter.com/Mxj4KIO06u — Awful Announcing (@awfulannouncing) October 2, 2022
Yep, that's the calm and composed reaction of a guy who's having a great day. Somebody fetch him the ayahuasca – STAT.
5. Rashan running ruckus
Rashan Gary showing why he's one of the best pass rushers in the league 😤 @RashanAGary

📺: #NEvsGB on CBS
📱: Stream on NFL+ https://t.co/YPHqeLC4zg pic.twitter.com/IDFMau7m9G — NFL (@NFL) October 2, 2022
In case it wasn't scary enough playing your first NFL action, Zappe had to face off against Rashan Gary, who nabbed two sacks on the day including this impressive takedown and fumble recovery courtesy of Gary's glue-like quads. The former first-round draft pick is now tied for second in the NFL for most sacks and has turned into one of the most routinely destructive defensive players in the league. Just ask Brian Hoyer's head.
6. Timely playcalling
The Patriots got away with another BLATANT delay of game on Bailey Zappe's first career TD pass pic.twitter.com/FJGS33mrei — Eric Rosenthal (@ericsports) October 2, 2022
The good news for the Packers: They messed with Bailey Zappe's head enough to draw a critical delay of game call. The bad news for the Packers: The refs apparently didn't see it – despite the fact that the snap came so late that the playclock reset for the next play already – and the proceeding play led to an easy touchdown. Sure, the blown call should've rendered this play moot – but the Packers' allegedly vaunted defense also gave up 24 points to Bailey Zappe, so that's not great no matter what the referees do.
7. It was the best of Doubs ...
T
O
U
C
H
DOUBS!
O
W
N
⁣@RomeoDoubs | #GoPackGo pic.twitter.com/7O2A9okgfi — Green Bay Packers (@packers) October 2, 2022
Wherefore art thou, Romeo? In the endzone again, as the impressive rookie nabbed yet another score – a critical one that tied the game back up at 24 in the final quarter.
8. There's no place like home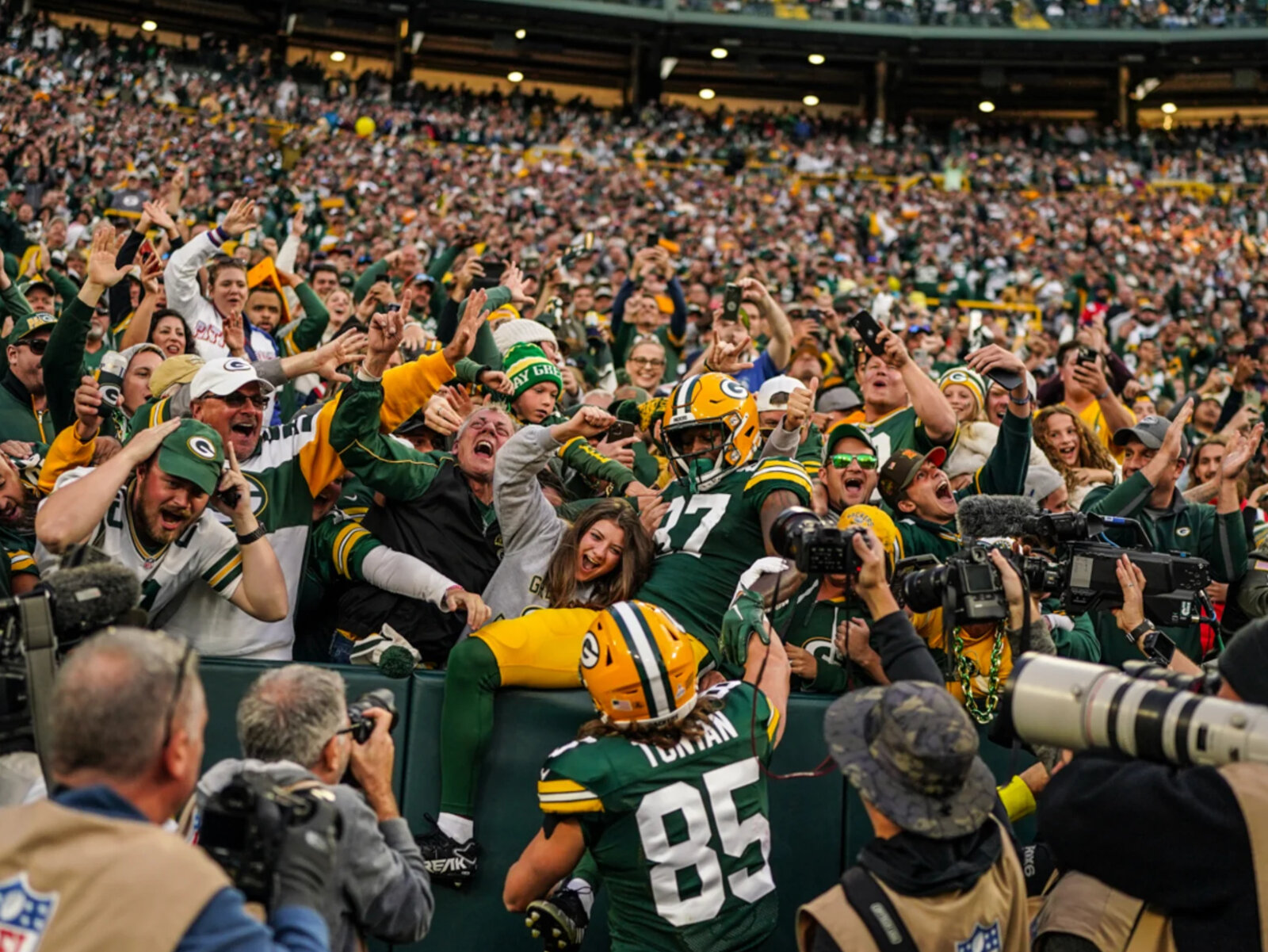 It wasn't exactly the friendliest confines the Packers have hosted, considering the rocky quarterback play, and the Patriots seemed unfazed by the venue – but shots like this show there's still nothing like playing at Lambeau Field in front of the wild green and gold faithful. Hopefully some of them make the trip across the sea to show London some of that Lambeau spirit.
9. ... And it was the worst of Doubs
That was a BEAUTIFUL throw by Aaron Rodgers… but Romeo Doubs dropped it 😭 pic.twitter.com/JNQwvH4flt — Brian Y (@byysports) October 2, 2022
Doubs had this pretty significant drop on Sunday, one that could've given Green Bay a lead with barely two minutes left in the game. (Remember, Packers fans: You have to maintain control of the ball all the way to the ground. We know this!) Do'h, Doubs! Could've saved us an extra heart-pounding ten minutes of sports!
But besides this unfortunate moment, Doubs has lived up to the training camp hype in these first four games, catching five balls for 47 yards and another touchdown on Sunday. Rodgers' trust is a hard thing to catch – and Doubs, just four games into his career, seems to have snatched it already.
10. Special teams was good? Again?!
The Packers' punt coverage team comes up HUGE in the clutch 🔥 pic.twitter.com/DF5JS3um4V — Brian Y (@byysports) October 2, 2022
Keisean Nixon is turning into one of my favorite Packers players, in back to back weeks snagging excellent punts and downing our opponents within the five at critical moments. Four games in, the Green Bay special teams department might be ... good? That sentence just simply doesn't make any sense!
11. Kicking the Pats to the curb
CROSBY FOR THE WIN‼️#NEvsGB | #GoPackGo

📺 CBS pic.twitter.com/Sqw8z8RiHx — Green Bay Packers (@packers) October 2, 2022
After almost 70 minutes of needlessly intense football, Mason Crosby finally brought things to an end with his game-winning field goal in overtime. For those counting: Yes, that's two whole special teams highlights in a single game recap. The Packers almost lost to a third-string quarterback, who outplayed Aaron Rodgers at Lambeau, and the special teams department is to thank in large part for the victory – what a world.
12. Relatable content
Inject @CoachMLaFleur feeling in this moment straight into my veins. #W pic.twitter.com/Dcmko5DAHS — David Bakhtiari (@DavidBakhtiari) October 3, 2022
Same, Coach LaFleur. Same. Hopefully things are little calmer on the other side of the pond next weekend.
As much as it is a gigantic cliché to say that one has always had a passion for film, Matt Mueller has always had a passion for film. Whether it was bringing in the latest movie reviews for his first grade show-and-tell or writing film reviews for the St. Norbert College Times as a high school student, Matt is way too obsessed with movies for his own good.
When he's not writing about the latest blockbuster or talking much too glowingly about "Piranha 3D," Matt can probably be found watching literally any sport (minus cricket) or working at - get this - a local movie theater. Or watching a movie. Yeah, he's probably watching a movie.