What happens in Vegas ... makes for a pretty crappy Tuesday morning, as it turns out. Packers fans hoping for a bounce back after their last primetime embarrassment rolled snake eyes on Monday night as Green Bay flopped against the equally unimpressive Las Vegas Raiders, 17-13. And now that opening win against the Chicago Bears suddenly feels like eons ago.
None of this should be entirely surprising, though. Packers fans knew going into the season that we had a fresh quarterback taking his first snaps as a true starter, surrounded almost entirely by extremely young and raw talent around him. (And the proven talent on the roster, like Aaron Jones and David Bakhtiari, hasn't gotten to play much thanks to injury.) The book shouldn't be entirely shut on Love, who's more often than not looked like a NFL-caliber quarterback – if far from a superstar. But maybe, after now two losses to mediocre, talent-devoid squads like Las Vegas and Atlanta and an additional shellacking by the Lions, the book is shutting on the idea of this year's Packers squad being a surprise underdog playoff contender. Like many trips to Vegas, this one began with promise and hope – and ends with bloodshot eyes, cold harsh reality and a marriage that might not last it all (*glares at Matt LaFleur*).
Before we cash out what little loose change we have left, though, let's take one final look back at the Packers' fear-inducing and loathable performance in Las Vegas.
1. Kickin' it with the family
Pregame family photo 📸#FootballIsFamily #GBvsLV | #GoPackGo pic.twitter.com/3OJdI6yZnD — Green Bay Packers (@packers) October 9, 2023
Sin City isn't known for family reunions, but one broke out on Monday night as Anders and Daniel Carlson became the first brothers to kick against each other in a game since 1987. While Daniel would claim the win on the scoreboard, Anders would get the personal bragging rights as he was perfect on his two attempts (plus an extra point) while Daniel shanked one kick and had another blocked. Remember when Packers fans were so worried about the rookie kicker during training camp? Turns out there were other concerns ...
2. Jimmy cringey
lol Jimmy pic.twitter.com/MDtuxTJLad — Warren Sharp (@SharpFootball) October 10, 2023
Raiders quarterback Jimmy Garoppolo may have done his best Brady impression before the game but he didn't pull off a good one during the game, throwing for just over 200 yards, a touchdown and a bad pick. I know technically the scoreboard says the Raiders won, but Las Vegas should've been forced to forfeit due to allowing this much concentrated cringe happen on their field, in their uniform.
3. And the Oscar goes to ...
All time flop from Zach Tom 😂pic.twitter.com/pMkEUM6L9b — The Sporting News (@sportingnews) October 10, 2023
Move over, Cillian Murphy in "Oppenheimer": We have a new frontrunner for best performance of the year. Doesn't he know the Screen Actors Guild is still on strike!? But really, the biggest flop of the night was the offensive line, which couldn't stop the Raiders' pass rush all night ... or at least just one guy on that pass rush.
4. Love fades
Jordan Love's vision is INSANE! 👀👑 pic.twitter.com/qT3YJRdpPU — Dan Campbell (@DanCampbellGOAT) October 10, 2023
The growing pains have officially showed up for Jordan Love – and boy were they painful on Monday night, particularly on this interception which doesn't look good from any angle. Love would end the night with three picks in total, only 182 passing yards and a 32.2 passer rating – which you absolutely do not love to see.
5. AJ does A-ok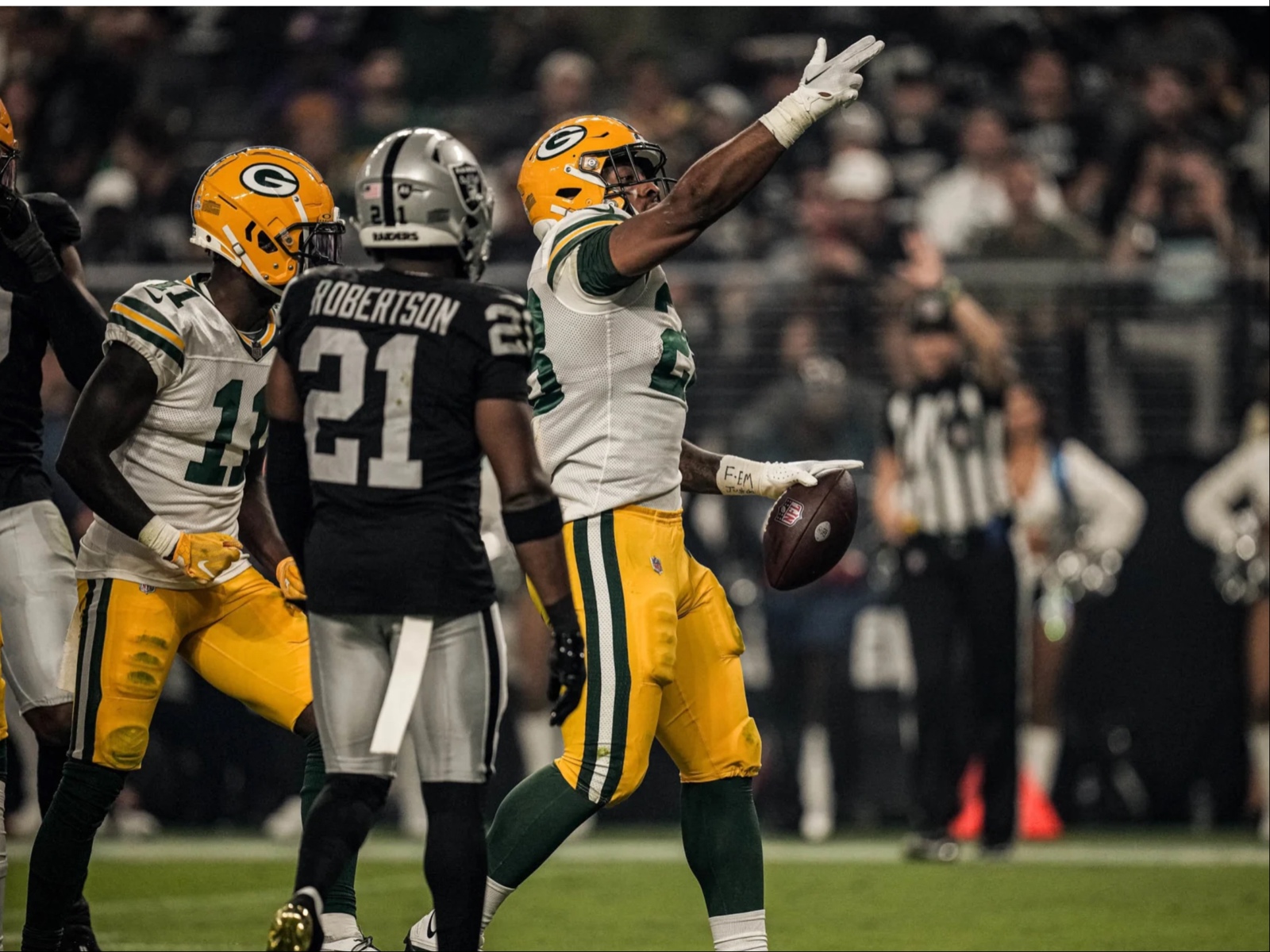 AJ Dillon's become an oddly divisive Packers player over the years, with some fans grumbling that the running back's meme-worthy legs haven't led to equally powerful performances. Those grumbles have only gotten louder as, with Aaron Jones still out with hamstring issues, he's stepped into a starring role – and hasn't quite shined in the process. But grumbles be gone! Quadzilla actually was a little bit of a monster on Monday night, not exactly putting up giant numbers – 76 yards on 20 carries – but carrying the team to their lone touchdown of the night in the third quarter. (Quite literally, he was 34 of the 37 yards needed on the drive.) He was one of the few bright spots on a dim night ... but still, please, Aaron Jones, come back soon.
6. A slight mismatch
Davante Adams was really lined up 1 on 1 against Preston Smith 😅

(via @NFL)
pic.twitter.com/aFXyYzKF2V — Bleacher Report (@BleacherReport) October 10, 2023
You don't have to be an all-22 film-watching football savant to know that this play probably went bad for the Packers. The defense wasn't the problem on Monday night against Vegas – but mismatches like a linebacker ending up on one of the best wide receivers are certainly problematic! Amazingly the Raiders didn't score on this play; that would happen later on this drive.
7. Maxx-imum destruction
Maxx Crosby beat 2 TEs for the sack pic.twitter.com/zZdMfD7d1n — Alex 👋 (@Dubs408) October 10, 2023
The Raiders are not particularly known for their vaunted pass rush – though you wouldn't know it Monday night, as the Vegas defensive line made life hell for Jordan Love. Well, not the defensive line as much as pretty much just Maxx Crosby, who seemed to be in the backfield on every dropback. He ended the night with just one sack and four tackles for loss, though it felt like a lot more during the game.
Credit to Crosby: He's a great player who finished in the top ten in sacks last year and led the league in tackles for loss. But the Raiders had one guy to watch on defense – and somehow Green Bay looked utterly unprepared to take him on, despite extra time to get ready with the oversized gap between Monday and their last game. With Bijan Robinson against the Falcons and now Crosby here, that's the second time in five games that the Packers looked at one of an opponent's best attributes and apparently said, "Meh, I'm sure it'll be fine." Spoiler alert: It was not fine.
8. Watch Watson go
Marcus Peters got called for a horse-collar penalty after this HUGE play from Christian Watson 😳#GBvsLV pic.twitter.com/pSLSrzMDaI — ESPN (@espn) October 10, 2023
It was not exactly a highlight evening for the Green Bay offense – but there was this beautiful 77-yard catch and run from now-healthy speedster Christian Watson (plus a penalty) that set the Packers up for a game-breaking touchdown. Or so we hoped. Instead, the Packers ran a bunch of disappointingly predictable plays and had to settle for a short field goal, nullifying much of the momentum coming from the big play. You could feel it right then at the time: We were going to regret not getting the seven points. And indeed we did.
9. A+ effort from the D
A BIG 3rd-down sack by @RashanAGary!#GBvsLV | #GoPackGo

📺: ESPN / ABC pic.twitter.com/Ma0PgcOK84 — Green Bay Packers (@packers) October 10, 2023
Joe Barry and the Packers defense has gotten a lot of flack over the past several weeks, not undeserved. But even with unfortunate gaffes like Preston Smith covering Davante Adams, no one could blame Monday night's loss on that side of the ball. The Packers held the Las Vegas offense to a mere 17 points – impressive considering one of those scoring drives started inside the Green Bay ten-yard line but led to just a field goal – sacked Jimmy G three times on the night and snagged an interception of their own. They did their job on Monday night; it was the other side of the ball that was still in the casino pool.
10. Falling out of Love
RAIDERS PICK OFF JORDAN LOVE TO WIN IT 🔥 pic.twitter.com/SKmfgSfIxO — ESPN (@espn) October 10, 2023
Despite looking pedestrian all night long, the Packers actually had a chance to win Monday night's mediocrity-off. For some reason, Raiders head coach Josh McDaniels decided to kick a field goal on their last true drive instead of gaining two yards in Packers territory and pretty much ending the game right there. The field goal might've put more points on the board, but the Packers needed a touchdown before the kick anyways; the move didn't help the Raiders or change the Packers' plans in any way. But unfortunately, bad coaching was rewarded as Green Bay's last gasp drive ended prematurely with two passes clanging off receivers' hands and one final Hail Mary interception, the last in Love's terrible turnover trifecta on the night.
It was a poor final note on an overall fairly poor showing from the new Packers starter – but I'm not chucking him out the window quite yet. He's looked like a competent NFL starter for most of these first several games – and we should remember that he's been without his most valuable asset and most dangerous weapon in Aaron Jones for essentially four out of the five games. If Jones returns and Love continues this regression until the final weeks of the season, OK, we can hit the panic button – but otherwise, this was just an ugly speedbump on what we knew would be a bumpy road.
What I WILL hit the panic button on is Matt LaFleur, whose team – and mainly his offense – once again showed up looking unprepared and timid. In a stat that I can only describe as "one of the more depressing things I've ever seen," the Packers have scored only 26 points in the first half across all five games this season – that's less than a touchdown a half. They've only managed a field goal at best during their last three opening halves. If this season is a referendum on LaFleur finally getting to run his offense without that pesky Aaron Rodgers changing the plays all the time at the line, well, maybe the QB should've taken more credit than blame.
The Pack will now have a bonus week to prep for their next game, a bout with the Denvers Broncos, most recently seen giving up 70 points in a single game and getting dunked on by the Zach Wilson-led Jets. If Green Bay can't get right against them with a bonus week to prep, then this season will have officially turned into the "Hangover" movies: a good time at first before quickly becoming kind of unwatchable.
As much as it is a gigantic cliché to say that one has always had a passion for film, Matt Mueller has always had a passion for film. Whether it was bringing in the latest movie reviews for his first grade show-and-tell or writing film reviews for the St. Norbert College Times as a high school student, Matt is way too obsessed with movies for his own good.
When he's not writing about the latest blockbuster or talking much too glowingly about "Piranha 3D," Matt can probably be found watching literally any sport (minus cricket) or working at - get this - a local movie theater. Or watching a movie. Yeah, he's probably watching a movie.