Let's not overcomplicate the Review this week.
Aaron Rodgers played really, really, really well, and the Packers beat the Vikings, 38-25, at Lambeau Field on Saturday to win their fifth game in a row. Green Bay eliminated Minnesota from playoff contention, and set up a winner-takes-division showdown in Detroit next week, when the Packers and Lions will battle for the NFC North title.
With Cheesehead fans chanting "MVP!" on Christmas Eve, Rodgers dissected and destroyed the Vikings' once-dominant defense. The two-time NFL Most Valuable Player, who is indeed making his case for a third award during the second half of this season, threw for 347 yards with four touchdowns and no turnovers and had a passer rating of 136.6. Showing no lingering effects from the sore calf that hindered him last week, Rodgers even ran for a 6-yard score just before halftime, following it with a triumphant Lambeau Leap.
In a clinical first half, during which Green Bay scored 14 points in each of the opening two quarters, Rodgers sliced up Minnesota's third-ranked defense, with a heavy dose of intermediate throws into open seams and a few of the long completions familiar to Packers fans accustomed to explosive, big-play offenses. Rodgers' favorite target was veteran wide receiver and longtime thumbs-up partner Jordy Nelson, who had nine receptions for a season-high 154 yards – his most since September of 2014 – and two touchdowns. Now more a savvy receiver than a speedster, Nelson frequently found soft spots and space in Minnesota's defense; his two scores moved the Rodgers-Nelson connection past Brett Favre and Antonio Freeman for the most touchdown passes by a quarterback-receiver combination in Packers history (59).
One week after Ty Montgomery's breakout game against the Bears, when the wide receiver-turned-running back had 16 carries for 162 yards and two touchdowns and appeared to be the solution to Green Bay's missing ground game, his production was irrelevant. Montgomery rushed nine times for 23 yards (2.6 average), adding four catches for 17 yards out of the backfield. As a team, the Packers rushed 15 times for 40 yards (2.7) on Saturday; so much for needing balance to achieve offensive success.
And on the other side of the ball, the suddenly opportunistic defense again decisively won the turnover battle, with two takeaways and no giveaways. Of course, it always helps to play against Sam Bradford, a weak offensive line and an Adrian Peterson-less running game, but the Packers did their jobs on defense, sacking the Vikings quarterback four times and recovering a pair of fumbles that led directly to offensive touchdowns.
Linebackers Clay Matthews and Nick Perry, both of whom have battled injuries in recent weeks that have either rendered them ineffective (Matthews) or kept them out (Perry), were terrific. Seemingly recovered from his shoulder problem, Matthews was back to being his big-play self, with three quarterback hits and a sack, plus another tackle for loss. Perry, who played with a large club protecting his broken hand, had two big sacks to increase his team-leading total to 10 on the season.
In the defensive backfield, there remains a giant question mark (or frowny-face emoticon, or shruggie, or pile of poop emoji), as the secondary allowed former undrafted third-year receiver Adam Thielen to have a career day with 12 catches for 202 yards and two touchdowns. Bradford finished his day with 382 yards, three touchdowns and no interceptions, and the Vikings had 93 yards on 20 carries (4.7 average) on the ground.
But, as we said, let's not overcomplicate this: The Packers won because Aaron Rodgers is on another level. As long as they have No. 12, they are a dangerous team. In a little more than a month, since Rodgers – as has been over-reported and blown way out of proportion – said he thought the team could run the table, Green Bay has not lost and risen from the bottom of the conference to nearly the top of the division.
"Over the last five weeks we've shown a lot of mental toughness and a lot of grit, guys sticking together when there could have been some fracturing," Rodgers said. "That's the identity of this football team. We're going to push it right to the very end, stick together and believe in each other."
Next week, against the Lions, the Packers will try to clinch their eighth straight postseason appearance.
"We're planning on going to Detroit to win the division," head coach Mike McCarthy said. "Merry Christmas."
So how did we get to this point, this fun and familiar point of beating Minnesota and preparing for an NFC North title game? Here's everything you need to know, or just forgot, or missed because it was Christmas Eve – plus all kinds of other wacky whatnots, from the Packers' Week 16 win over the Vikings.
Who starred?
On Saturday afternoon, Rodgers was at his best, equally surgeon and savage. He was accurate, throwing balls through the defense and into tight windows with pinpoint precision; he was backbreaking, converting on more than half of Green Bay's third-down situations (6 of 13) and three-quarters of his opportunities in the red zone (3 of 4); and he was devastating, completing a 48-yard pass to Nelson off his back foot with pass rushers in his face and escaping pressure to run in a touchdown.
There was a scary moment early in the third quarter when Rodgers was sandwiched by two Vikings defenders on a sack, the quarterback remaining on the ground a few minutes as Lambeau Field hushed for the only time all day. He was sacked four times and hit on 10 occasions, but seemed fine when he was pulled in the fourth quarter for backup Brett Hundley in mop-up duty. Over his past six games, Rodgers has 14 touchdowns, zero interceptions and a 119.2 average passer rating. MVP?
Who stunk?
Not to pile on here, but the Packers' secondary is not playing well. Call it a sophomore slump after solid rookie seasons, but Damarious Randall and Quinten Rollins – and to a lesser extent, LaDarius Gunter – have become legitimate liabilities in coverage. Randall had a couple of pass breakups Saturday, but both he and Rollins were completely outclassed by Thielen, as well as Stefon Diggs in the slot.
Two plays by Thielen exemplify the struggles of the two second-year cornerbacks and the general porousness of the Packers' defensive backfield. On the 71-yard touchdown, cornerback Quinten Rollins and safety Ha Ha Clinton-Dix ran into each other, allowing Thielen to easily run in after the catch; on his late score, Thielen effortlessly beat cornerback Damarious Randall by essentially jogging through the end zone. It's become way too easy for opposing pass offenses against Green Bay, and it's been this way for almost three months.
Unsung hero
Person Mike Daniels, the emotionally charged, trash-talking and attention-grabbing extrovert, is the opposite of unsung and unnoticed. But player Mike Daniels, the relentless, hard-charging, toiling-in-the-trenches defensive tackle, is often unsung and overlooked. Named a Pro Bowl alternate this season, Daniels has 30 tackles and four sacks through Sunday, which is good production for a lineman in Green Bay's defense but hardly eye-catching.
Against the Vikings, Daniels was once again doing his thing, occupying multiple interior blockers, clogging holes and stuffing runs, penetrating the backfield and disrupting the passer. He had two tackles and a sack where he essentially flattened Bradford with a chest bump, bull-running right into the poor quarterback for a big boss hit.
McCarthy score
(Mike McCarthy isn't renowned for his play-calling, having fired and then rehired himself for that role last year, but he does try his best. Here we rate his coaching performance, on a score from one to 10 McCarthy heads.)
As in Rodgers' performance, we're not going to overthink this. When the Packers have struggled this season, it's because they've come out soft and slow and gone behind early, or looked unprepared and overwhelmed offensively, or made head-scratching decisions with play-calling or game management.
There was none of that Saturday, as the Packers executed McCarthy's clearly well-arranged early script (NFL teams typically script their first few offensive series) with a pair of first-quarter touchdowns, looked confident and decisive against an opponent whose defense had stymied them in recent matchups, and made sound, simple decisions. The passing game was grooving and in-rhythm, and McCarthy smartly let it ride. Eight heads.
One-word reaction
12.
Dumb #hottake
Jeff Janis is the next Adam Thielen!
Good quote
"From the first throw today, I was in a different head space. I just felt that I was, for whatever reason, at a heightened awareness and focus and I was seeing things better. I was playing slower in my mind from the start. A good place to be at. You wish you could harness that every single game, that feeling. But definitely was in a good head space starting the game." – Aaron Rodgers
Best photo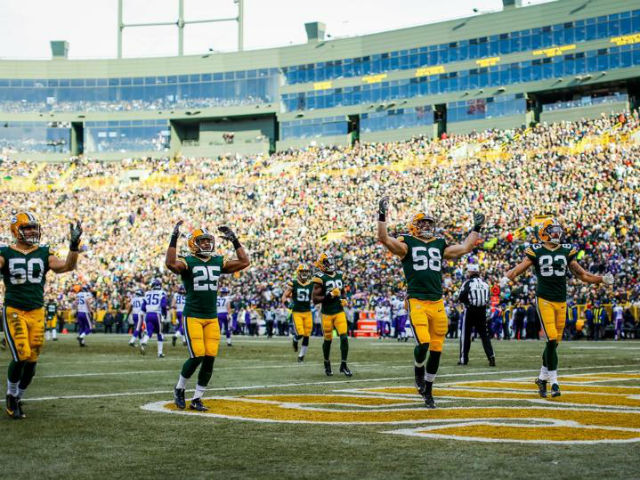 Encouraging thing
Last week, we wrote here in the "Alarming thing" section that Rodgers' and Matthews' nagging injuries were cause for some concern, since they are the most important respective players on offense and defense. In the playoffs, the best players make the biggest plays, and in Week 16, Rodgers and Matthews showed why they are stars and leaders.
Matthews' performance, in particular, was reassuring. In the three games prior to Saturday, he totaled two tackles and had no sacks. Against the Vikings, he had three tackles and a strip-sack that was recovered by teammate Kenny Clark for a turnover. He also had two pass deflections and another pressure in the third quarter. Green Bay will need its long-haired Claymaker to be playing at his most dynamic, destructive level going into its regular-season finale at Detroit, and, potentially, the postseason.
Alarming thing
On one hand, it's a good sign that this once very-flawed team now appears to have so few weaknesses. On the other hand, at the risk of beating a dead horse, the defensive backfield is a very real problem. It's no longer just a struggling secondary; at this point, we have to acknowledge the unit is bad.
This has been a pretty astonishing development; going into the season, the Packers were regarded as having perhaps the best trio of cornerbacks in the NFL, along with its strong group of safeties. After losing Sam Shields to a concussion in Week 1, Randall and Rollins have battled injuries and ineptitude and simply been overmatched. Over the five-game winning streak, Green Bay has faced only one quarterback with a passer rating in the top half of the league's rankings; almost all of its potential playoff opponents have more talented quarterbacks who would eviscerate this defensive backfield.
Looking ahead
After playing on Christmas Eve Saturday, the Packers now have eight days to prepare for their Week 17 prize fight on the road against the Lions. If they win, they take the division; if they lose, they'll need some help to get into the playoffs. With a five-game winning streak and whatever nebulously related momentum comes with that, Green Bay is playing its best football at the most important time of the year. It all comes down to New Year's Day, at noon on FOX, in Detroit.
Born in Milwaukee but a product of Shorewood High School (go 'Hounds!) and Northwestern University (go 'Cats!), Jimmy never knew the schoolboy bliss of cheering for a winning football, basketball or baseball team. So he ditched being a fan in order to cover sports professionally - occasionally objectively, always passionately. He's lived in Chicago, New York and Dallas, but now resides again in his beloved Brew City and is an ardent attacker of the notorious Milwaukee Inferiority Complex.
After interning at print publications like Birds and Blooms (official motto: "America's #1 backyard birding and gardening magazine!"), Sports Illustrated (unofficial motto: "Subscribe and save up to 90% off the cover price!") and The Dallas Morning News (a newspaper!), Jimmy worked for web outlets like CBSSports.com, where he was a Packers beat reporter, and FOX Sports Wisconsin, where he managed digital content. He's a proponent and frequent user of em dashes, parenthetical asides, descriptive appositives and, really, anything that makes his sentences longer and more needlessly complex.
Jimmy appreciates references to late '90s Brewers and Bucks players and is the curator of the unofficial John Jaha Hall of Fame. He also enjoys running, biking and soccer, but isn't too annoying about them. He writes about sports - both mainstream and unconventional - and non-sports, including history, music, food, art and even golf (just kidding!), and welcomes reader suggestions for off-the-beaten-path story ideas.