Packers playoff run: 2009-2015
Welcome, everyone, and thank you so much for being here. Today, on this Monday following Green Bay's 42-24 loss to Washington, we come together to mourn the passing of the Packers' 2016 season – it came far too soon – and the end of their seven-year run of playoff appearances. We're here to grieve, of course, but we're also here to remember – to remember the good times, cherish the memories and hail the successful, happy life the Packers had.
They lived it to the fullest – or as full as could be, considering touchdown celebration prohibitions and other grim austerities intrinsic of the No Fun League – and they touched all of us. From the Dallas euphoria of Super Bowl XLV to the Seattle sorrow of the NFC Championship Game four years later; from Aaron Rodgers-to-Jordy Nelson touchdown passes to Lambeau tailgates of brats and beer, they gave us much to love and cheer. They weren't always perfect, and occasionally we just couldn't stand them, especially near the end, when sometimes it was easier to be cynical and angry and to go mow the lawn on Sunday, rather than watch them bumble their way to another embarrassing defeat.
But they lived a full life, these past seven years, filled with division titles and Pro Bowls and Discount Double Checks, hope and wonder and possibility. They made a true, poignant, everlasting impact on us all, and that's why we're here today – because the Packers meant so much and we cared so deeply. And so today is not a time for sadness, but of appreciation and remembrance. Truly, this is not a eulogy; it's a tool, you'll see, to try and find solace, peace and acceptance.
We'll see you on the other side, Green Bay – maybe not quite the Browns' side, but the early first-round draft pick side, probably. The begin-anew side. The playoff football afterlife. Thanks for the memories, always, and peace out.
All right, now that that's out of the way, where's the reception? And is A.J. Hawk going to be there?
Sorry. I didn't know how else to begin this week's column, except to bury the Packers, who seemed sincerely to die, themselves, in the fourth quarter in Washington, when the defense officially departed and the reality of the situation became stark: after their fourth straight loss and fifth in the last six games, Green Bay is now 4-6, in third place in a bad NFC North, two games behind Detroit and Minnesota, and in a four-way tie for 11th in the conference, better than only two terrible teams in the NFC.
With six games remaining, the Packers still must play at 5-5 Philadelphia on Monday Night Football this week and against the Seahawks, who may be the best team in the league, on Dec. 11, as well as a trio of division games to close the campaign. It simply has become extremely improbable that this franchise will make its eighth consecutive postseason appearance.
After allowing 515 yards to Washington on Sunday, the Packers have given up 1,683 yards and at least 30 points in their last four games. "We didn't stop 'em," head coach Mike McCarthy said. "Our pass defense, we didn't get off the field." Green Bay has given up 11 touchdowns this season on passes that traveled at least 15 yards downfield, according to ESPN, which is tied with Cleveland for the most in the NFL and already five more than they allowed all of last season.
The defense is now ranked 18th in the league and 23rd against the pass. On that side of the ball, the Packers are – by reason of scheme, talent and injury depletion – definitively below average.
So how did we get to this point, mourning the likely end of a Packers era that had them make the playoffs more than any other team in the NFL but the Patriots? Here's everything you need to know, or just forgot, or missed because who cares, what's even the point of watching and living anymore? – plus all kinds of other wacky whatnots, from the Packers' Week 11 loss to Washington.
Who starred?
Aaron Rodgers was the best player the Packers had on Sunday night, a somewhat-comforting return to old familiar things in an otherwise ugly performance by the team. The quarterback completed 63.4 percent of his passes for 351 yards with three touchdowns and zero interceptions, earning an excellent 115.0 rating.
After the offense looked inept early, with three-and-outs on three straight possessions to start the game – the first time in Rodgers' tenure as a starter that's happened – the two-time MVP found his rhythm with short, underneath throws to Richard Rodgers and Randall Cobb, which opened up longer completions to Jared Cook and Jordy Nelson. By the middle of the second quarter, Rodgers' timing and accuracy looked good, he avoided pressure and was sacked just twice and he seemed to be in command of the offense again, despite the almost total lack of a running game.
Who stunk?
The Packers' secondary was atrocious. Understandably so, given that a rash of injuries has necessitated that third- and fourth- and fifth-string cornerbacks have to play. But on some level, they are still professionals who have to perform, the veteran safeties hardly helped at all and coordinator Dom Capers wasn't able to find ways to overcome or creatively mitigate the problem. Green Bay allowed 364 passing yards, including completions of 53 and 70 yards that were the result of complete breakdowns in the defensive backfield and players simply not fast or skilled enough to cover their opponents.
When reserve cornerback Demetri Goodson, who has played badly for three weeks now, was carted off the field in tears after a leg injury – perhaps wondering if not only his season, but also his career was over – it was a painful metaphor for the Packers' pass defense and their season as a whole.
Unsung hero/villain
Tight end Jared Cook returned from an ankle injury on Sunday and provided the Packers' passing attack a much-needed safety valve, as well as a dangerous downfield option. Cook led the team with six receptions for 105 yards, including a 47-yarder, and a touchdown. His physicality and ability to get open and come down with catches up the seam gave hope to a Green Bay offense that has been operating in fits and starts all season and needs someone who can make big plays.
But in the final minutes of the game, with the result likely assured but the team still trying to score, Cook fumbled after a catch, torpedoing a Packers drive and giving Washington the ball back to clinch it. Guess Cheeseheads could also say Washington wide receiver Pierre Garcon was a villain.
McCarthy score
(Mike McCarthy isn't renowned for his play-calling, having fired and then rehired himself for that role last year, but he does try his best. Here we rate his coaching performance, on a score from one to 10 McCarthy heads.)
McCarthy's timeouts at the end of halves with his defense on the field are becoming increasingly more head-scratching each week. It clearly is an intentional strategy, seemingly knowing the opponent will likely score and wanting to preserve some time for his offense to get points back before the end of the half, but it hasn't yet proven to be worthwhile. The Packers allow teams to leisurely score on them, because the defense is unable to stop anyone, but their inconsistent offense hasn't proven to be good enough to rely on going back the other way. After Mike Daniels made a tackle for a three-yard loss on first down with 2:39 left in the first half at Washington's 25, McCarthy called a timeout; then, two plays later, Kirk Cousins completed a 26-yard pass to Jordan Reed, which then led to a 10-yard Robert Kelly touchdown run with just 39 seconds left before halftime.
Otherwise, McCarthy's play-calling was fine. There wasn't much of a rushing attack, even with James Starks healthy and Ty Montgomery getting four carries, so McCarthy utilized a short passing game, emphasizing tight ends and wideouts in the flat, with blockers outside, as a sort of makeshift running game. Later, McCarthy experimented with more innovative receiver formations, at one point using five wideouts, including three bunched to the left, which helped Cook get open for a long completion. Four Mac heads this week.
One-word reaction
R.I.P.
Dumb #hottake
This season has been an institutional, full organizational failure, so fire everyone! Fire Ted Thompson for constructing this terrible roster! Fire McCarthy for being a bad coach! Fire the coordinators and all the assistants for not getting mediocre players to be awesome! Fire all the strength and conditioning staff, because these injuries clearly reveal an incompetent, or possibly even nefariously sabotaging, medical department! And fire all the players! Tear it down!
Good quote
"Six losses puts your ass against the wall. That's where we are. Disappointing. Reality is we are 4-6. We understand clearly what is in front of us. This is no time for personnel evaluation or coaching evaluation. This is our football team, the 2016 Green Bay Packers. We are going to rally and stick together." – McCarthy
Best photo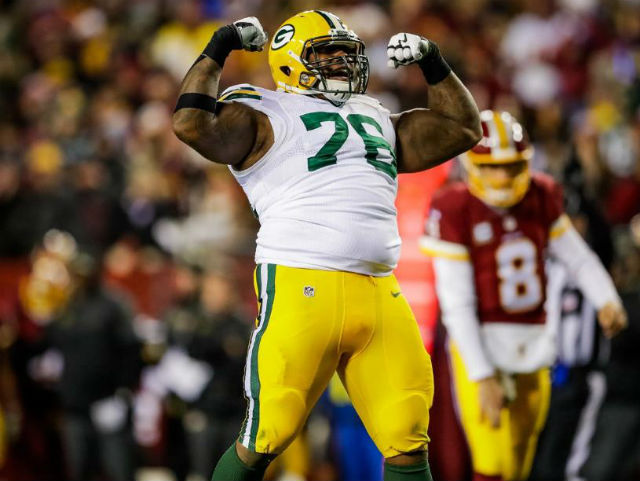 Encouraging thing
Rodgers and Cook showed they have a natural rapport together that not all pass-catchers have had with the quarterback. Clearly, Jeff Janis doesn't have it, and others, such as Montgomery and Davante Adams, haven't always been on the same page as the increasingly demonstrative Rodgers. But Cook, who was targeted 11 times, ran precise routes and found openings in Washington's defense, getting open downfield and offering big-play potential.
Cook didn't look as fast as he is on a couple of his long receptions, but he's probably not 100 percent healthy yet, and his natural athleticism is unquestioned. Afterward, Rodgers called the tight end "Cookie" and didn't really blame him for the late fumble, which was more the result of a brilliant punch-out play by cornerback Josh Norman, than a careless mistake by Cook.
Alarming thing
Um, well, the defense, but that's been well-documented. It really is hard to blame guys like Quinten Rollins, last year's second-round pick who has big-play potential but is still pretty raw and has been hampered by leg injuries this season, LaDarius Gunter, a 2015 undrafted free agent who is instinctual but slow, and Demetri Goodson, a 2014 sixth-round pick who's never been anything more than a special teams player and was suspended for the first four games of the season. Without Sam Shields, who is probably done for the season with his lingering fifth concussion, and Damarious Randall, who could return soon but might be too little, too late, and with safeties like Morgan Burnett, Ha Ha Clinton-Dix and Micah Hyde not adequately compensating in coverage – to say nothing of the inside linebackers in pass defense – Green Bay just doesn't have the NFL-caliber talent to guard opposing receivers.
But, again, enough words have been written about the secondary. What was alarming Sunday was Mason Crosby missing a 36-yard field goal at the end of a productive drive in the crucial third quarter. Crosby isn't having a bad year, having made 18 of 21 attempts – certainly nothing close to his slump-ridden 2013 season – but he's now the latest thing to go wrong for the Packers. With the offense inconsistent, the defense porous and injuries everywhere, Green Bay needs at least its veteran kicker to be dependable. He was not on Sunday, and he's now missed either a field goal or an extra point in four of the last five games. Hey, punter Jacob Schum was pretty good, though!
Looking ahead
The Packers, who have lost four straight games, conclude their current three-game road swing with a Monday Night Football showdown against the Eagles in Philadelphia this week. Philly is 5-5, but a perfect 4-0 at home, with rookie quarterback Carson Wentz capably piloting the offense, while the eighth-ranked defense – which is fourth in scoring, allowing just 18.6 points per game – does the heavy lifting. Even if not yet mathematically, the game is essentially a must-win contest for Green Bay, which, even with a victory, can't gain on both Minnesota and Detroit, since the two teams play each other. But, as Rodgers said after the game in Washington, "We've put ourselves in a tough spot. We have to find a way to get a win next week, and approach it one week at a time. That's all we've got right now."
Born in Milwaukee but a product of Shorewood High School (go 'Hounds!) and Northwestern University (go 'Cats!), Jimmy never knew the schoolboy bliss of cheering for a winning football, basketball or baseball team. So he ditched being a fan in order to cover sports professionally - occasionally objectively, always passionately. He's lived in Chicago, New York and Dallas, but now resides again in his beloved Brew City and is an ardent attacker of the notorious Milwaukee Inferiority Complex.
After interning at print publications like Birds and Blooms (official motto: "America's #1 backyard birding and gardening magazine!"), Sports Illustrated (unofficial motto: "Subscribe and save up to 90% off the cover price!") and The Dallas Morning News (a newspaper!), Jimmy worked for web outlets like CBSSports.com, where he was a Packers beat reporter, and FOX Sports Wisconsin, where he managed digital content. He's a proponent and frequent user of em dashes, parenthetical asides, descriptive appositives and, really, anything that makes his sentences longer and more needlessly complex.
Jimmy appreciates references to late '90s Brewers and Bucks players and is the curator of the unofficial John Jaha Hall of Fame. He also enjoys running, biking and soccer, but isn't too annoying about them. He writes about sports - both mainstream and unconventional - and non-sports, including history, music, food, art and even golf (just kidding!), and welcomes reader suggestions for off-the-beaten-path story ideas.