It's a testament to the aura and otherworldly ability of Aaron Rodgers that, despite a rusty passing performance in his return to action after eight weeks on Sunday in Carolina, Packer Nation allowed itself to consider that, perhaps, another unbelievable comeback was in the making.
After Green Bay recovered an onside kick, Rodgers' offense gained 14 yards in two plays and, following a couple of counteracting penalties, had first-and-10 from the Panthers' 38-yard line, trailing by one touchdown with 1:55 remaining. Rodgers was rolling, the Packers had momentum, they had Carolina on its heels and they had the entire stadium – plus everyone watching on TV – wondering: Is he going to do it again?
Of course, we know how it ended. Wide receiver Geronimo Allison caught a 10-yard pass, turned briefly upfield and was stripped, the fumble recovered by the Panthers to kill the threat and clinch the 31-24 victory, which nearly extinguishes Green Bay's just-barely flickering playoff hopes. Rodgers did not pull off the impossible, and – though for pure drama, fun and excitement, it's tough to beat those last four minutes Sunday, feelings which were only possible because No. 12 was on the field – in fact, his play was one of the primary reasons the Packers were in such a precarious position at the end of the game.
"It's not the fairy tale that we were hoping for," Rodgers said afterward. "As I lay in that surgery bed eight weeks ago thinking about this moment, I obviously saw it going differently."
Rodgers, who reportedly wasn't 100 percent healed from the broken collarbone he suffered on Oct. 15, completed 26 of 45 passes for 290 yards with three touchdowns and a 71.5 rating. But he also tossed three interceptions, tied for his career-high and most in a game since 2009, and all three were poor decisions and underthrown balls. After the game, Rodgers insisted he felt fine, but admitted he missed several throws he normally makes.
"I felt good, I just missed some throws," he said. "Missed some ones I'm used to hitting – just uncharacteristic plays. I'm disappointed in my performance today. Obviously I hold myself to a high standard, and this comes in well below.
"I just didn't throw it as well as I'm used to throwing it, and that kind of hurt us today. A lot."
For a team that proved itself exceedingly mediocre without Rodgers over the two months he missed, Green Bay needed much more from its two-time MVP to beat one of the NFC's best on the road. Rodgers was up-and-down, but the Packers also struggled to protect him, didn't get their running game going and couldn't contain Panthers playmakers Christian McCaffrey and Greg Olsen on defense. Green Bay lost the battle in what head coach Mike McCarthy considers key areas: Carolina was 6 of 12 on third down, 3 of 4 in the red zone and, most crucially, plus-four in turnover differential.
"Third down was a challenge," McCarthy said after the game. "The discipline penalties, no excuse for that. It's just their key players. We didn't do a good enough job limiting their production. They had some big plays to extend drives."
Quarterback Cam Newton and the Panthers controlled the tempo the whole game, possessing the ball for nearly eight more minutes than the Packers, with McCaffrey running around freely in the first half and Olsen finding soft spots in Green Bay's zone defense in the second half.
Newton, who came into the game tied for fifth in the NFL in total giveaways, was barely pressured and took care of the ball. He completed 20 of 31 passes for 242 yards with four touchdowns, zero turnovers and a 128.0 rating. Newton found Olsen nine times for 116 yards and a touchdown and McCaffrey six times for 73 yards and a score. He also connected with wide receiver Damiere Byrd twice in the end zone, including one that raised questions, once again, about what constitutes a catch.
As encouragingly as the first half ended for the Packers – Cobb scored on a 33-yard pass from Rodgers to give them a 14-10 lead going into halftime – the second half started inauspiciously. Green Bay allowed the Panthers to score on a seven-play, 73-yard touchdown march that put them up by three; two plays later, Rodgers threw a bad interception. Even worse, on the return, star wide receiver Davante Adams was leveled on a brutal illegal hit by linebacker Thomas Davis, the helmet-to-helmet smash sending Adams out of the game, earning Carolina a 15-yard penalty and robbing Green Bay of its best offensive weapon.
On the ensuing drive, the Panthers scored on Byrd's controversial catch. Then, Rodgers threw his third interception 19 seconds after that and, though the Packers ultimately made it interesting, they never got closer than seven points.
"I thought Aaron did a lot of good things," McCarthy said. "I thought he competed just like he always does. Obviously, when you look at the stat line, I'm stating the obvious, it's hard to overcome being minus-4 (turnover differential) in the game. But I thought Aaron did a lot of good things."
Now Green Bay will have to wait for Monday night's Falcons-Buccaneers contests to see if it is officially eliminated from the playoffs, and then the team will make a decision on whether or not to risk playing Aaron Rodgers in the final two games of the season.
Until then, let's take a look back at the Packers' 31-24 loss to the Panthers in Week 15.
Who starred
Until late in the game, when tight end Richard Rodgers gave them some big gains and a late touchdown, the Packers' only real playmaker on Sunday was Randall Cobb. The veteran wide receiver – targeted 14 times, almost twice as many as anyone else – caught seven passes for a team-high 84 yards and the touchdown, a 33-yard catch-and-run dash that ended with him desperately diving between two Carolina defenders.
While Rodgers said during the week he wanted to get Jordy Nelson more involved, the two friends connected just three times for 28 yards in the game. Adams was having a very productive day, with five catches for 57 yards and a score, before being knocked out of the game in the third quarter. Cobb's quickness, versatility and ability to find open space underneath gave Rodgers his best offensive option.
Who stunk
Paging Green Bay's pass rush. Green Bay's pass rush? The Panthers have one of the league's better offensive lines, but in a game of this magnitude – and one in which the Packers were seemingly playing with so much emotional energy, due to Rodgers' return – there's no excuse for their lack of pressure.
Green Bay had two quarterback hits and just one sack on Newton. Clay Matthews fell down three times during the game, including once in the end zone when he could have gotten to Newton for a safety. Two weeks ago, the Packers matched a franchise-record with seven sacks against Tampa Bay; in the two games since then, they've totaled just three. That's not helping a decimated defensive backfield.
McCarthy score
Before the game, McCarthy said he was going to turn Rodgers loose, and the quarterback's 45 pass attempts would suggest he did just that. But did he have to abandon the run in a game that was never more than a 14-point margin? Green Bay ran the ball just five times in the second half. Aaron Jones, who rushed twice for 43 yards in the first half, only got one more carry the rest of the game. All week, Rodgers and McCarthy talked about the resurgent running game providing much-needed balance to the Packers' offense, but on Sunday they went away from it far too soon.
On the other side of the ball, McCarthy doesn't call the defense, but we're lumping in Dom Capers here. Besides the usual deficiencies in the secondary and missed tackles that are supposedly a focus of the team every week, one subtle coaching decision proved to be a glaring mistake. After McCaffrey, a running back, ate up linebacker Jake Ryan out of the backfield in the first half, Capers subbed in Joe Thomas in the nickel package. But Thomas proved utterly unable to cover Olsen up the middle, and the tight end killed the Packers in the second half. For those decisions, and for losing a must-win game that probably cost them the postseason, McCarthy and Capers get three heads.
Good quote
"We've had a great run around here. As long as I'm here, I'm confident we'll be in the mix every single year." – Aaron Rodgers
Great photo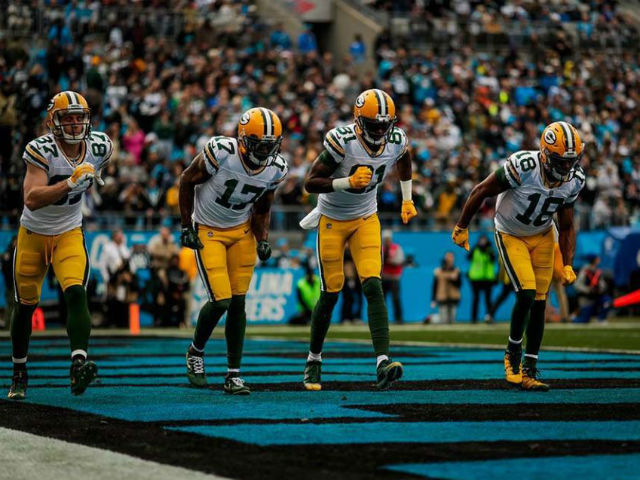 Encouraging thing
Rodgers came back, played an entire game of real, full-contact football, took some hits, and came out the other side OK. While many of his throws were off and his accuracy was clearly not the same, Rodgers had the Packers offense playing at its usual quick tempo, in rhythm with his receivers and, at times, advancing down the field with ease. He also looked fit and fresh, scrambling six times for 43 yards.
Now, the question is whether he will play next week against Minnesota or in Week 17 at Detroit, two games that won't really matter if the Packers have been eliminated from playoff contention. Said Rodgers, "We'll see how I feel tomorrow and go from there. I'm a little sore. I'm a competitor. Until they tell me otherwise, I'm expecting to play."
Alarming thing
Besides the likely prospect that the Packers will miss the playoffs for the first time since 2008 – their eight-year postseason run is tied with New England for the longest active streak in the league – there's the health of Adams.
The wide receiver was obliterated by Davis on a hit that Rodgers and other Green Bay players said afterward was dirty and had them worried about their teammate. Adams was able to walk off the field and to the locker room under his own power, but this his second high-profile concussion of the season. For the team's leading receiver, a free agent after this season whom Rodgers said had made himself a lot of money in 2017, it's a very concerning situation.
Looking ahead
Next week, the 7-7 Packers host the 11-3 Vikings at Lambeau Field. If Atlanta beats Tampa Bay on Monday Night Football, Green Bay will already be eliminated, and there's a good chance the team will start Brett Hundley at quarterback. Following the Minnesota game, the Packers will close out the regular season in Detroit against the 8-6 Lions.
Born in Milwaukee but a product of Shorewood High School (go 'Hounds!) and Northwestern University (go 'Cats!), Jimmy never knew the schoolboy bliss of cheering for a winning football, basketball or baseball team. So he ditched being a fan in order to cover sports professionally - occasionally objectively, always passionately. He's lived in Chicago, New York and Dallas, but now resides again in his beloved Brew City and is an ardent attacker of the notorious Milwaukee Inferiority Complex.
After interning at print publications like Birds and Blooms (official motto: "America's #1 backyard birding and gardening magazine!"), Sports Illustrated (unofficial motto: "Subscribe and save up to 90% off the cover price!") and The Dallas Morning News (a newspaper!), Jimmy worked for web outlets like CBSSports.com, where he was a Packers beat reporter, and FOX Sports Wisconsin, where he managed digital content. He's a proponent and frequent user of em dashes, parenthetical asides, descriptive appositives and, really, anything that makes his sentences longer and more needlessly complex.
Jimmy appreciates references to late '90s Brewers and Bucks players and is the curator of the unofficial John Jaha Hall of Fame. He also enjoys running, biking and soccer, but isn't too annoying about them. He writes about sports - both mainstream and unconventional - and non-sports, including history, music, food, art and even golf (just kidding!), and welcomes reader suggestions for off-the-beaten-path story ideas.