GREEN BAY – Heading into their Sunday Night Football matchup against the Vikings, the Packers were a discouraged and injury-depleted underdog, already eliminated from the postseason for the first time since 2008. And at Lambeau Field, on national television, against one of its biggest rivals, Green Bay played that way.
From kickoff to the final whistle, the Brett Hundley-led Packers were no match for the NFC North division-champion Vikings, scoring zero points, earning loud boos from the frozen home crowd and ultimately falling, 16-0, in their penultimate regular-season game. The shutout loss didn't mean anything in terms of the standings or playoffs, but the personnel and performance made it feel almost like a preseason contest, the sort of late-year surrender unfamiliar to Green Bay fans.
Hundley was 17 of 40 for 130 yards with two interceptions in his second act as the replacement quarterback for Aaron Rodgers, who was placed on injured reserve during the week after missing seven games earlier in the season with a broken collarbone. The Packers were without wide receiver Davante Adams, Hundley's favorite target, due to a concussion suffered last week; then Green Bay lost both wideout Jordy Nelson and tight end Richard Rodgers to first-half shoulder injuries. In addition, right tackle Jason Spriggs and running back Aaron Jones had to leave the game with leg injuries.
"Injuries are unfortunate," head coach Mike McCarthy said after the game. "We had a lot of opportunities tonight. We didn't make the plays."
Against Minnesota's stalwart defense, the Packers' hobbled, makeshift offense could produce nothing. With Hundley unable to throw the deep ball, Green Bay's receivers were penned in; unheralded rookie Michael Clarke led the way with three catches for 36 yards, but no one had a reception for even 20. Without Jones as a change-of-pace back, rookie runner Jamaal Williams was unable to get going, rushing 15 times for 58 yards behind an offensive line under siege by the Vikings' defensive front.
The injury-ravaged Packers were without linebackers Clay Matthews (hamstring) and Nick Perry (ankle/shoulder), as well as cornerback Damarious Randall (hamstring), and the rest of Dom Capers' unit didn't put up much of a fight against Minnesota's mild attack. Quarterback Case Keenum completed 14 of 25 passes for 139 yards and a touchdown to wideout Stefon Diggs, while running back Latavius Murray ground out 69 yards on 21 carries, helping the Vikings control the tempo and extend drives. Kicker Kai Forbath converted all three of his field-goal attempts, providing the only second-half scoring.
By the second quarter, Packers fans were booing Hundley, head coach Mike McCarthy and the Packers. Midway through the fourth quarter, many were heading toward the exits to leave a boring game early. A few days ago, McCarthy had said these final two games would be important for evaluating the team in ways he couldn't do if Green Bay was headed to the playoffs – coaches, fringe players, techniques – and making difficult decisions.
"We battled. I hope everybody walks out of here with their heads held high," Hundley said after the game. "It's frustrating because I know what I can do. My expectations of myself are higher than anybody. To go out and not be consistent, that hurts."
After the Packers rolled over Sunday night against the Vikings, McCarthy's evaluation probably became tougher and uglier. Let's grimace, shake our heads and take a look back at Green Bay's first shutout loss to Minnesota since 1971.
Who starred
Kenny Clark, who's had arguably the best year of any Packers player, especially on defense, was one of the few who showed up at Lambeau Field. The second-year defensive lineman had five tackles, including two sacks, penetrating Minnesota's backfield and pressuring Keenum repeatedly. Ignominiously, Green Bay had no Pro Bowlers this year, but Clark added another excellent performance to his strong 2017.
Who stunk
We're back to Hundley. The backup quarterback had several awful outings this season, but in his eighth career start – and coming off perhaps his best game Dec. 10 in Cleveland – Hundley was utterly impotent against the Vikings' second-ranked defense. His 3.3 yards per attempt was his lowest of the year, as was his 30.2 passer rating, with both interceptions gifted to Minnesota safety Harrison Smith. If the Packers were hoping to showcase Hundley and increase his trade value these last two weeks, he didn't help them Sunday night.
McCarthy score
Yes, there were injuries and it was a very good opponent. But from the opening kickoff, this team looked defeated and indifferent. Hundley has started more than half the games this season, and yet the offense was incompetent; the defense forced no turnovers and few big plays; Green Bay committed six penalties for 79 yards to Minnesota's two for 10. McCarthy has had an unquestionably successful tenure – the Packers' run of eight consecutive playoff appearances, which will end this year, was tied with the Patriots for the longest active streak – but he had no answers nor good ideas, and his team seemed uninterested on Sunday. Two heads.
Good quote
"I've never felt more defeated, more embarrassed about a performance." – Randall Cobb
Great photo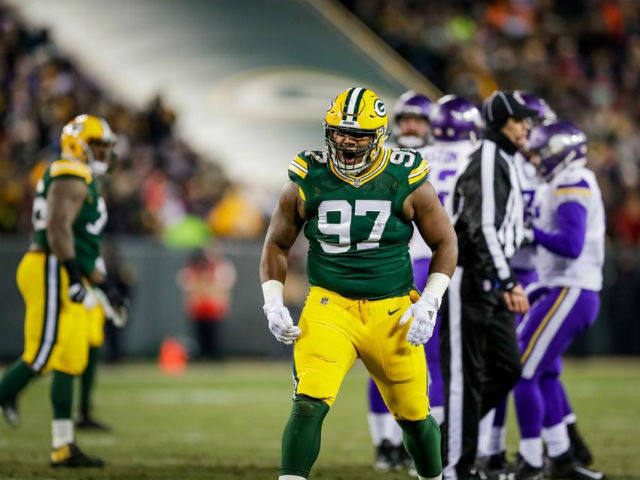 Encouraging thing
It's tough to find a silver lining here. Hundley played badly, the defense didn't make a statement, there were still more injuries and Green Bay was embarrassed at home on national TV against a division rival that may be the new NFC North ruler. If we had to choose one, we could look to Clarke, the undrafted rookie receiver who looks the part at 6-foot-6 and had a couple of nice catches in the second half.
Alarming thing
I wrote earlier this year that the Packers, based on data over the past decade, were no more disproportionately affected by injury than any other NFL team, despite what fans might think. And certainly, while Rodgers' broken collarbone torpedoed this season, we've seen many other teams endure many player injuries. But there was something sadly sobering about watching a Green Bay team without Rodgers, Nelson, Adams, Matthews, Perry, Randall and others on Sunday. It was boring and dispiriting and seemingly pointless. It was a foreign feeling for Packers fans; let's hope it doesn't become typical.
Looking ahead
The Packers close out the regular season next Sunday with a New Year's Eve afternoon game in Detroit. The 8-6 Lions are still in playoff contention, while 7-8 Green Bay will try to avoid its first losing season since 2008. Next week's game is at noon on FOX.
Born in Milwaukee but a product of Shorewood High School (go 'Hounds!) and Northwestern University (go 'Cats!), Jimmy never knew the schoolboy bliss of cheering for a winning football, basketball or baseball team. So he ditched being a fan in order to cover sports professionally - occasionally objectively, always passionately. He's lived in Chicago, New York and Dallas, but now resides again in his beloved Brew City and is an ardent attacker of the notorious Milwaukee Inferiority Complex.
After interning at print publications like Birds and Blooms (official motto: "America's #1 backyard birding and gardening magazine!"), Sports Illustrated (unofficial motto: "Subscribe and save up to 90% off the cover price!") and The Dallas Morning News (a newspaper!), Jimmy worked for web outlets like CBSSports.com, where he was a Packers beat reporter, and FOX Sports Wisconsin, where he managed digital content. He's a proponent and frequent user of em dashes, parenthetical asides, descriptive appositives and, really, anything that makes his sentences longer and more needlessly complex.
Jimmy appreciates references to late '90s Brewers and Bucks players and is the curator of the unofficial John Jaha Hall of Fame. He also enjoys running, biking and soccer, but isn't too annoying about them. He writes about sports - both mainstream and unconventional - and non-sports, including history, music, food, art and even golf (just kidding!), and welcomes reader suggestions for off-the-beaten-path story ideas.