It only took 15 weeks, desperate playoff odds and a foe utterly decimated by injuries – but the Packers we thought we were going to get at the start of the season finally showed up.
With the help of a stout defense and an inelegant but improving balanced offense (plus, again, a Rams team minus any notable Rams), Green Bay was able to put Los Angeles out of its misery on Monday night with a 24-12 victory at Lambeau Field. This year's Pack have had a special ability to turn near-certain wins on paper into soul-punching losses on the field – but this time, they actually came through, taking advantage of a lesser foe on their home turf. It wasn't a sexy win – but with their still-existent playoff hopes dangling by a thread, the aesthetics don't matter. They just need to win – all the time.
But before we look ahead to the Pack hopefully getting fans a victory against the Miami Dolphins for Christmas, let's enjoy this nice two-game winning streak and recap ten memorable moments from Monday's successful ramble over the Rams.
1. Holly jolly history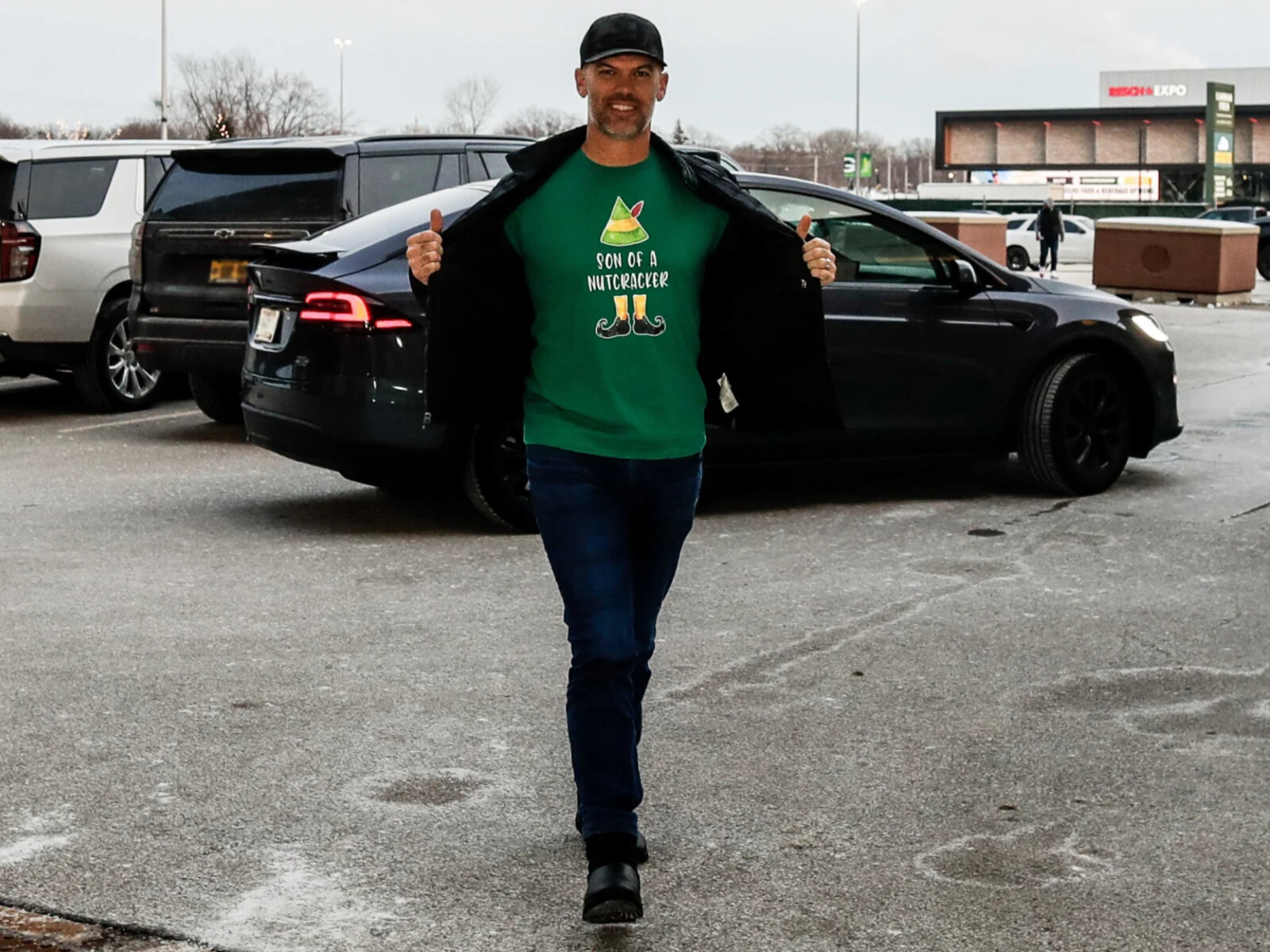 Mason Crosby showed up to Monday night's game feeling festive – and not just because Christmas is coming up in less than a week. Right from the opening kickoff, Crosby made history, tying Brett Favre for the most consecutive games played in team history. That means next week's game against the Dolphins is going to be a particularly merry Christmas for Crosby, almost guaranteed to earn yet another place in Packers lore.
2. Mixed signals
Aaron Rodgers threw his 10th interception of the season 🫣

🎥: @NFLpic.twitter.com/6KVdBPUdDu — Sporting News NFL (@sn_nfl) December 20, 2022
Early on, it looked like it was going to be one of those nights for Packers fans yet again. After an early stop, the Packers had one of those impressive drives that unimpressively flamed out into just a field goal. Then, after another strong defensive showing, Green Bay wasted tremendous field position with this ugly interception from Aaron Rodgers. (Must've gotten his hand signals mixed with Allen Lazard.) Despite outplaying the Rams entirely, the Packers were only up three at the end of the first quarter, leaving the door open for Los Angeles. Thankfully that door got slammed in the second half – making Monday not one of those nights after all.
3. Gumby goes hard
Gumby was really drinking this through his eye 😂 pic.twitter.com/KBR2Xu9SVt — ESPN (@espn) December 20, 2022
Wisconsinites: always discovering new innovations in alcoholism. Your move, Bills Mafia.
4. Defensive dynamite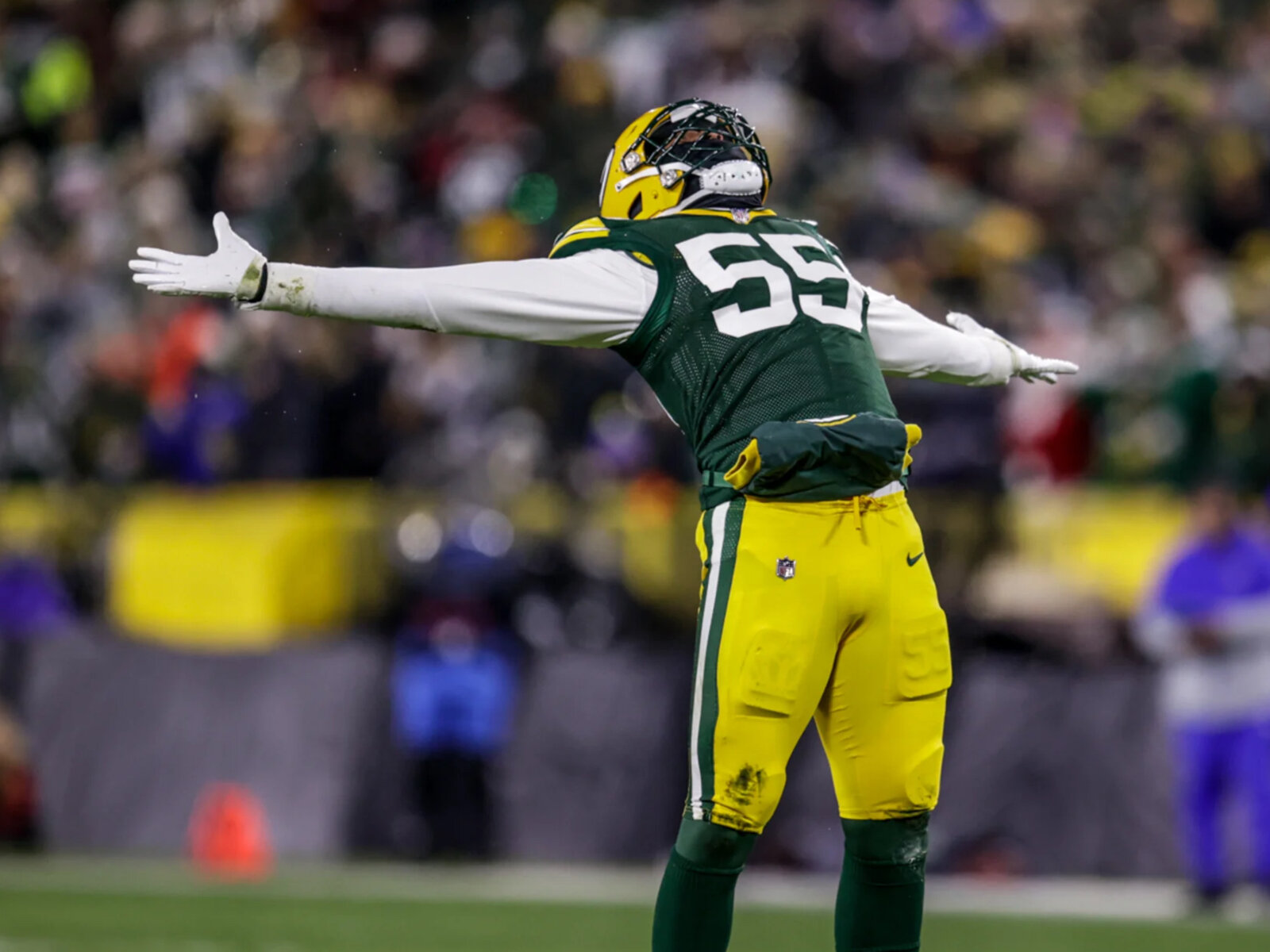 An early Christmas present arrived for Packers fans as the much-ballyhooed – and much-bummer-inducing –defense actually showed up on Monday night. Led by Preston Smith, Kenny Clark and rookie Kingsley Enagbare, Green Bay held the Rams to 12 points amongst five sacks and an interception. Sure, it came against an L.A. squad without Matt Stafford, Cooper Kupp, most of their starting offensive line and pretty much everyone else on the team (maybe even the team laundry guy), but in a year of awfully underwhelming performances, the Packers finally played up to expectations. Also: While the rookies on the other side of the ball have deservedly gotten a lot of attention, don't forget about Enagbare, Quay Walker and Devonte Wyatt. They too are looking like a part of a bright Packers future – one that's provided a silver lining to this shoddy season.
5. Quadzilla roars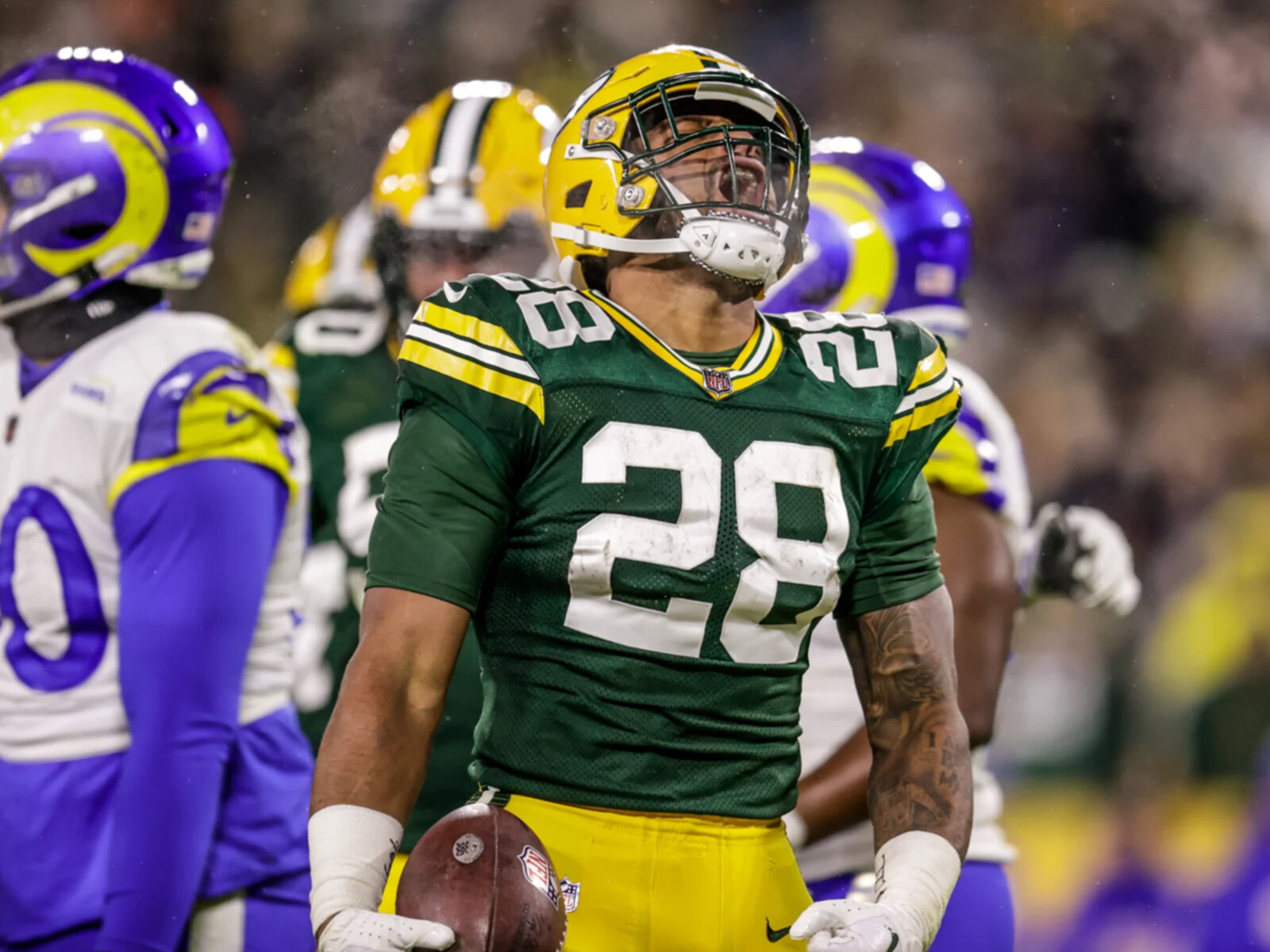 A.J. Dillon's numbers weren't sexy – just 36 yards on eleven carries, plus a trio of nice catches – except for the stat that matters most: touchdowns. The Packers' pillar-thighed running back barged in for not one but two scores during Monday night's tustle, helping Green Bay get some distance from the Rams as the night went along. Unfortunately, due to a potential concussion, Dillon wasn't able to help wrap up the win – but no matter the prognosis, hopefully his strong runs combined with Aaron Jones' impressive 90 yards on the ground convince the Packers brass to keep going with this short and sharp run-first approach. It's working – finally.
6. Second half success
Aaron Jones recorded his 5th TD catch of the year 🧀#GoPackGo

🎥: @NFLpic.twitter.com/R5X36mNskP — 𝐓𝐡𝐞 𝐒𝐩𝐨𝐫𝐭𝐢𝐧𝐠𝐍𝐞𝐰𝐬 (@sportingnews) December 20, 2022
Despite the Rams not having ... anyone healthy to play football, the Packers' lead was only 10-6 at halftime. But Green Bay came out to play in the second half, scoring on their opening drive, forcing the Rams into a three-and-out and then scoring one more time thanks to this impressive Aaron Jones scamper – seven of his 126 total yards on the night. Monday's win wasn't just rare because it was a win – it was rare because it was a pretty comfortable win, with Green Bay fans happily able to call it bedtime fairly early. It's definitely not the way we thought this game would go at the start of the season, when it was a potential playoff bout between the two of last year's best records in the NFC.
7. Keisean keepin' on
5️⃣2️⃣ yards on the kickoff return for @keiseannixon! #LARvsGB | #GoPackGo

📺 ESPN pic.twitter.com/75ICF8P4gE — Green Bay Packers (@packers) December 20, 2022
With this impressively clutch 52-yard kick return, Keisean Nixon continues to make the Packers special teams unit look good – and therefore make the Packers special teams coaches look bad. Seriously, guys: How did it take more than half of the season to sub him in for the butterfingered Amari Rodgers? It's one of the great bafflements in an overall baffling season for Green Bay.
8. Good play, bad idea
"I saw what Jakobi Meyers did and I liked it," -Rasul Douglas pic.twitter.com/CvgFT4mgSP — ThatsGoodSports (@BrandonPerna) December 20, 2022
Rasul Douglas is apparently the only person who watched the end of the Raiders/Patriots game and thought, "Hmm, I think they're on to something here." Thankfully the Packers recovered the fumble, and Douglas' dumbfounding decision was only the second worst lateral attempt of the weekend.
9. Grounded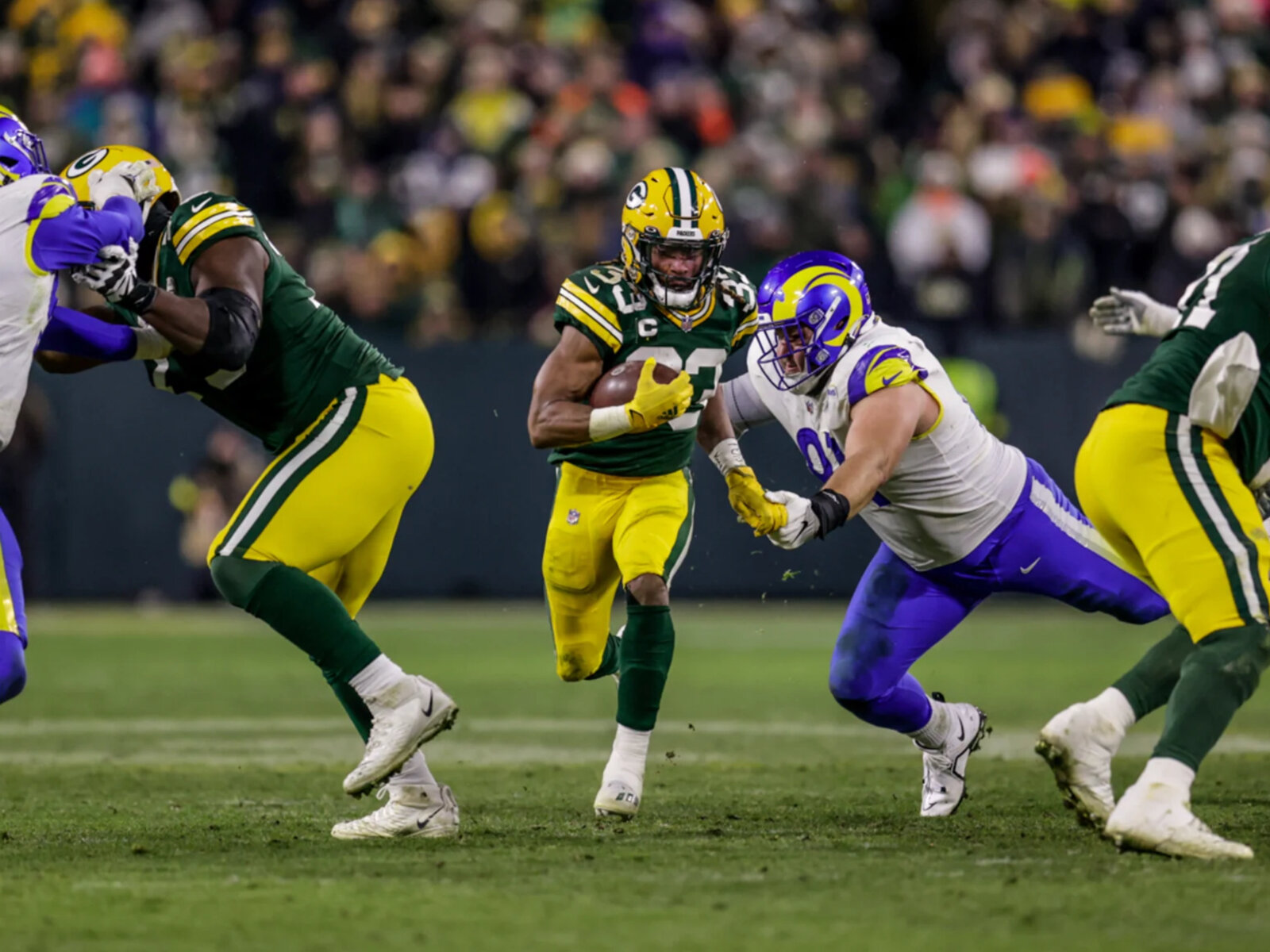 The Packers' most impressive drive of the night might've been one that didn't result in any points. Getting the ball back with just under nine minutes left, Green Bay managed to milk away what remained of the game and what remained of the Rams' title-defending ambitions with a combination of effective runs and smart short passes. The Packers could've truly planted the dagger with a final touchdown in the redzone – but thanks to their time-draining drive, they didn't even need it.
10. So you're telling me there's a chance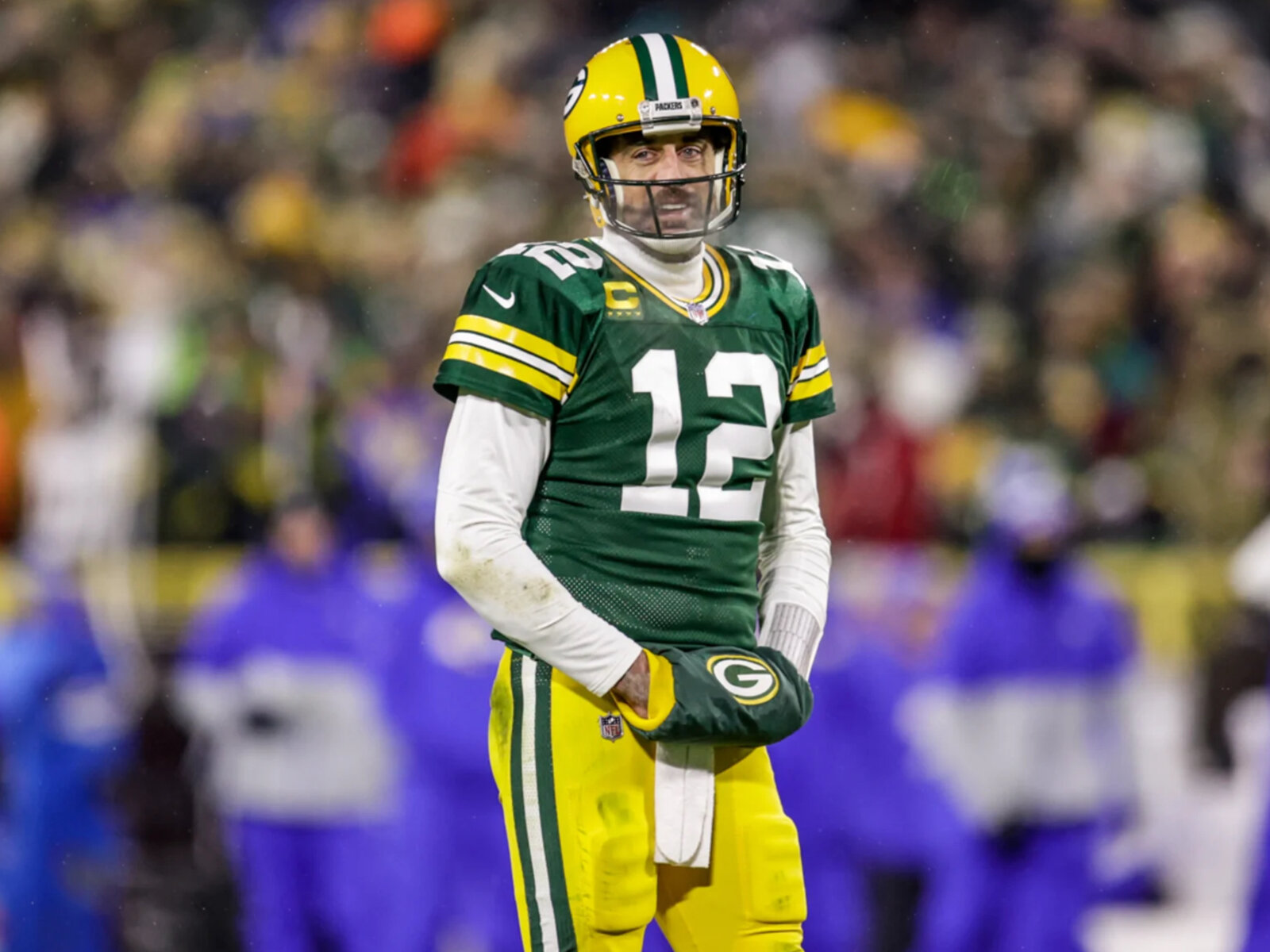 Not in my wildest ayahuasca-fueled dreams did I imagine saying this a month ago ... but the Packers have a genuine chance to make the postseason. Thanks to this two-game winning spree and the overall mediocrity of the NFC, the Packers are still just a game and a half out of a playoff spot.
That being said, they need a lot of things to fall their way to make the ridiculous into reality. For one, they pretty much cannot lose any of their remaining three games – not the easiest task considering they're against the playoff-contending Miami Dolphins, the North-leading Minnesota Vikings and the Detroit Lions, who also miraculously find themselves in the postseason hunt thanks to their frisky play. Two of the three are thankfully at Lambeau – but it's still no walk in the park. And even if the Packers do their job and win out, they need the Seahawks to lose at least once and the Commanders to lose twice. It's not impossible – Seattle has a game against the Kansas City Chiefs while Washington has to play both the Niners and the Cowboys – but it's a lot that has to go right in a season that's mostly gone wrong.
But hey, 'tis the time of year for miracles, right?
As much as it is a gigantic cliché to say that one has always had a passion for film, Matt Mueller has always had a passion for film. Whether it was bringing in the latest movie reviews for his first grade show-and-tell or writing film reviews for the St. Norbert College Times as a high school student, Matt is way too obsessed with movies for his own good.
When he's not writing about the latest blockbuster or talking much too glowingly about "Piranha 3D," Matt can probably be found watching literally any sport (minus cricket) or working at - get this - a local movie theater. Or watching a movie. Yeah, he's probably watching a movie.