At least one thing's going right thus far in 2021 as the Green Bay Packers put away the Los Angeles Mountain Sheep on Saturday, 32-18.
Even though we're an oddly pessimistic fan base – especially coming off last year's fools gold of a season – things seemed strangely comfortable going into Saturday's matchup. And indeed, that's how the game went. Even though the Rams were generally in striking distance for much of the bout, the end result – a Packers win – never felt particularly in doubt as Green Bay confidently controlled the game on both sides of the ball.
Of course, next week will mark the actual challenge, facing off against either Tom Brady and the Tampa Bay Buccaneers or Drew Brees and the New Orleans Saints in the NFC Championship – where the Packers devastatingly tripped up a year ago. But we can sweat about that matchup later; for now, let's savor this victory with one final look back at some of the golden moments from the green and gold's playoff win.
1. Unflappable fashion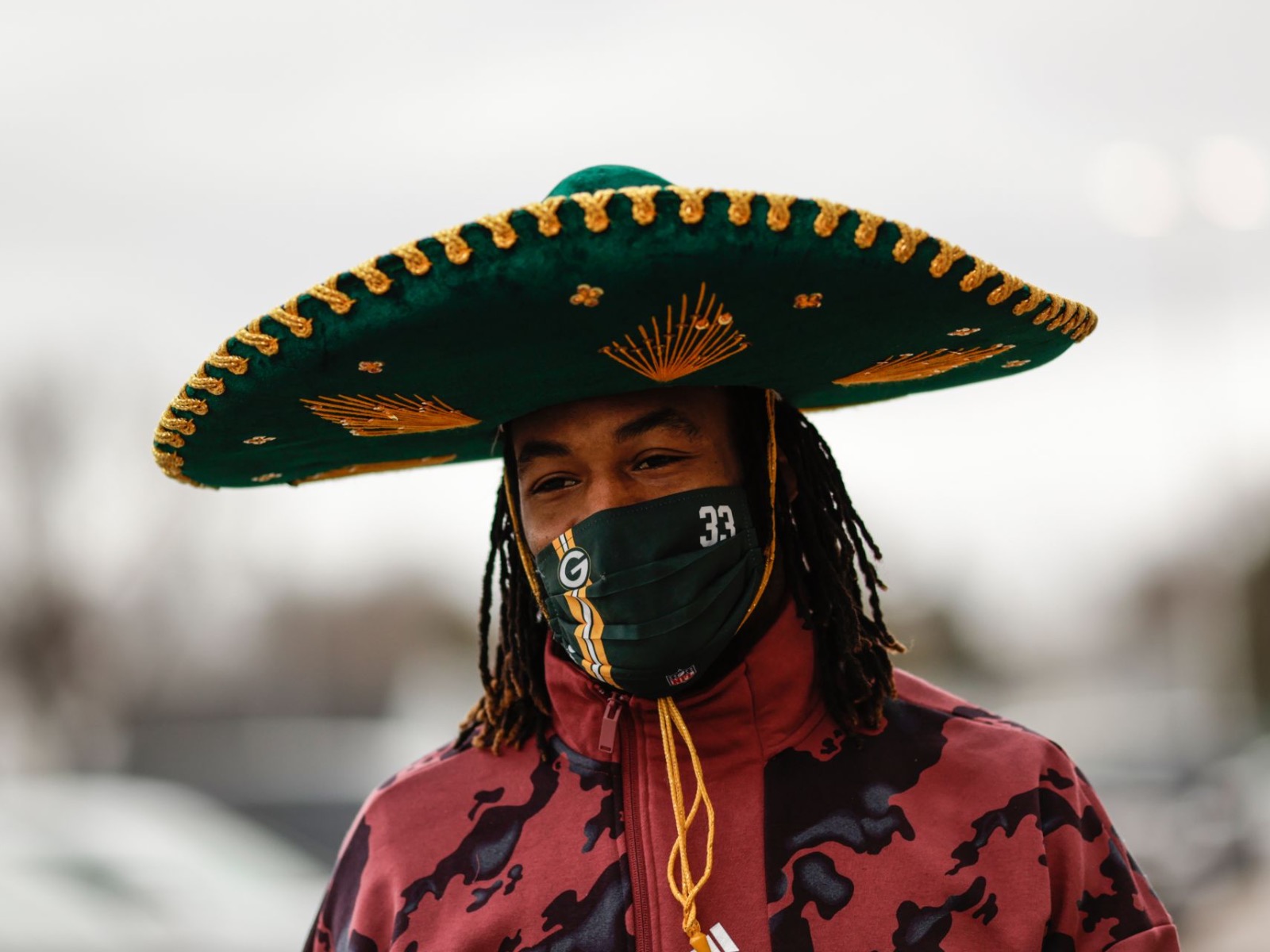 Look, I wasn't planning on starting each one of these photo recaps with Aaron Jones wearing a sombrero. But he keeps wearing them, and the Packers keep winning. And you know what "Bull Durham" says about messing with winning streaks: Don't.
2. Starting early
The chirping between Davante Adams and Jalen Ramsey already on full display in warmups. A referee walked Adams back to the Packers side of the field.

Buckle up. pic.twitter.com/HqODVppTpz — Stephen Watson (@WISN_Watson) January 16, 2021
One of the big matchups going into Saturday's game was star wide receiver Davante Adams against notorious cornerback Jalen Ramsey – and it did not disappoint. In fact, the two starting facing off prior to the first snap of the game, getting into a mild war of words during pregame, requiring a ref to step in. So obviously we were in for an entertaining time on Saturday.
3. Friendly fire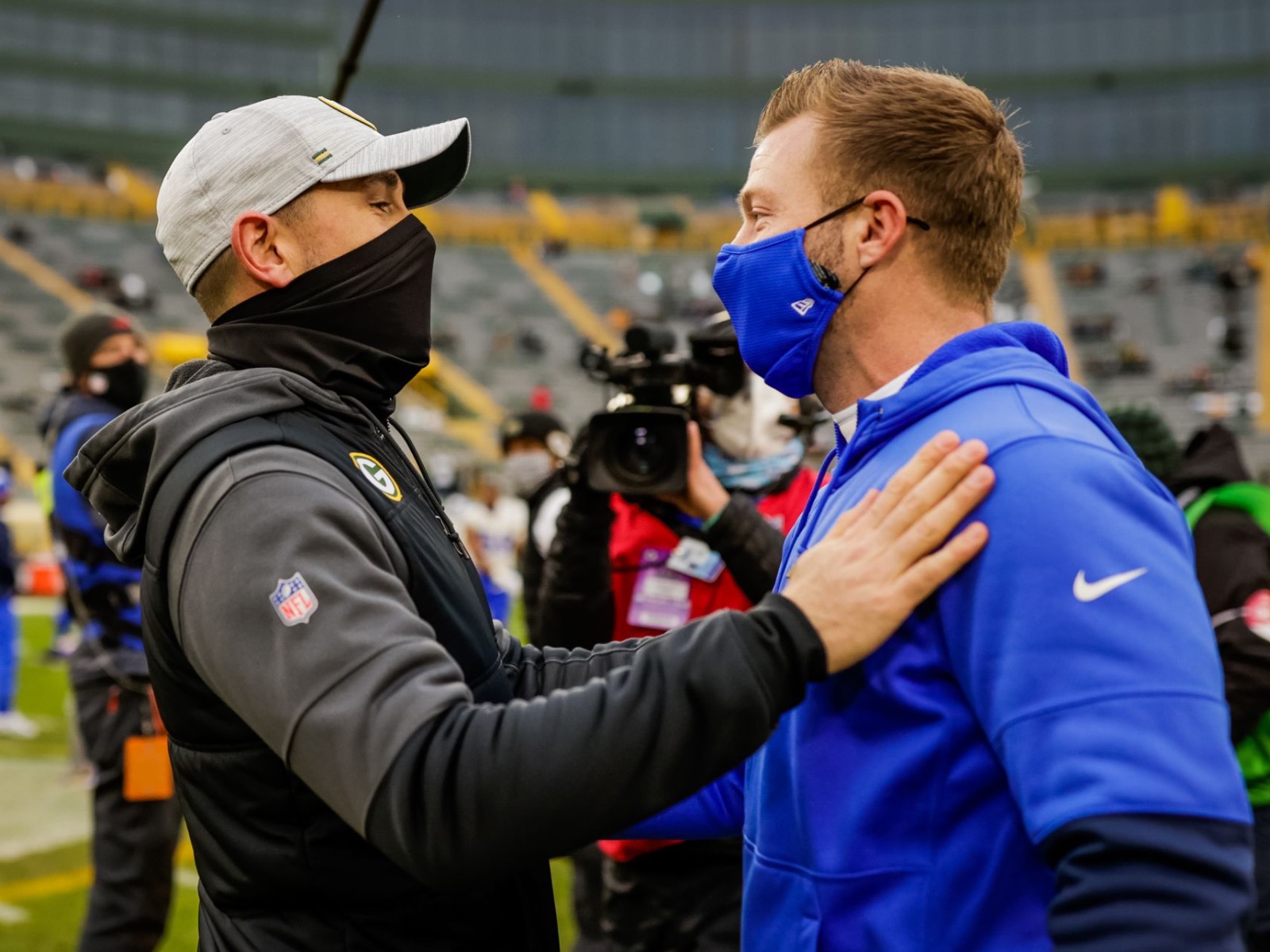 Last year, Packers coach Matt LaFleur ended up on the wrong side of a fight between friends as former colleague Kyle Shanahan and his San Francisco 49ers made LaFleur's team look silly in their playoff bout. (Let us never speak of that game ever again.) This time around, though, it was LaFleur's turn to get the upper hand against an old pal as his Packers eliminated his buddy Sean McVay – a friendship that goes back to 2010 with Washington, both assisting under Shanahan at the time before meeting back up in Los Angeles for the 2017 season. There's no such thing as friendship in football, though, when you're on opposite sides of the field – as LaFleur made painfully clear to his friend on Saturday.
4. Lambeau's alive again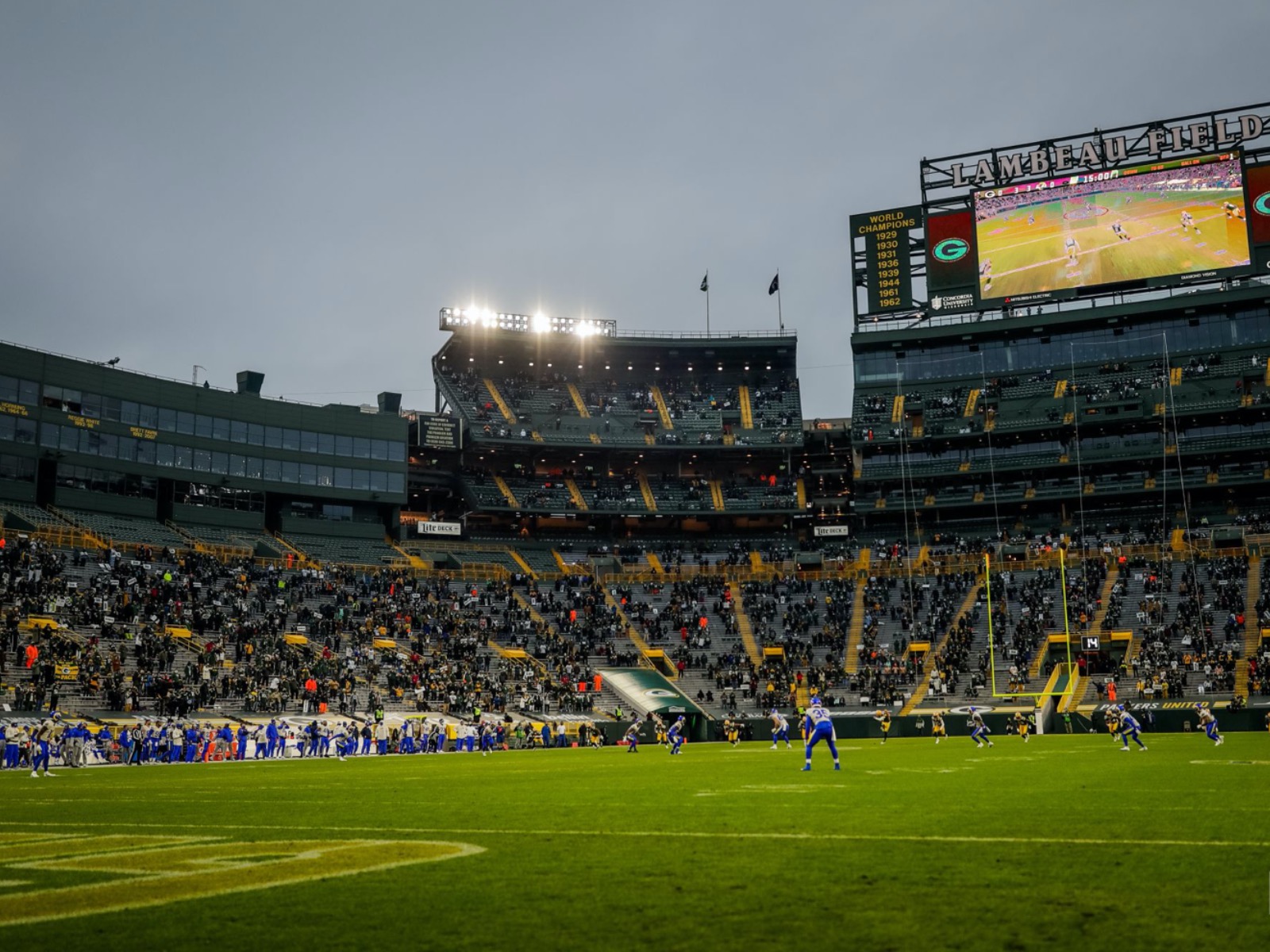 For the first time all season long, there was an actual crowd inside Lambeau Field as almost 9,000 fans – all masked and separated into distanced pods with no tailgating allowed prior to the game – cheered on the Pack's first playoff game of the postseason. And while it wasn't obviously the complete Lambeau experience, watching on television from home, it was nice to hear the electric sounds of actual fans cheering and going nuts for big plays as opposed to the canned fake noise we've become accustomed to during this COVID-struck season. Now, the shot of the shirtless guy in 30 degree weather with the G on his chest, however? We didn't need to bring THAT over from pre-pandemic times.
5. Too much Davante to handle
Jalen Ramsey was upset after that Davante Adams touchdown.

(via @NFLonFOX)pic.twitter.com/esxI1iwHre — Bleacher Report (@BleacherReport) January 16, 2021
In the much-ballyhooed battle between Ramsey and Adams, it was the latter who ended up the champ. Sure, the Packers receiver was held to merely nine catches and 66 yards – but one of those catches was this touchdown, a brilliant play call sending Ramsey zig-zagging into his own teammates prior to the snap, accidentally picking Adams open and resulting in six points as well as a lot of grumpiness on the Los Angeles sideline. In general, when you're jumping up and down on the field in a pout, you're on the losing end of your big duel.
6. MVPumpfake
Rodgers is cold for this one 😳😤 @AaronRodgers12 @packers

📺 #LARvsGB on FOX pic.twitter.com/334HBsK4hH — The Checkdown (@thecheckdown) January 16, 2021
It was yet another deliciously efficient performance for the likely MVP on Saturday, tossing for two touchdowns and almost 300 yards against the number one defense in the league. Rodgers also scampered into the endzone himself for the second touchdown of the day – in the process ruining this poor Rams defender's day by juking him out of his jockstrap with a pumpfake. I'm going to call this move "giving him the Rodgers rate."
7. Smothered in cheese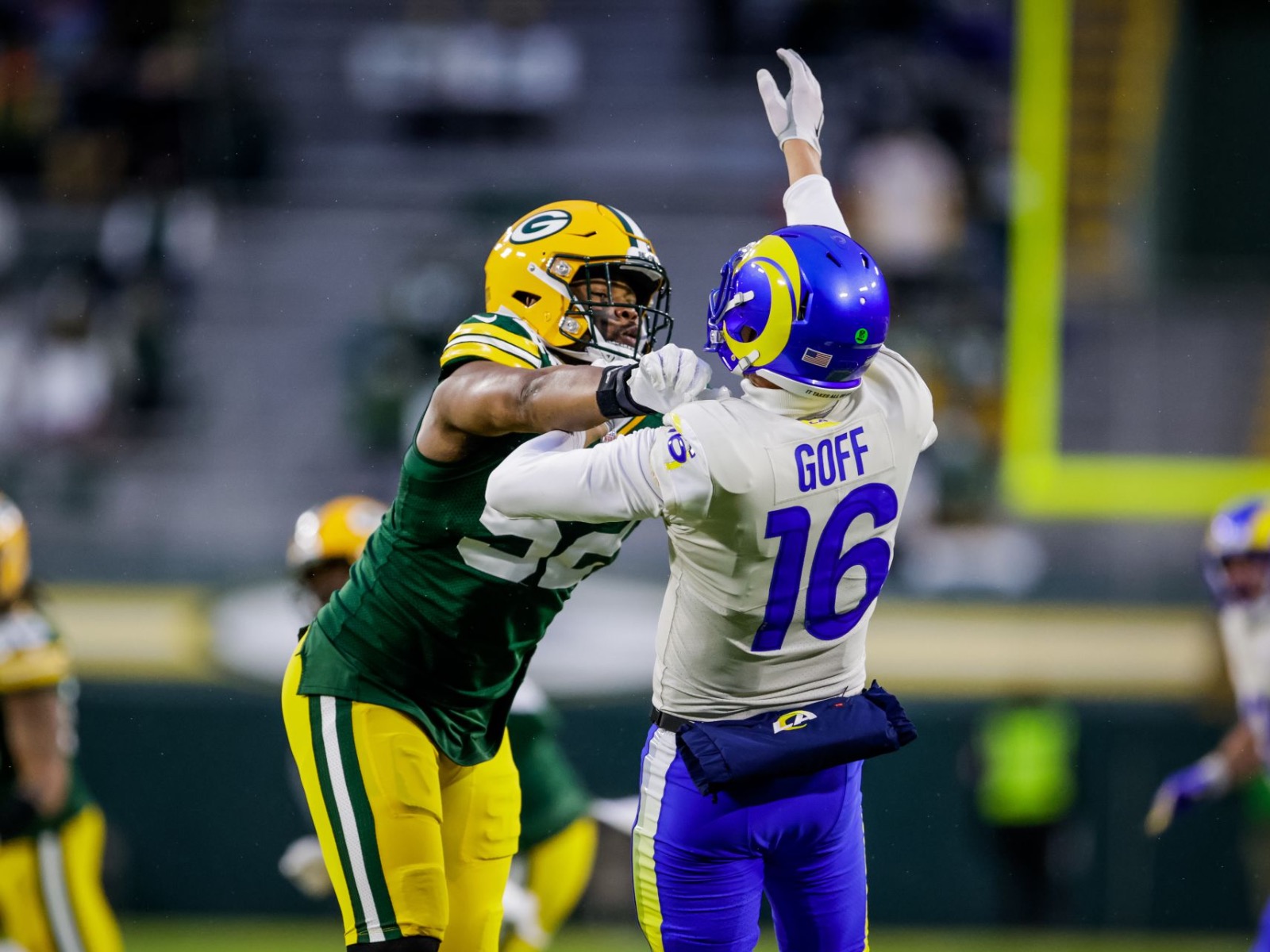 While Los Angeles' defense may have been the better regular season unit, it was the Packers' D that got the last laugh, smothering Jared Goff and the Rams offense throughout Saturday's game (minus that sieve-like performance in the last two minutes of the first half that I refuse to acknowledge or discuss because it was heinous, and I was sad). Jaire Alexander locked down Rams receiver Robert Woods to only 48 yards, up-and-coming running back Cam Akers was held under 100 total yards and Goff hit the dirt four times, regularly under pressure from the Pack. If they show up like this again next weekend – and remember that there's 15 minutes in a quarter, not just 13 – it could be a super start to 2021.
8. Credit where credit is due
Just a beautiful pay call for the Rams on this 2pt conversion 👌

(via @NFL) pic.twitter.com/8oAcdjAyv1 — FOX Sports: NFL (@NFLonFOX) January 16, 2021
I know this is a highlight for the Rams ... but this is a mighty pretty play. The two-point conversation would make things a one-possession game, 25-18, going into the final frame. But even with momentum threatening to tip in L.A.'s favor – and even with the Packers' reoccuring struggles with putting the boot on the neck throughout the season – the game always felt comfortably in hand. We were all just waiting for the dagger ...
9. Pump-up music
. @LilTunechi leads #Packers fans through Roll Out The Barrell. pic.twitter.com/KyYNSZXgiu — Scott Grodsky (@ScottGrodsky) January 16, 2021
Sure, Packers superfan Lil Wayne released a new remix of his popular "Green and Yellow" hype song – but obviously the most important pump-up jam is "Roll Out the Barrel."
10. Donald dumbfounded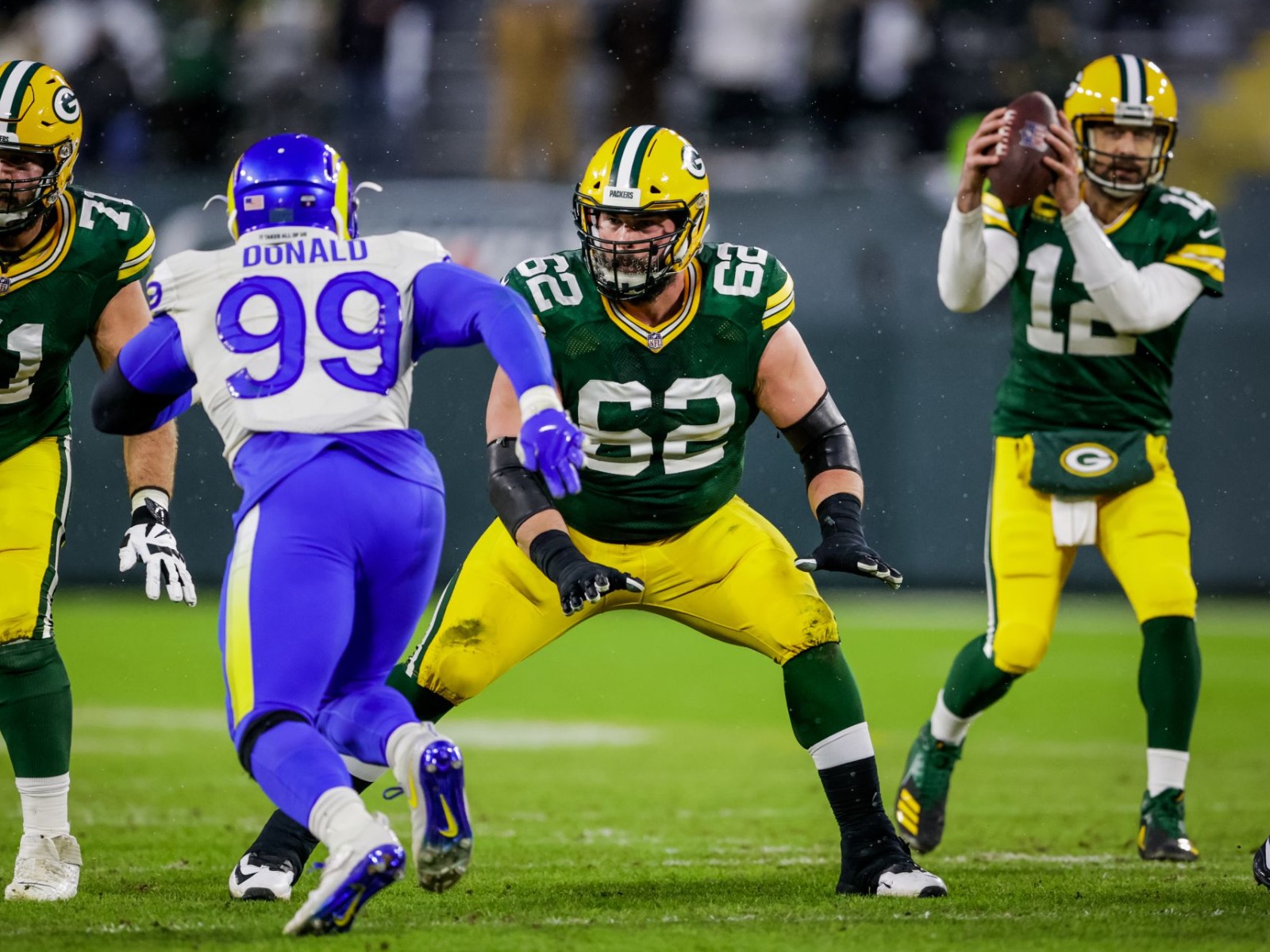 Ramsey versus Adams wasn't the only big matchup going into Saturday's playoff bout. One of the other key battles was going to be how the Packers offensive line – minus David Bakhtiari – would handle all-star defensive lineman Aaron Donald. Welp, they handled him no problem as Donald barely registered as a participant during the entire game. Sure, Donald was limited with a rib injury, but while Aaron Rodgers remained upright all game long with no sacks, his rival Aaron on the other side of the line seemingly only appeared on screen at the very end, tearfully saying goodbye to their season.
11. And there is your dagger.
GOING DEEP!

5️⃣8️⃣ yards to @AllenLazard!

TOUCHDOWN! 🦎
#LARvsGB | #GoPackGo

📺 FOX
Watch live 📱 https://t.co/giBXfSZTa0 pic.twitter.com/cgqqyPk9JG — Green Bay Packers (@packers) January 17, 2021
And there was the dagger we'd be waiting for. Despite being a one-possession game, the Rams always felt comfortably behind the Pack – and with this glorious 58-yard strike to Allen Lazard midway through the fourth quarter, the scoreboard matched our feelings. Now we wait to see who we play next weekend – the Bucs or the Saints – and hope that the Packers end up number one in NFC Championship: take two.
As much as it is a gigantic cliché to say that one has always had a passion for film, Matt Mueller has always had a passion for film. Whether it was bringing in the latest movie reviews for his first grade show-and-tell or writing film reviews for the St. Norbert College Times as a high school student, Matt is way too obsessed with movies for his own good.
When he's not writing about the latest blockbuster or talking much too glowingly about "Piranha 3D," Matt can probably be found watching literally any sport (minus cricket) or working at - get this - a local movie theater. Or watching a movie. Yeah, he's probably watching a movie.