The Packers finally got on the right side of the scoreboard on Sunday, earning their third win of the season with a 20-3 victory over the L.A. Rams at Lambeau Field. "But Matt, it was an ugly win." "But the Rams were starting some guy named Brett Rypien instead of Matt Stafford." "Well, the Rams aren't even that good this year." "They barely scared in the first half yet again."
I. Do. Not. Care.
During this season, filled with growing pains and frustrating youth, I will take what we can get – and what we got on Sunday was a freaking win, our first in well over a month. I'm not looking for a Super Bowl or an NFC championship or even really a playoff spot this season; I'm looking for progress, for improvement, for signs of life and future potential. And on Sunday, we saw some of that. The cynic in me says that, well, it's not hard to improve on the past several weeks of Packers football. The optimist in me, however, says that internal cynic sucks and he should shut up. I like that guy more today.
Anyways, there's plenty to improve upon for the next game against the Steelers – but it's a lot more fun to do that with a fresh W in the win column. So, for the first time in quite a while, let's ENJOY taking a look back at the biggest moments and takeaways from Green Bay's streak-busting win over the Rams on Sunday.
1. Jumping for joy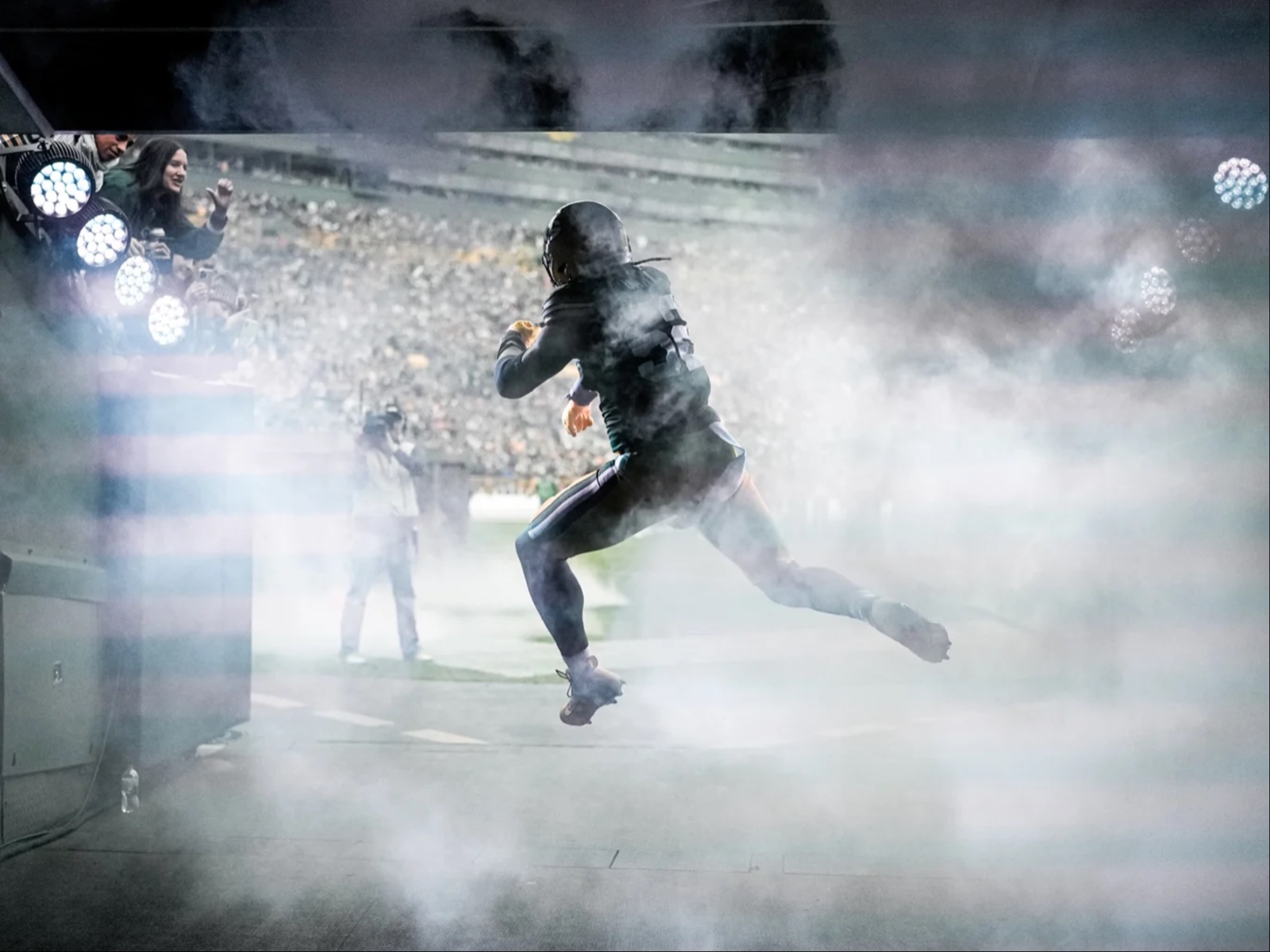 Rashan Gary was clearly pumped up during introductions at Lambeau on Sunday. I mean, I would be jumping five feet into the air too if I had just signed a $100 million contract extension this past week. Anyways, it's a great photo of a great player who'll be in green and gold for much longer – and will almost certainly help deliver more wins to come in the future.
2. Rasul who?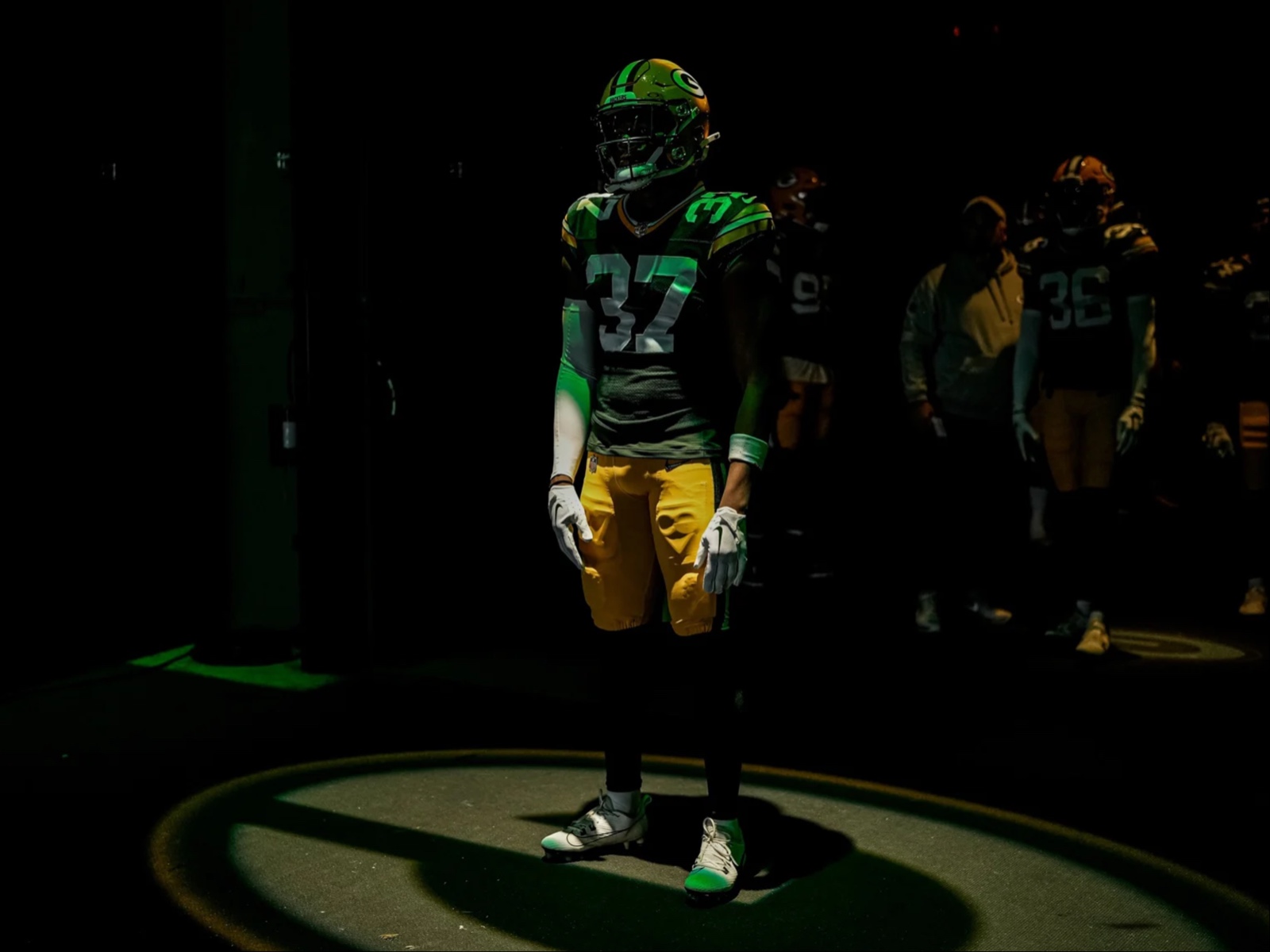 There were a lot of questions coming into Sunday about how the Packers secondary would respond to losing Rasul Douglas, one of the team's leaders and rare veterans, in a trade to the Buffalo Bills. And rookie corner Carrington Valentine answered all of them, keeping a tight lid on the Rams' talented receivers with his aggressive ball-hawking style and helping lock L.A. down to just a field goal. In losing Rasul Douglas, the Packers may have already found their new Rasul Douglas.
3. Aaron Jones: What a concept!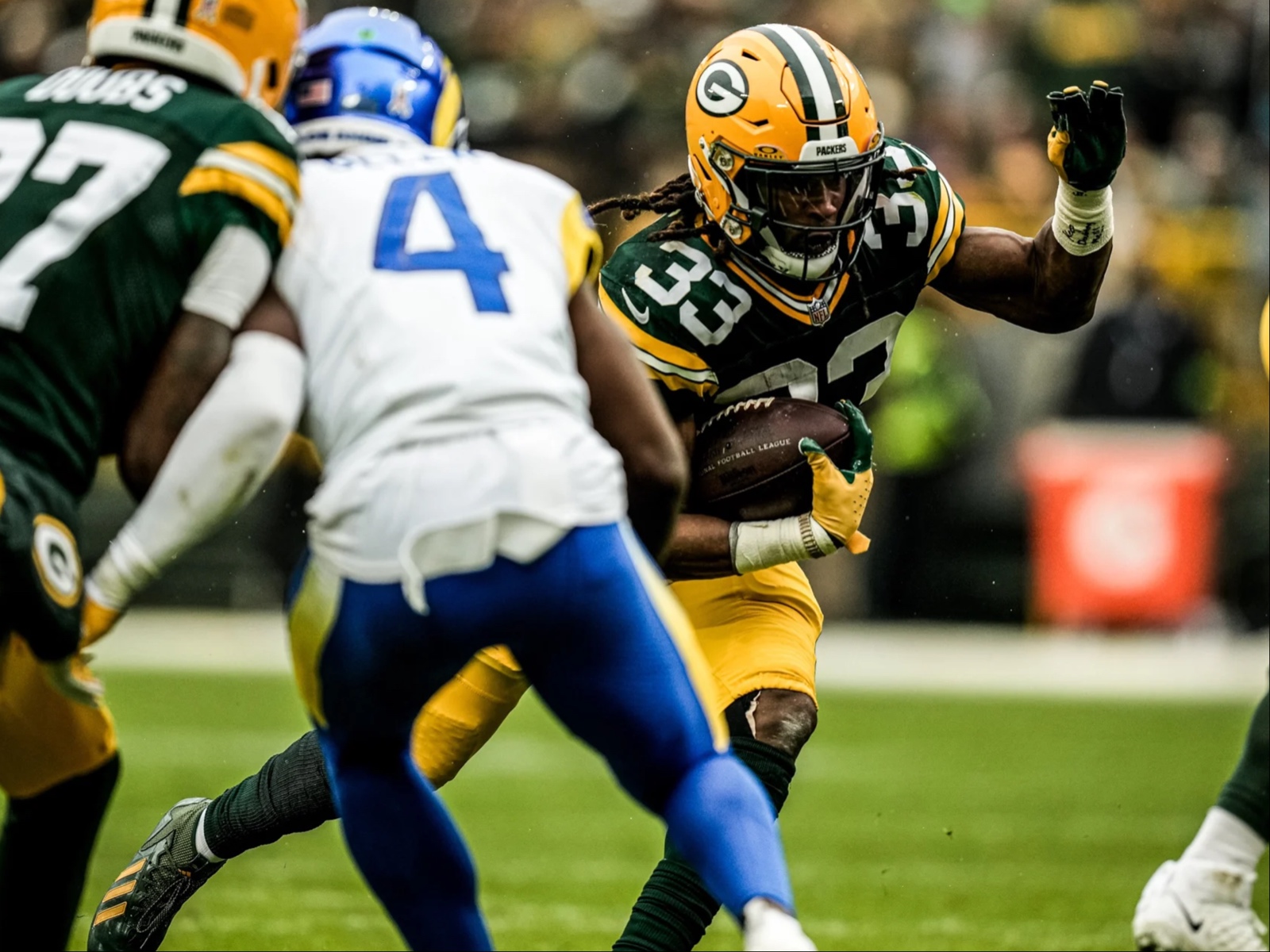 Desperate times call for desperate measures, so the Matt LaFleur busted out an interesting and inventive new strategy against the Rams on Sunday: using his best player. Shock of all shocks: It worked! I mean, it still wasn't a fireworks show for the Packers offense – and Jones showed off one of his few weaknesses with a fumble – but it certainly looked better as the star running back nabbed eight carries and two catches in the first quarter and beyond, eventually ending the day with 73 yards on the ground and a bonus 26 through the air. There is no more consistently explosive and threatening offensive player in green and gold than Aaron Jones, and the team tends to win when he gets fed – so let's not make this a one-off strategic performance.
4. Breaking the streak
Aaron Jones is in for a @Packers TD!

📺: #LARvsGB on FOX
📱: Stream on #NFLPlus https://t.co/d4RDZpcMkc pic.twitter.com/fNg5YpjvMo — NFL (@NFL) November 5, 2023
It's possible! It can be done! You ARE allowed to score points in the first half of football games! Indeed, with this dive into the endzone from (who else?) Aaron Jones, the Packers scored a touchdown in the first two quarters of a game for the first time since Sept. 17 against the Falcons. It's almost like there's some sort of correlation between Aaron Jones' utilization and Green Bay points scored! Anyways, here's to the Packers really blowing the doors off this offense and scoring TWO touchdowns in the first half sometime this season. I mean, is that even allowed!?
5. Bad bounce
Steelers-Packers should be fun. #Steelers #NFL pic.twitter.com/atPCkiFHYU — Blitzburgh (@Blitz_Burgh) November 5, 2023
Just because Sunday was a win doesn't mean there aren't things to correct. The Packers had to work REALLY hard to beat a not-good Rams team that was relying on the arm of somebody named Brett Rypien. This isn't exactly the all-star L.A. Rams of a few seasons ago – and Green Bay made them look formidable, only leading by a touchdown heading into the final frame thanks to missed field goals and two third-quarter fumbles, one from Jones and the above freaky bounce from Dontayvion Wicks. Thankfully the defense was able to make sure they didn't turn into anything – but you're not going to be able to play that sloppy against the rest of the Packers schedule (especially with the Chargers, Lions and Chiefs lined up soon) and expect to win, much less be within spitting distance of a win.
6. Good bounce!
Jaire Alexander Assist ☝🏽 pic.twitter.com/groiIgFK9y — IKE Packers Podcast (@IKE_Packers) November 5, 2023
That's the nice thing about football: If the ball doesn't bounce your way one time, it might just bounce your way right after. Jaire Alexander and rookie Anthony Johnson Jr. teamed up for this critical interception, immediately shutting down a Rams and setting up the offense to put up some more points, turning a tense touchdown lead into a 10-point cushion. Here's a weird sentence: Props to Joe Barry, because his defense showed up on Sunday and gave the Packers every chance to win.
7. Must love Musgrave
Packers fans, join us in congratulating Luke Musgrave on his first career TD! #GoPackGo pic.twitter.com/Yjxb0UjCKX — IKE Packers Podcast (@IKE_Packers) November 5, 2023
Sunday marked a big day for the rookies, between Carrington Valentine and Anthony Johnson Jr. playing lockdown defense as well as newbie tight end Luke Musgrave scoring his first touchdown in the NFL while simultaneously locking up the game for Green Bay. Even better, the touchdown came on a cool and effective playcall. When was the last time the Packers scored points AND did it with style!?
8. Silencing the critics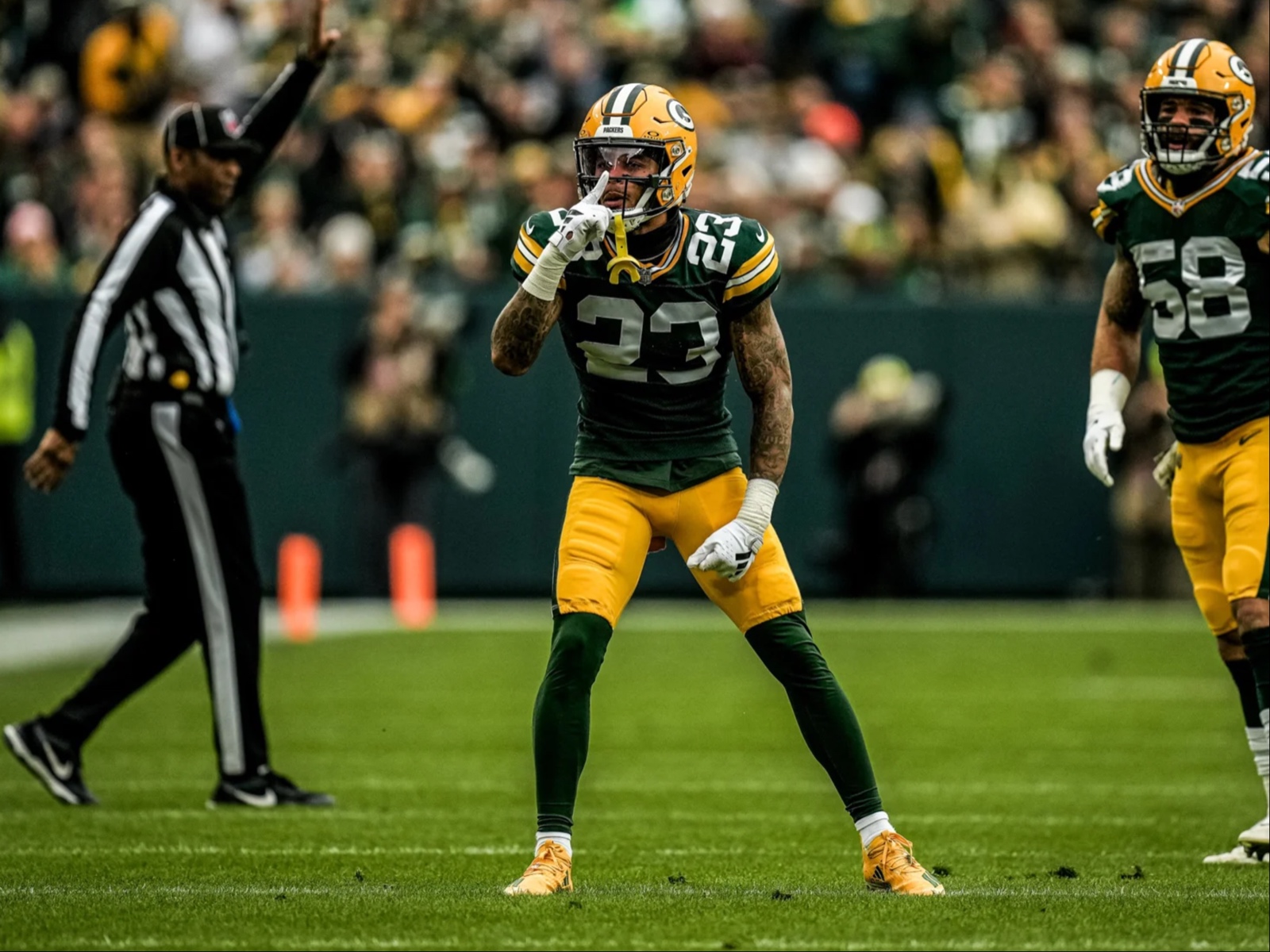 In recent weeks, Jaire Alexander's mouth has spoken louder than his play – especially after last week's bonfire roasting session courtesy of Vikings receiver Jordan Addison. Green Bay's stopper, however, actually lived up to his reputation on Sunday, helping hold MVP-calibur receiver Cooper Kupp to just two catches and 48 yards. With his former cornerback compadre Rasul Douglas now playing in a new uniform (but same frosty temperatures) and mostly rookies taking his place, we'll need to keep seeing this Jaire Alexander lock down his side of the field as the schedule gets tougher.
9. Skying high once again
WOW! 🎯 @ChristianW2017 #LARvsGB | #GoPackGo

📺: FOX pic.twitter.com/g3EFhIeOVh — Green Bay Packers (@packers) November 5, 2023
The good news: After weeks of regressive play, looking timid on jump balls and just generally missing that first-season spark, Christian Watson looked great again on his lone catch of the day, going up and snatching this 37-yard completion out of the air. The bad news: Watson immediately got up and looked hurt, wobbling before heading to the sideline and eventually the locker room. Hopefully it's nothing too serious – because despite the setbacks this season, this Packers offense still needs all the weapons it can muster.
10. All smiles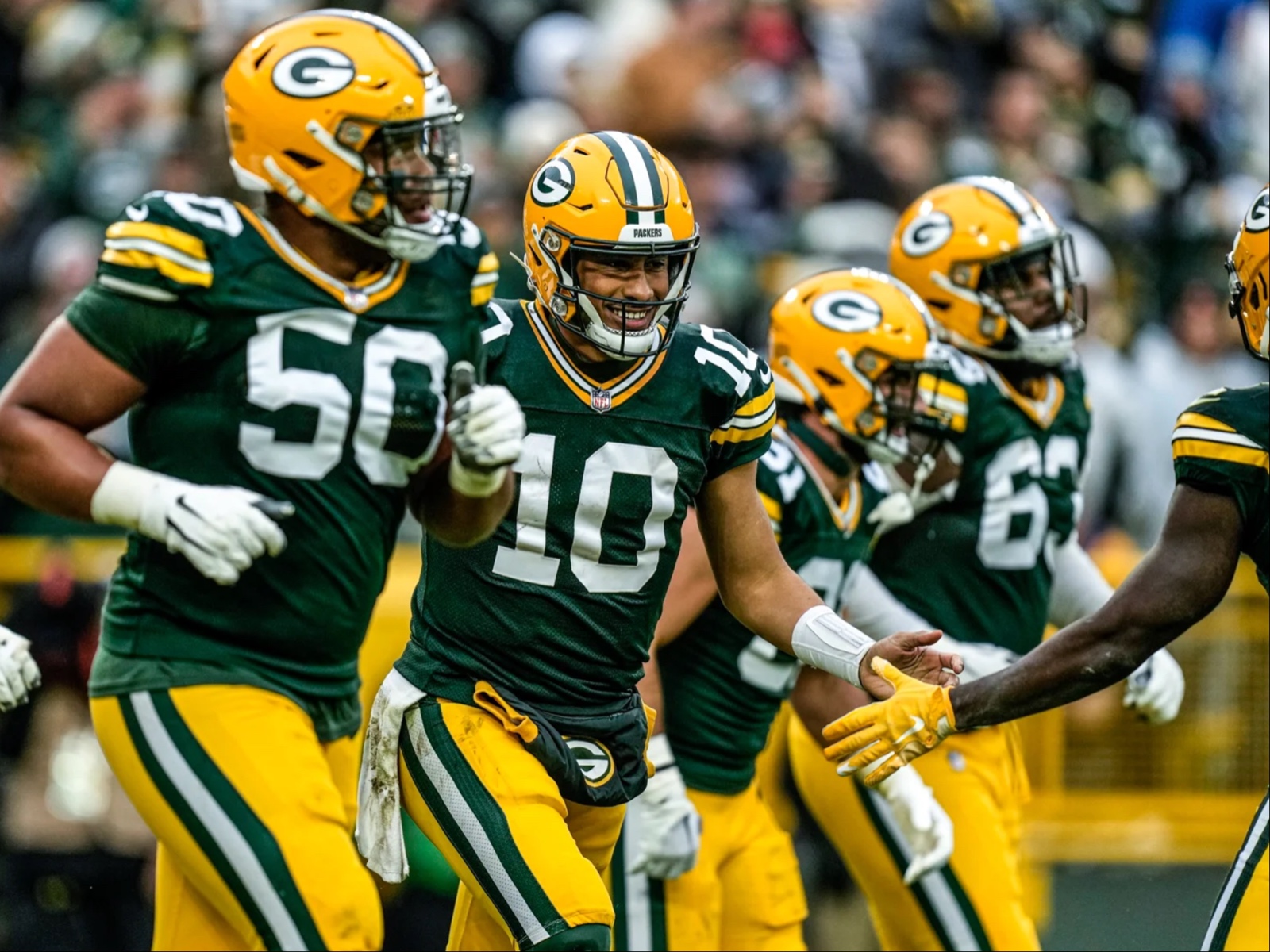 Ahh, I forgot how good winning feels. This game was a bit like what I expected this season to look like: some messy frustrations mixed in with some exciting promise and potential. It's not all fixed – not by a long shot – but at least we saw some glimmers of the potential future, especially from Valentine and Johnson Jr. And, best of all, that two seemingly stuck forever in the win column is now a three. We'll see if the Pack can keep improving next week and make it a four against the Pittsburgh Steelers – who are like the inverse of the Packers this season, in which they never look good either but keep winning instead. Here's to breaking that trend next Sunday in Steeltown.
As much as it is a gigantic cliché to say that one has always had a passion for film, Matt Mueller has always had a passion for film. Whether it was bringing in the latest movie reviews for his first grade show-and-tell or writing film reviews for the St. Norbert College Times as a high school student, Matt is way too obsessed with movies for his own good.
When he's not writing about the latest blockbuster or talking much too glowingly about "Piranha 3D," Matt can probably be found watching literally any sport (minus cricket) or working at - get this - a local movie theater. Or watching a movie. Yeah, he's probably watching a movie.