Here I was thinking the Naked Bike Race would be the most butt I'd see on a screen this weekend... but the Packers outdid that event, showing their entire ass on Sunday and utterly embarrassing themselves against the New Orleans, 38-3 – and frankly it wasn't even that close. Maybe they thought it was a fourth preseason game – but no, unfortunately this game was very real.
Green Bay spent the entire game looking sleepy and disconnected across the board. Rodgers looked strangely lost on the field, throwing very un-Rodgers-like interceptions. The offense looked stagnant and bored; prior to their final shutout-ruining drive before the half, the Saints almost had more points (17) than the Packers had total yards (21). The defense looked ... exactly the same as last year, slowly bleeding out on the field – which is strange because I was quite sure we got a new defensive coordinator over the offseason, but maybe I just dreamed that. Overall, you got the impression that perhaps this was a disjointed team still mired in discombobulated drama and miffed feelings from over the past several months!
Thankfully it's just the first game of the season, and they've got 16 more games to figure things out. But judging by Sunday, they've got A LOT of figuring out to do – and I've got A LOT of drinking to do to make this game go away. But before then, here are nine images from the season-opening debacle.
1. All smiles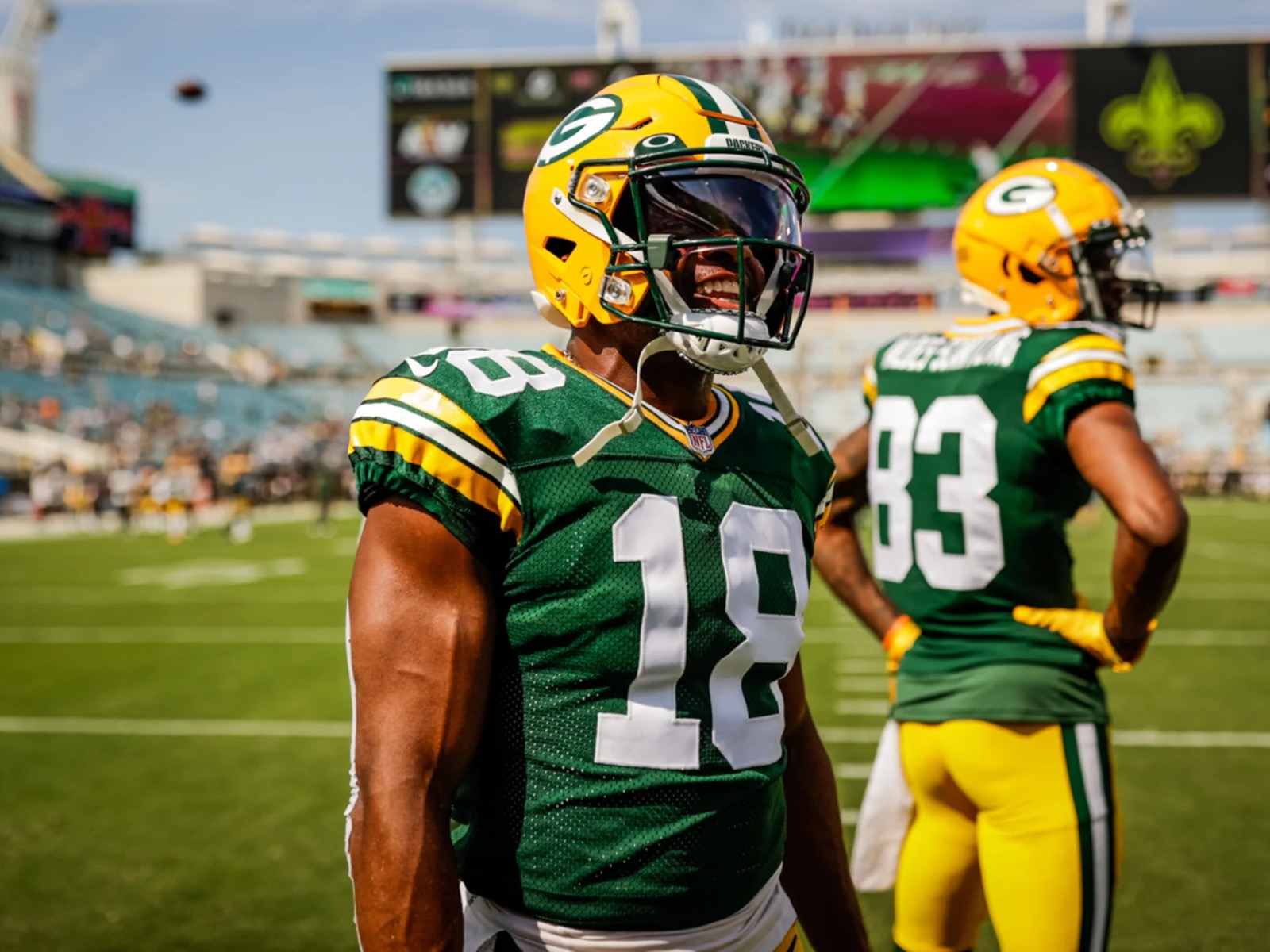 Randall Cobb, looking happy to be here. Somehow, by the end of the game, we made leaving the Houston Texans this offseason look like a BAD decision.
2. A joke in Jacksonville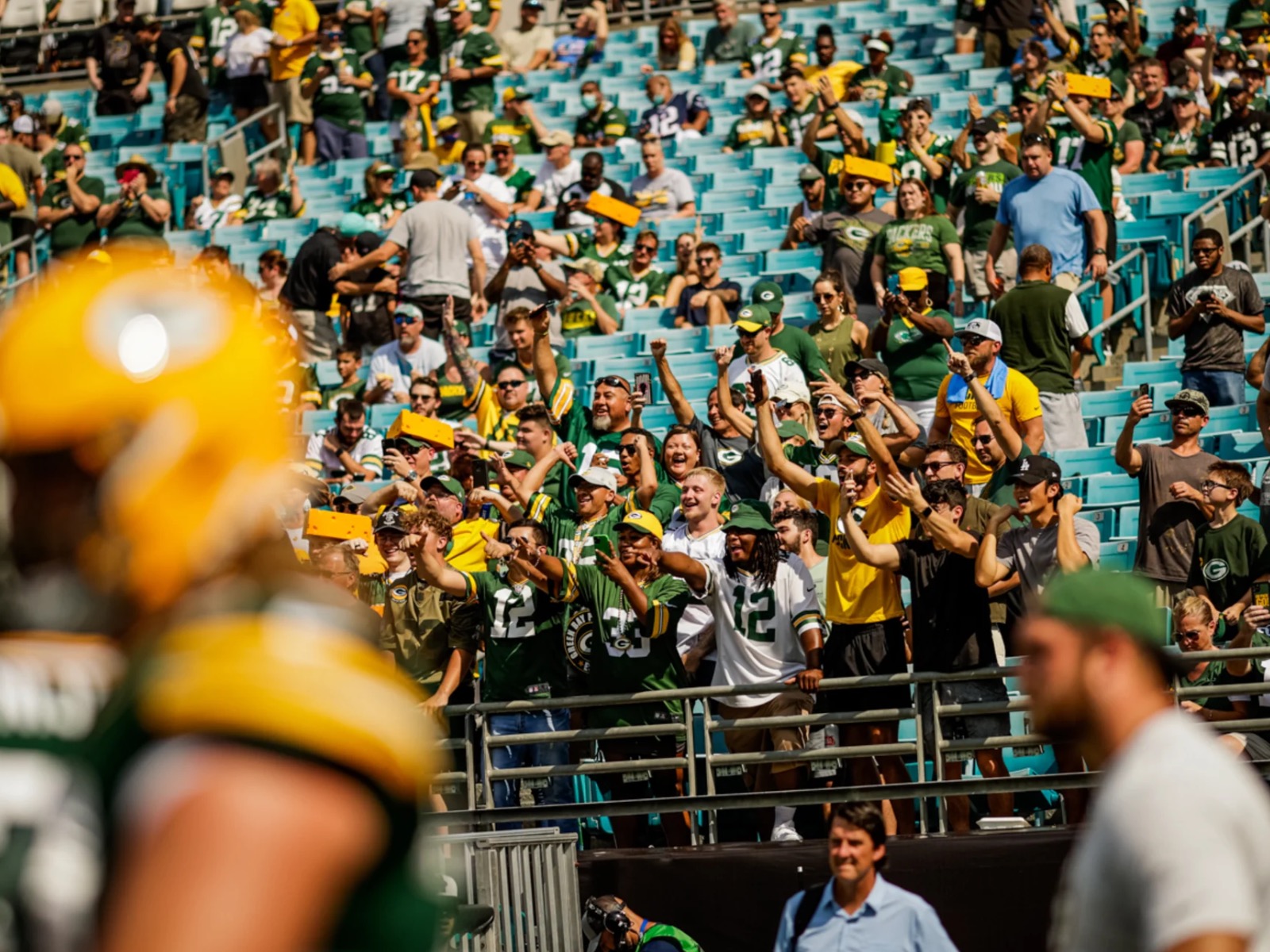 To help complete the preseason vibe displayed by the Packers across the board, due to the ongoing hurricane recovery in New Orleans, Sunday's game was played in a maybe half-filled stadium in Jacksonville. That's right: The Jaguars were only the second most embarrassing NFL team connected to the city this weekend. While it was supposed a neutral site, though, Green Bay fans did what Green Bay fans do: showed up (and probably drank the city out of Miller and Korbel). As a result, this once road game at the imposing Superdome therefore turned into a makeshift home game for the Packers – and they completely wasted it.
3. Found him!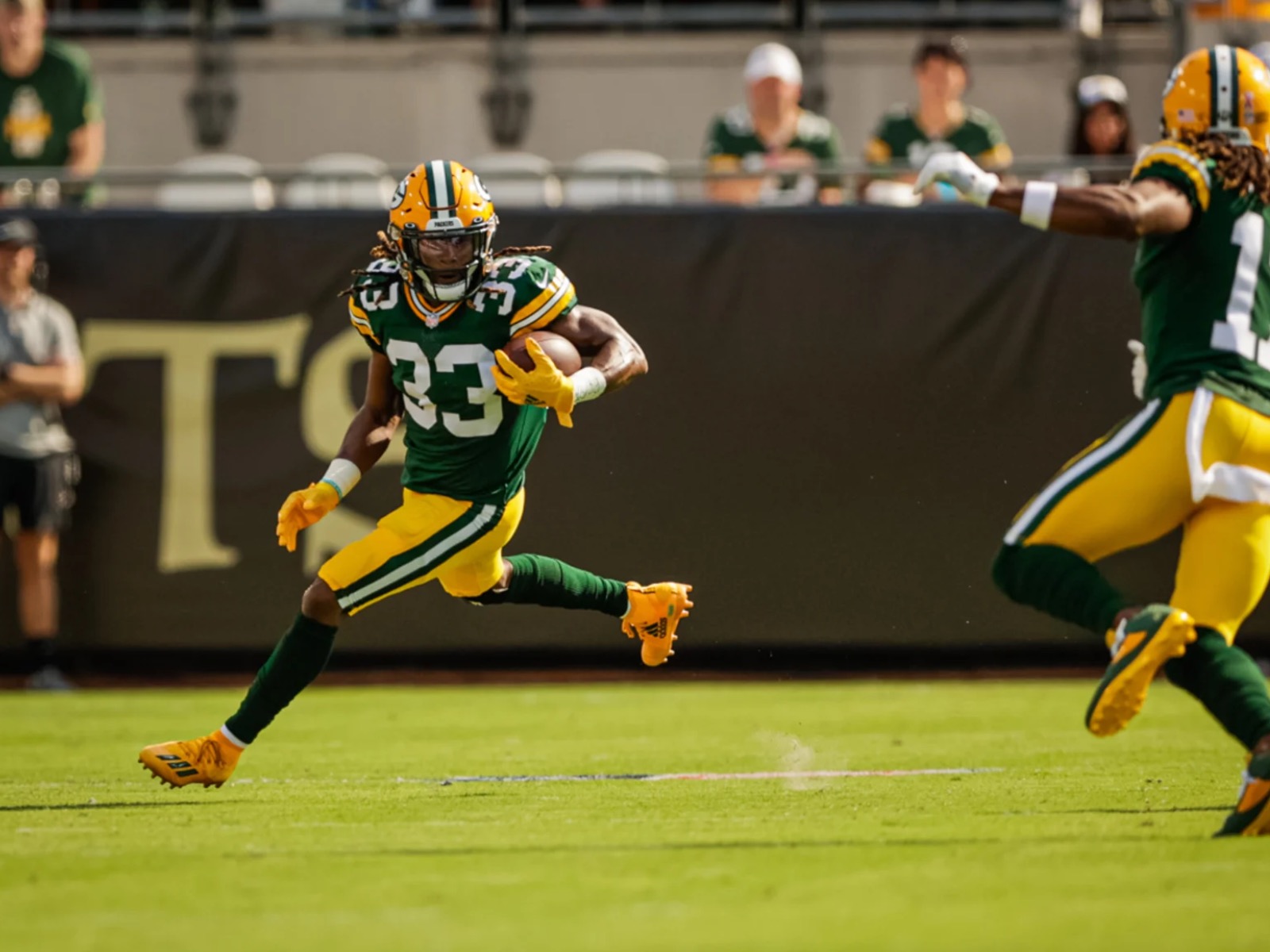 Look! Evidence that Aaron Jones was on the field and playing football on Sunday!
One key part of the Packers' abysmal offensive performance was not getting their star running back involved ... ever. He ended the game with a baffling five carries (for nine yards) and just two catches – and while it's easy to blame game script for Green Bay ditching the run game, the score was merely 17-3 through most of the third quarter. So this appears to be just a poor gameplanning – but that's understandable, you only had the ENTIRE OFFSEASON to prepare for this first game.
4. MVP-ew
Aaron Rodgers throws another interception! #NFL #Packers #Saints pic.twitter.com/HGVcZdJGK9 — JWALSports Productions LLC (@JWALSports) September 12, 2021
One would hope that, after a, hm, let's say divisive offseason, Aaron Rodgers would come into this new season wanting to prove the doubters and haters wrong and win the Packer faithful's love back. That ... did not happen. Rodgers instead came out of the gates with one of his worst performances as a pro, throwing for a mere 133 yards and no touchdowns with two uncharacteristic picks – especially this poor pass in the red zone that squashed hopes of a potentially clos 17-10 game and instead put the Green Bay defense back on the field and fans back on their heels. In general, he looked out of sorts and uncertain – but hey, new State Farm commercial I guess!
5. A rough call
they called this a roughing the passer on Za'Darius Smith

took away an INT pic.twitter.com/9uXJWDT1yt — Slightly Biased (@BiasedSlightly) September 12, 2021
I don't want to put any of the blame for Sunday's performance on the refs; the Packers deserve all of the shade they're getting today for that showing. However, this phantom roughing call on Za'Darius Smith near the very end of the third quarter was brutal – not only because it was wrong and not only because it came on a third down, but because it revoked one of the Green Bay defense's few quality plays, an interception from Darnell Savage. The Saints would go on to score two plays later, putting the game at 31-3 and officially giving fans permission to flip channels elsewhere.
I'd say either the Rodgers' red zone interception or this were the daggers – but honestly, considering how lifeless the Pack looked, maybe it was the opening kickoff.
6. Burned again
I think there's a lot of The Frog and the Scorpion fable at play with Kevin King and the Packers, which is why I can't really even be mad at him any more.

If you put him on the field, you know what you're getting. Even if it's him screwing up, it's your fault. pic.twitter.com/Ew85DfA2ff — Jon Meerdink (@JonMeerdink) September 13, 2021
Brace yourself for this stunning development ... but Kenny King got burned for a touchdown. Picking up where he left off in the NFC championship, the controversial Packers cornerback got roasted once again at the start of the fourth, putting the game officially out of its misery. So I guess we should at least be happy about that part – but any hope that King would've improved upon last year also seemed to suffer an early demise. Then again, it's not like any part of the defense looked good at any point ...
7. Eating a W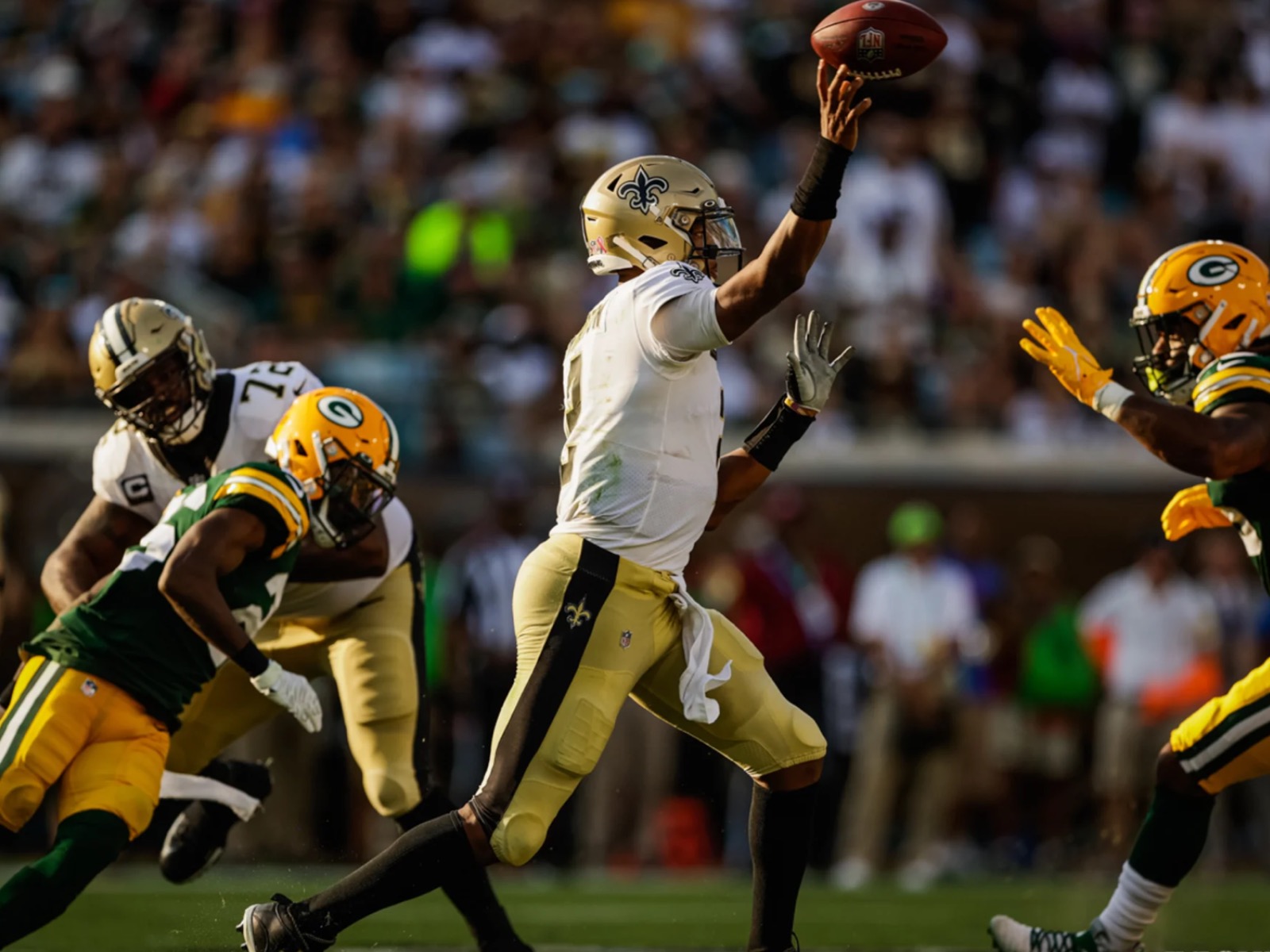 There was an MVP-level quarterback performance on the field yesterday; unfortunately he was wearing black and gold. Jameis Winston – yes, THAT Jameis Winston, the W-eating former Tampa Bay quarterback who could make Brett Favre look discerning – only threw for 148 yards but tossed five touchdowns on the day. He only threw the ball 20 times too – so a fourth of his passes were touchdowns. THIS GUY did this to the supposedly new and improved Packers defense:
I'm losing my mind pic.twitter.com/lZ00D6nvNz — Will Stout (@WillTStout) September 13, 2021
Wish somebody had given the Packers defense that advice.
8. A new era ... begins?
Jordan Love has entered the game 👀
pic.twitter.com/uhns9wGXQK — PFF (@PFF) September 12, 2021
Jordan Love came into the game with most of the fourth left to go. I'm sure angry Packers fans handled this turn of events rationally and with level-headed opinions (*gazes at Twitter for a millisecond*) nope they all think he should be the starter now.
9. A ... positive?
.@jordan3love finds @rcobb18 for 32 yards.#GBvsNO | #GoPackGo

📺 FOX
📱 https://t.co/bE19jZCodD pic.twitter.com/7aNOb0etsV — Green Bay Packers (@packers) September 12, 2021
Let's try to end this recap with some positive vibes. For one, Jordan Love looked like he can play quarterback in the NFL! He went 5/7 for 68 yards and this pretty (OK, not pretty at all; look at that lame duck spin) pass to Randall Cobb that was the only time all game the Packers offense seemingly gained yards. Now, before you start chanting for Love to start, remember that this was down 31 against a Saints defense fully letting off the gas – and that Love would end this drive with a fumble. But it's nice to see that the future looks decent – especially while the present was so nasty.
Another positive to take: Hopefully this is a meaningful shot to the mouth. Over the past few seasons, Green Bay's taken some hits to the chin – but they've typically come midway into the year after the team's cemented itself as a contender, and therefore you could just burn the tape, blame it on a bad day at the office and not make any serious corrections or look-in-the-mirror reflections. This, though? Coming out this flat on opening day, with all eyes on you? You can't just burn the tape. You've got to seriously reassess what you're doing. This was a team that was making references to "The Last Dance" and assuming its way to another NFC championship because that's the narrative. Hopefully this game tells them not so fast.
But the greatest positive coming out of Sunday's shellacking? We get to play the Lions next! A silver (and blue) lining if I ever saw one.
As much as it is a gigantic cliché to say that one has always had a passion for film, Matt Mueller has always had a passion for film. Whether it was bringing in the latest movie reviews for his first grade show-and-tell or writing film reviews for the St. Norbert College Times as a high school student, Matt is way too obsessed with movies for his own good.
When he's not writing about the latest blockbuster or talking much too glowingly about "Piranha 3D," Matt can probably be found watching literally any sport (minus cricket) or working at - get this - a local movie theater. Or watching a movie. Yeah, he's probably watching a movie.