After an NFC South team stole a victory from the Packers last weekend, it was only fair that Green Bay returned the favor.
Indeed, after suffering their first loss in heartbreaking comeback fashion to the Falcons, the Packers passed along that cursed experience to the New Orleans Saints like the video tape from "The Ring," scoring 18 unanswered points in the final frame to win 18-17 and send the Lambeau crowd home happy. Few would call it football at its finest on Sunday, but the results were just fine for Packers fans as Jordan Love turned it on at just the right moment despite a depleted supporting cast, the defense turned it up against a wounded Saints squad and the wind turned on just in time to blow New Orleans' last gasp wide of the goalposts. To be a postseason contender, you have to be lucky and good – and on Sunday, the Pack certainly qualified as the former, if marginally as the latter.
But we'll take it – because this is still a strange transitional year with probably some really unpredictable results. And because 2-1 is a lot better than 1-2 going into a Thursday night bout against the suddenly fearsome Detroit Lions. (Or at least as fearsome the Detroit Lions can pretend to be.) And because Mondays after a Green Bay win are a hell of a lot better than Mondays after a loss.
To help make the most of your victory Monday, here's a look back at a dozen of the biggest moments and coolest images from yesterday's win.
1. Pregame pump-up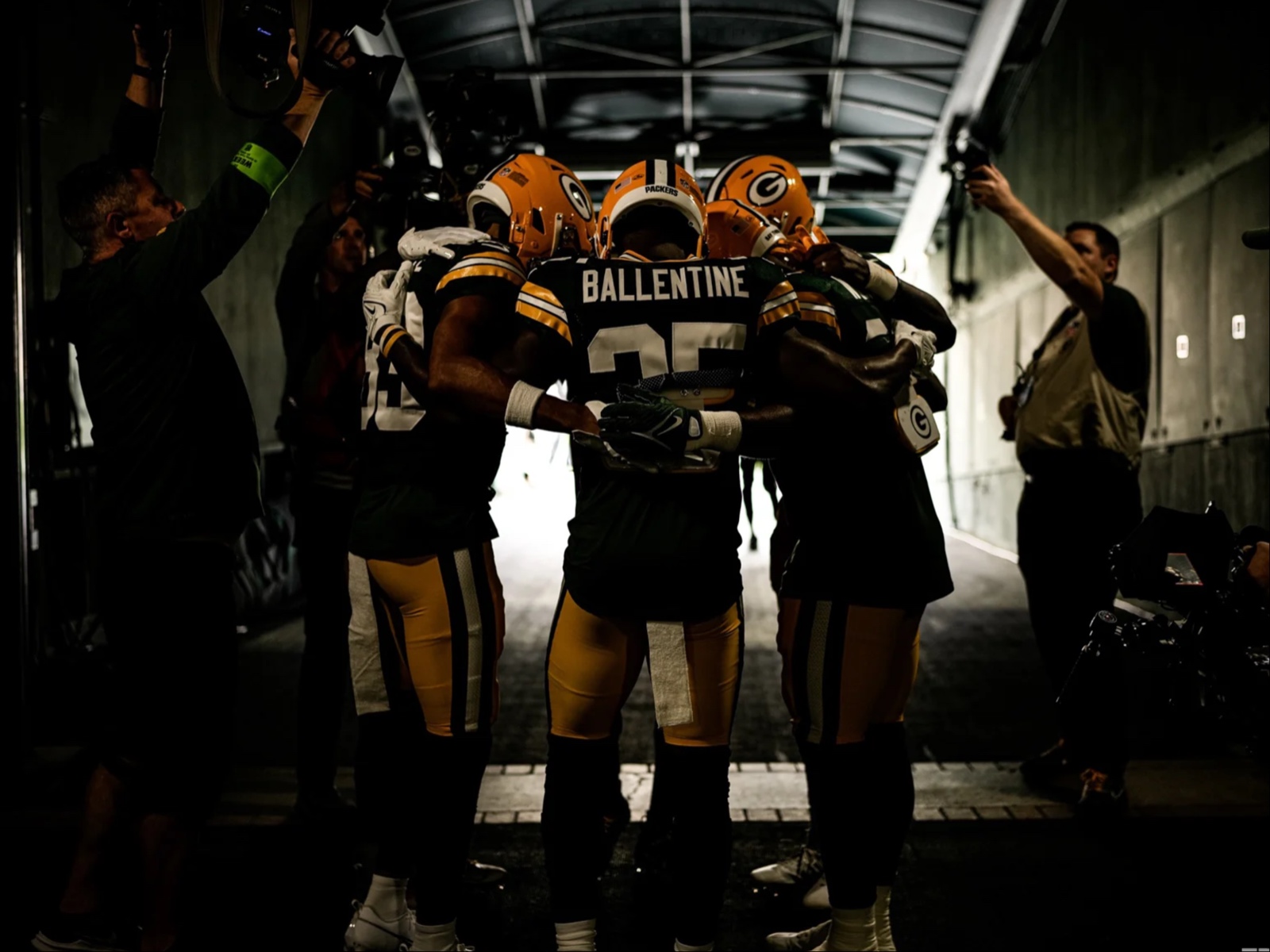 OK, so we're not really starting with a KEY moment from Sunday's big win, but it is a very cool photo of some defensive players – including Corey Ballentine, who would suddenly find himself in a critical position with Jaire Alexander out for the game – gathering themselves before hitting Lambeau for the first time this season. I don't know what they said in this little pregame huddle, but it worked as the Saints were fairly stonewalled for the day.
2. Ah, the joy of new Love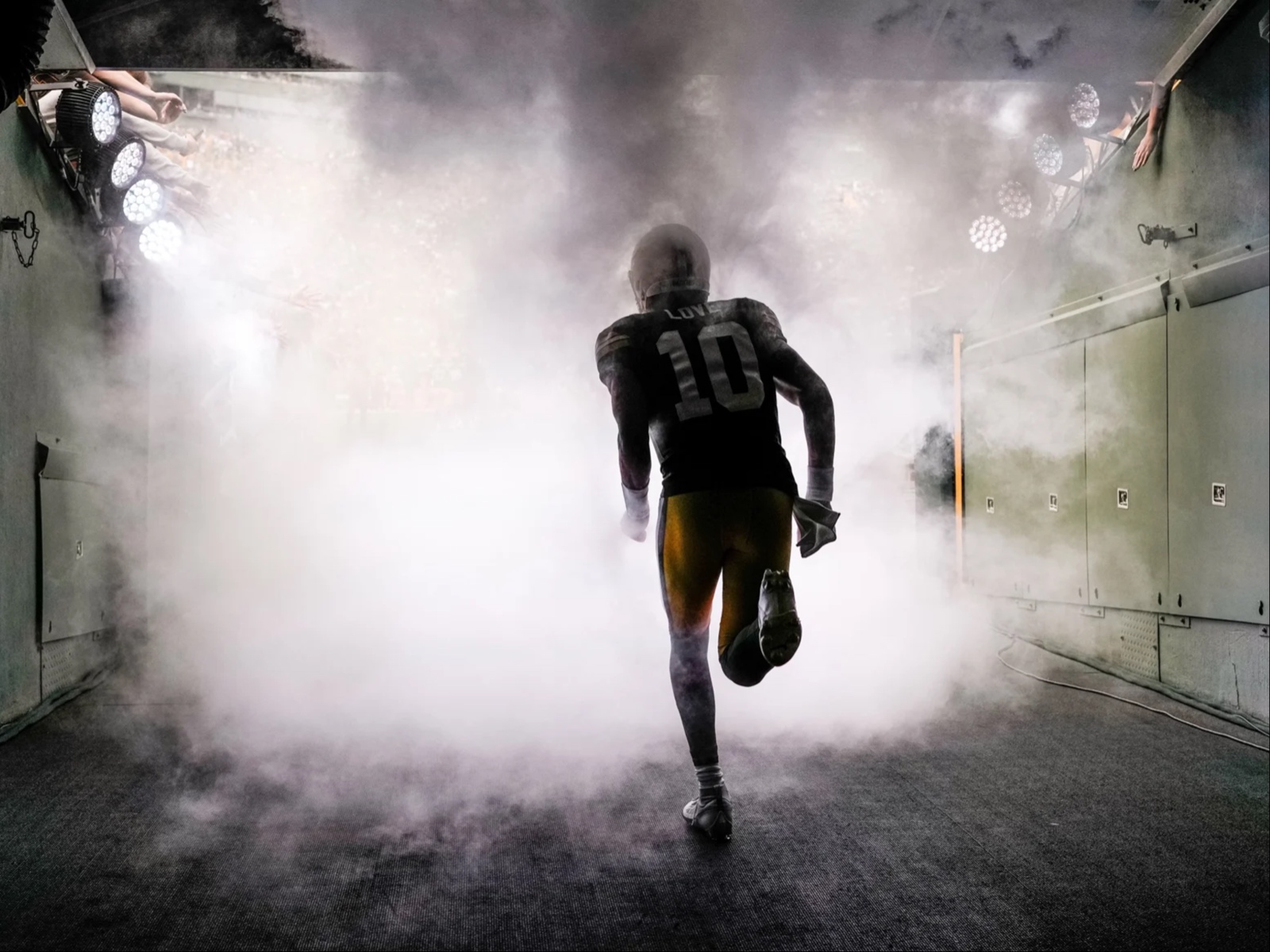 It feels like this early season, and the build-up to it, has been going on forever – so it's easy to forget that Sunday marked Jordan Love's first run out of the Lambeau tunnel as the team's starting quarterback. And it's safe to say ...
3. Showing love
This was the reaction from #Packers fans inside of Lambeau Field when Jordan Love was introduced before his first ever start at home as QB1.

Listen to the crowd roar progressively get louder and louder.

A moment where you just get straight chills. pic.twitter.com/0tBV0waRCF — Kyle Malzhan (@KyleMalzhan) September 24, 2023
... the hometown crowd felt the love for Love, alright. In fairness, things weren't this chummy and pleasant for the scoreless first three quarters of the game, but Love and the Packers would certainly earn the crowd's affection by the end.
4. Sidelined superstars (again)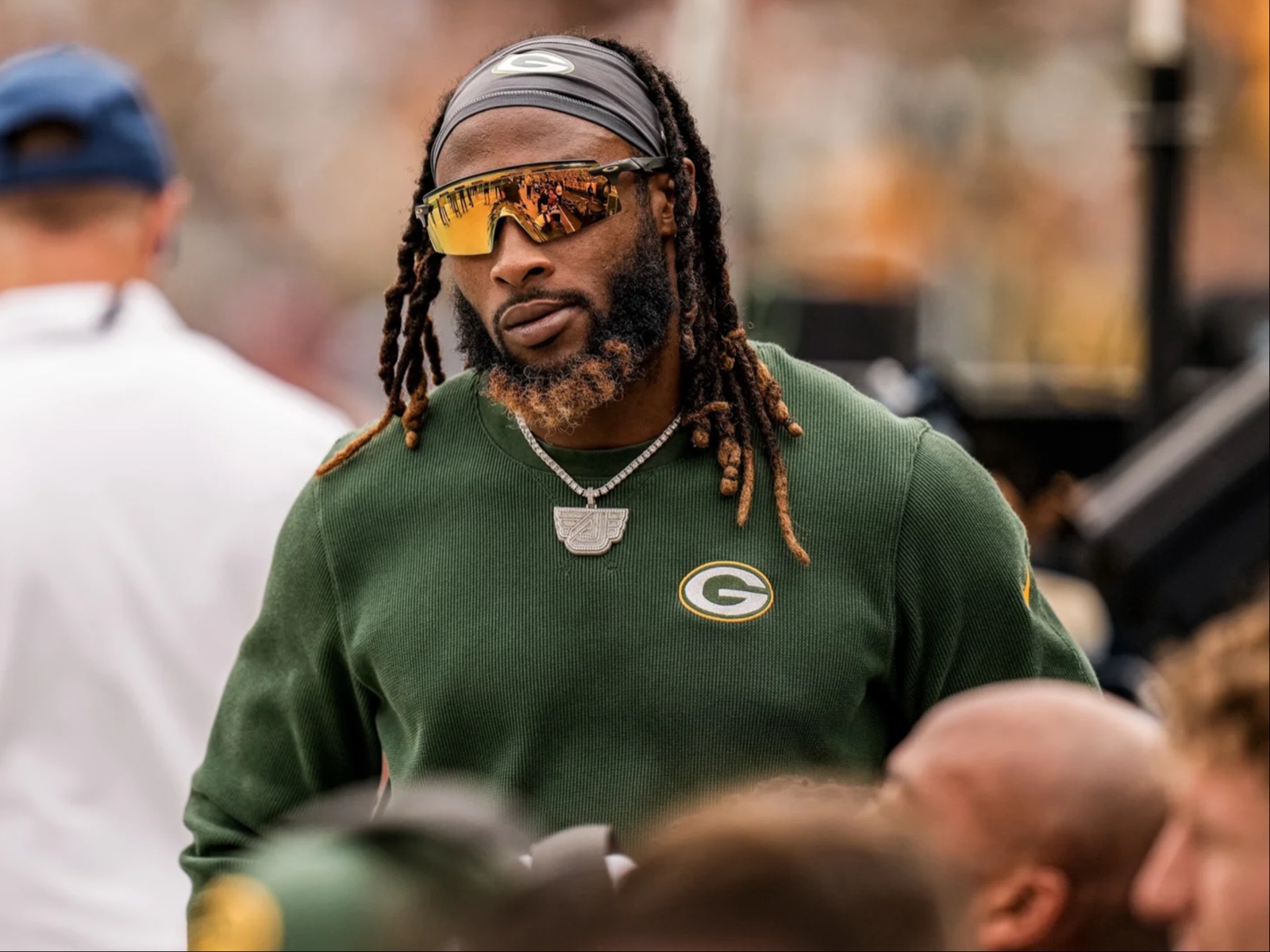 Three games into the season, and the NFL still hasn't seen the Green Bay Packers at full-strength.
Sunday marked the team's most troublesome day on the injured list, with Aaron Jones, Christian Watson, David Bakhtiari and Elgton Jenkins all unable to play – and that was just on the offensive side of the ball, as the Pack also didn't have star cornerback Jaire Alexander. Maybe several of them were simply sitting because of the quick turnaround for the next game, making sure they'd be up for a key divisional clash on short time – but as for Sunday, they were doomed to be non-factors. Yet somehow, with their most explosive offensive weapon, their best field-stretching receiving, their two best offensive linemen and their Pro Bowl-level defensive stopper all wearing warm-ups instead of jerseys, Green Bay got the win.
So indeed: Three games into the season, the NFL still hasn't seen the Packers at their best. And considering they're 2-1 – and should be 3-0 – the rest of the league should be scared about what "their best" could look like.
5. Fourth and flailing
What was this 4th down attempt by the #Packers? pic.twitter.com/v0CErmpV7x — JPAFootball (@jasrifootball) September 24, 2023
So that stuff about the Packers at their best? This certainly wasn't it. Things were pretty gross for Green Bay in the first half, falling behind 17-0 at halftime thanks in no small part to an offense that could only summon two punts and ... whatever this fourth-down play turned out to be. Things didn't improve much in the third quarter, either, as that started with a Jordan Love pick and ended with a goose egg still on the scoreboard. Sunday turned out to be a win, thankfully, but it wasn't a complete game by any stretch of the imagination. Here's to improving – and fast, with the Lions on deck in less than a week.
6. New season, old nightmares
The speed of RASHID SHAHEED.

📺 FOX pic.twitter.com/Rj0G7GEtAJ — New Orleans Saints (@Saints) September 24, 2023
Wow, it's been a while since we've been able to complain about the Packers special teams unit! I didn't miss it! But yes, in the first half, Green Bay pulled out this throwback nobody asked for, coughing up a 76-yard punt return touchdown to the Saints and falling behind 14-0 in the second quarter.
7. Catching on
A DIVING CATCH BY @RomeoDoubs FOR A BIG GAIN! 🙌#NOvsGB | #GoPackGo

📺: FOX pic.twitter.com/iysBKb5sRg — Green Bay Packers (@packers) September 24, 2023
One of the Packers' many question marks coming into this season was the exceptionally young receiving corps. Three games into the year, that question seems answered: They're really good. Green Bay's top four receivers on Sunday were all rookies or second-year guys, led by Romeo Doubs who caught five passes for 73 yards – including this impressive diving finger-tips snag. Again, these performances came without their top receiving weapon and their best overall offensive player to threaten the defense – but even so, these guys appear to already know how to show up for the moment in an NFL game.
8. It begins
.@jordan3love takes it himself on 4th down!

TOUCHDOWN! 🙌#NOvsGB | #GoPackGo

📺: FOX pic.twitter.com/9vZuuG025N — Green Bay Packers (@packers) September 24, 2023
It took a while – and it wasn't sexy, gaining most of their yards via pass interference penalties – but the Packers finally got in the endzone in the fourth quarter thanks to a Jordan Love fourth-down conversion with just under seven minutes left in the game. Add in the two-point conversion afterwards, and the comeback was officially on – all led by Love, once again proving the doubters wrong.
9. Defense delivers
Rashan Gary (@RashanAGary) with three sacks on the day helping lead the Packers to a 18-17 win over the Saints 〽️ #GoBlue pic.twitter.com/wWZl73meju — Michigan Football on UMGoBlue (@UMGoBlog) September 24, 2023
After finding themselves in hot water after their meltdown in Hotlanta, the Packers defense recovered nicely against the Saints on Sunday.
Up front, Green bay held the Saints running backs to miniscule days while racking up four sacks on the afternoon – three alone from Rashan Gary, who's picked up his Pro Bowl-caliber play right where he left it before his season-ending injury last year. Meanwhile, the pass defense held its own without Jaire Alexander, sure, giving up more than 100 yards to star receiver Chris Olave but keeping him and the rest of the wideouts on lock when it mattered. In the end, while the offense sputtered, the defense kept them in the game, only giving up 10 points on the day (minus the punt return).
Admittedly, New Orleans isn't a powerhouse offense – especially without pretty much anyone to run the football – but neither is Atlanta and we saw how that worked out. They learned their lessons, though – and this time, the Packers stopped a team they were supposed to stop.
10. Comeback complete
Jordan Love to Romeo Doubs. TOUCHDOWN. What a comeback from this young #Packers team. pic.twitter.com/FRampB3eO8 — Lily Zhao (@LilySZhao) September 24, 2023
Fourth-quarter comebacks: a lot more fun when you're on this side of them! After a brisk three-and-out for the Saints, the Packers got the ball back and stormed down the Lambeau field thanks to Love. The newly crowned starter looked unfazed by the moment, hitting his receivers for big gains and scrambling for more than 20 yards during the drive. He eventually capped it off with this pretty touchdown catch from Doubs – almost as pretty as the scoreboard, now reading Green Bay in the lead.
11. Divine intervention
The Saints missed short field goal wide right It looks like Green Bay packers are gonna hold on 18 to 17 over the New Orleans Saints pic.twitter.com/AtytYL2YdX — Steve Colis (@scolis) September 24, 2023
The Pack got a little help from forces outside themselves on Sunday, as the Saints' potentially game-winning field goal sailed far right and instead clinched the win for Green Bay. Thanks for that extra gust at the end, otherworldly spirits out there; first round's on us whenever we meet next.
12. Three cheers for 2-1
Pour all of this directly into my veins

💯🔥🔥💥💥 #Packers

pic.twitter.com/XZpLlNIM2I — Bill Arnold (@Bill_ArnoldMKE) September 24, 2023
Now that's how you begin the home schedule. It was a delayed start for the Lambeau faithful, not getting a home game until week three, but they certainly got their money's worth with a great comeback victory. With a big divisional game agains the Lions on Thursday, Green Bay unfortunately doesn't get much time to celebrate this win, but starting 2-1 is definitely worth relishing – especially when you look around the rest of the division, with the Vikings losing on a last-second interception because of their own home crowd and the Bears' continuing ineptitude getting giddily cheered on by the world's biggest pop star. If this is what "a down year" looks like for the Pack, what do you call what the rest of the NFC North is going through?
As much as it is a gigantic cliché to say that one has always had a passion for film, Matt Mueller has always had a passion for film. Whether it was bringing in the latest movie reviews for his first grade show-and-tell or writing film reviews for the St. Norbert College Times as a high school student, Matt is way too obsessed with movies for his own good.
When he's not writing about the latest blockbuster or talking much too glowingly about "Piranha 3D," Matt can probably be found watching literally any sport (minus cricket) or working at - get this - a local movie theater. Or watching a movie. Yeah, he's probably watching a movie.