For the second straight week, an A-grade quarterback showdown instead turned into a D-grade defensive slog. It was a lot more fun this time, though, as the Packers suffocated the Seattle Seahawks, 17-0 – the first time Green Bay's shutout an opponent since 2018. What's this strange sensation I'm feeling? Is this ... confidence ... in a Packers defense? I've only read about this in fairy tales!
Let's take a look back at this pre-holiday season miracle and savor eleven of the biggest moments from the Packers' smackdown of the Seahawks. (Somehow it's STILL not enough payback for the Fail Mary and the 2015 NFC Championship.)
1. Tundra, frozen-ed
#LetItSnow❄️ x #GoPackGo pic.twitter.com/Gxw2Sn0TN6 — Green Bay Packers (@packers) November 14, 2021
The game itself may have been anything but picturesque, but the snow-covered Lambeau Field scenery before kickoff got all Packers fans all excited. After all, the season doesn't truly start until the frozen tundra arrives.
2. The best warm-up
Randall Cobb found the best way to get geared up for the Seahawks on Sunday, playing catch with snowballs with his child and furry pupper.
.@rcobb18 with the best pre-game activity ever.

(🎥 Aiyda Cobb's IG) pic.twitter.com/rNfqExsxQ5 — Scott Grodsky (@ScottGrodsky) November 14, 2021
Kid's passes look more accurate than Russell Wilson's on Sunday – speaking of which ...
3. Russ-ty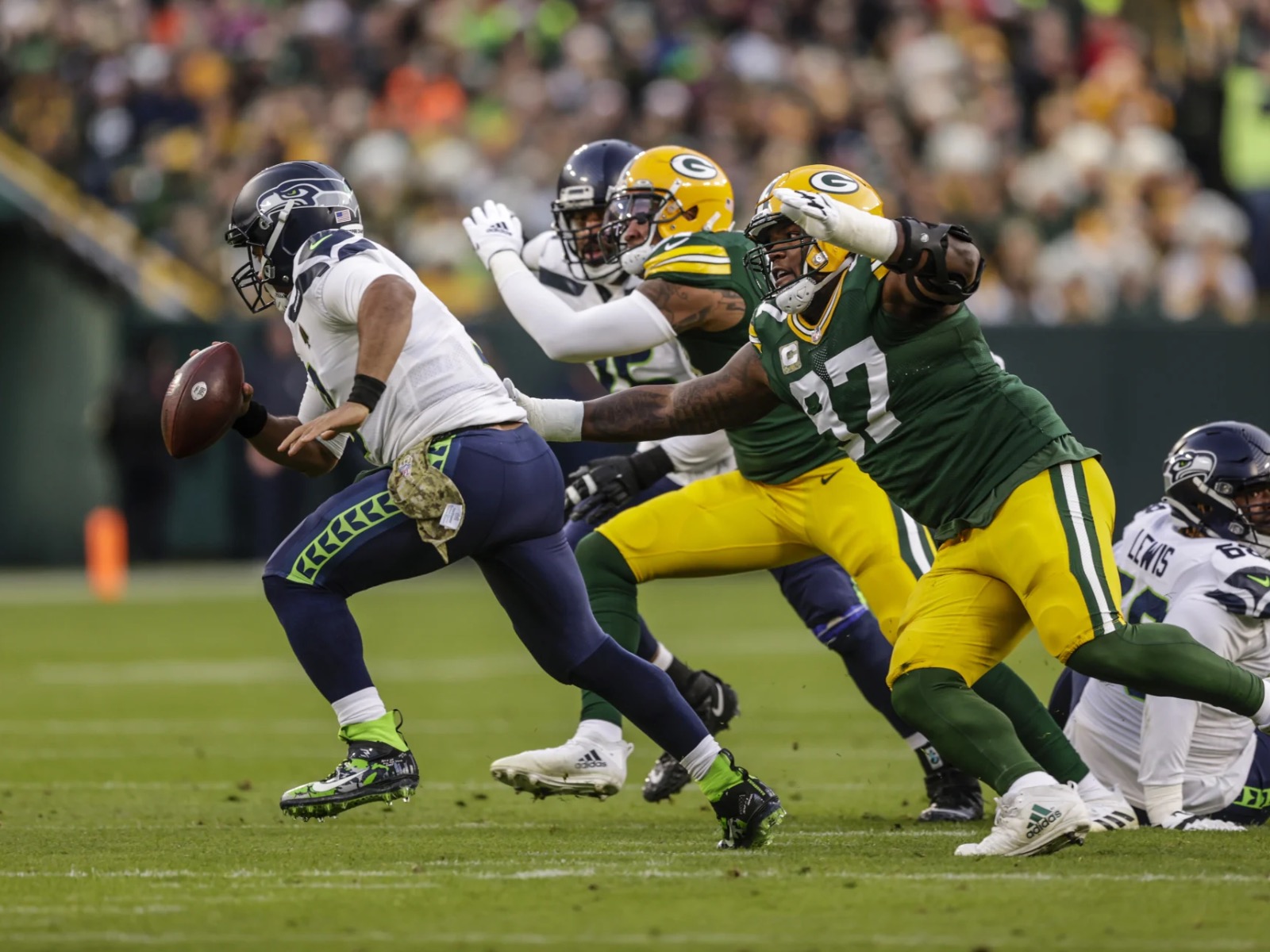 Perhaps Russ should've spent a little less time on Final Cut Pro making his "I'm back" video and a little more time preparing for the Packers championship-level defense. After three games sidelined with a finger injury, Wilson may have come back Sunday night but he was a sloppy shadow of himself, only throwing for 160 yards and two picks in the process of getting shutout for the first time in his professional career (not that his Swiss cheese offensive line did him any favors). Any Seattle fan hoping to watch their season get back on track Sunday instead witnessed the 3-6 team stay even more grounded.
4. Rodgers gone wrong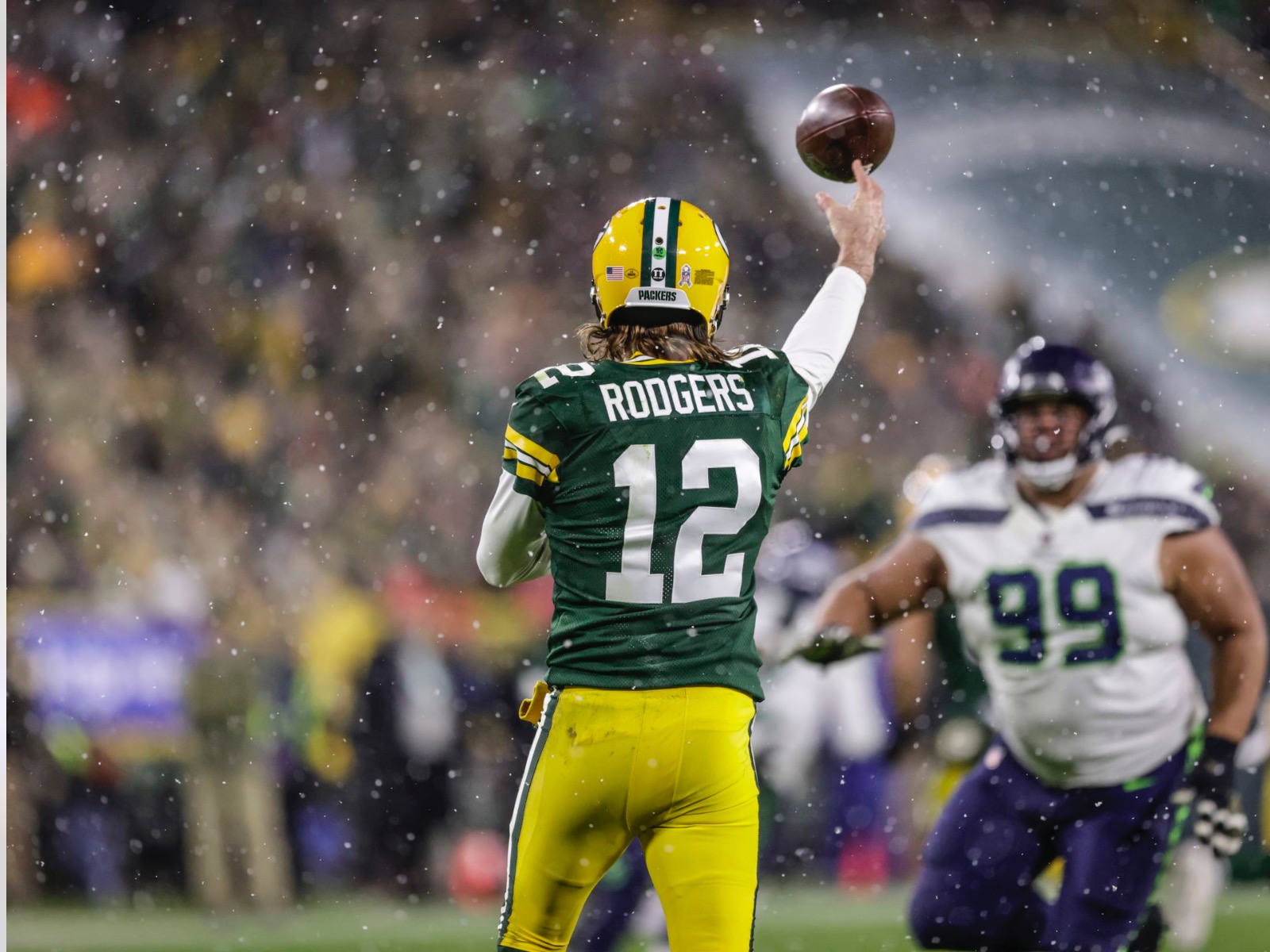 Here's a very pretty photo of a very not-pretty game for Aaron Rodgers. Also making a dramatic return after The Events Of Which We Don't Speak Of Ever Again, Rodgers looked like a quarterback who indeed had to prep for this week entirely on Zoom, looking a little ragged, throwing no touchdowns and tossing a bad redzone pick that looked like he was briefly possessed by the spirit of Brett Favre. Very kind of him to come back with such an auspicious start to make Jordan Love feel better. Luckily Rodgers got more help from the rest of his team than Wilson – and better yet, he'll have a week of regular practice once again to prep for the Vikings.
5. Tempting fate
Automatic #Packers win. pic.twitter.com/ZYKOlmqQJ5 — Michael Klinck (@Michael_Klinck) November 14, 2021
Rival defenses keep insisting on mocking the Discount Double Check – and losing in the process. You come for the belt, you best not miss.
6. Who throws a shoe?! Honestly!
OH MY GOD FORMER ***GATOR*** CARLOS DUNLAP JUST THREW A SHOE pic.twitter.com/SHCj0NViM4 — Lucas Dolengowski (@LDolengowski) November 14, 2021
Seahawks defensive end Carlos Dunlap did his best "Oddjob" impression with this cleat chuck during the game – which was also his worst defensive contribution as it resulted in a 15-yard penalty. For a while, it was the most productive pass of the day.
7. King for a day
DEFENSE COMES UP BIG!@King_kevvoo with the INT!#SEAvsGB | #GoPackGo

📺 CBS pic.twitter.com/bUCjoY5kUh — Green Bay Packers (@packers) November 14, 2021
Kevin King has been the sad court jester of Packers fandom for the past several seasons – but he's been a quiet part of a smothering defense thus far and on Sunday, he got a big royal moment to enjoy as he picked off Russell Wilson in the endzone on a promising drive in the third when the game was just 3-0. Of course, in classic King fashion, he made things more difficult for himself by bobbling the sure pick to a degree that it was almost overturned by the refs – but the play stood, keeping the Seahawks off the scoreboard.
8. Dangerous Dillon
We have a touchdown in Lambeau! @ajdillon7 #GoPackGo

📺: #SEAvsGB on CBS
📱: NFL app pic.twitter.com/7HUFMHS7HD — NFL (@NFL) November 14, 2021
It took a damn while, but in the fourth quarter, a team finally scored a touchdown – and best of all, it was the Packers with this AJ Dillon rumble, topped with an illustrious leap into the stands. It was an MVP-level Lambeau leap for an MVP-level performance for Dillon, who pummelled his way to 66 yards and two touchdowns plus an additional 62 yards in the air – mostly on one very impressive tip-toeing sideline reception. Dillon's suburb showing couldn't have come at a better time – not only because the Packers offense was in a rut on Sunday, but because Aaron Jones was lost for the game (and maybe much longer) with an injury. But it's encouraging to see Dillon can not only pick up the slack but bludgeon the slack forward for extra yardage. Smashmouth football: Between Dillon and the defense, the Packers have it.
9. Defensive domination
Green Bay's defense picks off another pass in the end zone. @_SmashAmos31 #GoPackGo

📺: #SEAvsGB on CBS
📱: NFL app pic.twitter.com/FSp7nxWZVs — NFL (@NFL) November 15, 2021
No more asterisks. No more "Well but." No more excuses. It's official: The Packers defense is one of the best in the league, recording just the fourth shutout of the NFL season thus far. (And in fairness, those other three came against the likes of the woeful Texans, Jets and Dolphins.) Joe Barry and the Pack defense have now reined in Kyler Murray, Patrick Mahomes and Russell Wilson in three consecutive weeks – and all still without several of their key pieces, like Za'Darius Smith and Jaire Alexander. For the longest time, the defense was Green Bay's biggest question mark. This season, it's an exclamation point – and its next trick will be shutting up that damn Viking horn next week.
10. Ruffled feathers
#Seahawks WR DK Metcalf has been ejected after this altercation with #Packers DB Henry Black.pic.twitter.com/Ry1jdhIOpd — Ari Meirov (@MySportsUpdate) November 15, 2021
Bad got worse for Seahawks star receiver DK Metcalf yesterday as he topped off his three-catch, 26-yard performance with an ejection for grabbing Henry Black's facemask in a late skirmish. At least he didn't throw a shoe though.
11. If it doesn't say Cobb on the side, you've just been taken for a ride
Randall Cobb carrying an injured Aaron Jones off the field after the #Packers victory.

You love to see it.#GoPackGo 📽 - @WISN_Watsonpic.twitter.com/Ja4X1Mdnne — Eli Berkovits (@BookOfEli_NFL) November 15, 2021
The damage was already done to Jones – who the Packers fear may have sprained his MCL, not the worst diagnosis but still probably sidelining the running back for a few games – but Randall Cobb wasn't taking any chances last night, piggybacking Aaron off Lambeau Field after the victory. Randall Cobb: great dad off the field, great dad on the field. Here's to him and the rest of the Packers sonning the Vikings next Sunday.
As much as it is a gigantic cliché to say that one has always had a passion for film, Matt Mueller has always had a passion for film. Whether it was bringing in the latest movie reviews for his first grade show-and-tell or writing film reviews for the St. Norbert College Times as a high school student, Matt is way too obsessed with movies for his own good.
When he's not writing about the latest blockbuster or talking much too glowingly about "Piranha 3D," Matt can probably be found watching literally any sport (minus cricket) or working at - get this - a local movie theater. Or watching a movie. Yeah, he's probably watching a movie.