Call them unimpressive. Call them inconsistent. Call them the Cardiac Pack. But now you have to call them one win away from the Super Bowl too, as Green Bay shut down the Seattle Seahawks, 28-23, and shut down Lambeau Field for the season with a win.
Of course, it may be a new year but it was the same old Packers on Sunday night – aka giving their fans heart palpitations by taking a nap for a large portion of the second half and inviting Russell Wilson to get the Seahawks back into the game. But in the end, Wilson could only work so much magic, and the Packers are now on their way to San Francisco for a rematch with the 49ers for all the NFC marbles. But before we look too far ahead, let's take one last look back at the Pack's latest and greatest stressful success – and also laugh one final time about "YELLOW WEASEL!"
1. Jaire in the spotlight
I just love this photo, Jaire Alexander running out onto the field, the green and gold of the jersey popping against the empty black background. It looks so theatrical and dramatic. Honestly, if you told me this photo was of him performing a musical number from "Cabaret," I'd believe it – and also I would very much pay to see it. Somebody get on this.
2. AD in GB
.@AntDavis23 puts on the championship belt in the 1️⃣2️⃣ jersey. pic.twitter.com/xTMI1fDnJz — Scott Grodsky (@ScottGrodsky) January 12, 2020
So this means ESPN will spend all day debating and pontificating about whether this means Anthony Davis is leaving the Lakers for the Milwaukee Bucks, right? Considering that Giannis can't sneeze without sports hot-takers thinking it's a sign that he doesn't like the Midwestern weather and wants to go elsewhere, I can only assume. Anyways, hope Mark Murphy doesn't get fined by the NBA for tampering.
3. One last run onto Lambeau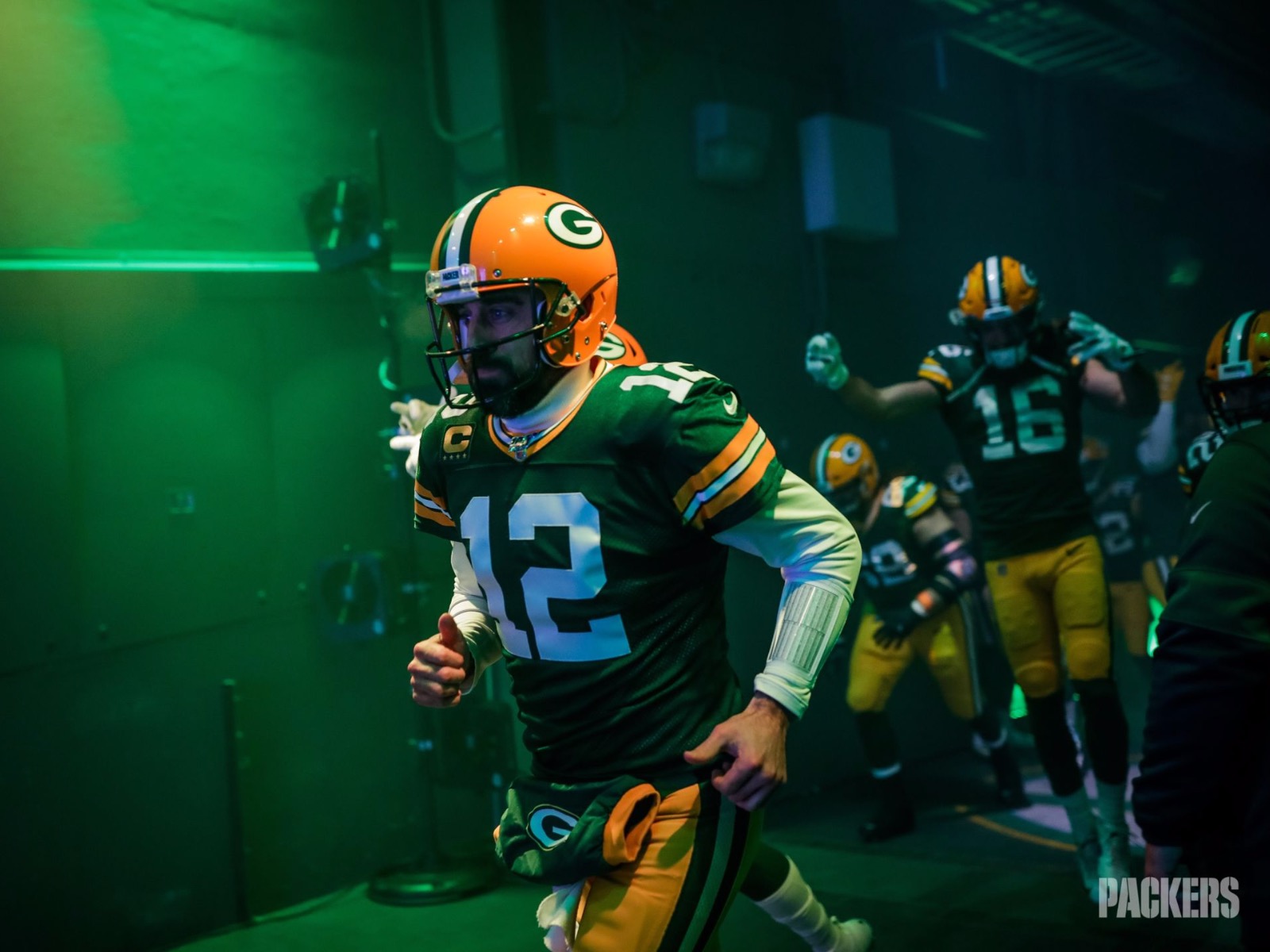 You know that shot from "Avengers: Age of Ultron" where all the heroes are running toward the bad guys and the camera slows down for a moment so you can see them all in epic hero poses and jumping into awesome action mode? Yeah, this photo is like that but real and better.
4. Let the barrel build
Lil Wayne and "Roll out the Barrel" #Packers pic.twitter.com/bSLfUIiCuD — Lily Zhao (@LilySZhao) January 13, 2020
For seemingly eons, people have complained that the Packers aren't a sexy enough team, that Green Bay's not a cool place to go. (Not literally cool, because we definitely have that covered.) Sunday's game sure seemed like a slap in the face of all of that, as in addition to having Anthony Davis and several other Lakers players on the sideline, rapper and famed Packer Backer Lil Wayne came out onto the field to lead the crowd into "Roll Out the Barrel."
But you know what's even cooler than having celebs on the sideline? Winning playoff football games.
5. Za'Darius Smith has Pro Bowl thoughts
View this post on Instagram
It's frankly impressive that, this deep into the season and after so many sacks and big defensive plays, Za'Darius Smith keeps coming up with new celebrations that top his past ones. This post-sack message might be his best yet, working not only as a retort about his inexplicable Pro Bowl absence (not that he'd be able to play in the glorified scrimmage anyways; he's gonna have a different big game to get ready for) but also as some commentary on today's Oscar nominations. Hey Za'Darius, what are your thoughts on Lupita Nyong'o not getting a Best Actress nod for her performance in "Us"?
6. Stttreeeeeeettttttccccchhhhh
Didn't know they made NFL undershirts out of Laffy Taffy these days. Even with his Stretch Armstrong shirt, though, the Packers managed to keep Marshawn Lynch grounded for the most part, allowing two touchdowns, sure, but limiting him to a measly 26 yards and an average of just 2.2 yards per carry on the game. Beast Mode apparently only referred to his shirt's impressive durability yesterday.
7. Still got it
Linsley asking Rodgers "What do you want to do here?" with 7 seconds left on the play clock like its nothing... pic.twitter.com/lkckRMdGVp — Aaron Nagler (@AaronNagler) January 13, 2020
We've spent most of this season being hyper-critical of Aaron Rodgers and coming to terms with the fact that our two-time MVP quarterback may be on the decline. But THIS is what Aaron Rodgers in decline apparently looks like, still dropping insane dimes like this perfect opening touchdown pass to Davante Adams. If this is what the future looks like, well gosh, I think I'll take it. Underrated part of this play, as noticed by Cheesehead TV's Aaron Nagler: the line and Rodgers just openly figuring things out with precious seconds ticking off the play clock.
8. We may have a new mascot
YELLOW WEASEL pic.twitter.com/PGvWhtEcq3 — CJ Fogler (@cjzero) January 13, 2020
It's very disappointing that the ensuing play only resulted in about a one-yard gain, because we could've had T-shirts upon lunchboxes upon stuffed animal yellow weasels as a result of this bonkers audible call. I demand more play calls that sound like rejected team names from "Legends of the Hidden Temple."
9. I'm not crying, YOU'RE crying
Iso-cam on Aikman. It looks like he was maybe surprised by it too? pic.twitter.com/NX9hpgDhFu — Timothy Burke (@bubbaprog) January 13, 2020
Normally, Troy Aikman and Joe Buck have Packers fans crying for different reasons on Sundays – but during halftime of yesterday's victory, he had them shedding tears for quality reasons, as FOX cut to him welling up in the booth seeing his former coach and now broadcast colleague Jimmy Johnson surprised with the news that he was entering the NFL Hall of Fame. You may hate him in the booth, but you had to love this moment.
10. Roughing up Russ
Though he did his usual Russell Wilson thing on Sunday, never saying die and dragging his team within striking distance of winning the damn thing, the former Badgers quarterback could only do so much while being consistently bombarded by the Packers on defense, powering through five sacks on the night plus regular pressure on the night and managing just 277 yards and a touchdown in the air. Considering our past with the Seahawks, Packers fans were likely expecting the worst and suffering from PTSD-esque flashbacks as the game wore on – but this time, it was Russell Wilson and company going to bed all bummed out on Sunday night. You do hate to see it.
11. The Dagger: Extended Director's Cut
Am I the only one who nearly passed out when hearing the words "After review we had additional footage that came in"
😬
#GoPackGo pic.twitter.com/M3R4vFeljQ — Eli Berkovits (@BookOfEli_NFL) January 13, 2020
There's been a little bit of controversy over the final Jimmy Graham catch that effectively ended the game and delivered the dagger, with Seattle fans complaining about the spot Graham received. We say he seemed to just beat the marker – but we're also biased, so we'll be just call this payback for the fumble that the Packers recovered but apparently didn't recover well enough in the first half. One thing we can agree on, though: Never again with this surprise "additional footage" review nonsense, which bypassed obesity for the nation's leading cause of heart attacks on Sunday night. At least the dagger stayed planted, ending the season's final game at Lambeau on the right note. Looking forward to what new way the Packers will take years off my life next week!
As much as it is a gigantic cliché to say that one has always had a passion for film, Matt Mueller has always had a passion for film. Whether it was bringing in the latest movie reviews for his first grade show-and-tell or writing film reviews for the St. Norbert College Times as a high school student, Matt is way too obsessed with movies for his own good.
When he's not writing about the latest blockbuster or talking much too glowingly about "Piranha 3D," Matt can probably be found watching literally any sport (minus cricket) or working at - get this - a local movie theater. Or watching a movie. Yeah, he's probably watching a movie.