The Packers defeated the Pittsburgh Steelers, 27-17, at Lambe(*starts yawning*) my apologies, it's just yesterday's game was ... not exactly a thrilling three hours. But you know what? After the dramatic three-game start to the Green Bay season – and especially last weekend's last-minute resurrection act – I'll take boring.
And boring doesn't mean bad. In fact, this was arguably the Packers' most complete game thus far. The past two weeks, they've played good in pieces – an excellent second half against the Lions, an impressive first half (plus 37 seconds at the very end) against the Niners. And week one was, well, we don't speak about week one. But on Sunday, the Packers played 75 percent of a complete football game. The first quarter was clunky, but after that, Aaron Rodgers got into a decent rhythm (especially with Randall Cobb) while the defense kept Ben Roethlisberger nowhere close to one. It may have been technically a competitive game in the fourth quarter, but it never felt like the Packers were ever really at risk late – a rarity for us fans.
So let's savor this unusually relaxed victory with a few key images and highlights from Sunday's Super Bowl rematch:
1. A special guest in the stands
Somebody brought a blow up cow I'm crying. pic.twitter.com/52IqgLOUvE — Maggie Loney (@MaggieJLoney) October 3, 2021
Wait, so the inflatable cow can get seats for a Packers game at Lambeau and I still somehow can't?! How deflating ...
2. Wait, that's not Kevin King!
my WR1 just cooked jaire alexander pic.twitter.com/Q8pymCEAmY — 𝙇𝙤𝙣𝙙𝙤𝙣²² (@NajeeEra) October 3, 2021
Star cornerback Jaire Alexander didn't have a game to remember on Sunday, getting burned on the first score of the day by Diontae Johnson. (My fantasy team thanks you!)
That, however, wasn't the concerning part as Alexander and the defense mostly locked down Pittsburgh after that. The concerning part came closer to the end of the game as Alexander participated in a fourth down tackle that busted up the play – and busted up Alexander, eventually requiring a cart to take him off the sidelines and into the locker room. The early diagnosis is an A/C joint injury, which isn't the worst case scenario ... we think; we'll see how severe in turns out as more info comes in. Hopefully it's not as serious as the cart implies – because if you thought our secondary was a little rough before, wait until you see it without arguably the league's best shutdown cornerback.
3. A-A-run
.@AaronRodgers12 with the wheels!

TOUCHDOWN! 🏃💨#PITvsGB | #GoPackGo

📺 CBS pic.twitter.com/2PCwZQDDXM — Green Bay Packers (@packers) October 3, 2021
Another week, another win, another day to smirk at the people who wanted Jordan Love to take over the starting job after week one. Indeed, the defending MVP will comfortably hold onto his gig after another solid and sturdy performance, tossing for 248 yards and two touchdowns plus the above game-tying scamper in the second quarter. Safe to say the rust is gone now – and he still hasn't played great just yet.
4. Speaking of improvements ...
#PACKERS BALL! 🏈 @BucketsAll_Day gets to Roethlisberger & @KCBoutThatLife recovers the fumble.#PITvsGB | #GoPackGo

📺 CBS pic.twitter.com/H8lufVhlKJ — Green Bay Packers (@packers) October 3, 2021
The Packers defense deservedly took a beating after the opening weekend beatdown by the Saints – but ever since then, Joe Barry's system has started to come together, this Sunday holding the scuffling Steelers to 17 points and snagging several turnovers in the process. It seems more and more apparent that perhaps playing in Jacksonville was the problem. (The 0-4 Jags would agree.)
5. Surely this is the only offsides-related play anyone is talking about today
Fun exchange between Tomlin and Rodgers. Rodgers going hurry up, Tomlin calling a timeout with the defense not ready. Chess game. #Steelers pic.twitter.com/t830FsKtVP — Alex Kozora (@Alex_Kozora) October 3, 2021
Here was a fun little moment: Rodgers tried to pull one of his classic hurry-up offsides plays on Pittsburgh, but Steelers head coach Mike Tomlin caught on just as fast and called a timeout in the nick of time – resulting in this amusing little exchange of smirks between two of the NFL's best. And that was the last time offsides became a topic of note during the game!
6. Special teams gets unspecial once again
The refs called Joe Haden offsides 🤔pic.twitter.com/93gwfpNibb — PFF PIT Steelers (@PFF_Steelers) October 3, 2021
It wouldn't be a football game without some referee controversy – and indeed, the Steelers and their fans harrumphed loudly after the game after a blocked field goal for a touchdown late in the first half was called back for Joe Haden being a millisecond too early. Maybe. His (potentially) early break became a break for the Packers, turning what could've been a 17-14 halftime deficit into a 17-10 Packers lead going into the locker rooms.
Now, this is the part where, as a dutiful Packers fan, I point out that TJ Watt got away with a pretty blatant tripping in the second half that kept Aaron Rodgers from running in another touchdown – but the more important point is that the Green Bay special teams really needs to figure out its field goal formations and blocking assignments. Because this was too close – and it's been this dangerously close a few times now.
7. A super halftime show
Super Bowl XXXI champions in the house! 🏆#GoPackGo pic.twitter.com/27TYbfBvkK — Green Bay Packers (@packers) October 3, 2021
It may have been a Super Bowl XLV rematch, but at halftime, it was a different Super Bowl in the spotlight as dozens of the XXXI champs – including Desmond Howard, Antonio Freeman, Brett Favre and more – gathered to pay tribute to their historic success and take one more bow together. And considering the Packers would come out and take a 27-10 lead on the Steelers after this nostalgia-inducing halftime presentation, I think they should do this every game now.
8. Welcome back
He's been on the team for the entire season, but game four marked Randall Cobb's true return to the Green Bay fold, strangely serving as the MVP for the Packers on Sunday afternoon. The numbers – five catches for a nice 69 yards – aren't all that impressive, but whenever the Packers needed a first down, the Rodgers-to-Cobb connection was there as if the receiver had never left town. And in case keeping drives alive wasn't enough, Cobb caught two touchdown passes – including the above pass that essentially locked up the game and tied Rodgers with Dan Marino on the all-time touchdowns list.
9. A meltdown in Steel Town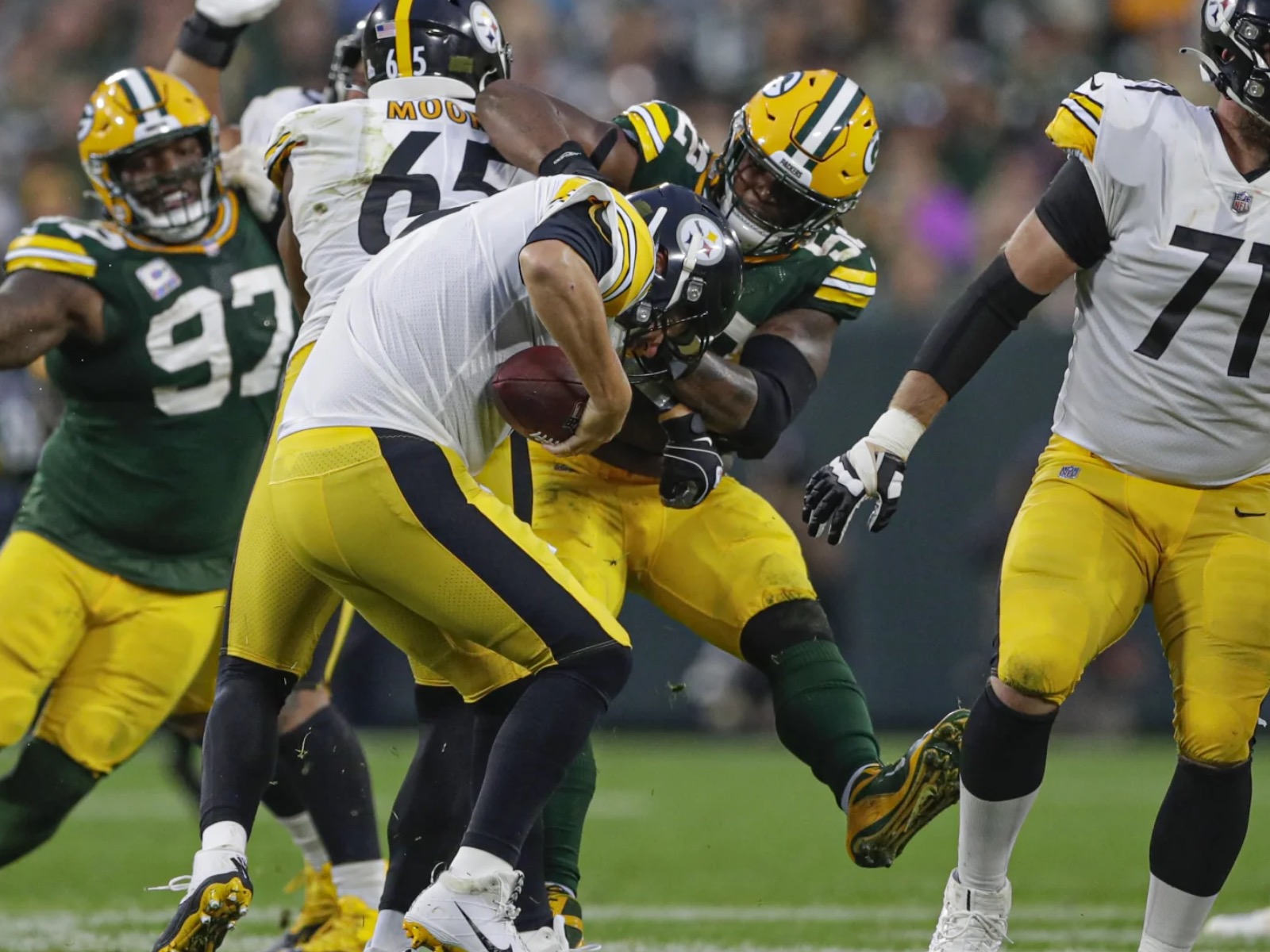 Rodgers and the Packers looked pretty good on Sunday, but perhaps the bigger story was that Ben Roethlisberger and the Steelers looked pretty bad – something we're not used to seeing from Steel Town. Roethlisberger in particular looked exceptionally sluggish, missing several throws including missing a wide-open JuJu Smith-Schuster on several potentially game-breaking passes. Teams tend to take on the personality of their quarterbacks, and judging by Sunday, the Steelers now resemble Roethlisberger: an old, lumpy pile of potatoes.
Some on the team seem, uh, displeased about this turn of events ...
JuJu Smith-Schuster has identified the problem
pic.twitter.com/MPIGnm5nTz — SideAction (@SideActionHQ) October 3, 2021
For those who can't read lips, that's a frustrated Smith-Schuster on the sideline, muttering, "It's a Ben problem," after another offensive sputtering. Gee, I wonder if this clip will be a topic of conversation this week in Pittsburgh! Nice to see other teams having the quarterback controversies; at least we got ours out of the way in the offseason.
As much as it is a gigantic cliché to say that one has always had a passion for film, Matt Mueller has always had a passion for film. Whether it was bringing in the latest movie reviews for his first grade show-and-tell or writing film reviews for the St. Norbert College Times as a high school student, Matt is way too obsessed with movies for his own good.
When he's not writing about the latest blockbuster or talking much too glowingly about "Piranha 3D," Matt can probably be found watching literally any sport (minus cricket) or working at - get this - a local movie theater. Or watching a movie. Yeah, he's probably watching a movie.