The scoreboard says that the Packers lost on Sunday afternoon, just like they've lost five previous times this season. But yesterday's 23-19 defeat to the Pittsburgh Steelers was something different from most of their previous failures: It looked like some actual progress on the field.
Sure, there's no categories in the standings for moral victories – and sure, despite their winning record, Kenny Pickett and the Steelers aren't exactly the reincarnated '72 Miami Dolphins – but unlike most of the Packers' other disappointments this season, Sunday's performance wasn't a joyless slog and it wasn't bankrupt of anything positive like too many of their games. You watched that game on Sunday and saw a functioning NFL football team. You saw a quarterback who could hit his targets and lead drives down the field. You saw a team that could actual score points in the first half of a football game. You saw a defense that got stops when they were needed. (Well, eventually.) You saw receivers making plays. (Most of them, at least.) It didn't add up to a win, but it added up to something we haven't seen much this year: what we expected, a team with potential and promise but also still growing up and learning to play NFL football.
So that's the state of the Packers this season: losing, but at least losing in a way we can tolerate now! Before we charge into the second half of the season, though, let's take one final look back at Sunday's game and some of the key moments and takeaways from that time we almost stole away a win in Steel City.
1. Do you believe in miracles!?
.@jordan3love finds @RomeoDoubs for the TOUCHDOWN! 🎯#GBvsPIT | #GoPackGo

📺: CBS pic.twitter.com/G0OHKdEsAR — Green Bay Packers (@packers) November 12, 2023
In a stunning turn of events, not only did the Packers score in the first quarter of Sunday's game but they scored on their opening drive. You're allowed to do that?! Indeed, for the first time since the Detroit Lions game (which was a field goal following an interception and a three-and-out that gained literally no yards), the Packers were on the board on their first drive – and with an impressive drive at that, stringing quality plays together, getting third down conversions and actually topping the drive off in the endzone with a nice grab from Romeo Doubs. It was an early sign that, even if the results were the same, the team looked different.
2. Indefensible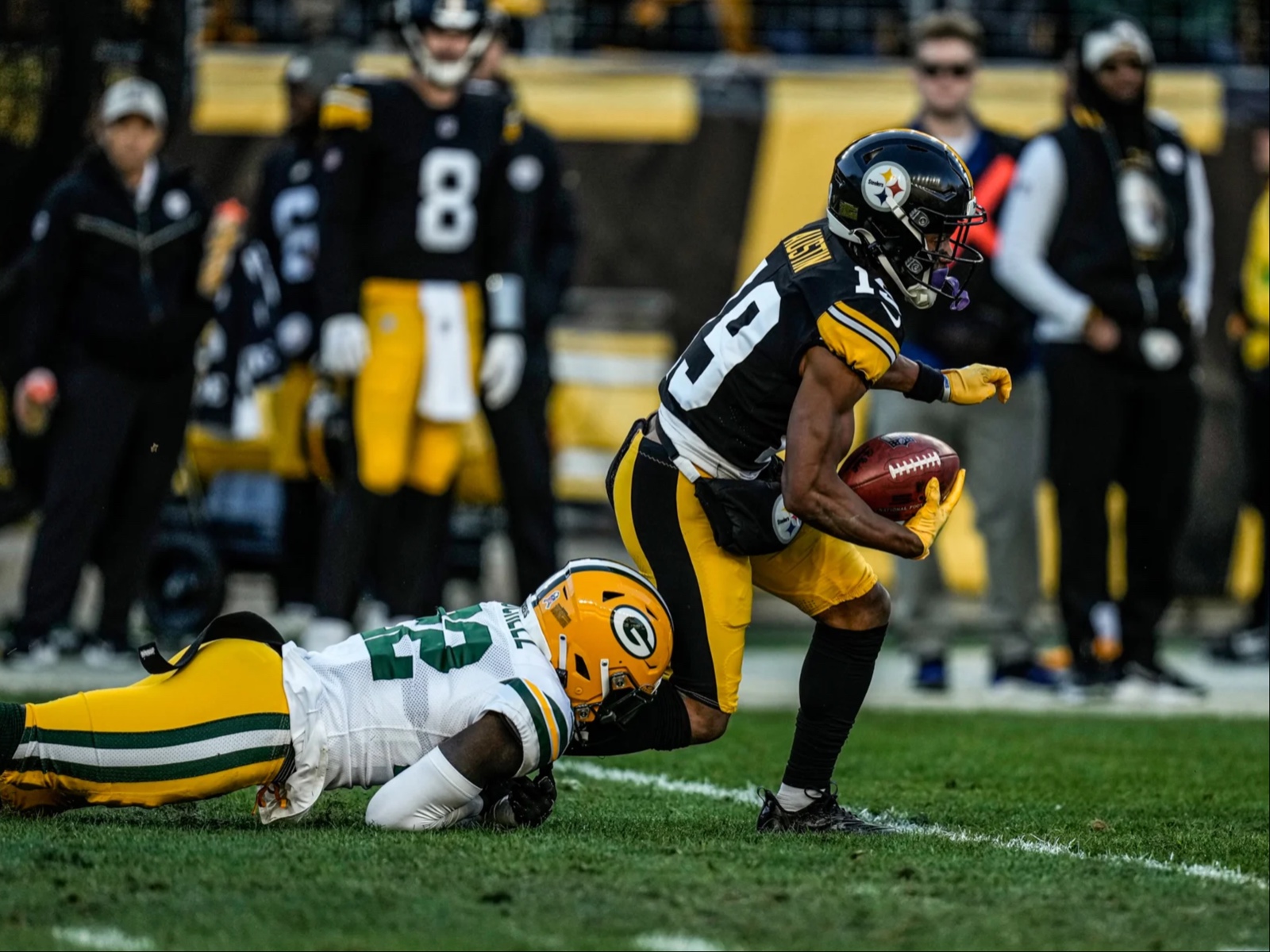 So of course, the one time the Packers offense is able to put together some points, the defense decides to take the day off.
Indeed, Joe Barry heard everyone saying his squad wasn't Green Bay's biggest problem and said, "Well we gotta fix that!" The Packers were gouged on the ground, early and often, in the first half on Sunday, leading to a 17-point first half for the Steelers – which maybe wouldn't have been that bad, save for the fact that Pittsburgh can't score. Seventeen points easily marked the most points in the first half for the Steelers this season – and almost more points than the team scored in the first half across their previous five games combined. According to Zach Kruse, the Steelers averaged 16.6 points per game – and surpassed that midway through the second quarter against the Packers and their Swiss cheese run defense. (Yes, the Pack didn't have Jaire Alexander on the outside, so maybe you don't want to put the spotlight on your inexperienced cornerbacks – but why not force error-prone Kenny Pickett to beat you versus letting the Steelers' much more accomplished running backs run ruckus over you?)
Sure, the Packers defense would eventually steel up and hold Pittsburgh to just six points the rest of the way – but this time for Green Bay, it was the offense showing up from the start while the defense decided that halftime was the opening whistle.
3. Making a connection
DEEP BALL TO @JaydenReed5!

TOUCHDOWN! 🙌#GBvsPIT | #GoPackGo

📺: CBS pic.twitter.com/A4OBQHhdXB — Green Bay Packers (@packers) November 12, 2023
Can you believe it? Not one, but TWO touchdowns in a single first half! With these two big plays, the Packers scored as many points in the first half on Sunday as they scored in their previous four first halves, combined. And what was really impressive was that it wasn't thanks to cheap penalties or great field position. Green Bay maintained drives on Sunday with a balanced attack, rushing and passing – and getting chunk yards from both. It came in a losing effort, but at least it looked like an effort for all four quarters this time.
4. Ole!
And now, for a look at the opposite of effort:
Never forget. https://t.co/oG6fHqUrwd pic.twitter.com/VgU3RuFTEQ — r/GreenBayPackers (@redditPackers) November 12, 2023
Well, surely the Packers wouldn't need that extra point later in the game. Surely it wouldn't represent the difference between desperately trying to get the ball into the endzone and just needing a field goal to tie. Anyways, it's not very often I get to watch a football play and say "I could do better than that" ... but in this case, I think I could literally have gotten bulldozed by that Steelers player and at least played a better speedbump than Deguara did.
5. Holding their own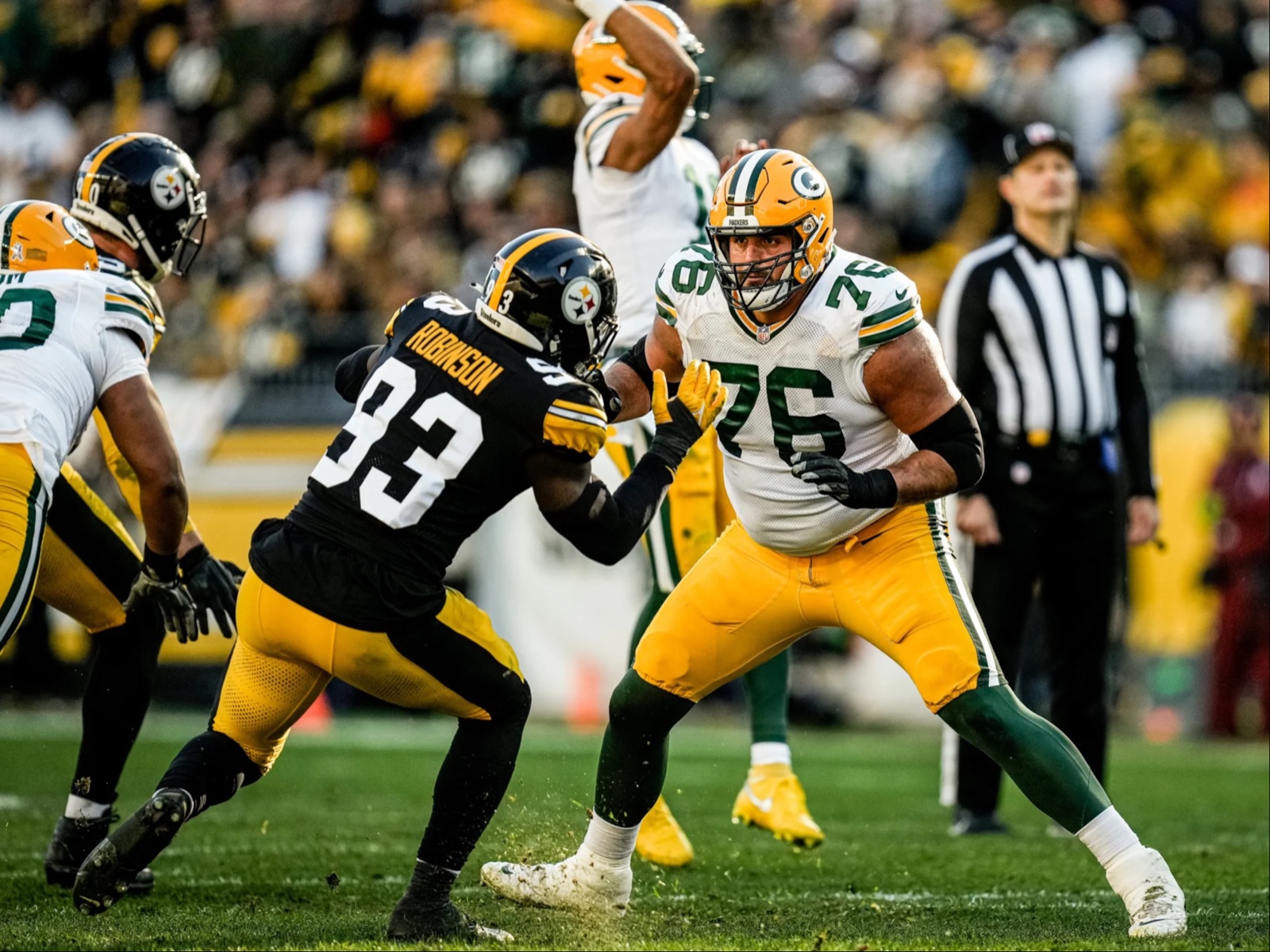 Going into Sunday's game, the big scare for Packers fans was T.J. Watt and the Steelers defense lining up against our discombobulated offensive line play that struggled against far worse outfits. But that's why they play the game, because the offensive line held their own yesterday. Sure, they eventually gave up a sack – T.J. Watt, go figure – but that was the lone takedown of the game, and overall Love never looked too hassled in the pocket. Overall, Sunday's performance felt a long ways away from Josh Myers face-planting while blocking oxygen against the Vikings just a few games ago.
6. Do you see what I see?
We'd like some answers on this one, @nfl

That puppy is backwards by a yard. #GBvsPIT pic.twitter.com/hmRJUhHGAq — Levi (@levi_dubs) November 12, 2023
You don't like to blame the refs for a loss – and the Packers certainly did plenty to lose this one all on their own – but you hate to see a potential game-breaking play like this get so mishandled.
The call on this Kenny Pickett pass is close ... but it's also pretty clearly a backwards pass, and therefore a fumble. If the refs let the fumble play out – as they should've – the Packers recover the ball and at the absolute least have the ball close within the Steelers' redzone, in position to put up even more points near the end of the first half. But instead the refs blew the play dead too soon, then refused to see the obvious on a challenge and upheld their wrong call – probably because admitting the ball went backwards would also require them to awkwardly not change the call on the field because they blew the play dead before the recovery was made. Two wrongs didn't make a right here; it just ended up being more wrong.
7. What's wrong with Watson?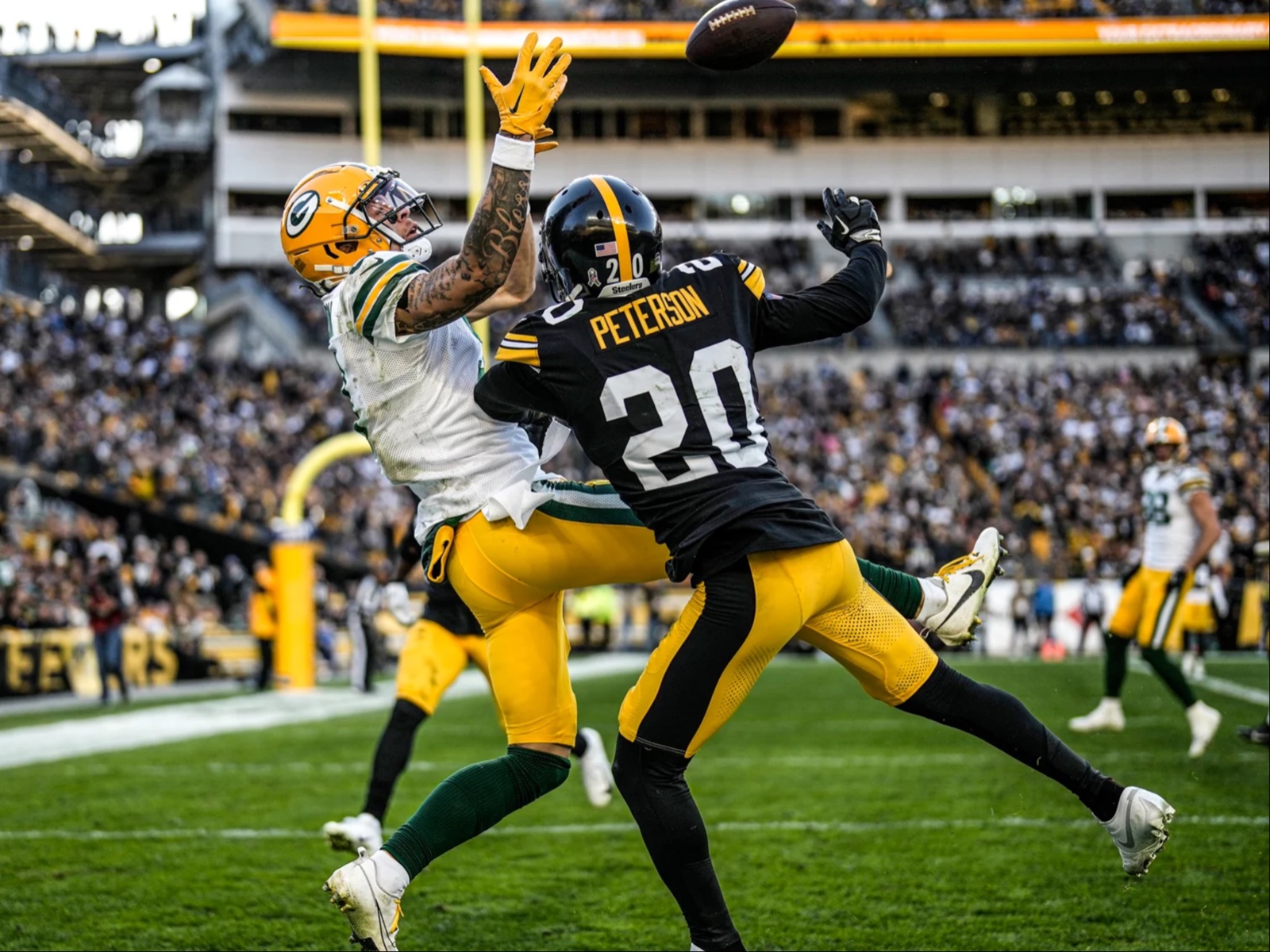 Credit to Patrick Peterson and the Steelers defense for making a great play on this pass to the endzone, tipped and turned into an interception rather than points for the Pack. But Jordan Love probably shouldn't have thrown it – not because the coverage was that good but because Christian Watson has just been that weak this year.
Maybe it's injury, getting on the same page with a new quarterback or just classic sophomore season regression – but the Packers presumed lead receiver has looked bad. For someone with his size, he always seems to get outmuscled and outpositioned for passes, leading to incompletions at best (only a 42 percent catch rate for Watson this season, according to ESPN's Rob Demovsky) and interceptions at worst. (Of Love's ten interceptions, five were attempts to Watson.) Watson needs to get stronger at finding the ball and fighting for it, while Love, instead of forcing plays to Watson, needs to start seeing other pass catchers – because right now, this is a toxic QB-receiver relationship.
8. Reed catch
Win or lose, this was a 𝗽𝗵𝗲𝗻𝗼𝗺𝗲𝗻𝗮𝗹 play by Jordan Love pic.twitter.com/At3IDdyEek — Eli Berkovits (@BookOfEli_NFL) November 12, 2023
Sunday marked a bad day for Jordan Love haters. Sure, he would wind up with two interceptions – but overall he looked composed, capable of hitting passes of all ranges and able to run the offense, including on this deep bomb to Jayden Reed to get Green Bay into Steelers territory late. Love would end up with 289 yards and two touchdowns on the day, while Reed appears to be settling in nicely as one of Love's favorite targets, ending the day atop the receiver stats with a game-high 84 yards.
9. And that's that on that
Are the Jordan Love haters still in shambles? https://t.co/qKKF6TkezA pic.twitter.com/Z1LCjfhkfU — Bartholomew Willijax (@B_Willijax) November 12, 2023
The last interception, you could blame on Watson or just a nice play from the Pittsburgh defense. But this one ... yeah, this one was just a bad decision by Love under pressure on the final play of the game – a not-uncommon theme this season, as he seems to get a little sloppy in crunch time. But overall, the Packers looked like an improved team on Sunday, one that certainly put up more of a fight and more of a complete four-quarter game than in their other losses. And after all, the Packers haven't won in Pittsburgh since 1970; did you really think THIS was the team to break that streak?
Anyways, cling to the memory of these past two games, because the next three – against the Chargers, Lions and Chiefs – could be a return to wretched. But hey, at least there's a chance Taylor Swift might show up for one of them.
As much as it is a gigantic cliché to say that one has always had a passion for film, Matt Mueller has always had a passion for film. Whether it was bringing in the latest movie reviews for his first grade show-and-tell or writing film reviews for the St. Norbert College Times as a high school student, Matt is way too obsessed with movies for his own good.
When he's not writing about the latest blockbuster or talking much too glowingly about "Piranha 3D," Matt can probably be found watching literally any sport (minus cricket) or working at - get this - a local movie theater. Or watching a movie. Yeah, he's probably watching a movie.