Give Aaron Rodgers and company credit: They didn't extend our suffering for long. No, instead of dragging things out and making us think this team still had a chance until the final weekend, they only gave us a few days of hope for a postseason run before crushing it into the dirt. Appreciated!
Indeed, just five days after resurrecting their season against the Cowboys at Lambeau Field, the Packers returned to their home field to bury it one more time with a disappointing 27-17 loss to the Tennessee Titans. The Pack was in the game for most of the night, but as has been the case for most of this lackluster run, they couldn't put a complete game together. When the defense got a stop, the offense took the ball and determinedly went nowhere; when the offense finally put a drive and some points together, the defense couldn't get a stop. So instead of two victories in a single week and a 5-6 record that kept them in the playoff hunt, Green Bay ends this critical week with worse buzz than Ticketmaster and a 4-7 record that pretty much requires them to run the table to merely be in the postseason discussion. Their next opponent? On the road against the 8-1 Eagles. So yeah ...
Before we officially lower this season in the grave, let's put this latest loss in there first with a look back at some of the best and worst moments of this Thursday Prime Video match-up that made the Packers look past their prime.
1. There's no D in "Green Bay Packers"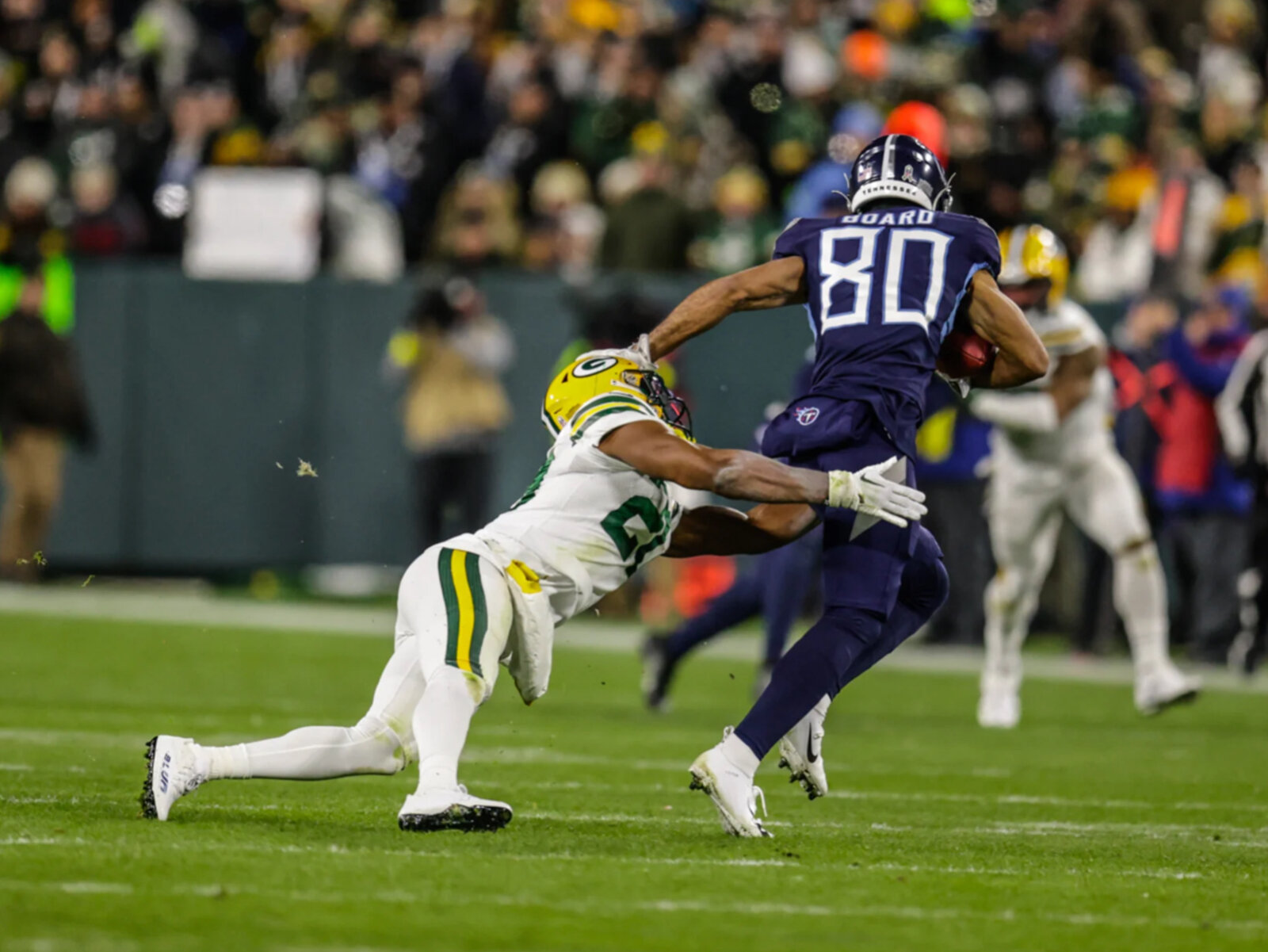 Not being able to score against the historically poor Detroit Lions defense was embarrassing – but this performance by the Packers pass defense may have quietly been even worse. The Titans have one of the most unspectacular passing attacks in the NFL this season and overall haven't topped 24 points on the year – and yet there was the Packers secondary getting absolutely torched throughout Thursday night's game, getting picked apart by Ryan Tannehill and giving up a career-high 111 yards to rookie receiver Treylon Burks. (In fact, that number's double his previous high of 55.) And once again, not only did the opponent seemingly decimate the defense but without much resistance. It's not that the receivers were making great plays; they were just hilariously wide open throughout, pitch and catch without any trouble. If nothing improves at this point, Packers fans might have to bust out their #FireDomCapers chants once more – just with a new DC's name.
2. From rookie to the real deal
ROOKIE. OF. THE. WEEK.@ChristianW2017 is at it again! 🙌 #TENvsGB | #GoPackGo

📺 Prime Video pic.twitter.com/ztFer3Ln9a — Green Bay Packers (@packers) November 18, 2022
It took a while for Christian Watson to get his feet under him this season, but he clearly has now – and apparently the rookie only catches touchdowns. After nabbing three scores on four catches on Sunday, the rookie out of North Dakota State snagged two more touchdowns on Thursday on four catches, totalling five endzone visits in a single week. For those who don't know complex NFL analytics, that's pretty good.
Things don't look good for the Packers this season – but as for the further-out future, Green Bay has much to be excited about with Watson and fellow rookie standout Romeo Doubs.
3. Kicking ourselves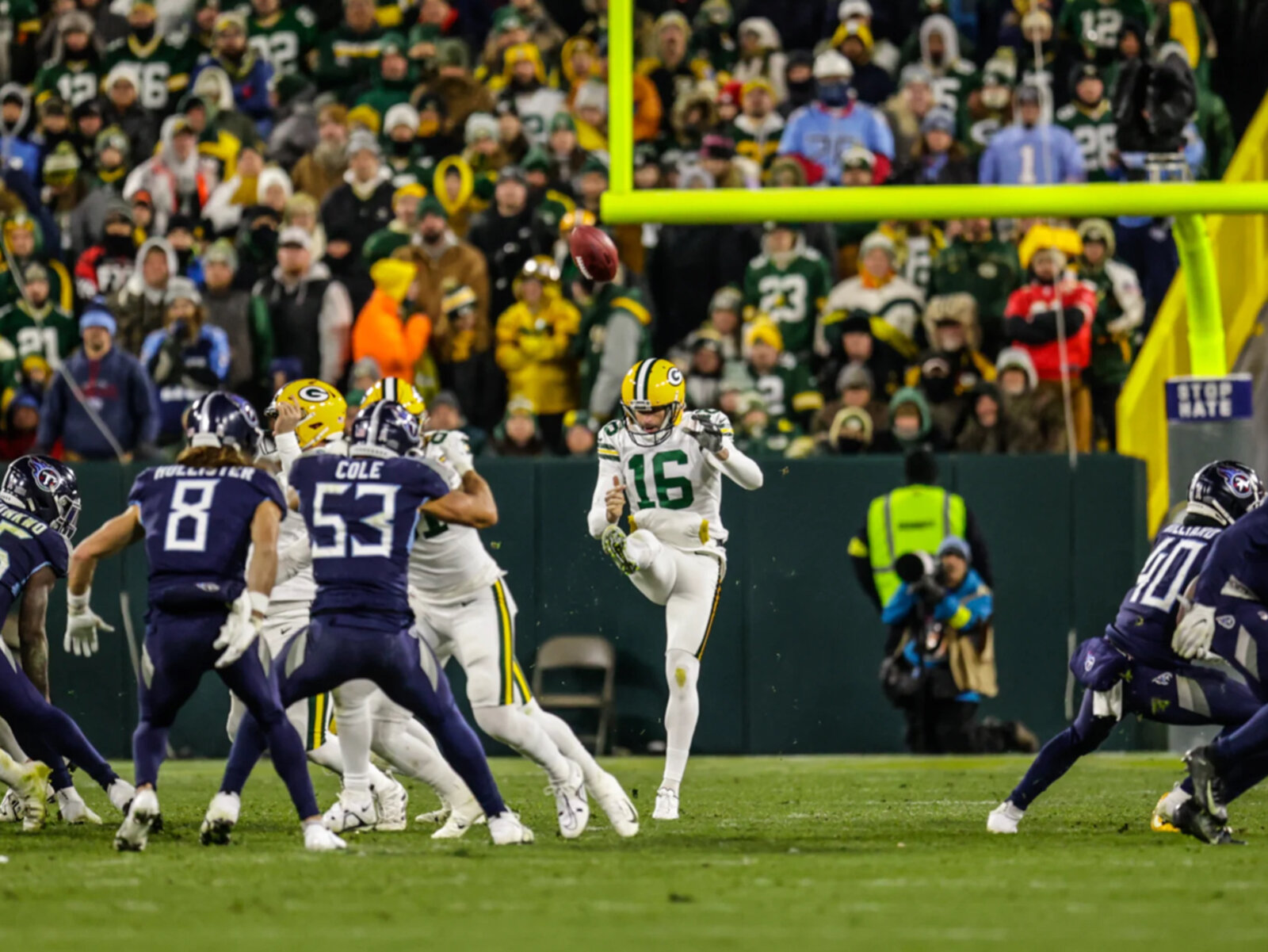 Was it just me, or was last night's special teams performance pretty brutal? Sure, there were many other aspects of the Packers' performance that were ugly – and sure, new returner Keisean Nixon not only held onto the football all night long but even pulled off the first decent Green Bay punt return of the current century. But not only did Mason Crosby get an extra point blocked, Pat O'Donnell's punts and Crosby's kickoffs struggled to turn the field in Green Bay's favor, regularly putting the Titans in decent field position throughout the night. It says a lot about the Packers special teams in recent years that THIS counts as an improvement.
4. Henry halted
After an 18-play drive, the @packers halt the @Titans on 4th & 1 in the red zone 😱#TENvsGB on Prime Video
Also available on NFL+ https://t.co/BPNa9Cbtld pic.twitter.com/0y5buCPrLv — NFL (@NFL) November 18, 2022
If you told me before Thursday night's game that the Packers would hold Derrick Henry to under 100 yards rushing, I'd assume Green Bay had a great night and a win heading into the weekend. Unfortunately, thanks to the Pack's weak attempt at pass defense, the Titans only needed 87 yards from their stud running back (plus 45 yards in the air) to take control of the game and take the air out of Lambeau Field.
5. About time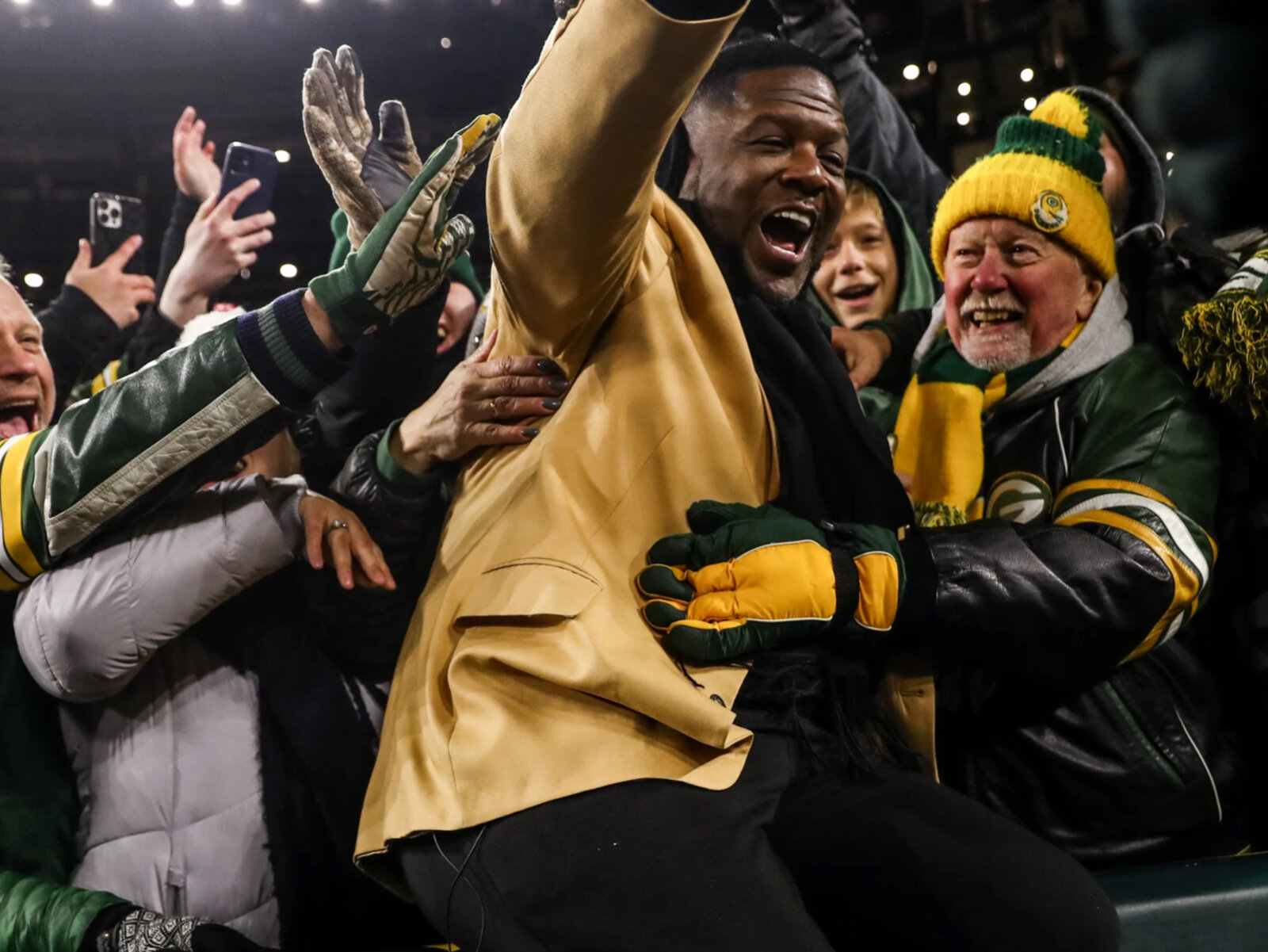 There wasn't much to cheer about last night at Lambeau – but halftime certainly was one of the standouts as newly crowned Hall of Famer LeRoy Butler joined the ranks of Packers royalty in Green Bay's ring of honor. And what better way to celebrate these overdue honors than with one final triumphant Lambeau leap.
6. Oh Henry!
Derrick Henry goes for the jump pass to Austin Hooper for the Titans touchdown‼

Titans extend the lead 20-9 with less than 6mins left in Q3.pic.twitter.com/r3BX1UANW8 — ClutchPoints (@ClutchPointsApp) November 18, 2022
The Packers pass defense was so rough last night that even Derrick Henry got to throw a touchdown.
7. A touchdown, no matter how you look at it
Austin Hooper gets his first multi-TD game since 2019 👏

2+ TD +7500 💰

📽️: @NFL | #Titans pic.twitter.com/E8lJuy536D — bet365 US (@bet365_us) November 18, 2022
It took the refs a second look to confirm it, but this would turn out to be a touchdown – the final seven points of the night and all the Titans would need to lock the game up. I agree with the call – Hooper has the ball all the way to the ground, only losing it well after the play was over and a DB tried a desperation strip. But that being said, I once again have no idea what a completed pass technically is in the NFL.
8. Hope?
Picked! @rd32_era gets the steal for the @packers #TENvsGB on Prime Video
Also available on NFL+ https://t.co/BPNa9Cbtld pic.twitter.com/7s0i5pO7Vw — NFL (@NFL) November 18, 2022
It's been a rough year for Rasul Douglas – but we saw some vintage 2021 play from the cornerback as he snatched this fourth quarter Tannehill pass, halting what could've been the game-ending drive for the Titans. And how'd the Packers offense respond, given a chance to get back into the game at home? Yep, exactly: negative two yards and a three-and-out.
9. Missed opportunities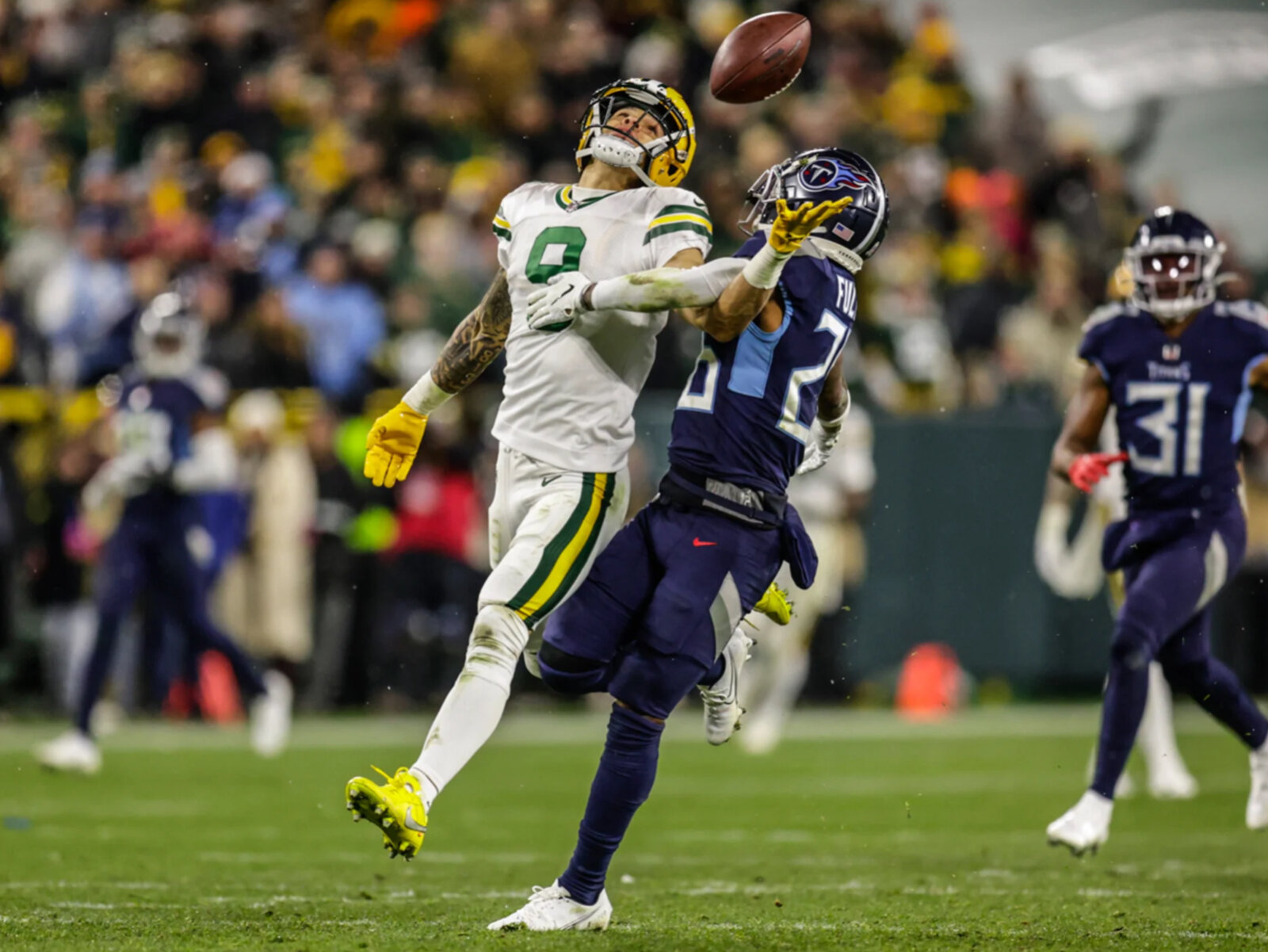 You can't say the Titans didn't give the Packers a chance on Thursday night. Christian Watson had yet another deep bomb that could've netted a big result if he kept running the entire route rather than slowing up earlier – but most lethal, on their last-gasp drives, Aaron Rodgers had several wide open receivers that he just ... missed. There wasn't intense pressure on the quarterback, and there wasn't good coverage. He just missed the throws – and pretty poorly too. It was apparently just one of those games ... in a season full of "just one of those games."
10. That's it?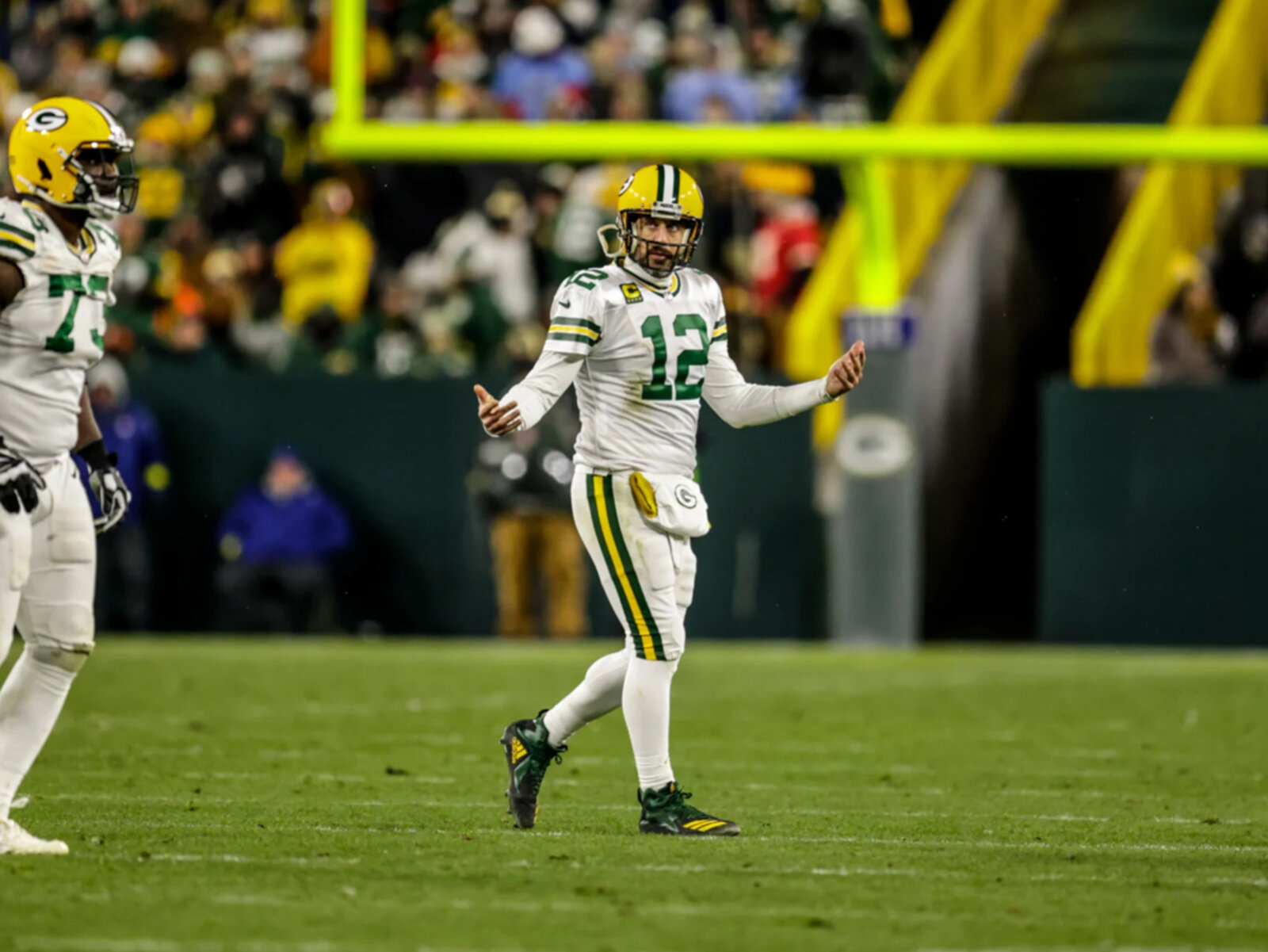 And with that, the Packers 2022-23 season is pretty much over. I know, I know: I wrote a game recap eleven days ago with "season-ending" in the headline, but THIS is the official death blow to their latest Super Bowl campaign. Sure, there are six games technically left, but the Packers would need to at least go 5-1 to finish above .500 – and with the likely playoff-bound Eagles, Vikings and Dolphins all on the slate, it's not looking good. And even if Green Bay does rule the table and even with the mediocrity of the NFC, they've got several teams in front of them in the standings – including the Commanders, who hold the head-to-head tie-breaker. It hasn't looked good on the field this year – and it doesn't look good in the standings either.
So while this season's about to get a lot less interesting, it may get "interesting" from here on out. Perhaps when the Packers get mathematically eliminated, we'll see Rodgers hit the bench "because of his thumb" and see what the future looks like with Jordan Love at the regular helm. Maybe with the pressure off, we'll see Watson and Doubs really blow off the training wheels and impress even more. Maybe the Packers will get a prime big-name draft pick. Maybe Joe Barry's defense will get so poor that the Pack will have no choice but to cut ties at season's end. There are still many questions left to be answered this season – but unfortunately "Are the Packers Super Bowl contenders?" is officially not one of them.
As much as it is a gigantic cliché to say that one has always had a passion for film, Matt Mueller has always had a passion for film. Whether it was bringing in the latest movie reviews for his first grade show-and-tell or writing film reviews for the St. Norbert College Times as a high school student, Matt is way too obsessed with movies for his own good.
When he's not writing about the latest blockbuster or talking much too glowingly about "Piranha 3D," Matt can probably be found watching literally any sport (minus cricket) or working at - get this - a local movie theater. Or watching a movie. Yeah, he's probably watching a movie.