Talk about a belated Christmas gift. The Packers delivered one final holiday treat Sunday night with a trouncing of the Titans, 40-14, in a winter wonderland Lambeau Field setting.
Visibility may have been less than usual Sunday night, but one thing was still very clear: The Packers might actually be good. I know they've had their rough spots this season, and I know last year's brutal playoff exit has conditioned fans to underestimate the sequel and keep hopes low – but the Packers are the best team in the NFC. They've beaten several good teams along the way – the Saints, the Bears and now the Titans – and they have a great quarterback throwing to a great receiver with potentially multiple quality running backs at the ready as well. They haven't lost in a month; meanwhile, in that time, the Seahawks fell to the Giants, the Rams lost to the Jets and the Saints dropped two in a row. They're hot; other teams are less so. Maybe it's the proximity to 2021 talking ... but perhaps it's time to hope.
Or maybe we'll just wait to see what happens next week against the playoff-hungry Bears! Seems like a wise decision. In the meantime, let's look at some cool images from last night's snowy success.
1. There's snow place like home for the holidays
POV: You're inside a @LambeauField snow globe ❄️🔮 pic.twitter.com/xUkhxJO7yT — Green Bay Packers (@packers) December 27, 2020
What's better than a 40-14 walloping of a fellow playoff-bound football team? A 40-14 walloping of a fellow playoff-bound football team – complete with the gorgeous aesthetics of a snow game! There's just something majestic and wonderful about a football game in the middle of the snow – even before you win by 26 points.
RT to shake up the snow globe! ❄️🔄 pic.twitter.com/sscBSj8jWS — Green Bay Packers (@packers) December 28, 2020
Now we just need to get some of that snow down here in Milwaukee!
2. I love snoooooooow!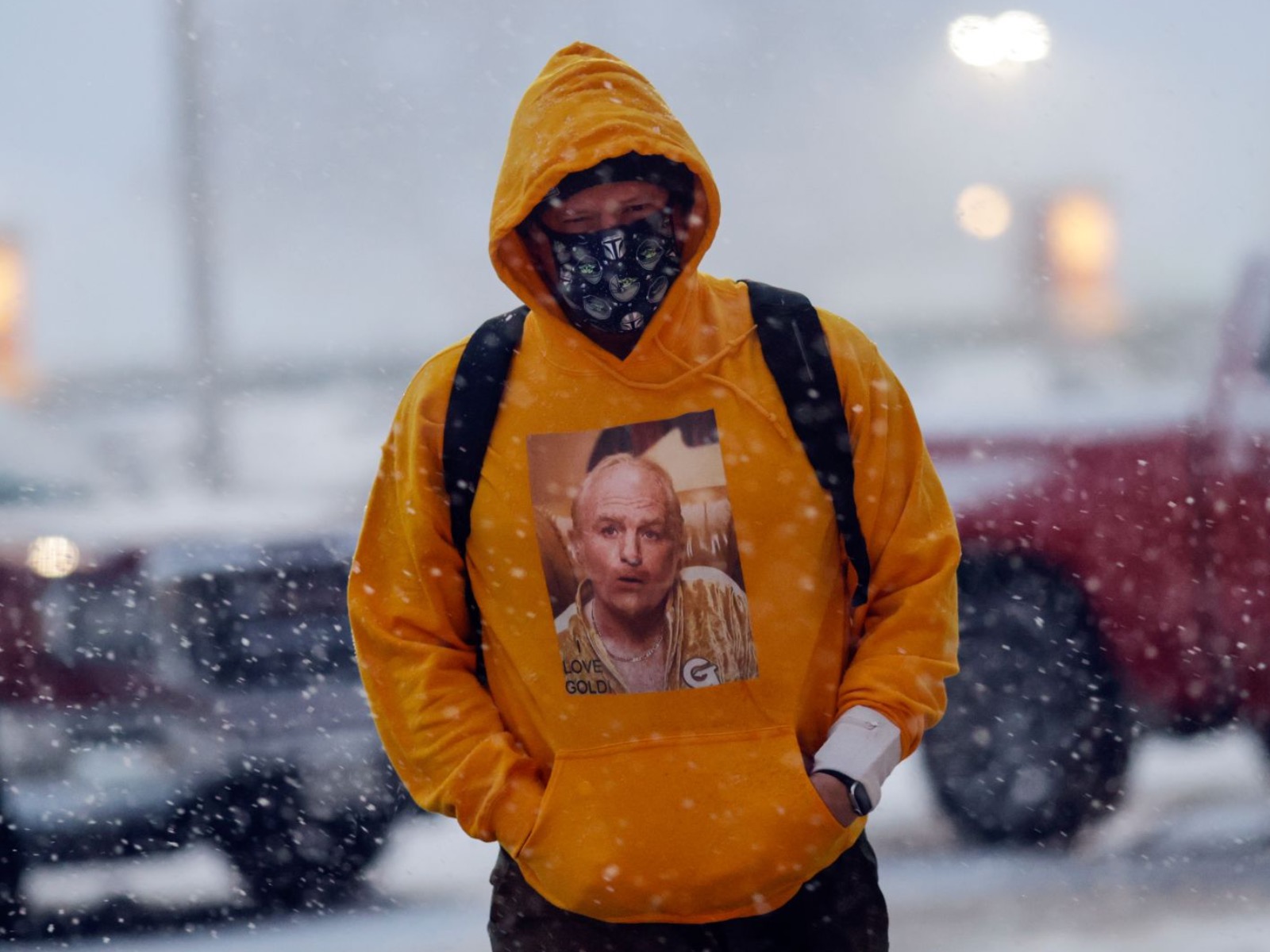 There was no sombrero for Sunday night's game (I guess a snowstorm isn't exactly sombrero weather), but there was this outstanding hoodie representing the team's unofficial mantra for the 2020-21 season.
3. It's basically summer
Snow? What snow? ☃️@packers pic.twitter.com/acSoqPc6sN — The Checkdown (@thecheckdown) December 28, 2020
This should've been clue number one that the Packers were going to stomp the Titans on Sunday night.
4. Sweater weather at most
Lol. pic.twitter.com/vRLHlvmIAD — FOX Sports: NFL (@NFLonFOX) December 28, 2020
Even the fans looked more comfortable and easy-going in the snow than the Tennessee Titans.
5. Oh Henry!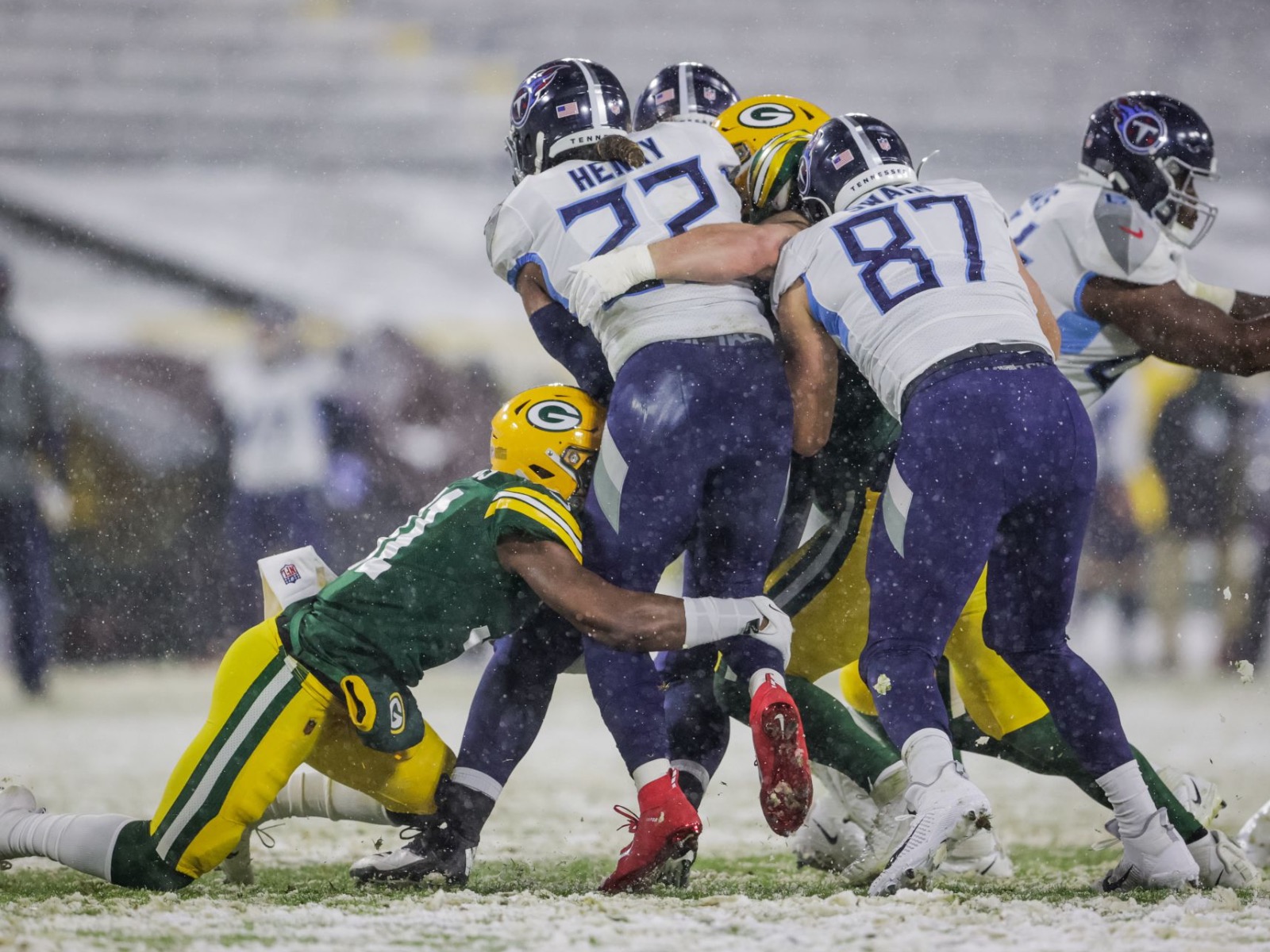 For most of the season, Packers skeptics had this game circled on the schedule, pointing out that Derrick Henry – one of the best running backs in the gamee – was going to make a meal out of Green Bay's infamously porous run defense. Add in a snowstorm that was certainly going to dampen any passsing game, and Derrick Henry was lined up for the kind of performance his fantasy owners could only dream of.
But then a funny thing happened: The Packers defense showed up. Indeed, the real blizzard on Sunday night was the one Henry faced at the line of scrimmage on every play, as the Pack kept the Titans' rushing threat bottled up all night for less than 100 yards. In fact, the longest run of the night – a 45-yard touchdown scramble – came from quarterback Ryan Tannehill. Packers fans will take that result every week.
6. A+ Aaron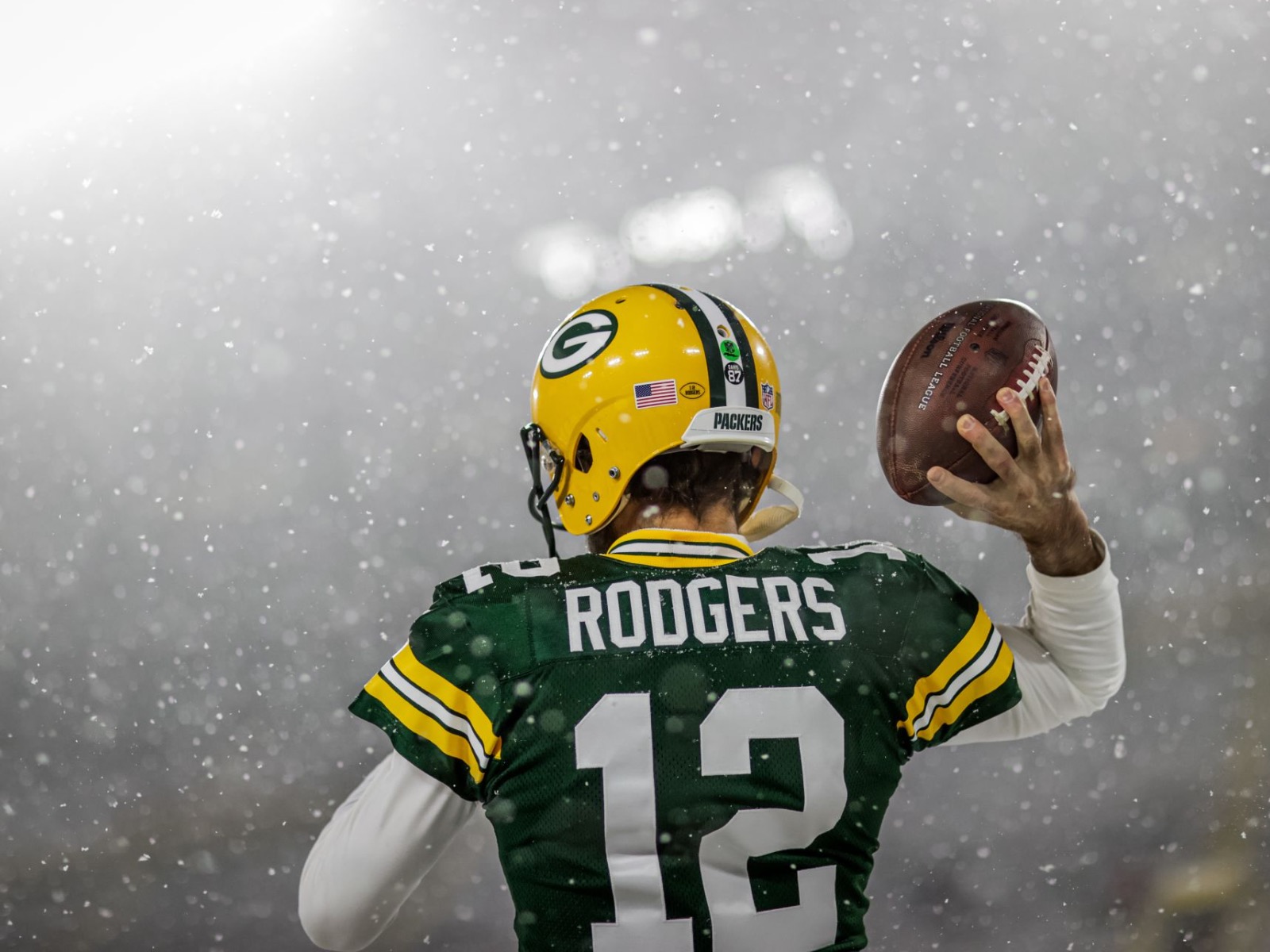 An impressive and composed performance in a primetime game, Aaron Rodgers may have locked up his third MVP trophy during Sunday night's smackdown, putting up a calm, about-one's-business 231 yards and four touchdowns. While Russell Wilson's offense in Seattle has scuffled and Derrick Henry looked mortal, Rodgers has been mostly a model of consistency, and while his fellow State Farm pitchman Patrick Mahomes could claim the title (especially since he has the best record in the NFL right now), Rodgers has six more touchdowns with one less pick on the season. Whether he wins or loses the honor, though, one thing's certain: A-A-Ron is far from toast.
7. Davante cleared for takeoff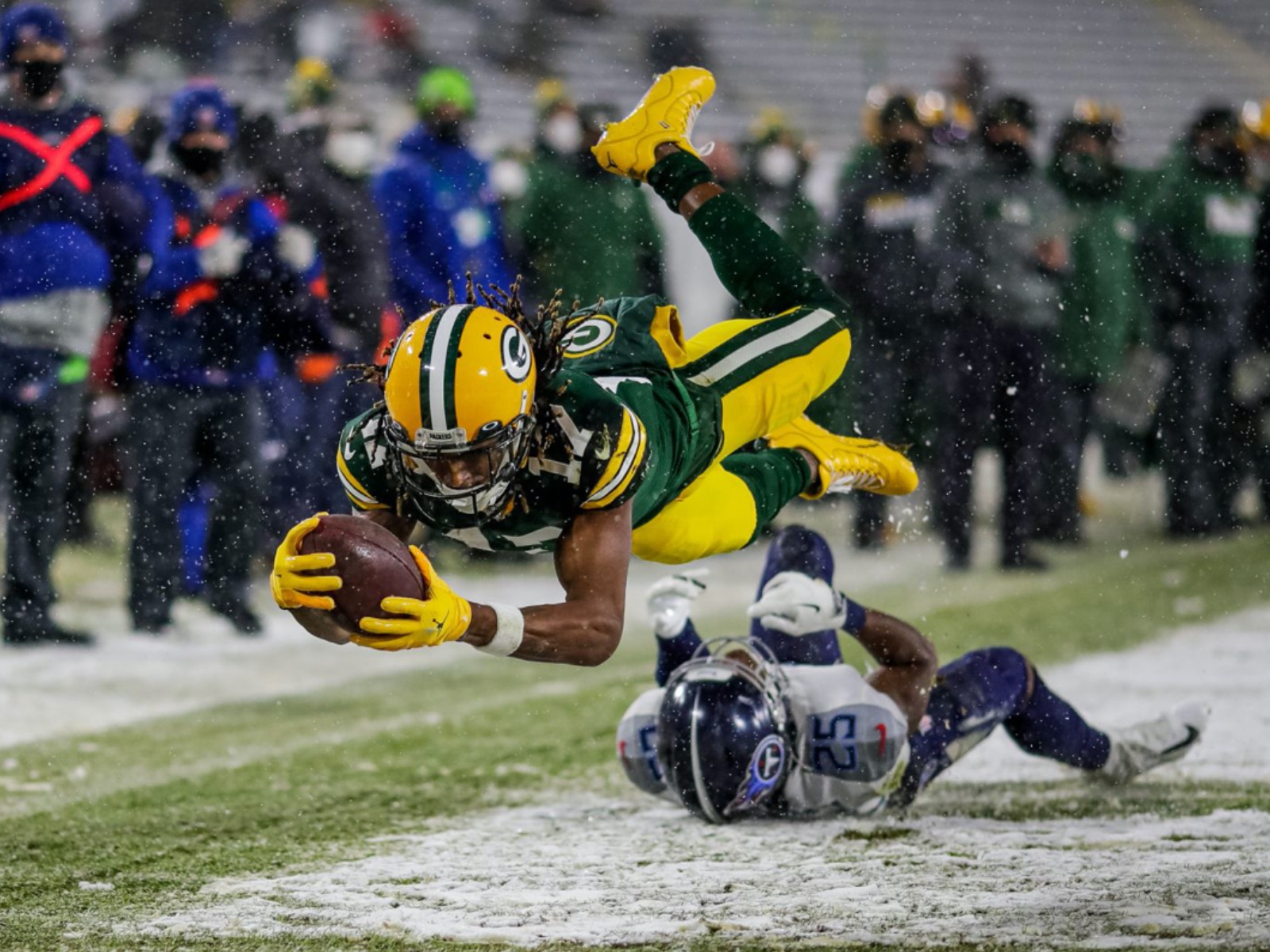 It's a shame Davante Adams lost those two games earlier this season to injury, because with those, he could easily be in the MVP conversation as well. Even with two fewer games than just about everyone else, Adams is third in receiving yards, third in receptions and tops in the league in touchdowns – including 11 catches for 142 more yards and three more scores Sunday night in the slick and slushy snow. If not even mother nature can contain Adams, what hope do cornerbacks think they have?
8. King Davante
I really hope Allen Lazard was the one who brought this 👑 pic.twitter.com/zC7W7WVkk8 — Lily Zhao (@LilySZhao) December 28, 2020
Last night went so well for the Packers that they resorted to prop comedy in the middle of it all.
9. Always with the special teams...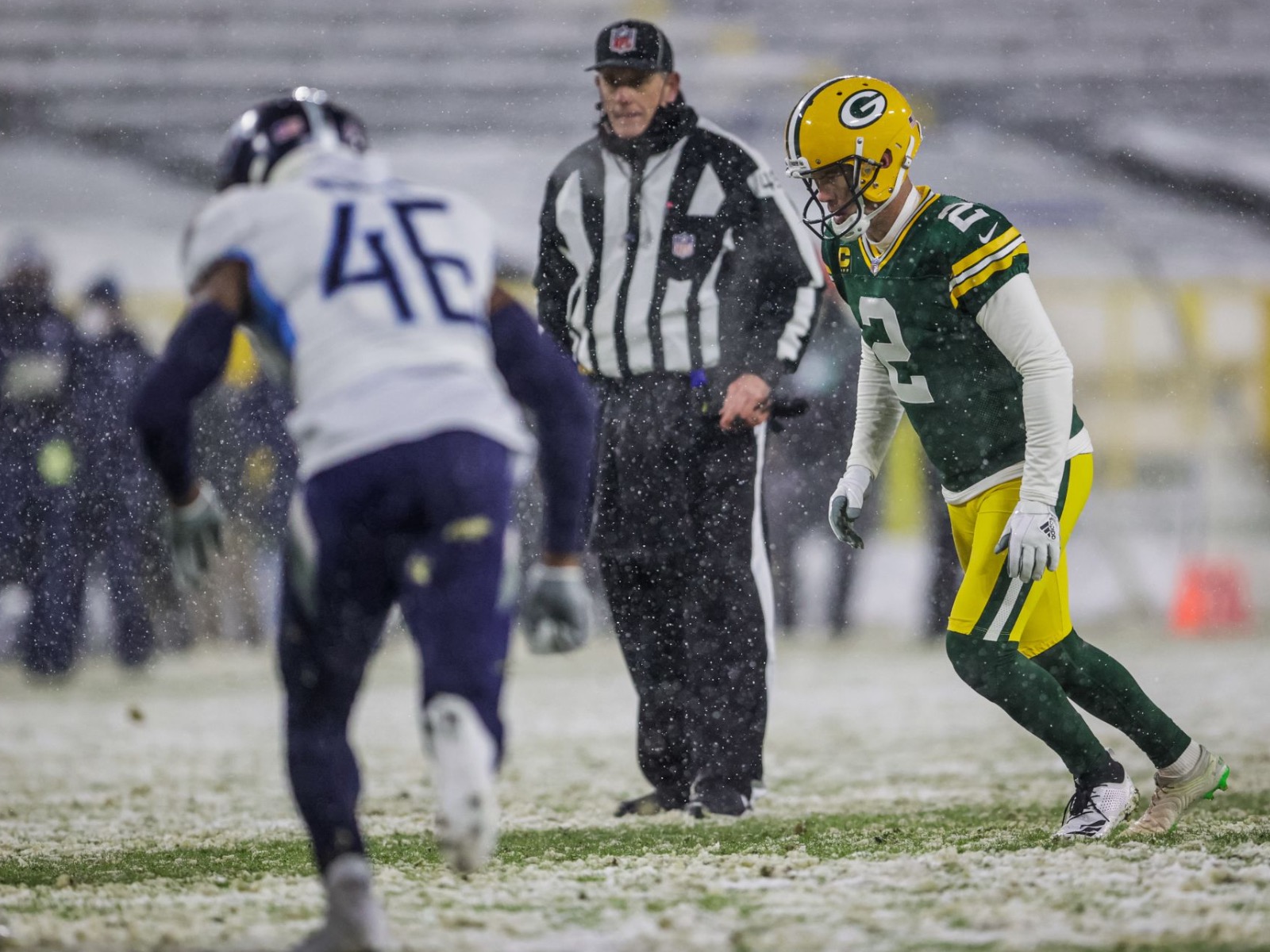 It wouldn't be a Packers game in 2020 without the special teams making things more intense than necessary. Yep, even in a 40-14 beatdown, the special teams unit had an unspectacular night, with Mason Crosby missing one PAT and getting another kick blocked. Luckily, the first was a non-factor and the second was scratched off the board because of an admittedly dubious offsides call. But there's clearly still work to be done.
10. Rough job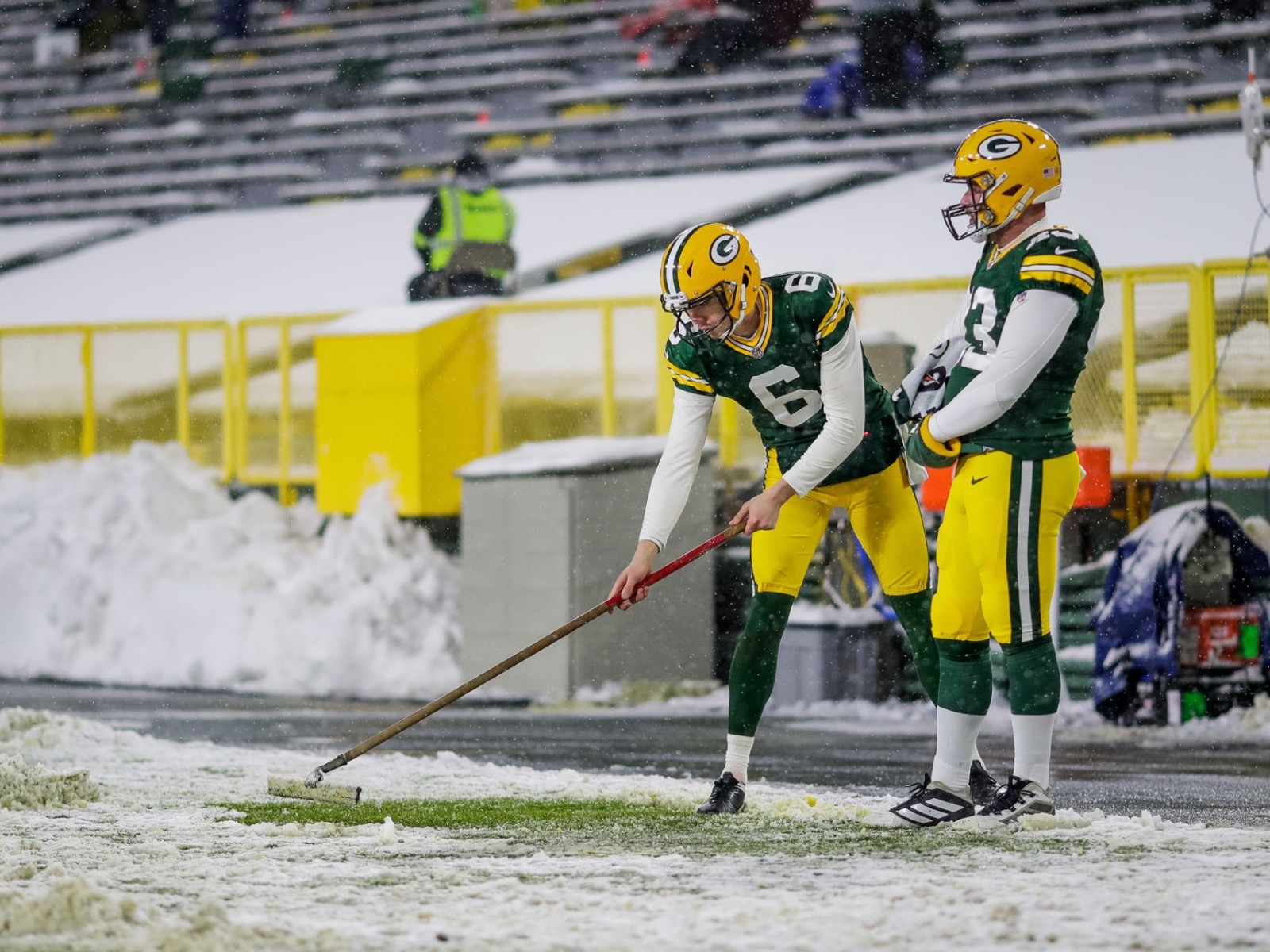 How boring was punter J.K. Scott's night? Since his foot wasn't needed at all during the entire game, Scott resorted to some landscaping on the sidelines.
11. Quite the coming out party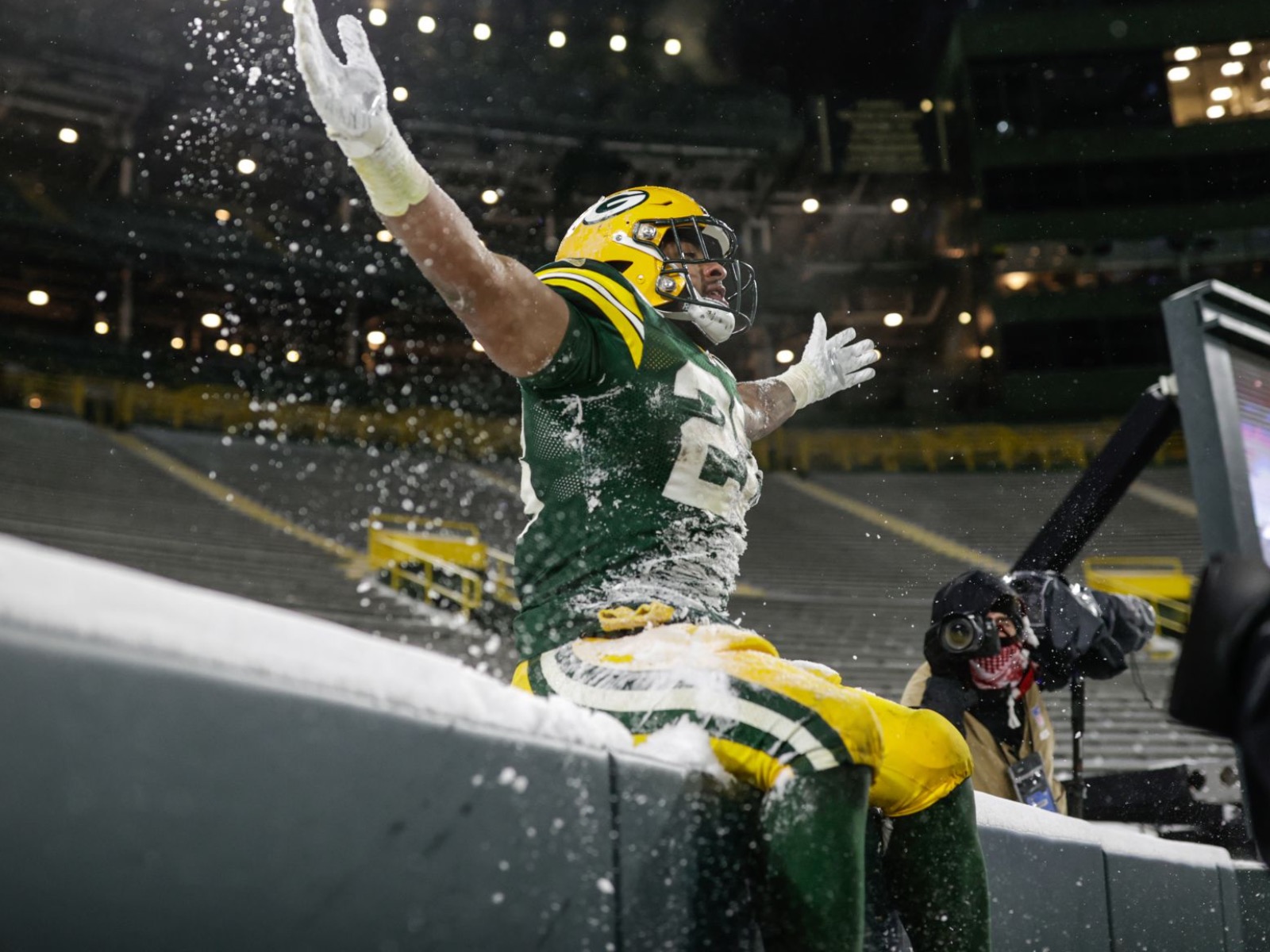 If you had told be AJ Dillon would have a better game than Derrick Henry on Sunday night, I would've called you crazy (and also made some significant alterations to my fantasy lineup). But indeed, given his first significant work load of his career thanks to an injury to Jamaal Williams and concerns about Aaron Jones, the beefy rookie scored his first two NFL touchdowns and racked up more than 100 yards – outrushing the all-star on the opposing sideline. You do love to discover a new weapon on offense just in time for the playoffs ...
12. The Lambeau Lump
A.J. Dillon had an amazing night ... on the field, at least. When it came to off-the-field celebrations, however, there's clearly work to be done as his first Lambeau Leap was cruelly defeated by the only defense that worked against him Sunday night: gravity.
Gotta work on AJ Dillon's Lambeau Leap but we'll get there. pic.twitter.com/MwYFqBpwPr — Charlie (@SnoTapWI) December 28, 2020
His second attempt was somehow better and worse. He got up there ... albeit with the grace of an airborne snowplow.
AJ Dillon needed some help on his Lambeau Leap 😂 #GoPackGo @ajdillon7

📺: #TENvsGB on NBC
📱: NFL app // Yahoo Sports app: https://t.co/iW14QNTbk4 pic.twitter.com/kw4qG3Oh2G — NFL (@NFL) December 28, 2020
Oh well, I guess he'll just have to keep getting in the endzone and practicing. What a shame; you hate to see it ...
13. Terrific tandem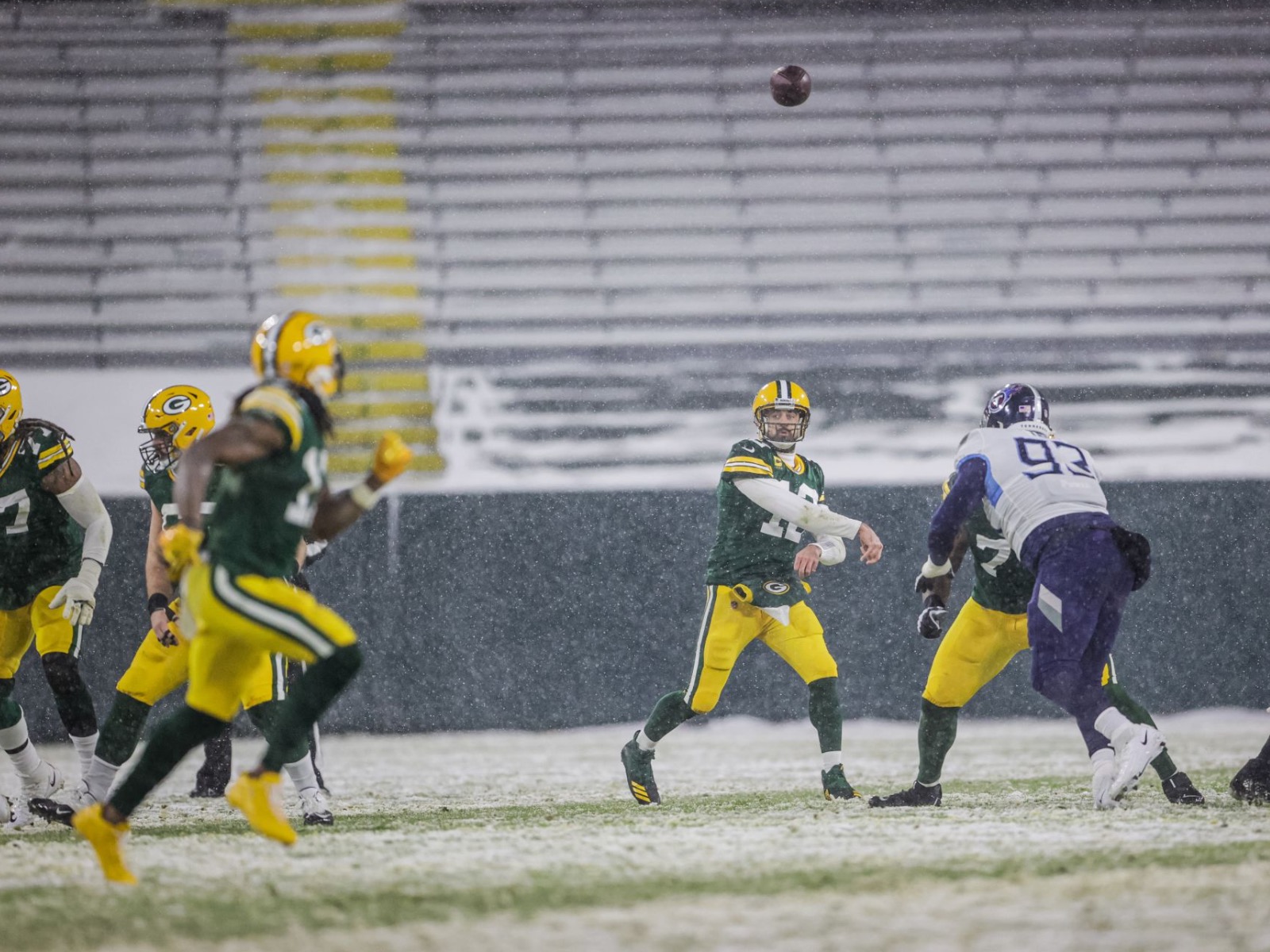 I end this collection with this awesome photo of a Rodgers pass en route to its target – you guessed it, Davante Adams. I love how you can see where the play's going in a still image – but most of all, I love that my favorite football team has arguably the best quarterback-receiver tandem in the entire league. Here's to ending the season right with a win over the Bears next weekend and an official claim to the title of best team in the NFC (with the bye week in the playoffs that comes in tow).
As much as it is a gigantic cliché to say that one has always had a passion for film, Matt Mueller has always had a passion for film. Whether it was bringing in the latest movie reviews for his first grade show-and-tell or writing film reviews for the St. Norbert College Times as a high school student, Matt is way too obsessed with movies for his own good.
When he's not writing about the latest blockbuster or talking much too glowingly about "Piranha 3D," Matt can probably be found watching literally any sport (minus cricket) or working at - get this - a local movie theater. Or watching a movie. Yeah, he's probably watching a movie.