GREEN BAY – Riding in on local kids' bikes on a sunny and 70-degree morning, the Green Bay Packers opened their 71st training camp Thursday at Ray Nitschke Field, looking to start their 2017 season better than the 2016 campaign, but also hoping to carry over some of last year's late momentum that propelled them to the NFC Championship Game six months ago.
In front of the typically large congregation of smiling, cheering fans – the first day of Packers training camp is practically a local holiday – and with nearly its entire 90-man roster participating, Green Bay conducted a swift, high-energy practice, 2 hours and 15 minutes of unpadded competition during which head coach Mike McCarthy said he was looking for "procedure, pursuit and finish."
Last year, after starting out 4-2, the Packers lost four straight games in the middle of the season, prompting sky-is-falling distress from fans and criticism from media. But reports of Green Bay's death were greatly exaggerated, as the team closed the regular season by winning six contests in a row, and then triumphed twice in the playoffs, before falling to the Falcons one game short of the Super Bowl. It was a strange, up-and-down year of injuries, inconsistency, foolhardy questions about Aaron Rodgers' greatness and, ultimately, a good deal of success.
Following an offseason that saw general manager Ted Thompson – who, at 64, drew some doubts about his health and aptitude, as well as rumblings about a successor – somewhat uncharacteristically sign five veteran free agents, to replace a few key ones that had departed, then draft 10 players and add the usual crew of undrafted rookies, the Packers enter training camp with a roster that's both unusually healthy and remarkably solidified.
Rookie linebacker Vince Biegel (foot) and fourth-year cornerback Demetri Goodson (knee) are on the physically unable to perform list, while tight end Aaron Peck is on the non-football injury list; center Corey Linsley, who missed all of offseason OTAs and minicamps after having surgery to repair his ankle, passed his physical on Wednesday and has been cleared to play.
There are perhaps as many as 40 players who can reasonably be considered locks to be on the 53-man roster, after final cuts are made on Sept. 2. Several positions – quarterback, tight end, defensive line, safety, at least – already appear to be set, filled with incumbent starters and playmakers. But others groups – cornerback comes to mind, as well as running back, receiver and specialist – are unsettled and potentially problematic.
Always exciting, Day 1 is now in the books. Day 2 will bring new bikes and, as training camp continues, more information, storylines, scrutiny, questions and, hopefully, some answers.
Here are five things to watch – not including injuries, which are an uncontrollable inevitability and will be discussed unendingly anyway – over the next five weeks:
1. Cornerback carousel
The Packers finished the 2016 season as the second-worst passing defense in the NFL, with injuries and ineptitude dooming the cornerback position, eventually culminating with a disastrous performance in the NFC Championship Game at Atlanta, where they allowed 180 yards and two touchdowns to wide receiver Julio Jones. Then, top CB Sam Shields was released due to concussions, causing even more uncertainty.
Green Bay drafted a cornerback with its first pick, taking the tantalizingly talented Kevin King in the second round. King has great size (6-foot-3, 200 pounds) and speed (4.43-second 40-yard dash time), with the potential to become a No. 1 cover man, though he'll need time to learn the scheme. Thompson also brought back veteran cornerback Davon House, a player who left Green Bay as a free agent in 2015, but re-signed after two years in Jacksonville and offers size (6-0, 195) and experience.
Then, there's the incumbent and enigmatic third-year guys. In 2015, the Packers used their first- and second-round draft picks on, respectively, Damarious Randall and Quinten Rollins, and both showed promise as rookies. But last year, with both battling groin injuries, the pair struggled mightily. LaDarius Gunter, undrafted in 2015, became the de facto No. 1 cornerback, and he performed well at times, but was also burned badly in a few games.
After Thursday, it appears the Packers are going to try Randall as a slot corner in their oft-used nickel defense. Randall played inside in college, and should be more comfortable and less exposed at that spot. Rollins, who is already 25, needs to prove his first-year playmaking wasn't a fluke and that he deserves to stay in the NFL. Gunter is a capable player when he doesn't have to cover the opposing team's best receiver. As currently constructed, House and King would seem to be the starting outside cornerbacks, assuming House plays to expectations and King hits the ground running. Green Bay absolutely needs this group to be better in 2017.
2. Ty's next step
With injuries hobbling Eddie Lacy and James Starks last year, and the ground game virtually stalled out midseason, the Packers turned to No. 88, Ty Montgomery. The wide receiver switched to running back and looked the part in Week 15, with a breakout performance against the Bears (16 carries for 162 yards and two touchdowns). Apart from that, he was good but not great, rushing 61 times for 295 yards (4.8 average) and a score.
With Lacy and Starks now gone, Montgomery is the man in the Packers' backfield, and McCarthy and Rodgers need him to provide some balance for the offense. Behind him – presumably – are a trio of drafted rookies, fourth-rounder Jamaal Williams, fifth-rounder Aaron Jones and seventh-rounder Devante Mays. With fullback Aaron Ripkowski essentially guaranteed a roster spot, it's likely at least one of those rookies won't make the final cut.
Can Montgomery withstand the week-to-week punishment of playing running back fulltime? Can he become more than just a gimmick? Besides being a dangerous pass-catching weapon out of the backfield, he has excellent core strength, makes decisive cuts and carries the ball with purpose, hitting the holes hard and exploding through them. The Packers just need him to do it consistently.
3. Bennett's big-play boost
Bennett was the big free agency signing of the offseason. The extroverted tight end with a big personality and even bigger talent has raved about the prospect of playing with Rodgers, who has echoed the excitement, especially as a quarterback who's been even better when he has a difference-making tight end.
After sleeping in front of his locker at Lambeau Field on Tuesday night – he arrived late and couldn't get into the dorm room at St. Norbert College – Bennett finally got on the field with Rodgers Thursday and looked happy to be there. He had perhaps his best season last year with Tom Brady throwing to him in New England, catching 55 passes for 701 yards and seven touchdowns – compare that to 30, 377 and one for Jared Cook, Green Bay's starter in 2016 – and he could even improve on those numbers with the Packers.
Green Bay's offense is at its best with a dynamic, playmaking tight end (Jermichael Finley, Cook in the playoffs last season), and Bennett's the best one they've had in years. Plus, he can block. Behind him, former Wisconsin Badgers standout Lance Kendricks is a good pass-catcher, and holdover Richard Rodgers can still catch a Hail Mary or two. As currently constructed, this position is solid; it could end up being season-changing.
4. Integrating Evans into line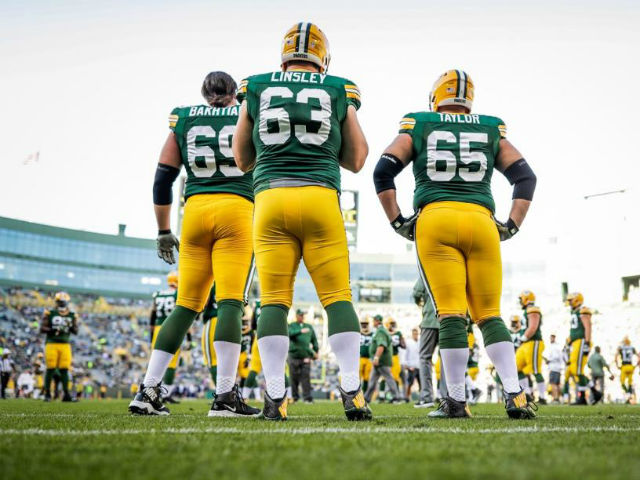 The loss of guard T.J. Lang in free agency surprised many fans – Lang was a Pro Bowler who'd stated his desire to return to Green Bay – and the team had no intuitive replacement for him. But Thompson is not sentimental; after Lang signed with Detroit, the GM inked veteran right guard Jahri Evans, a six-time Pro Bowler who, at almost 34 years old, is on the downside of his career. Evans started all 16 games in 2016 and was ranked as an average guard. Can he give the Packers one decent season as a placeholder?
Around Evans returns an offensive line that's very strong when it's healthy. David Bakhtiari is one of the best left tackles in the game, right tackle Bryan Bulaga is still serviceable, left guard Lane Taylor improved a lot last year and Linsley has been impressive when he's been on the field. Behind them, backup tackle Jason Spriggs looks like a future starter, but then there are a few open-spot question marks.
The Packers need health and dependability on the line to protect Rodgers, who led the league in touchdown passes last year with 40. He was sacked 35 times, tied for 12th-most – a respectable figure, given the pass-heavy offense – and Green Bay needs to keep him upright, no matter how confident they are in backup Brett Hundley. Evans' integration into a proven line is crucial.
5. Final roster spots
As noted above, unless they are disproportionately ravaged by injuries – always a possibility – or there are major surprises in terms of player performance, the Packers have a fairly well-settled roster. Never presume to know what Thompson is going to do, but it seems unlikely that something like Josh Sitton getting cut will happen this year.
From the early looks of the roster, quarterback, tight end, defensive line and safety spots are pretty much spoken for. At running back, probably two of the three rookies join Montgomery and Ripkowski. If the Packers keep seven wide receivers, there are three or four openings there among a talented group of young players. The offensive line always needs to have depth – in bodies, if not always talent – and after the top six, a few more will stick around.
The linebacker group is mostly established, but if a new guy flashes pass-rushing ability, that always gets coaches' attention. At cornerback, who knows? They need to find a couple of starters, and they need some guys to step up and separate from the pack. And besides Mason Crosby, among the specialists, there's unknowns at punter and long snapper. Overall, up for grabs are maybe a dozen spots; who's going to nab them?
Training camp has only just begun. We've got 36 more days until final cuts.
Born in Milwaukee but a product of Shorewood High School (go 'Hounds!) and Northwestern University (go 'Cats!), Jimmy never knew the schoolboy bliss of cheering for a winning football, basketball or baseball team. So he ditched being a fan in order to cover sports professionally - occasionally objectively, always passionately. He's lived in Chicago, New York and Dallas, but now resides again in his beloved Brew City and is an ardent attacker of the notorious Milwaukee Inferiority Complex.
After interning at print publications like Birds and Blooms (official motto: "America's #1 backyard birding and gardening magazine!"), Sports Illustrated (unofficial motto: "Subscribe and save up to 90% off the cover price!") and The Dallas Morning News (a newspaper!), Jimmy worked for web outlets like CBSSports.com, where he was a Packers beat reporter, and FOX Sports Wisconsin, where he managed digital content. He's a proponent and frequent user of em dashes, parenthetical asides, descriptive appositives and, really, anything that makes his sentences longer and more needlessly complex.
Jimmy appreciates references to late '90s Brewers and Bucks players and is the curator of the unofficial John Jaha Hall of Fame. He also enjoys running, biking and soccer, but isn't too annoying about them. He writes about sports - both mainstream and unconventional - and non-sports, including history, music, food, art and even golf (just kidding!), and welcomes reader suggestions for off-the-beaten-path story ideas.