Football is back, and apparently so are the Packers' winning ways from last season as Green Bay swept into a jarringly vacant Minnesota setting this Sunday and silenced the non-existent crowd with an offense-first 43-34 victory over their rival Vikings. It was an unusual opening day of football to say the least (and that's not even mentioning that there was a safety!), but the Packers are now 1-0 to start the year, with lots to improve upon but also lots to be encouraged by. And, best of all, they gave us a distraction from the Brewers getting no-hit by the Cubs. Thanks!
Let's take one final look back at the highlights from Sunday's big season-opening win. (Not included: Watching Tom Brady lose – and badly – in a Tampa Bay Bucs jersey.)
1. Smooth moves return
.@jswaggdaddy brings his own juice 🕺#GBvsMIN | #GoPackGo pic.twitter.com/4OtBaIMeB7 — Green Bay Packers (@packers) September 13, 2020
A lot of things are different during this unusual, unprecedented season, but at least Jamaal Williams pregame dancing along the sideline is the same.
2. Another season of the sombrero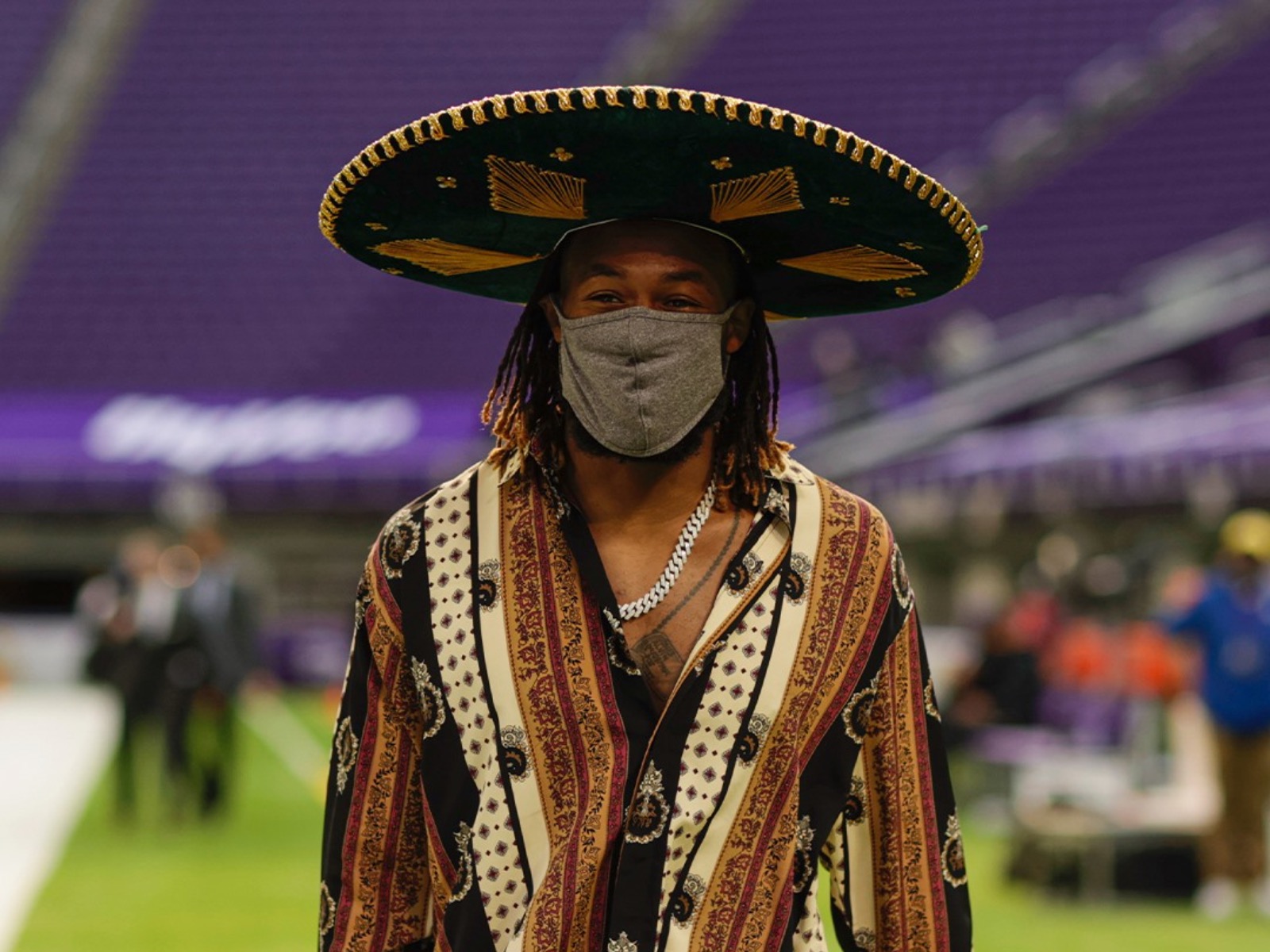 (PHOTO: Evan Siegle/Packers.com)
Nothing was more important to me this season than seeing the return of Aaron Jones' sombrero. I am happy to report that I was not disappointed.
3. Good vibes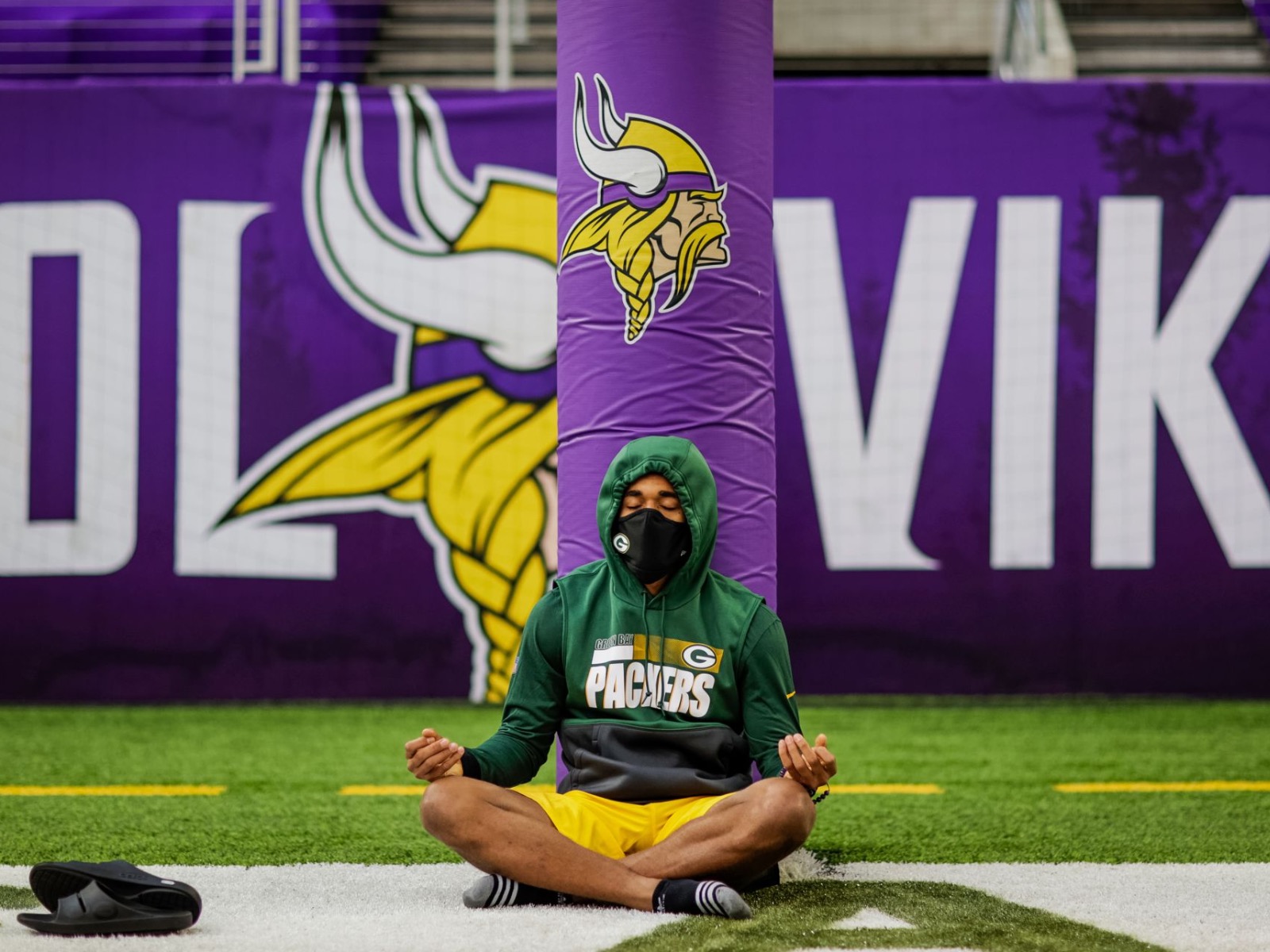 PHOTO: Evan Siegle/Packers.com
This is the kind of serenity I'm looking for in 2020: finding peace while surrounded by enemy colors.
4. Home field advantage
The crowd will go wild today. #Packers #Vikings #GBvsMIN pic.twitter.com/Tbp6UTBM0l — Jim Owczarski (@JimOwczarski) September 13, 2020
The Minnesota Vikings are notorious for their loud home field advantage. But without fans in the crowd – or actual fans, I should say – that advantage didn't add up to much on Sunday afternoon.
5. Meaningful silence
George Floyd's family is introduced at US Bank Stadium. The Vikings announce that for the first time they will not sound the horn before kickoff. pic.twitter.com/41wY1OcxyV — Scott Grodsky (@ScottGrodsky) September 13, 2020
Even forgetting the final score, Packers fans may have found Sunday's game to be more tolerable than the usual game in Minnesota thanks to the Vikings' infamous horn taking a day of silence. It wasn't simply an act of mercy for Packers fans, though. Instead, it was a symbolic gesture from the Vikings, who paid tribute to George Floyd – who was killed in Minneapolis this past May – and others killed by police brutality before the game by inviting his family to the stadium for a moment of silence instead of the usual horn ceremony. The horn then stayed silent for the rest of the game "in honor of George Floyd and others who no longer have a voice due to racism," according to the team.
6. The best offense is defense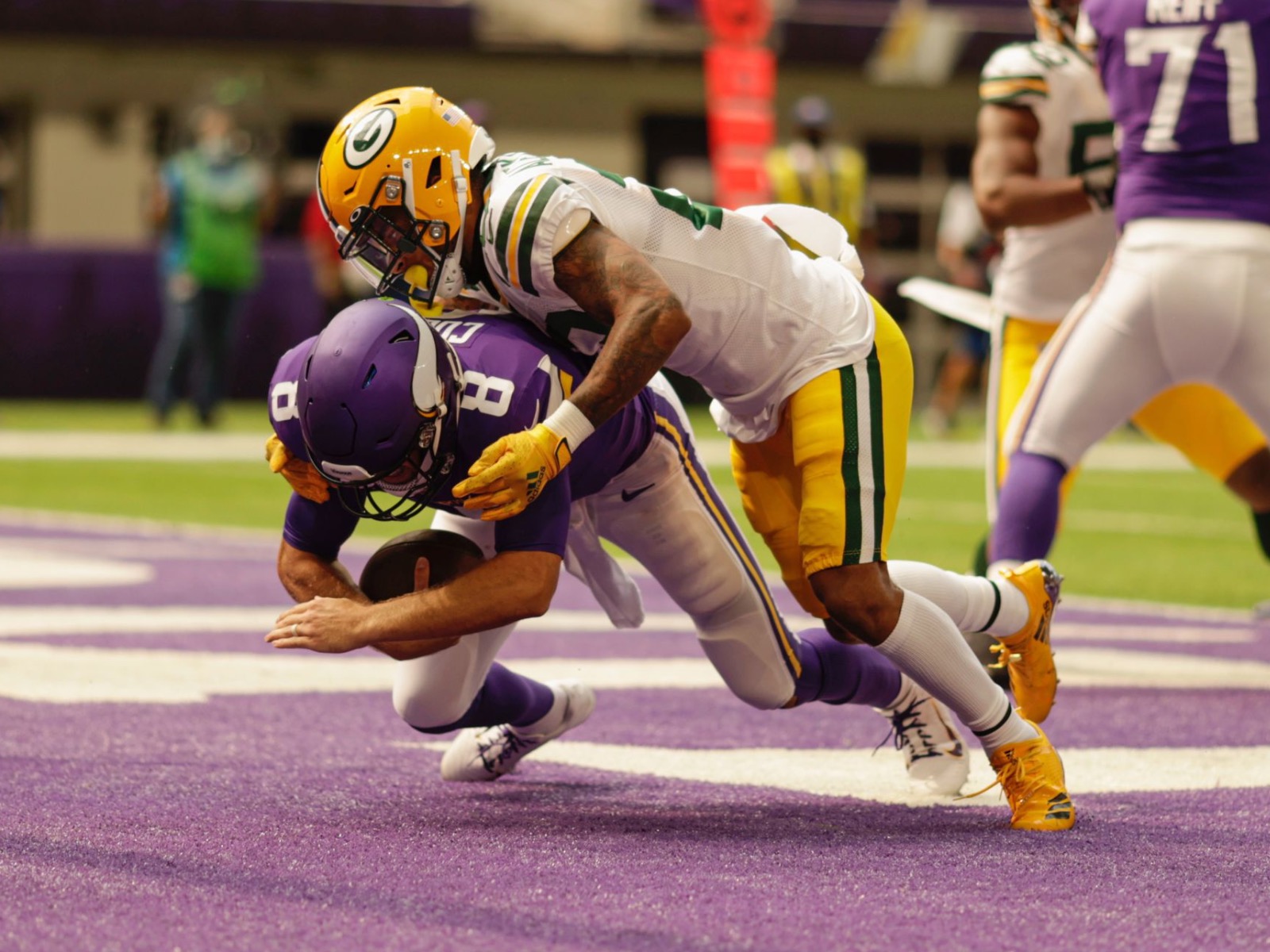 PHOTO: Evan Siegle/Packers.com
Things admittedly didn't look the greatest in the first quarter. The offense was scuffling a little bit, the defense was bordering dangerously on pourous and the Pack was down 7-3 at the end of the first fifteen. But hey, when the offense won't give you the boost you need, look to the defense. (How often do we ever say THAT as Packers fans? Answer: Not often!) After getting halted at the goalline, Jaire Alexander responded on defense with a corner blitz that wiped out Kirk Cousins, put two points on the good guys' side and gave the Pack the ball back. And from there, the energy in the game was never the same. Green Bay's defense wasn't stellar (in case the 34 points didn't give that away), but they provided the spark needed to give them this win.
7. The magic of A-A-Ron
After hearing throughout the summer about how Aaron Rodgers was no longer elite and how the Packers drafted Jordan Love to prepare for their Rodgers-less future, A-A-Ron put up a vintage day – throwing for 364 yards and four touchdowns complete with moments like this perfect throw and find on the run to a nimble-footed Davante Adams.
We'd ask 'how?' - but after 16 years, it's probably better to just sit back and enjoy it. #GoPackGo #Packers pic.twitter.com/SNbDOSsfv9 — CheeseheadTV ðŸ§Â€ (@cheeseheadtv) September 14, 2020
Remember: A diminished Aaron Rodgers is still better than about 90 percent of the rest of the NFL.
8. MVS: Aaron's MVP
Marquez Valdes-Scantling tends to be a, hmm, frustrating player for Packers fans, showing bursts of potential in between headscratching disappearances and drops. Sunday showed both of those elements, as MVS dropped two passes but also roped in four catches for 96 yards plus a 45-yard touchdown pass near the end of the first half that cemented the Pack's lead at the midway point and drove home momentum going into the second half.
Judging by this reaction, Aaron Rodgers was clearly focused on the positives from MVS's day.
Aaron Rodgers coming over to give Marquez Valdes-Scantling a hug after that TD. Well deserved. #Packers pic.twitter.com/7Aj1M30PKr — Lily Zhao (@LilySZhao) September 13, 2020
If MVS can keep up that deep threat status while avoiding those baffling brainfart moments, the Packers might just have three viable wide receiver threats – and they didn't even need the NFL Draft's help!
9. Sack attack
We got our first Za'Darius Smith sack this Sunday – which always come complete with a show. Here's our first sack celebration of the season.
Good luck stopping @TheRealZSmith!#GBvsMIN | #GoPackGo

📺 FOX
📱 https://t.co/2UxGSiVlvn pic.twitter.com/SYSEA5waqU — Green Bay Packers (@packers) September 13, 2020
OK, not quite a memorable one, but the year is young. And the important part is that Kirk Cousins was pounded into the dirt by the Packers D, scoring two sacks, the safety and an interception during the game. We like that! WE LIKE THAT!
10. Style icon
😎 @Showtyme_33 #GoPackGo pic.twitter.com/2yTOD3r8ZP — Green Bay Packers (@packers) September 13, 2020
Somehow Aaron Jones became even more fashionable this season. First the sombrero, now the shades. Though, when you rack up 66 yards and a touchdown against a divisional rival in a season-opening win, you don't even need the sunglasses to look cool.
11. Good times
Mood pic.twitter.com/vqTjXMwkPM — Lily Zhao (@LilySZhao) September 13, 2020
TFW you remember there were people who said the Packers would regress this season.
As much as it is a gigantic cliché to say that one has always had a passion for film, Matt Mueller has always had a passion for film. Whether it was bringing in the latest movie reviews for his first grade show-and-tell or writing film reviews for the St. Norbert College Times as a high school student, Matt is way too obsessed with movies for his own good.
When he's not writing about the latest blockbuster or talking much too glowingly about "Piranha 3D," Matt can probably be found watching literally any sport (minus cricket) or working at - get this - a local movie theater. Or watching a movie. Yeah, he's probably watching a movie.