Halloween may not strike until Tuesday, but I don't think Packers fans will see anything scarier than the team's latest catastrophe, a 24-10 loss to the rival Vikings in front of an increasingly disgruntled Lambeau Field crowd.
That modest preseason excitement from before? Officially dead, buried and smothered underneath a pile of dumb penalties, scoreless first halves, underwhelming three-and-outs, missed blocks and dropped passes. "But what did you REALLY expect from the Packers this season?" Certainly not this! I think most Green Bay fans predicted problems this year – but the hope came from knowing that, amidst the growing pains and plentiful losses, would be exciting glimpses of potential. That's the fun of a young team: seeing the development and seeing the youthful exuberance. But we're not seeing any of that. The offense is the opposite of youthful in action, and the only development witnessed over the past five games has been regressive. It's not that the team's bad; it's that the team's bad AND deeply unpleasant to watch in the process. Even the comeback attempts have become joyless and hopeless. There's just not much to like on the field right now.
And on that sunny note, let's look at some of the critical plays and key takeaways from yesterday's loss to the Vikings! And if that sounds like something you have no interest in re-living, fair enough – but what if I promised you a photo of a cute doggo?
1. A happy start
See! Promises made, promises kept!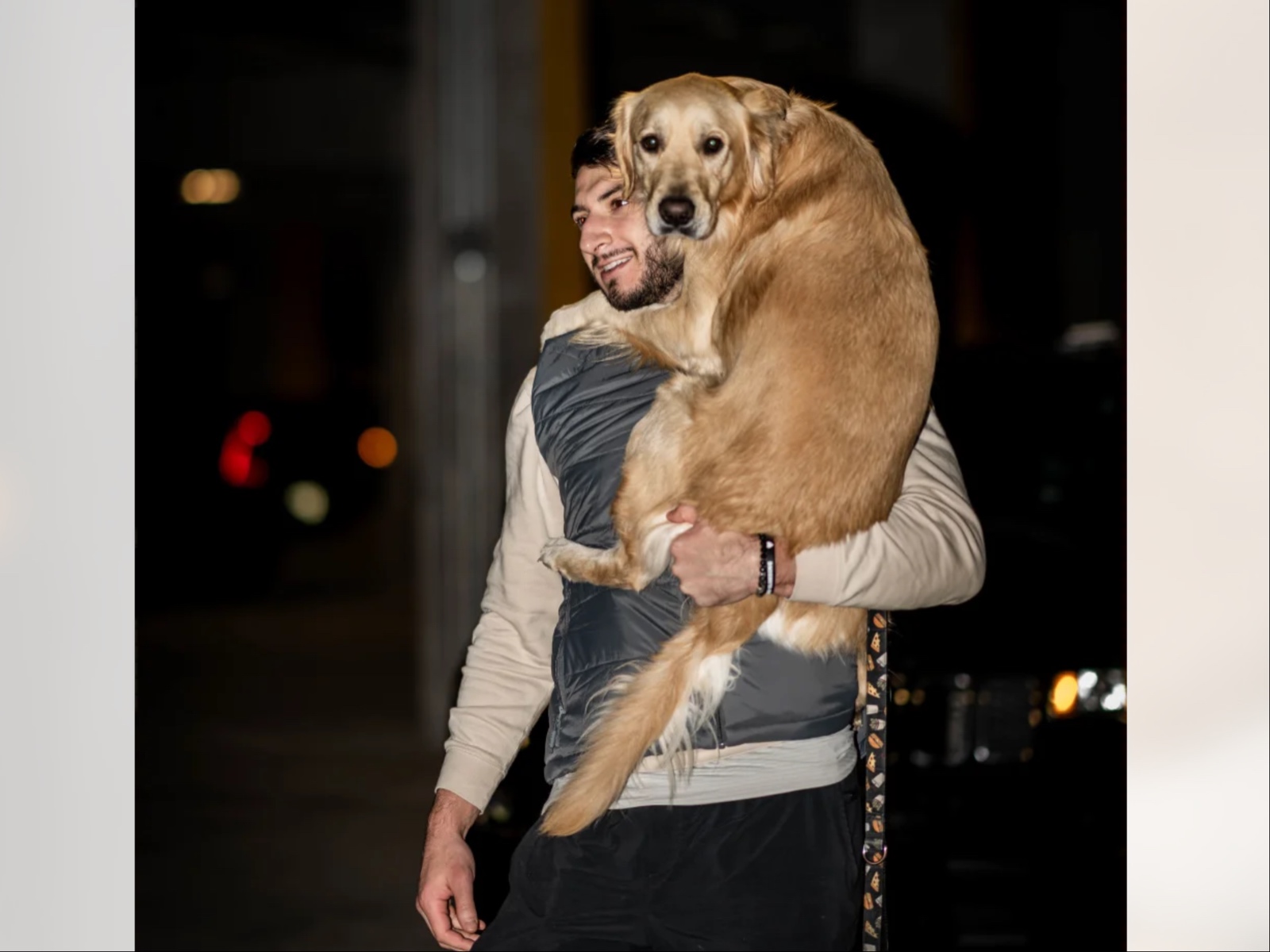 Even the dog looks scared about the ugly Packers football it's about to witness.
2. Spooky season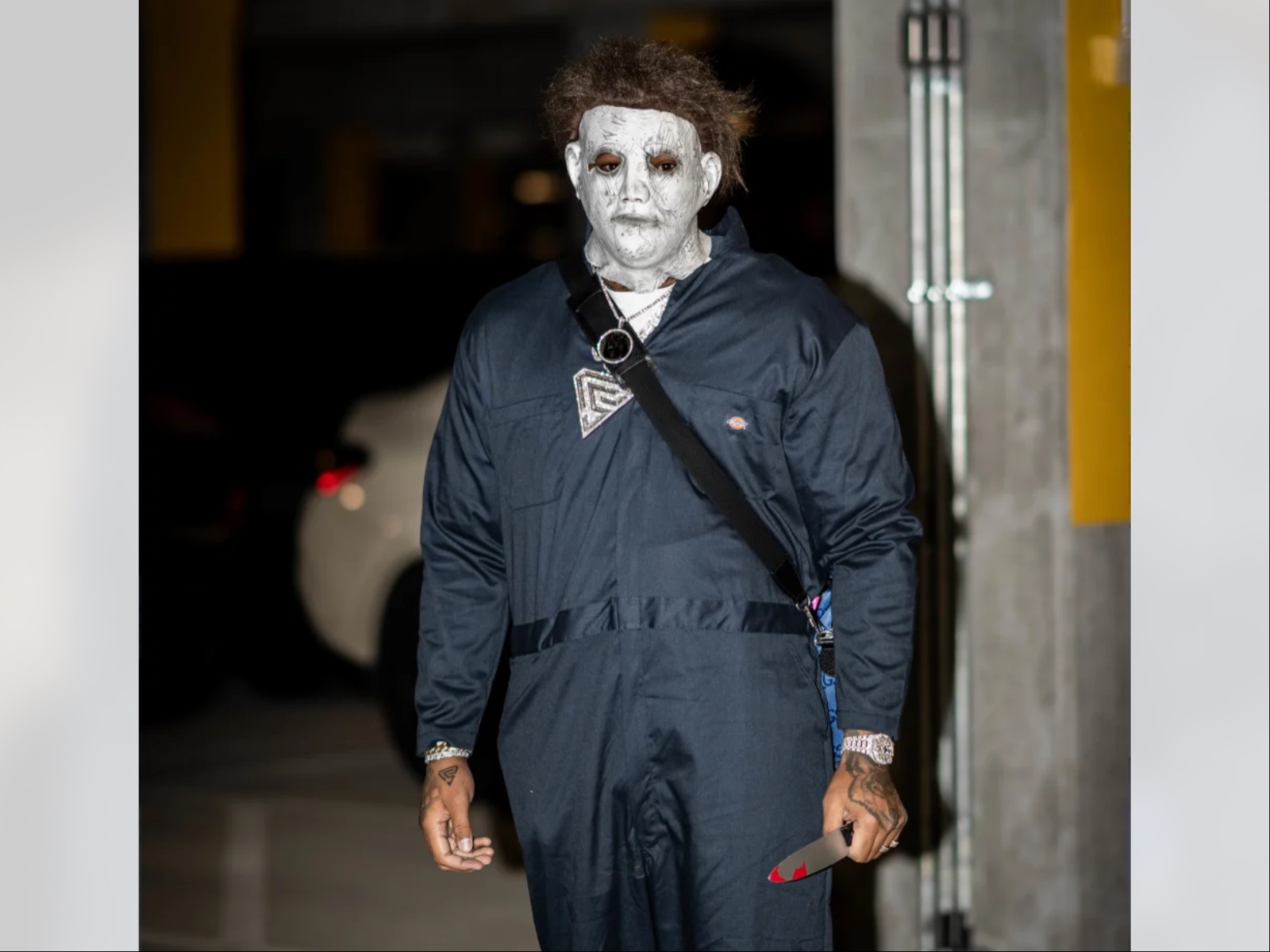 Cool costume – but you wanna see something REALLY scary? Check out this tweet recapping the Packers first-half offense over the past several games!
***Read this full tweet, seriously read this full tweet***

Packers first half drives since Week 3 against the Saints (not including kneel downs or 1 play runs before half):

4 plays - 8 yards - punt
7 plays - 27 yards - punt
6 plays - 10 yards - punt
10 plays - 41 yards - punt
4… — Andy Herman (@AndyHermanNFL) October 29, 2023
Now that's haunting!
3. GOAT Pack Go!
A 🐐 in green & gold.@Simone_Biles 🙌 #MINvsGB | #GoPackGo pic.twitter.com/0ivE9qNIuM — Green Bay Packers (@packers) October 29, 2023
The stars were out at Lambeau on Sunday as U.S. gymnastics icon Simone Biles was in the crowd cheering on her husband, Jonathan Owens, from the sidelines. Unfortunately Green Bay couldn't give the GOAT a performance worthy of her presence.
4. A total non-starter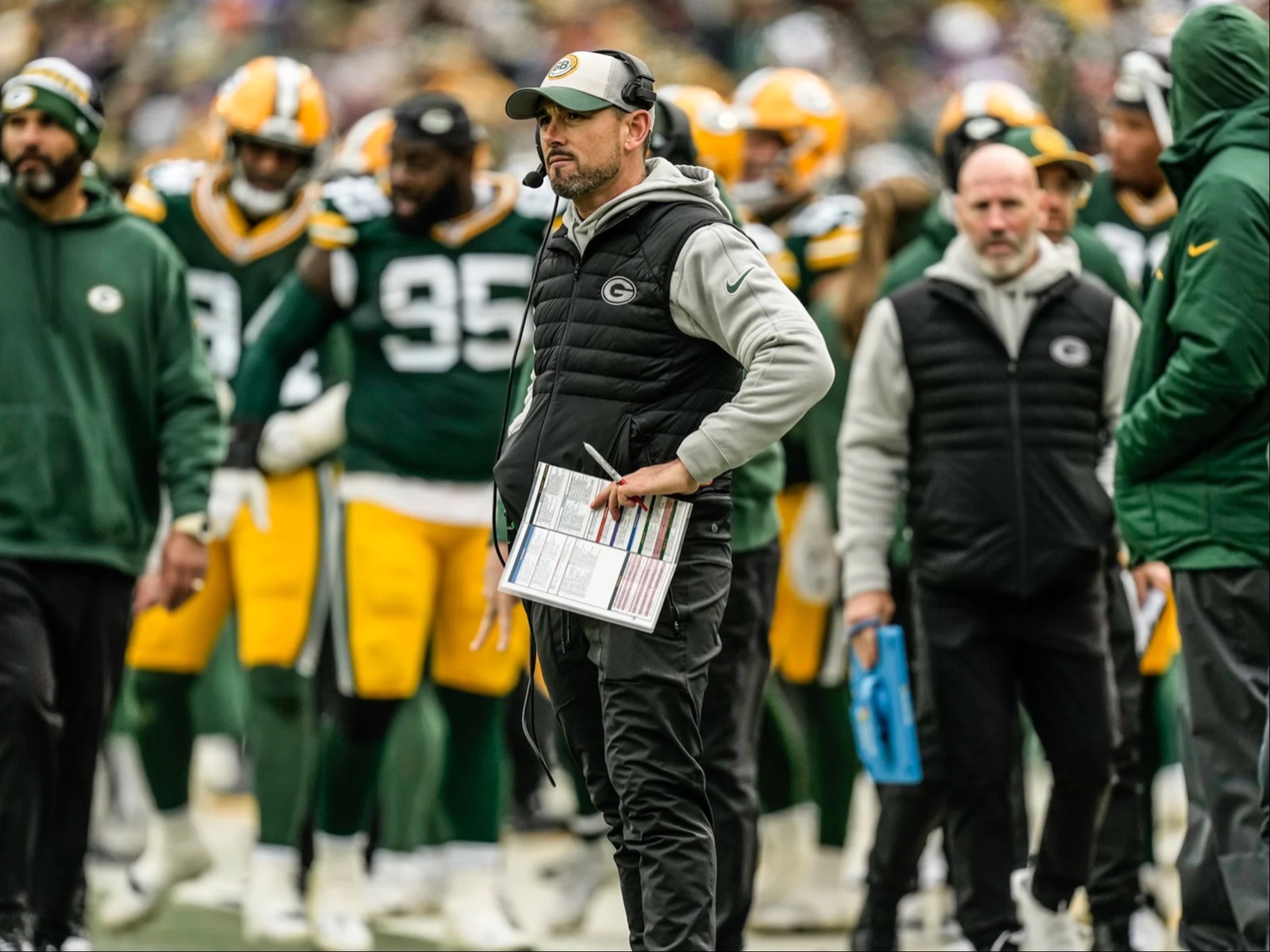 Regression isn't surprising this season from the Packers – but the regression fans have seen from the coaching is. For weeks now, the Packers simply do not look ready to play – and Sunday was the absolute nadir of this trend.
Green Bay had more penalties than points (and almost plays) for the entire first half, with five of them coming within the first quarter and several of them impactful, either continuing Vikings drives or ending their own. Multiple offensive plays were broken before they even got started – including on the opening drive. They didn't get a first down until within the final four minutes of the second quarter. Until the field goal to go into the break, the Packers went six straight first-half quarters without points of any kind. They haven't scored a touchdown in the first half since the Falcons game in Week 2, well more than a month ago. And if that all sounds super-pathetic, it looked worse:
Josh Myers is playing the best he's played in his career btw pic.twitter.com/eiP3lkYIYm — Brandon Carwile (@PackerScribe) October 30, 2023
I'd say this is a youth issue, that the young players take time to adjust to the game or that, like many college-aged kids, they procrastinate and only get to work when the deadline is inescapable. But the Packers had the same problems last year with veteran players at the helm! It's clear: Whatever Matt LaFleur's doing to get the Packers ready for action on Sunday, it's not working – to a hideous degree.
5. A stopper that can't stop
#Packers Jaire Alexander has been getting COOKED today. 😬#Vikings Jordan Addison speeds past Jaire Alexander for his SEVENTH touchdown of his rookie season.

WOW.🤯pic.twitter.com/wB0qopIuwY — NFC North News (@NFCNorthNewss) October 29, 2023
Earlier this season, after a loss, Jaire Alexander noted that the he and the Packers defense was going to have to help out the young offense and do more. Well, if this is what doing more looks like, do less. Green Bay's supposed outside stopper didn't do much stopping on Sunday, as Vikings receiver Jordan Addison went off for 82 yards and a score that Alexander watched just like the fans in the stands. And that was all with their best receiver, Justin Jefferson, on the sidelines injured. As I routinely say with this team, Alexander wasn't the problem – but he sure wasn't the solution either.
6. On the board
DOUBS!! Gets the first TD for the Packers! pic.twitter.com/iWORMuIVPK — Packers Diehards (@PackersDiehards) October 29, 2023
Green Bay would eventually get a touchdown – and nominally into the game – midway through the third quarter thanks to this Romeo Doubs snag. But even the Packers' better moments on offense feel like passing a kidney stone. The offense needed all four downs inside the one yard line in order to get this score, after two Dillon runs were easily stopped on first and third down while a second-down throw fell incomplete. It's wild to watch how hard it for this Packers team to regularly gain ten yards – or one yard, in the case of this drive – only to see our opponents comfortably and confidently cut down the field. Is that what offense looks like? What a concept!
7. Not the best, not the worst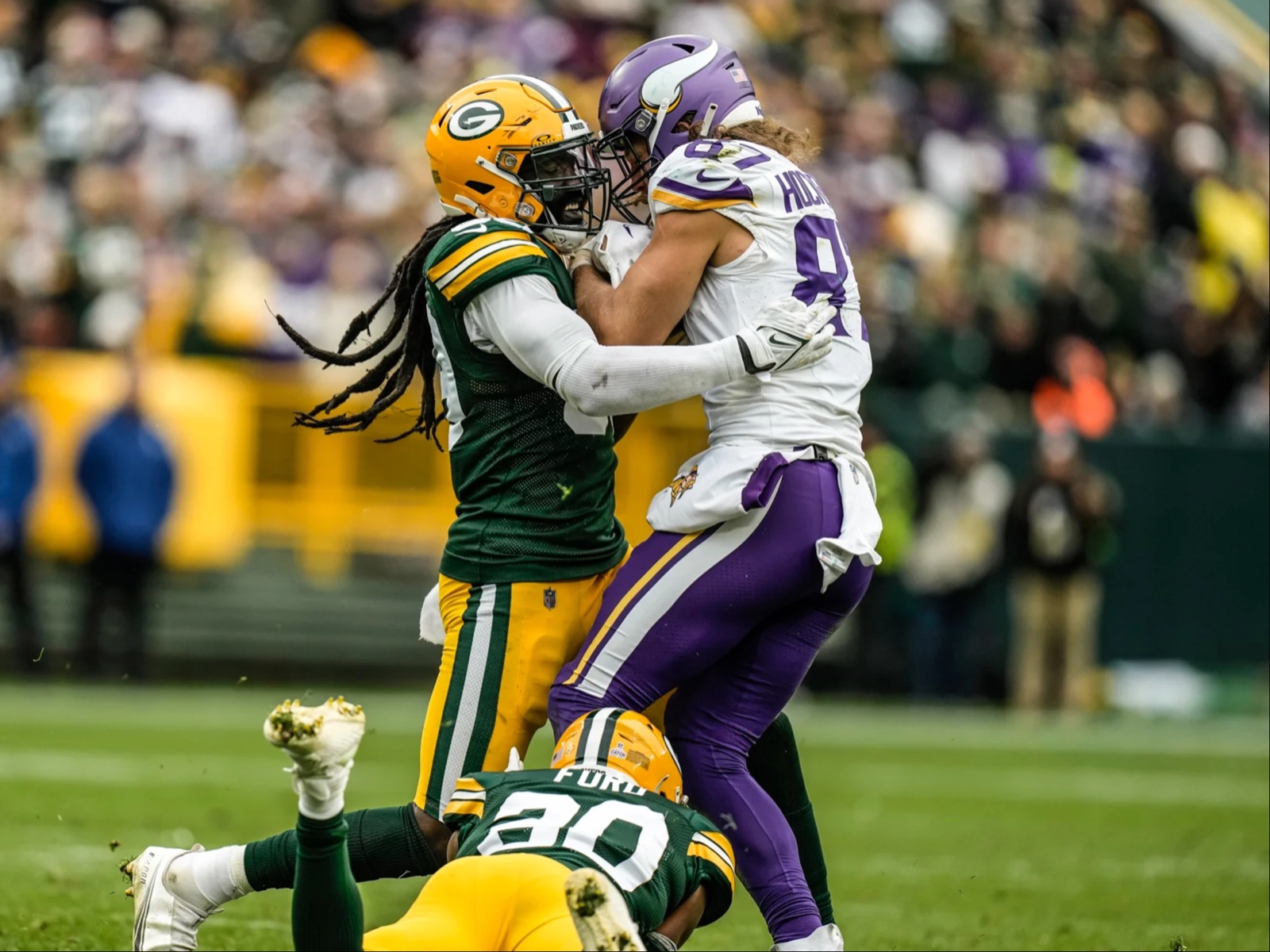 You know things are dire this season when Joe Barry's defense is not the most significant problem. Because make no mistake: It definitely IS a problem, allowing opponents to happily gain chunk yardage, leaving receivers wide open on blown coverages even when they're only rushing two guys and again letting Preston Smith get caught in pass coverage. (Credit to him, though: He made the play! More than you can say for a lot of Jaire's coverage on Sunday!) The defense regularly cannot get themselves off the field. But, in fairness to that side of the ball, they once again did enough to keep Green Bay in the game, scored four sacks and even got a turnover deep in Vikings territory to set up the offense. The D isn't good – but right now they're a papercut on a team with gushing chainsaw wounds.
8. One thing to love
This was just absurd. pic.twitter.com/xP1ajbGP0j — Aaron Nagler (@AaronNagler) October 29, 2023
OK, here's one other happy thing to show you besides a precious dog: Love making a tough throw. It's a shame about the easy ones – not like he's getting much help, though. Which on that note ...
9. Drops on drops on drops
pic.twitter.com/hh2dZv91RV — CheeseheadTV 🧀 (@cheeseheadtv) October 30, 2023
As the team's defenders will proclaim, the Packers are very young – and boy do they look it, especially in the receiving corps. Love wasn't great on Sunday, but no one was providing him much support either as the above montage of nightmares can attest. The rookie tight ends had as many doinks than receptions. Jayden Reed let the Vikings defense rip a big pass play into an interception. Dontayvion Wicks dropped what would've been a first down inside the one, if not a touchdown, helping a fourth quarter drive flounder. And Christian Watson just doesn't look right out there, drained of his rookie year electricity and getting defeated on contested passes without putting up much of a fight. The result was a game with more drops than a screening of "Singin' in the Rain" – and that's not even including Packers fans' tears of frustration.
10. Hopeless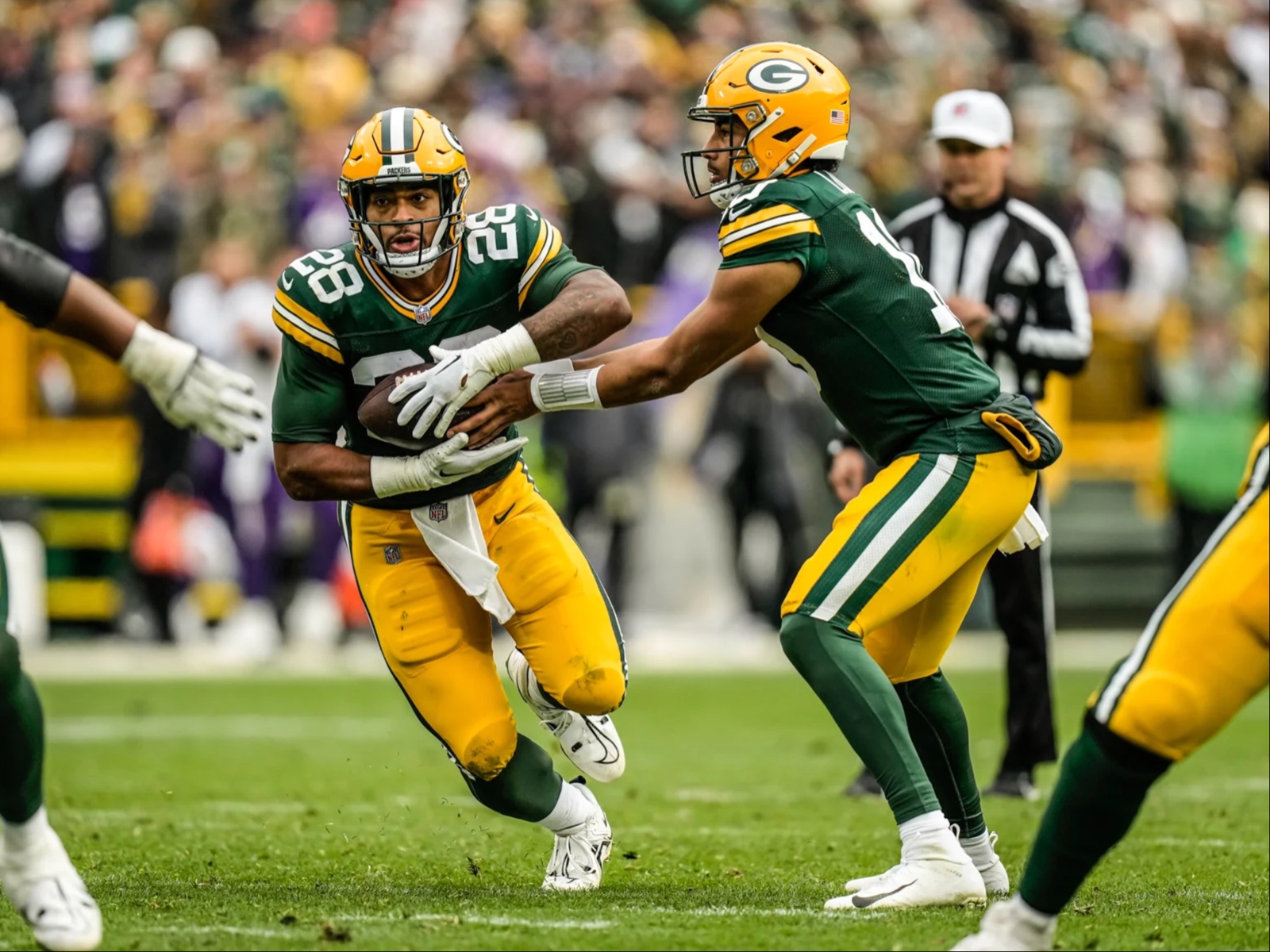 The saddest part of Sunday's game was that, despite looking like absolute garbage for most of the afternoon, the Packers somehow still had a chance to win. They were down just two touchdowns in the fourth quarter, and their opponent's star quarterback no longer had a functioning achilles. Yet even when the team blocked a field goal or forced a fumble deep Minnesota territory, at least on the broadcast, there was barely a peep from the Lambeau crowd – because they, like us at home, knew that the Packers offense wasn't going to do anything with these momentum swings. And lo and behold, they didn't, fizzling out on downs on both occasions.
I take that back. On the second drive, there was actual a crowd response: booing, as Love handed the ball off to AJ Dillon for one whole yard. Fox commentator Jonathan Vilma seemed perplexed why the Packers faithful would be booing – but he's been assigned to enough of these C-list Packers games this season to know why. It was yet another predictable flop playcall going nowhere to start another non-starter of a drive, utilizing the improving-but-middling Dillon when the electric Aaron Jones was once again standing on the sideline. (Jones incredibly had more rushing touches than Dillon, seven to six – not that it felt that way. He also did more with them, averaging 4.1 yards per carry to Dillon's measly 1.8.)
I think that was the worst part of Sunday: the inevitability of it all. The feeling that, before kickoff, you knew the offense wouldn't do anything for the next hour, that the defense would simultaneously do enough and not enough to keep the team in the game, and that there'd be a gasp of a comeback only to fall short of a win they really didn't deserve anyways. And lo, our supernatural precognitive abilities were once again proven accurate.
Five bucks on what happens next weekend against the L.A. Rams ...
As much as it is a gigantic cliché to say that one has always had a passion for film, Matt Mueller has always had a passion for film. Whether it was bringing in the latest movie reviews for his first grade show-and-tell or writing film reviews for the St. Norbert College Times as a high school student, Matt is way too obsessed with movies for his own good.
When he's not writing about the latest blockbuster or talking much too glowingly about "Piranha 3D," Matt can probably be found watching literally any sport (minus cricket) or working at - get this - a local movie theater. Or watching a movie. Yeah, he's probably watching a movie.