Christmas came early for Packers fans as Green Bay went into Minnesota, silenced that annoying horn and clinched the NFC North with a 23-10 win over the Vikings.
In classic 2019 Packers tradition, however, it wasn't pretty; in fact, for the entire first half, it seemed like Green Bay fans were getting an early dose of coal for Christmas as Aaron Rodgers struggled to hit receivers, even throwing a rare interception, while the rest of the team apparently greased up their arms and hands before the game, causing a blizzard of untimely turnovers.
But thankfully, the defense held firm, and Kirk Cousins in primetime played like Kirk Cousins in primetime – which is to say not prime whatsoever – keeping the Pack in contention. And eventually, thanks to some nice Aaron Jones runs and big defensive stops, they took over the game – and the NFC North, with a chance to even claim the top playoff spot in the NFC as a whole depending on next week's regular season finale against the Lions as well as how the 49ers/Seahawks game winds up.
But that's for next Sunday. For now, let's pour some eggnog and celebrate the Packers' big victory with 10 great moments from a great night for Green Bay.
1. Ugly sweaters, ugly wins
(PHOTO: Duke Bobber/Packers.com)
'Tis the season for ugly sweaters, and the Packers have made a habit of winning football games in not particularly fashionable form this season, so it would only make sense that some of the Packers would show up for their big pre-Christmas game against the Vikings in their finest ugly sweaters. And speaking of ugly, we shall not speak of the first half of last night's game! What first half!? All I remember is the part where the Packers won!
2. A feast for Z
Z GOT HIM AGAIN!

That's 3.5 sacks for @TheRealZSmith! #GBvsMIN | #GoPackGo pic.twitter.com/VGDHWBcF5e — Green Bay Packers (@packers) December 24, 2019
The Packers don't make a lot of big free agent moves, but Za'Darius Smith's deal this past offseason already ranks amongst Reggie White, Charles Woodson and Desmond Howard as one of the most impactful signings in the team's history. And in case you think that's some hyperbole, Monday night's dominating performance sealed it, as Z snagged three and a half sacks on the evening, keeping Kirk Cousins uncomfortable all game long. (Then again, it was an important primetime game, so Cousins was probably uncomfortable from the start.)
Between his play on the field, the energy he brings off of it and the overall fun he's brought to Green Bay this season, Za'Darius changed the culture of this team into an unforgettable good time. And here's to those good times rolling on ...
3. The karate kings of the North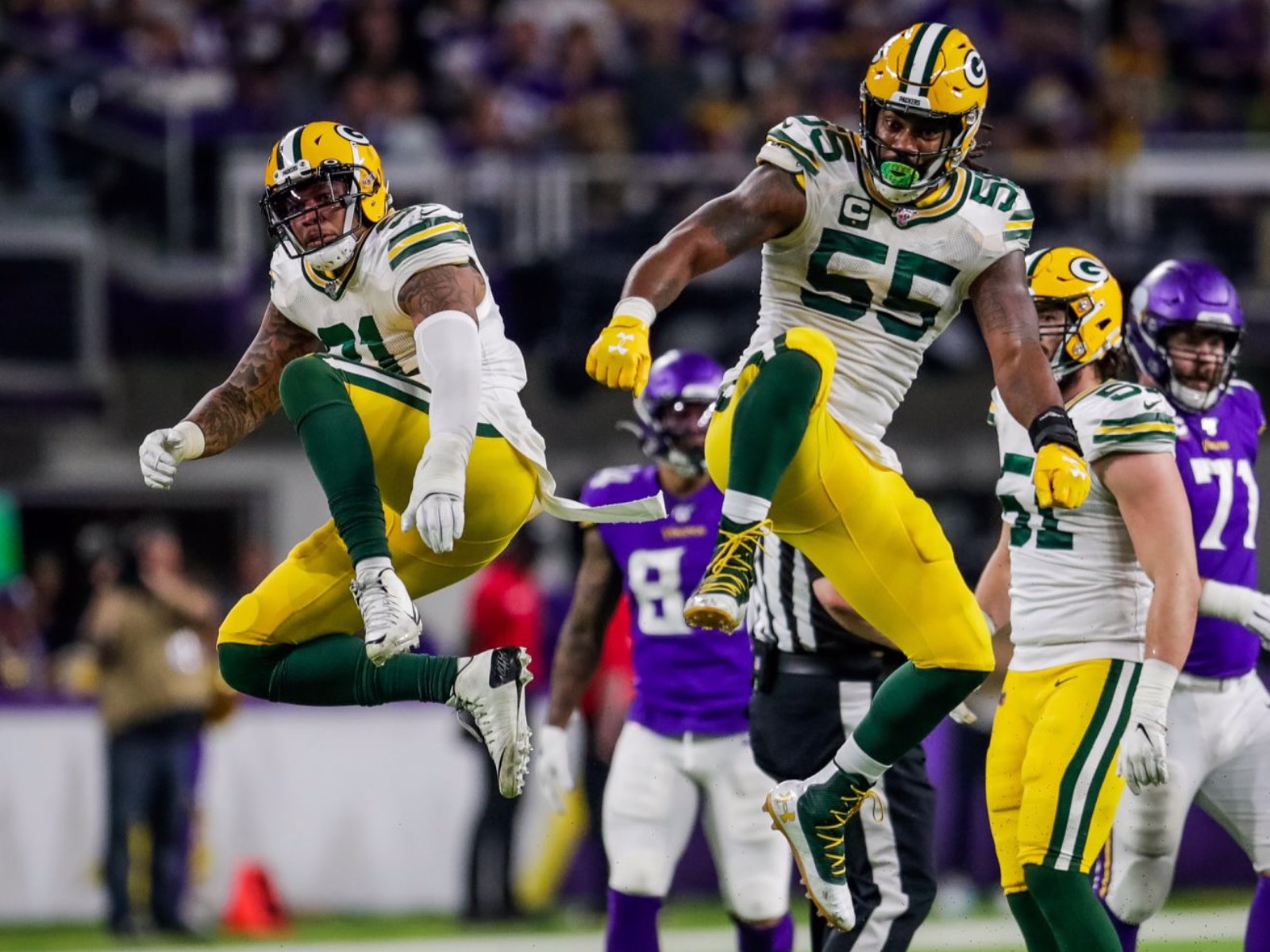 (PHOTO: Evan Siegle/Packers.com)
This is my new favorite martial arts movie. If this was the '80s, we'd have awesome "Super Smith Bros" poster from the Costacos Brothers, with these two making ninja poses like this, and it would be the wallpaper for my entire apartment. Alas, it's not – so we'll just have to settle for this awesome photo and the title of 2019 NFC North champions. Oh well.
4. And there is ...
AARON JONES GOES 56 YARDS! @Showtyme_33 #GoPackGo

📺: #GBvsMIN on ESPN
📱: NFL app // Yahoo Sports app
Watch free on mobile: https://t.co/amQPi4hFNM pic.twitter.com/A0cAj7Jgxu — NFL (@NFL) December 24, 2019
Your dagger. It was the other Aaron who came through in the clutch for Green Bay on Monday night while Rodgers struggled a bit with his accuracy and touch, as the new star running back scampered all over the Vikings for 154 yards and two touchdowns – highlighted by his 56-yard touchdown run with just under six minutes left in the game to put the game out of reach and silence the Vikings faithful. What, no cute Icelandic clap now, Minnesota?
5. The greatest sombrero of all
Aaron Jones rockin' the sombrero after the Packers' NFC North-clinching win 😆 pic.twitter.com/huVmExb5vU — NFL on ESPN (@ESPNNFL) December 24, 2019
I know what you're thinking: But Matt, where's this week's Aaron Jones sombrero? Well, why settle for a normal sombrero when you can get the ultimate sombrero, the finest headwear any of us have ever seen: a sombrero topped with an NFC North champions hat. As if Aaron Jones couldn't get more fashionable ...
6. The ultimate gift
Matt LaFleur gave everyone off for Christmas and the Packers lost their minds pic.twitter.com/v7HfUpvi2J — Eric Hubbs (@BarstoolHubbs) December 24, 2019
Winning the NFC North? Exciting.
Defeating a hated rival in their house for the first time? Very exciting.
Putting yourself in a good place to get a first-round bye for the playoffs? Even more exciting.
Finding out you've got off for Christmas? THE MOST EXCITING. This is a team of big ol' kids, and I love them all.
7. A meaningful handshake
Lol pic.twitter.com/7wrhWMqRZo — Aaron Nagler (@AaronNagler) December 24, 2019
Vikings coach Mike Zimmer: a man of apparently few words and even fewer playoff wins.
8. An important question
Preston Smith: "You like that!" #Packers pic.twitter.com/Bu8o7wTVAM — Lily Zhao (@LilySZhao) December 24, 2019
Several seasons and a different team ago, Kirk Cousins went viral with his squeaky-voiced proclamation to reporters that they, indeed, liked that. On Monday night, the Packers also very much liked Cousins' performance, going 16 for 31 with a mere 122 yards, a touchdown and a (really bad) pick. We like that a lot.
9. Three important words
"Fiesta grande! Tequila!"

Aaron Rodgers showed off his Spanish after winning the NFC North title 😆 (via @espnsutcliffe) pic.twitter.com/pjUV3davwV — NFL on ESPN (@ESPNNFL) December 24, 2019
Another delightful quote to add to Aaron Rodgers' big book of catchphrases. And also I demand a shirt saying this now.
10. A royal welcome
Warm reception in the Frozen Tundra for the NFC North champs! #ThePackIsBack | #GoPackGo pic.twitter.com/v9tfo2iebO — Green Bay Packers (@packers) December 24, 2019
Not a creature was stirring, not even a mouse? Not so much on Monday night and early Tuesday morning, as many of the Green Bay faithful arrived at the airport to greet their newly crowned NFC North champs back home. Santa wishes he got this kind of welcome – but I guess that's what happens when you don't make the playoffs for two straight years, then return to the postseason as a potential top seed, crushing both of your biggest rivals along the way.
As much as it is a gigantic cliché to say that one has always had a passion for film, Matt Mueller has always had a passion for film. Whether it was bringing in the latest movie reviews for his first grade show-and-tell or writing film reviews for the St. Norbert College Times as a high school student, Matt is way too obsessed with movies for his own good.
When he's not writing about the latest blockbuster or talking much too glowingly about "Piranha 3D," Matt can probably be found watching literally any sport (minus cricket) or working at - get this - a local movie theater. Or watching a movie. Yeah, he's probably watching a movie.