It was bound to happen at some point.
Despite piles upon piles of injuries decimating some of their best players, the Packers kept on not only finding ways to win but thriving. But at some point, these things catch up to a team – especially one still waiting for its bye week. And if luck – the kind that renders the Bengals kicker as inept as yours and distracts A.J. Green in the red zone and makes Taylor Heinecke down before the endzone – decides to be a no-show too? Well, that's how you lose a tight 34-31 game on the road to your rivals, desperate for a win to resuscitate their season.
Indeed, after weeks of playing out-of-this-world defense, the Packers came back down to the ground on Sunday. But even with the defense's struggles and the missing pieces on both sides of the ball (plus a special teams department that refuses to make things easy on itself and the fans), the Packers were wholly in this game and could've easily snatched this victory away from the Vikings. Heck, they literally DID snatch this victory away from them ... only for instant replay to snatch it right back. In the end, they're still 8-3, still one of the best teams in the NFC and still in better position than most. (Just ask Bills fans.)
But dear heaven above, please give us our bye week.
While we eagerly await that – and a better-than-expected diagnosis for Elgton Jenkins – let's take one final look back at yesterday's entertaining if unfortunate game against the Vikings. Enjoy what's essentially your Super Bowl, Minnesota – it's not as if you'll see the real one.
1. A fashion statement
Looks like my Christmas list just got one item longer.
Rodgers rocking a "My coach is hotter than yours" shirt 😂🤣😂 pic.twitter.com/uqDFJHLc8H — Hogg (@HoggNFL) November 20, 2021
Remember when people thought these two wouldn't get along? Seems like they're doing just fine, if Rodgers' shirt from a few days ago is to be believed.
2. Toe? What toe?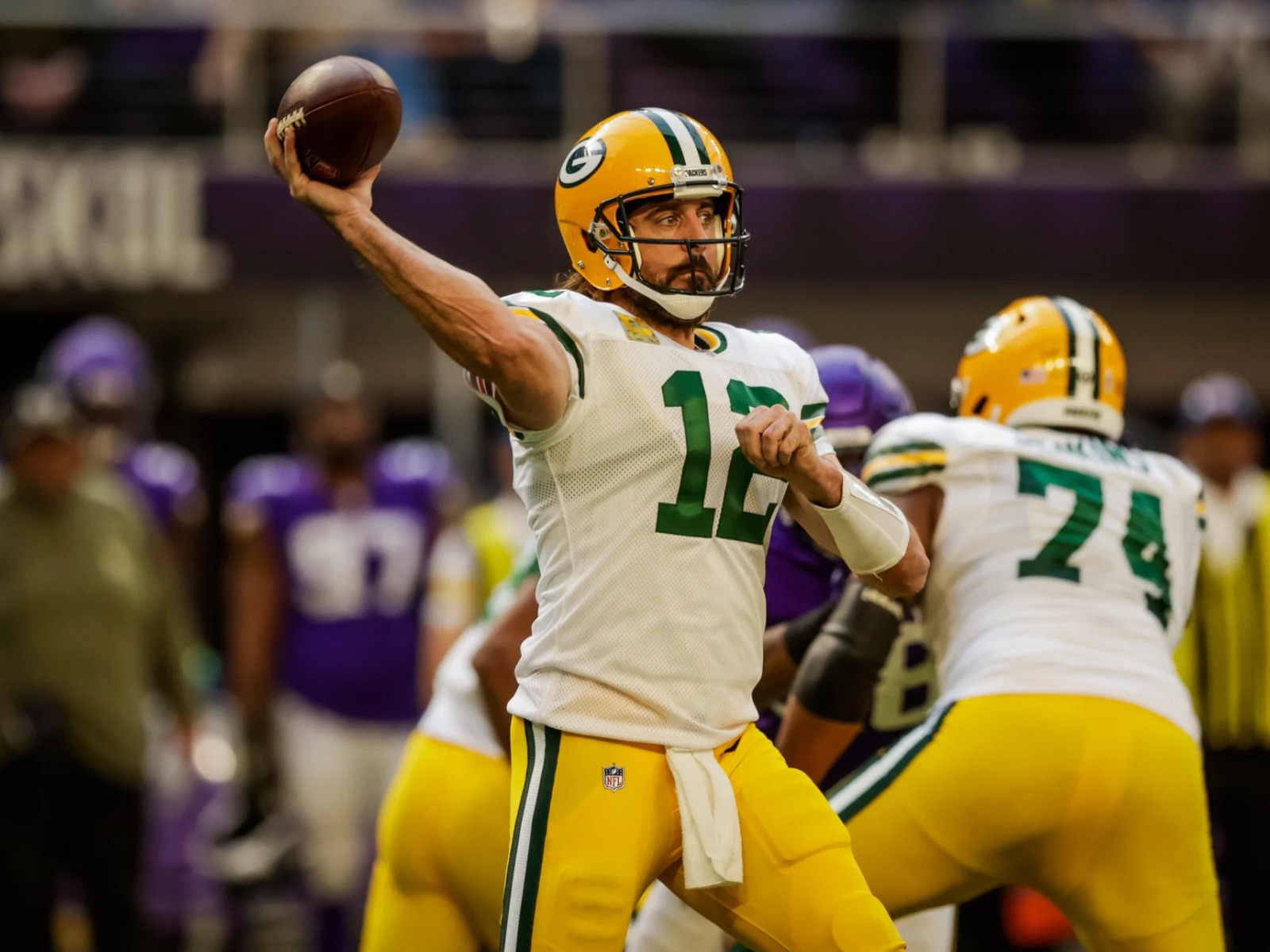 The Packers star quarterback was dealing with a toe injury throughout the week that almost sidelined him Sunday. (LOL, as if the team was going to let Jordan Love get another start this year.) Not that you would've noticed yesterday afternoon as Rodgers returned to vintage form against the rival Vikings, looking unfazed as he put up 385 yards and four touchdowns, all while hounded by a relentless Minnesota pass rush. After three straight weeks of all-star quarterback duels turning into defensive rock fights, football fans finally got what we wanted to see. A shame it didn't come with the right ending.
3. Kicked to the curb?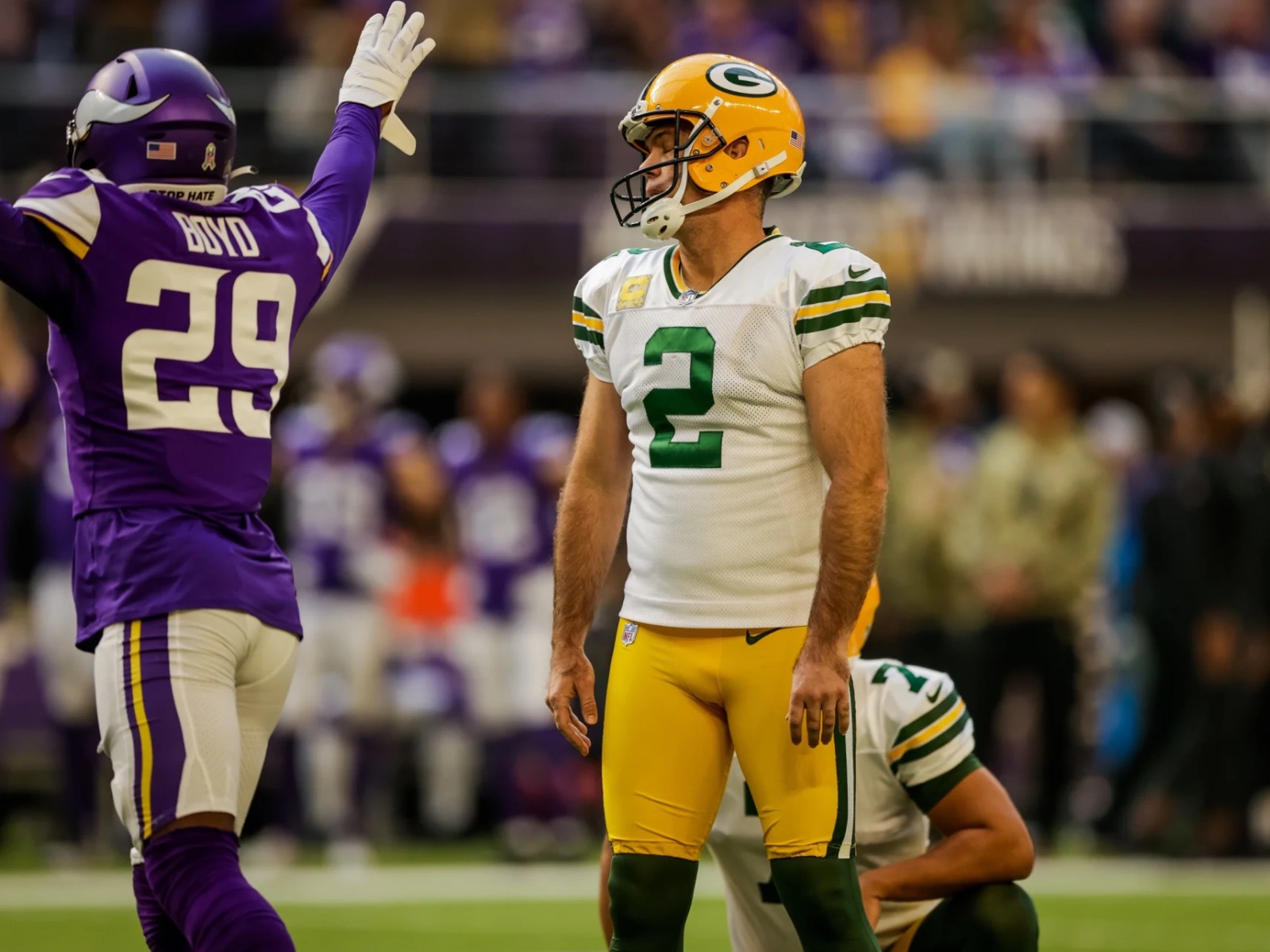 Mason Crosby has been the Packers kicker and soul for almost 15 years. It's been an incredible run – one that may, however, be coming to end as once again the special teams unit struggled to cap off drives and left easy points off the board. After making a 50-plus boomer earlier in the game, Crosby biffed on a chipshot 32-yard field goal in the second – and this time the snap and the hold couldn't take the brunt of the blame. The longtime kicker is now 15-of-23 on the season – including only making half of his eight field goals between 30 and 40 yards – and many of those misses loomed large in the final score. Say, in a rivalry game where you ended up losing by three.
4. A tight squeeze to the tight end
.@JosiahD5's FIRST NFL TD!#GBvsMIN | #GoPackGo

📺 FOX pic.twitter.com/KIFVJl102e — Green Bay Packers (@packers) November 21, 2021
The thing about Aaron Rodgers is that he's a very good quarterback in the National Football League. Case in point: this perfectly placed, on-the-run touchdown hurl to a back-up tight end. Safe to say the rust from last week's ragged win over the Seahawks has been shaken off. (If only the defense from last week hadn't been lost in the process, apparently.)
5. A-plus Adams
Omg pic.twitter.com/EPG8GDKQkj — Nathan Marzion (@nathanmarzion) November 21, 2021
Say a quick prayer for that Vikings defensive back who got roasted into oblivion on this Davante Adams touchdown – one of two on the day for the Packers star receiver, along with 115 yards. Forget the quarterbacks: Jefferson versus Adams is clearly the star duel between these two teams, and any football fan has to be craving the rematch in January. Certainly their fantasy owners are ...
6. A brutal blow
alt angle of Elgton Jenkins left knee injury pic.twitter.com/gUIGUk4OWh — packers clips (@packers_clips) November 21, 2021
The above is a seemingly unassuming clip – but it could make or break the Packers season. Offensive lineman, miraculous Swiss army knife and low-key MVP Elgton Jenkins went down on that play with what the team reportedly fears is a torn ACL, almost certainly ending his season. The line was already thin with David Bakhtiari still recovering from his own torn ACL, with the time table for his return still a question mark, and now they've likely lost Jenkins. Things are about to get a lot less cozy for Rodgers back in the pocket – not that they were often that comfortable to begin with.
7. President Jefferson
Justin Jefferson.

That's the tweet.

(via @NFL)pic.twitter.com/livjwbV2Ft — Bleacher Report (@BleacherReport) November 21, 2021
Eric Stokes has had an excellent rookie season thus far, especially having to step in for the injured Jaire Alexander. But in this game, Vikings star receiver Justin Jefferson made Stokes look like the rookie he is, hauling in big play after big play for an absurd 169 yards and two touchdowns. (I mean, not that Kevin King did much better on the other side, getting juked by Adam Thielen for a score earlier in the game.) The Packers defense has looked otherworldly over the past month – an even more impressive feat when you remember how many pieces they're missing on that side of the ball. But on Sunday, they finally came down to Earth – hard.
8. Too much time
7️⃣5️⃣ yards from @AaronRodgers12 to @MVS__11!

TOUCHDOWN! 🙌 #GBvsMIN | #GoPackGo

📺 FOX pic.twitter.com/uZA2PtBNBg — Green Bay Packers (@packers) November 21, 2021
The fun thing about being a Packers fan is, even after a soul-sucking touchdown drive from the Vikings to take a late lead with barely two minutes left, our immediate thought is: "Too much time, idiots." And indeed, two minutes was too much time for Aaron Rodgers. Heck, ten seconds was too much time as, on the first play, Rodgers tagged Marquez Valdez-Scantling for a beautiful 75-yard game-tying touchdown. Unfortunately, the only amount of time Rodgers can't do anything with is zero seconds – which is exactly what the Vikings left him with.
9. The interception that wasn't (part two)
In #GBvsMIN, GB 26 possesses the ball in the air and loses control once he hits the ground. He does not complete the process of the catch, therefore the ruling on the field was reversed to incomplete. pic.twitter.com/XW7fuan9BQ — NFL Officiating (@NFLOfficiating) November 21, 2021
Kirk Cousins sure got lucky that his beautiful TD-to-INT ratio stayed intact on Sunday, because he tried his damnest to lose that – along with the game. Earlier in the game, he chucked a pick near the red zone ... but got bailed out by a dubious roughing the passer call. (A questionable roughing call against the Vikings? NEVER SEEN THAT BEFORE!)
Then, with a tie game and the win on the line, Cousins chucked another terrible interception that would've given the Packers the ball with time to take the lead. But apparently Darnell Savage didn't have enough control over the ball – honestly, who even knows what a catch is? – and instead the Vikings drove it down the field for the winning field goal. One imagines those kind of breaks won't make the trip to Lambeau when these two meet again in the new year.
As much as it is a gigantic cliché to say that one has always had a passion for film, Matt Mueller has always had a passion for film. Whether it was bringing in the latest movie reviews for his first grade show-and-tell or writing film reviews for the St. Norbert College Times as a high school student, Matt is way too obsessed with movies for his own good.
When he's not writing about the latest blockbuster or talking much too glowingly about "Piranha 3D," Matt can probably be found watching literally any sport (minus cricket) or working at - get this - a local movie theater. Or watching a movie. Yeah, he's probably watching a movie.