Green Bay fans are used to sweating out every game until the final whistle. But new year, new Packers I guess, as Green Bay wrapped up their Sunday night spat – and the entire regular season – with plenty of time to spare with a 37-10 drubbing of the undermanned and seemingly undermotivated Minnesota Vikings.
The game served as the perfect revenge for the Pack, who (sorry for the reminder) suffered one of their three losses on the season to the Vikings back in November. Not only did they get to embarrass Minnesota on primetime – holding a 30-3 lead at one point that somehow undersold how lopsided the game was – and not only did the win lock up the top seed in the postseason, ensuring a bye week and frosty home field advantage, but they officially knocked the Vikings out of the playoff race, turning next week's finale into a meaningless scrimmage. Sound the horn, Minnesota fans! (Yes, I am petty.)
And because I am petty, let's revisit some of the finest (and just plain weirdest) moments and images from last night's satisfying smackdown. Because it's not every week the Packers let their fans be comfortable, so we've got to savor it while we can.
1. Dressed for success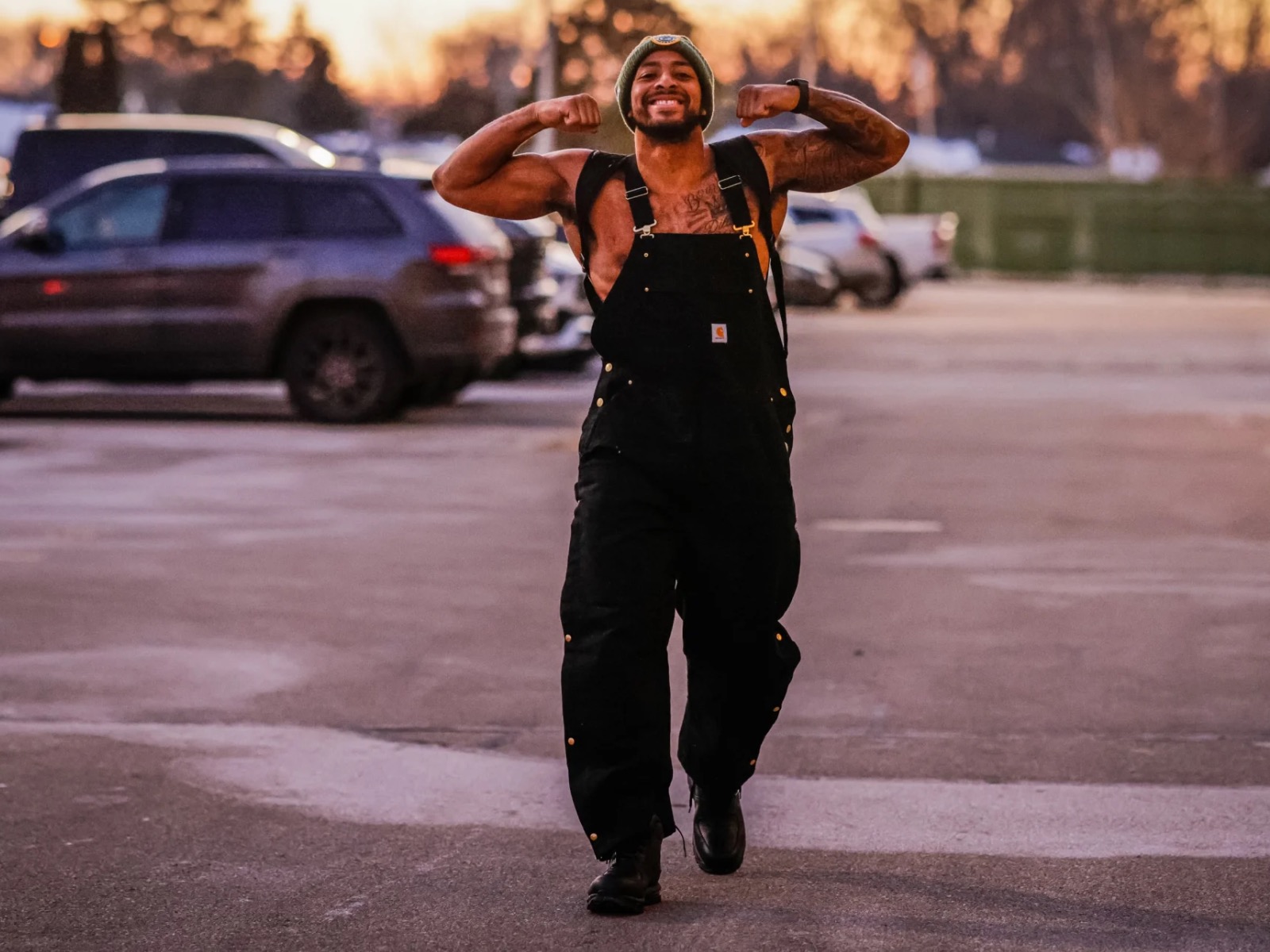 Have you ever seen a photo of a guy more guaranteed to find cold weather success? Reminder: The kickoff temperature at Lambeau last night was about eight degrees – and that's without the wind chill. And yet here's running back AJ Dillon looking wholly unbothered, like it might as well be a balmy June evening. No wonder he plowed through the Vikings defense like they were merely a light flurry, scoring two well-earned touchdowns on the ground plus 63 yards.
2. CGI was a mistake
While the Packers got pumped up by showing up in bare-chested coveralls for a chilly game, the Vikings pumped up fans Sunday night with ... this:
Bring the heat!! #VikingQuest pic.twitter.com/zDLJv939CG — Minnesota Vikings (@Vikings) January 3, 2022
Incredibly, the night would only get more nightmarish for Vikings fans after this.
3. Too easy
That was 𝘴𝘮𝘰𝘰𝘵𝘩 as 🧈

CC: @AaronRodgers12, @tae15adams

📺 NBC and @peacockTV pic.twitter.com/tkSpfGqPBH — Sunday Night Football on NBC (@SNFonNBC) January 3, 2022
After taking a little while to thaw out, the offense started to really cook in the second quarter, blowing their 3-0 first quarter lead into a 20-3 halftime advantage with the help of some more MVP-level Rodgers play and cool connections with Davante Adams, Aaron Jones and Allen Lazard. Considering how absent the Vikings were on offense, this Adams touchdown snag to extend the lead to 20-0 near the end of the half basically wrapped up the game early, a rarity for the Cardiac Pack this season.
4. You don't like that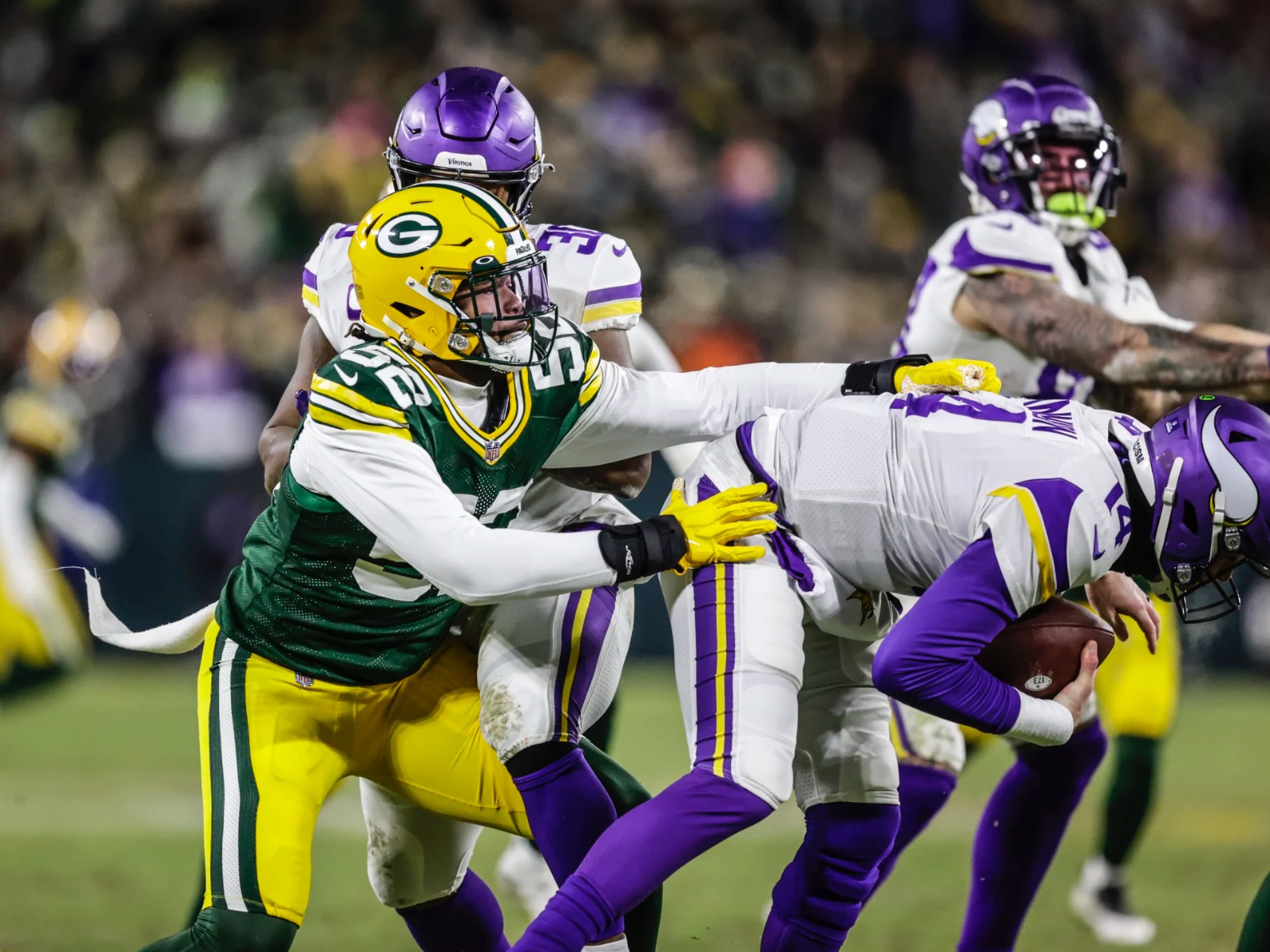 With their season on the line against their hated rivals, Vikings quarterback Kirk Cousins was nowhere to be found on Sunday night. Thanks to a untimely positive COVID test, Cousins was quarantined for Week 17, leaving the Vikings' postseason dreams in the hands of (*checks notes*) Sean Mannion, who played like ... well, somebody who found out he'd be starting a football game just a few days ago. Against the Packers' impressively stout and harrassing defense, Mannion could only summon ten points for the Vikings – though he was the team's leading rusher for the night! OK, with only 14 yards as compared to Dalvin Cook's even more paltry 13, but still – can put it on his resume without lying!
Overall, Cousins or no Cousins, with everything on the line, it was a poor effort from the Vikings, one that ended their season and almost certainly will end head coach Mike Zimmer's tenure on their sideline.
5. I knew I should've eaten before this recap
If you ever dreamed of swimming in a pool of sauerkraut, you can do so in Green Bay. 😂 pic.twitter.com/1P89Blrj0k — Sunday Night Football on NBC (@SNFonNBC) January 3, 2022
Always good when a Packers game is such a blowout that the broadcast tries to fill time with footage of sauerkraut – the perfect side dish for ending a divisional rival's season.
6. Smothered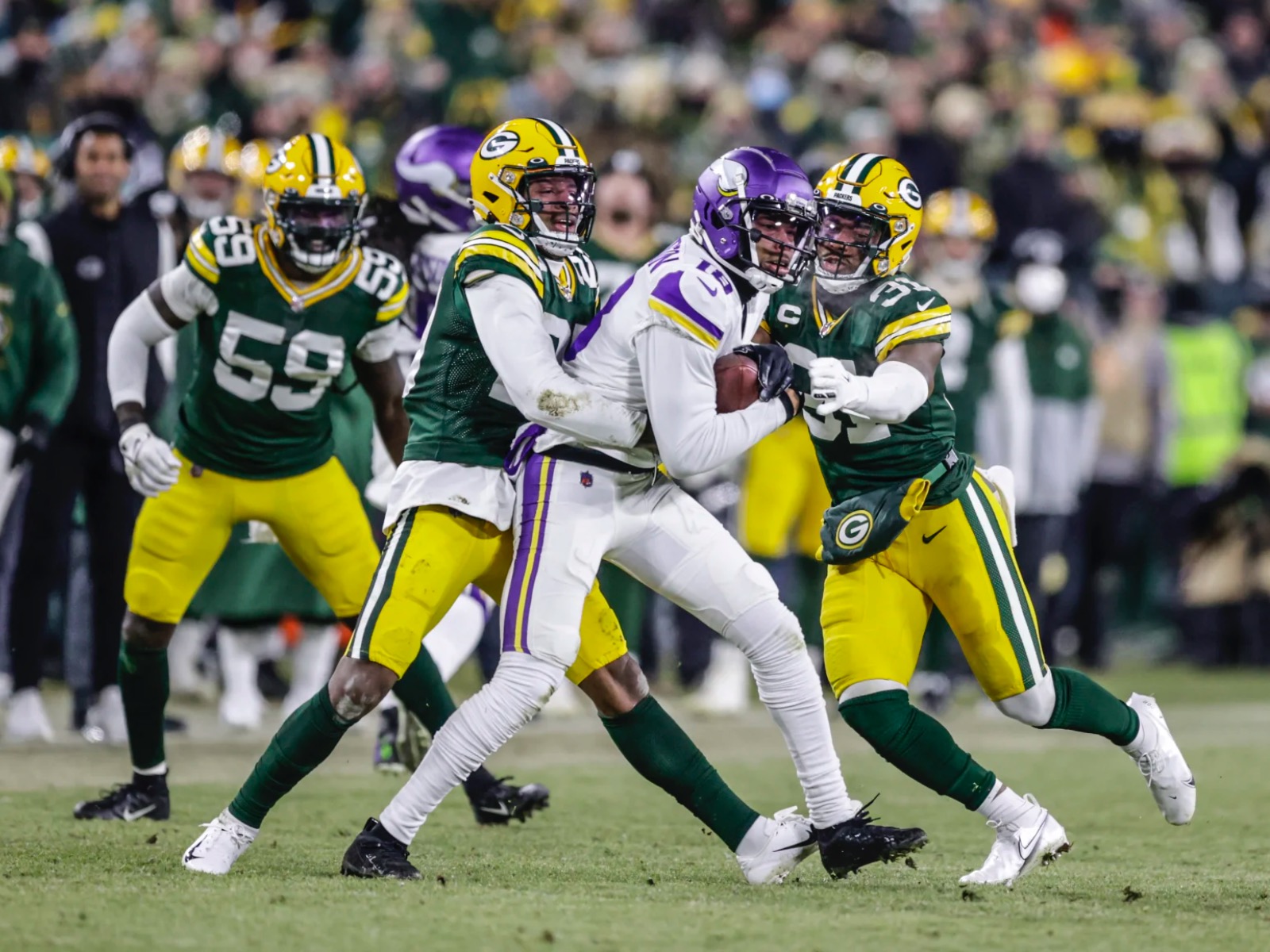 The last time these two teams met, Vikings star receiver Justin Jefferson went off for 169 yards and two touchdowns. Several weeks and a missing starting quarterback later, Jefferson was unable to repeat his previous performance, putting up a very subdued 58 yards on catches – somehow still Minnesota's receiving leader on the night. Though he got some competition from an unexpected teammate ...
7. Big man gets big yardage
Garrett Bradbury!!! pic.twitter.com/jF5MmzDJ5d — Will Ragatz (@WillRagatz) January 3, 2022
Not Dalvin Cook. Not Justin Jefferson. It was offensive lineman Garrett Bradbury who held the title of the Vikings' most successful play through most of the third quarter, Immaculate Reception-style snagging this ricocheting pass for a 21-yard gain. Considering how dreary the rest of the offense looked, they should've gotten him the ball more often.
8. We're all in this together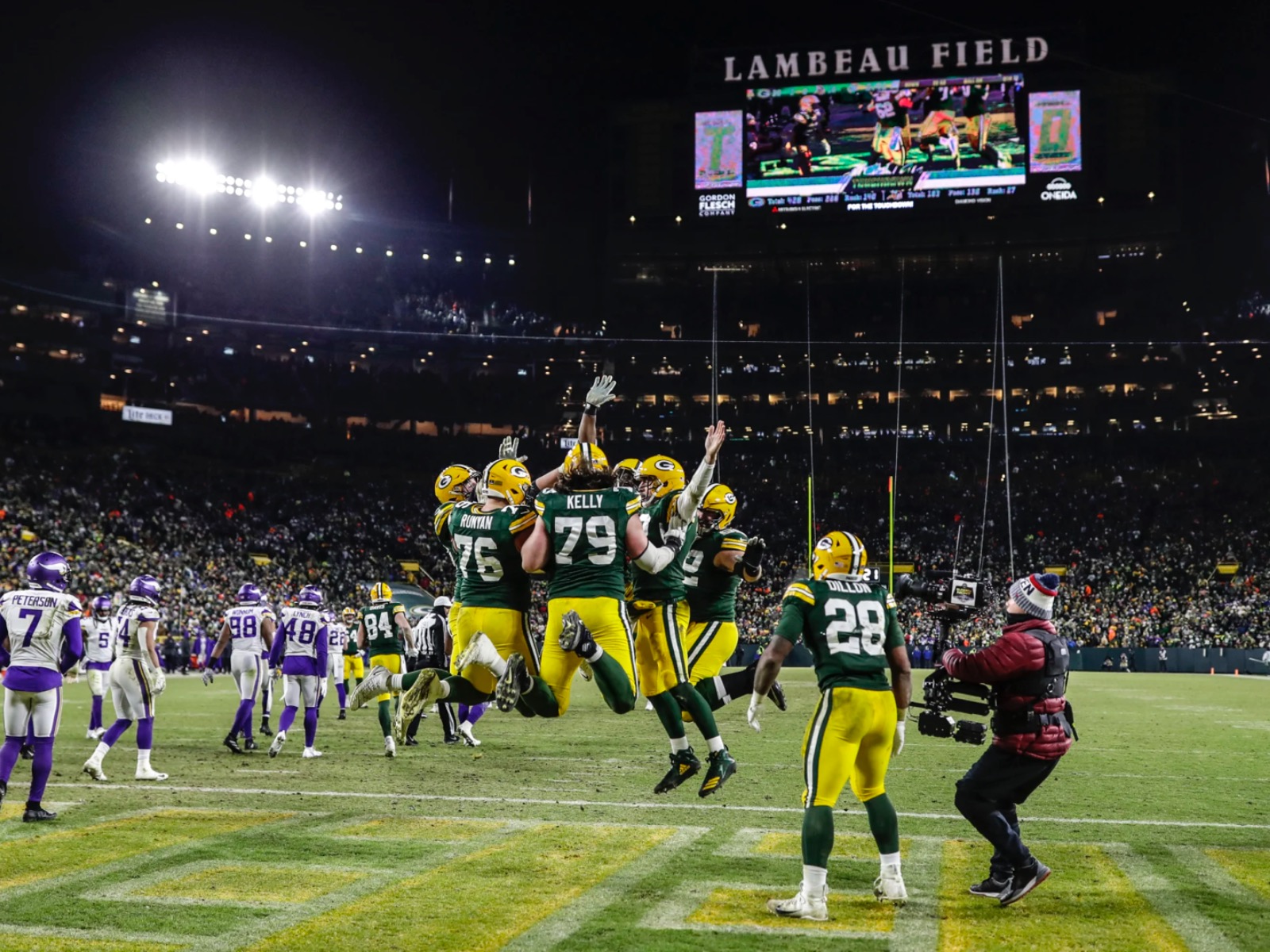 If you want to know how last night's game went in one single image, this shot of the entire Packers offense doing their best "High School Musical" impresssion should do the trick.
9. Love to see it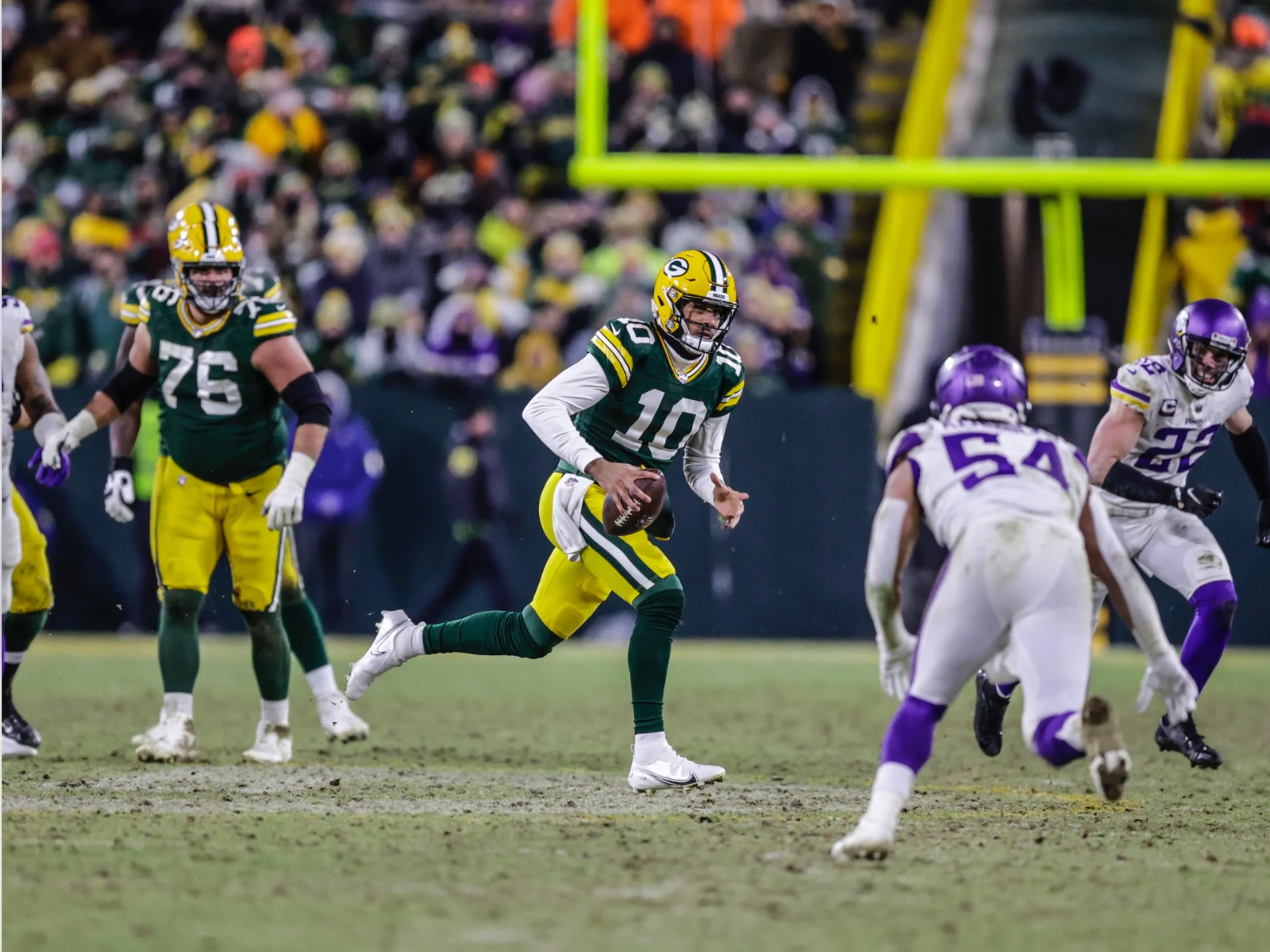 If Jordan Love is taking snaps, either something's gone very right or VERY wrong for the Packers. Thankfully, Sunday night was the former as Green Bay held such a commanding lead going in the fourth quarter that the good guys were able to pull Rodgers and many of their most valuable starters in favor of giving the backups some bonus practice. And now with next week's finale meaning even less than the usual game against the Detroit Lions, unfamiliar faces on the field might stay a familiar sight in order to keep the starters fresh for the postseason. We (Jordan) love to see it.
10. Take 'er easy
MVP chants as Aaron Rodgers walks off the field. pic.twitter.com/UCH7E95x7j — Scott Grodsky (@ScottGrodsky) January 3, 2022
After anxiously watching things go down to the wire for most of the season, Packers fans get to do something unexpected these next several weeks: relax.
With the top seed in the NFC locked up, next week's contest against the Lions is meaningless – and while Rodgers and Adams afterwards insisted they expect to play in the regular season finale, coach Matt LaFleur would be insane to let his stars (one already infamously hobbled) put themselves at risk for essentially no reward. Then, while the postseason starts for most playoff teams the following weekend, the Packers get one less game for COVID to cause havoc and one more week for recuperation – with potentially Bakhtiari, Jaire Alexander, Rodgers' toe and more coming back healthy on the other side of the break.
Some might argue all this rest could leave the Packers rusty; others might say it'll be rewarding. I guess we'll find out in about three weeks – but until then, enjoy backing the best team in the NFL.
As much as it is a gigantic cliché to say that one has always had a passion for film, Matt Mueller has always had a passion for film. Whether it was bringing in the latest movie reviews for his first grade show-and-tell or writing film reviews for the St. Norbert College Times as a high school student, Matt is way too obsessed with movies for his own good.
When he's not writing about the latest blockbuster or talking much too glowingly about "Piranha 3D," Matt can probably be found watching literally any sport (minus cricket) or working at - get this - a local movie theater. Or watching a movie. Yeah, he's probably watching a movie.