New year, new team. Apparently that was the story of the Green Bay Packers, who showed up like a whole new squad on Sunday for a 41-17 smackdown of the rival Minnesota Vikings.
One would be forgiven for not taking the Packers' current playoff push seriously before this New Year's Day spat. Sure, they'd won the past three games – but one was against a bad Bears team, one was against the depleted Rams and one was against the scuffling Dolphins with a concussed quarterback at the helm for the second half. And it's not like the Pack looked particularly dominant in any of those games, having to come back late to win two of the three.
But with Sunday's extraordinary performance, it's hard not to believe that the Packers may have left their mediocrity back in 2022. The defense was smothering, constantly making big plays whether the Vikings looked eager to get into the game. The offense played balanced football, getting chunk yardage and finishing off drives. And the special teams has gone from a terrifying liability to an exhilarating spark plug thanks to Keisean Nixon. Sure, midnight was doomed to strike at some point on the ridiculously lucky Vikings – but thanks to the Packers, they not only transformed into a pumpkin on late Sunday afternoon but got totally smashed into bits too. You hate to see it happen.
And now, miraculously, the Packers are not just playing meaningful football in the season's final weekend but controlling their own destiny. With one last win against the Lions at Lambeau, Green Bay will go from 4-8 and wondering if Jordan Love should get some real-game reps, to 9-8 and preparing for a major playoff matchup.
But let's not get too ahead of ourselves – because, really, what would be a more fitting end to this wacky season than the Packers giving us all this hope only to biff it right when we all believe again. So for now, let's just enjoy Sunday's win and watching the Vikings faceplant multiple times in hilarious fashion – about 13 times, in the case of this recap article!
1. Like father, like sombrero
Overall this is awesome! 😊@Showtyme_33 | #GoPackGo pic.twitter.com/dj1WlfGgVJ — Green Bay Packers (@packers) January 1, 2023
No wonder the Packers smacked around the Vikings on Sunday: They had double sombrero power – in overalls, at that! Minnesota shouldn't have even bothered taking the field – because there was no way they were keeping up with these Joneses.
2. Denied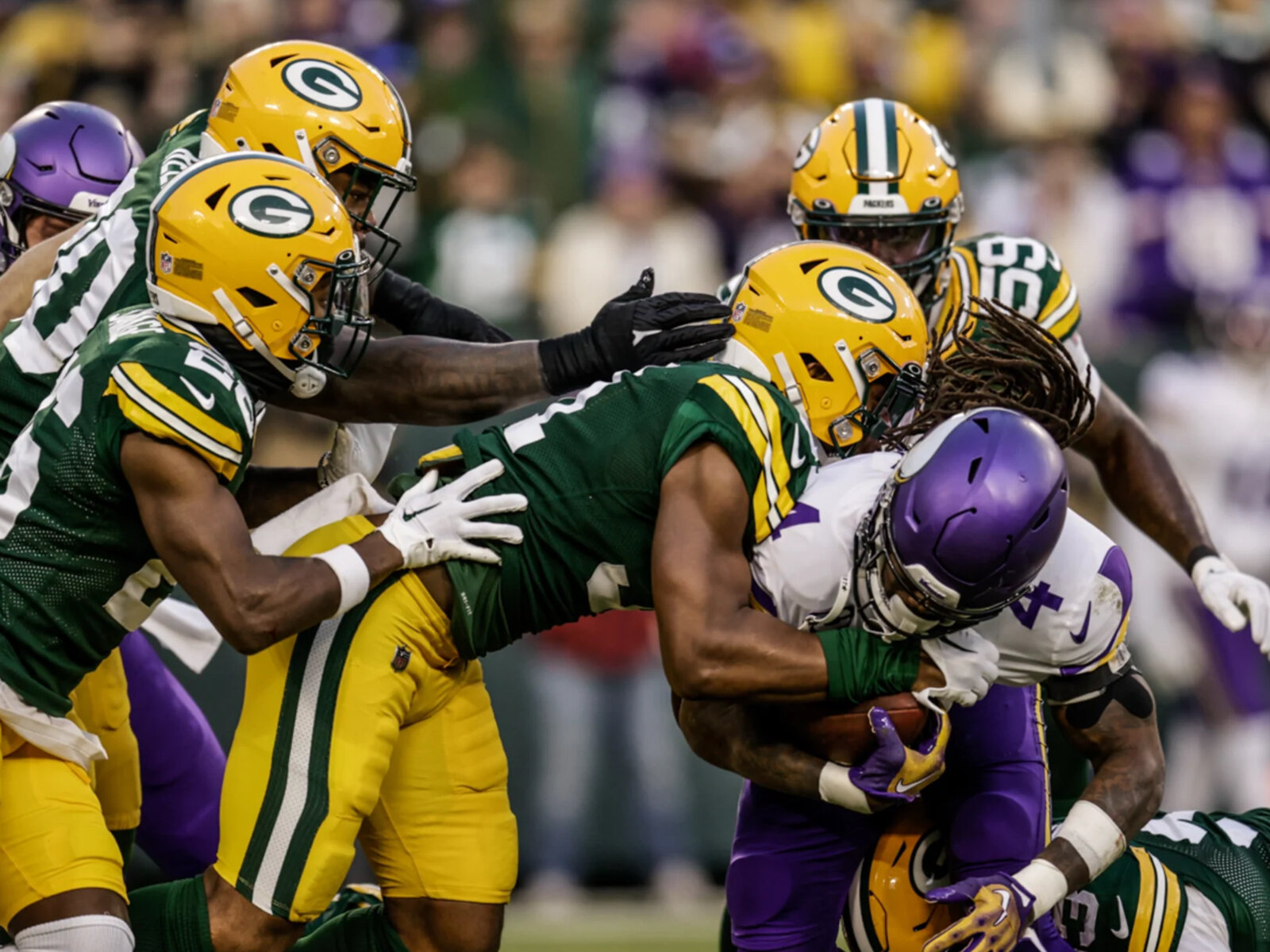 Things were tense early as, after a middling opening drive, the Packers special teams gave up a blocked punt and handed the Vikings beautiful starting position a literal yard away from a touchdown. But instead of folding up, Green Bay's defense transformed into a wall, not giving an inch – and, in fact, taking a yard away from Minnesota across their three attempts at the endzone. The Vikings had to settle for just a field goal, and what could've been an early blow to the Packers instead turned into a blast of momentum that they'd never lose.
3. MVP
NIXON JUST RAN 105 YARDS FOR THE TOUCHDOWN AND LAMBEAU LEAPED RIGHT IN FRONT OF ME I HAVE DIED AND GONE TO HEAVEN
pic.twitter.com/Zt7BKRLjWE — 𝐽𝐸𝑁 𝑀𝐴𝐶𝐾 🧀 (@BigMack_4) January 1, 2023
Aaron Rodgers may be the four-time NFL Most Valuable Player – but when it comes to this season, it's obvious who ranks as Green Bay's MVP. Kick returns have gone from dreaded parts of a Packers game to delights thanks to Keisean Nixon, who after weeks of impressive returns finally took one all the way back on Sunday. The return came right after the Packers' big goalline stop as well, completely evaporating any energy Minnesota gained from their blocked punt just minutes earlier.
4. There is your (dancing) dagger
Jaire Alexander just did the griddy in Justin Jefferson's face. pic.twitter.com/kjJ3ygl7gp — Ari Meirov (@MySportsUpdate) January 1, 2023
Justin Jefferson got to do all the dancing in these two teams' first meeting in week one, scoring two touchdowns and almost 200 yards. Unlike that previous matchup, Jaire Alexander got to regularly line up against Jefferson this time around – and it was Alexander who got to dance, holding the stud receiver to a mere single catch for just 15 yards. And now with one final win, the Pack may be dancing into the postseason as well.
5. Savage redemption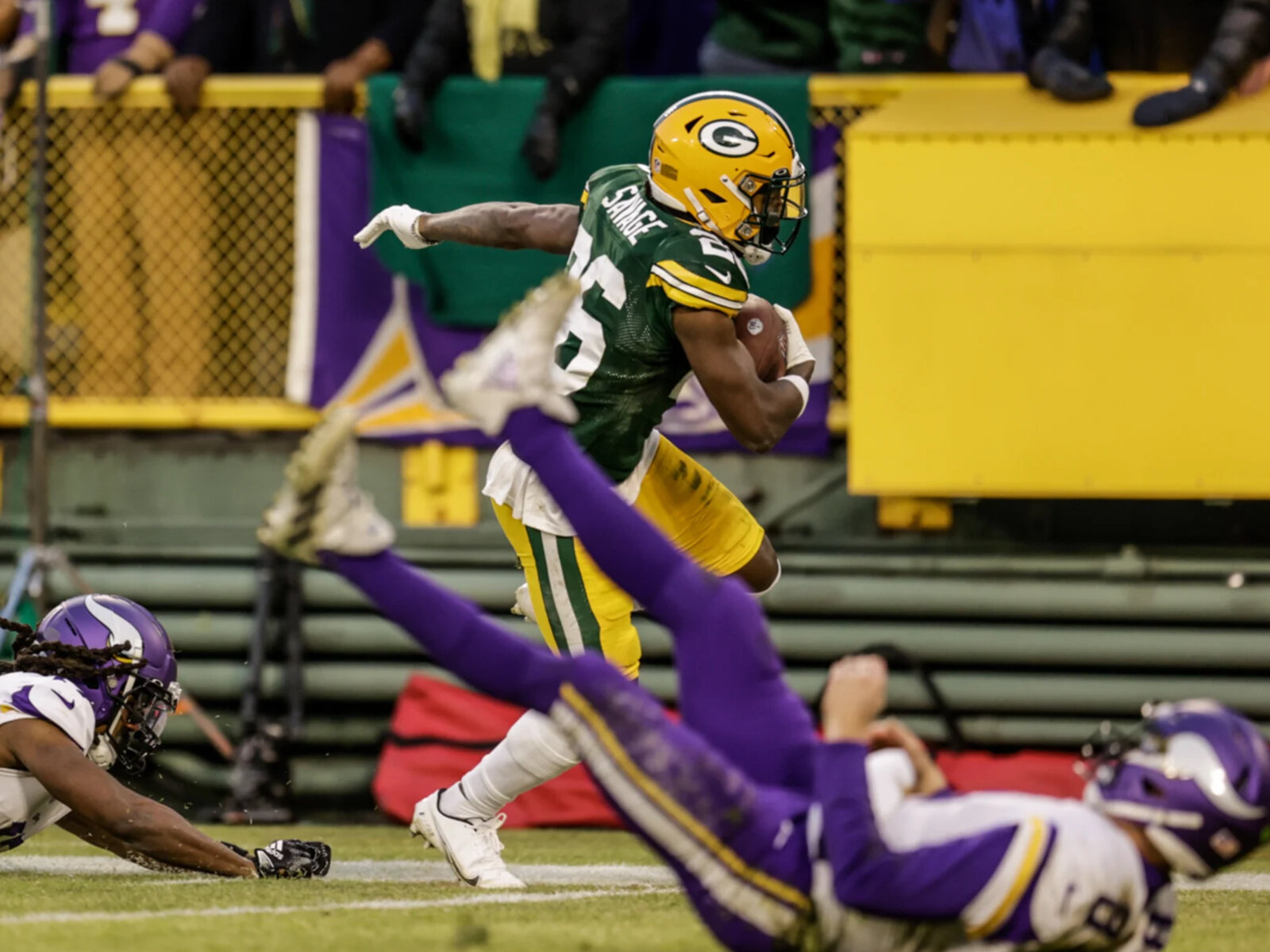 I love this photo – mainly because it's got Kirk Cousins flomped on his butt in defeat after one of his many turnovers. But also because this first quarter Darnell Savage interception resulted in a touchdown, giving the Packers a 14-3 lead without the offense having to put up a single point. Savage has been savaged this season by fans and football experts as he's struggled with coverage, missed tackles and just plain ill-advised play – but that was 2022. It's 2023 now, and he started it in style with easily his best play of the season, coming at the most optimal time.
6. No griddy, just grumbly
Justin Jefferson is frustrated 💀 pic.twitter.com/S4Akppj5oT — PFF (@PFF) January 1, 2023
In the first game of the season, Vikings star receiver Justin Jefferson faced little resistance from the Packers defense, going off for 184 yards and two touchdowns on nine catches. Pretty much an entire season later, things changed for Jefferson – and instead of spiking footballs in the endzone in celebration, the wide receiver was spiking his helmet into referees in frustration.
7. Fumbled away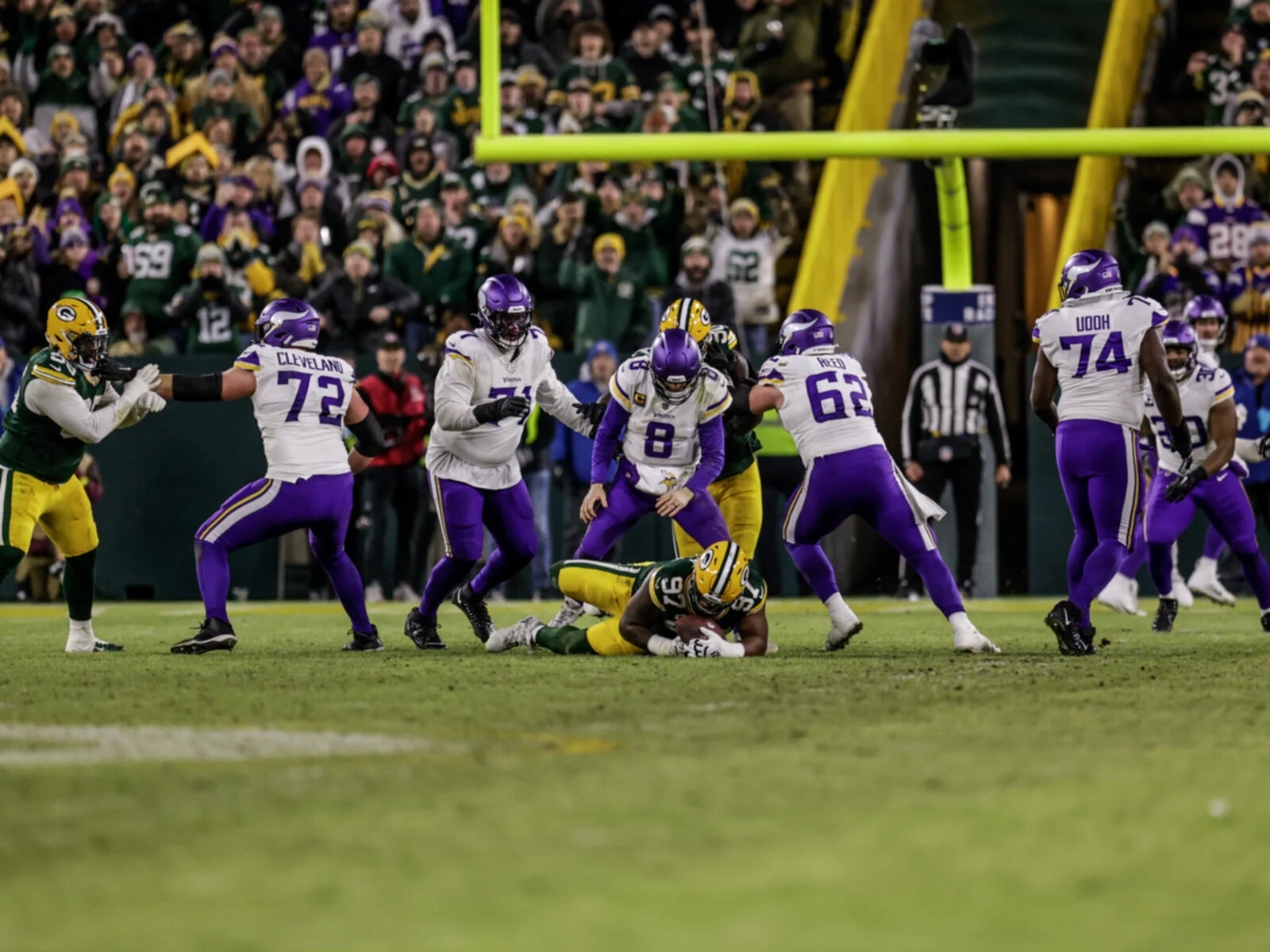 Kirk Cousins has had a lot of defenders this year – but none of them were anywhere to be found after his performance at Lambeau Field on Sunday. Cousins coughed up three interceptions in all, plus this fumble at the start of the third quarter that ended a promising drive for the Vikings while they were down just 27-3. (Yes, "just" 27-3 – but considering they came back from 33 down earlier this season, and considering this Packers defense throughout the year, sadness was still very plausible.) Minnesota's had a very lucky year, with almost all of their wins this season coming by a single possession – but with this climactic mishap, they clearly used all their luck up.
8. Music to our ears
Film breakdown: The Packers' orchestral celebration is a work of art and here's why: 🧵 pic.twitter.com/pq1bCPbboq — Daire Carragher (@DaireCarragher) January 2, 2023
The Packers were in perfect harmony on Sunday – and to prove it, they turned into an orchestra to celebrate AJ Dillon's game-cementing touchdown at the start of the fourth. My favorite performance is Aaron Rodgers slappin' da baiss, mayn – but this Twitter thread does an outstanding job of breaking down all the fun details in the orchestra. Here's to an encore next weekend.
9. Jonesing for victory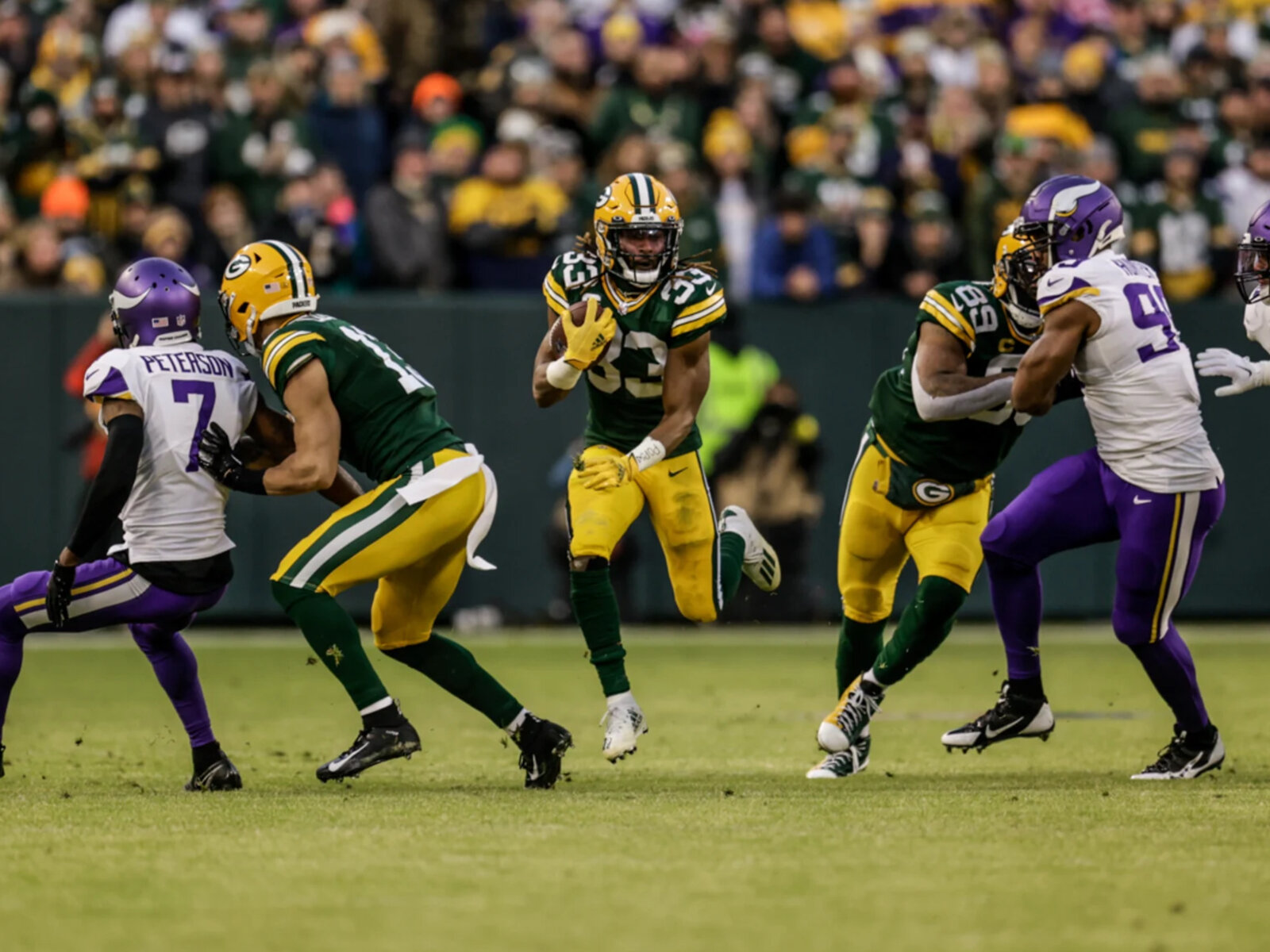 The defense and special teams deservedly earned a lot of the credit for yesterday's massive win – but let's not forget the quietly confident and yard-crunching effort from Aaron Jones, who kept the offense's gears going each drive with chunk run after chunk run for a total of 111 yards on just 14 carries. But really, Packers coaches: Let's not forget him next week, please.
10. Putting on the belt
Aaron Rodgers NO MERCY pic.twitter.com/ZjYM8MOh6k — IKE Packers Podcast (@IKE_Packers) January 1, 2023
It wasn't a statistically sexy game for Aaron Rodgers – just 159 yards and a touchdown toss – but it was still one of his best games of the season. Instead of forcing passes, Rodgers played within the Green Bay offense, letting the run set the tone and set up smart pass plays when needed. It took pretty much the entire season, but Rodgers and the Packers finally seem to know how to play their style of football. So yeah, Aaron, put that belt on: The team's finally playing like the contender we thought they were four months ago.
11. Hats off to you
Jaire Alexander: "Tell Shannon Sharpe and Skip Bayless they need to watch what they say when they talk about me, you feel me? They need to watch what they put out. Talkin' about, 'He a good corner.' I'm a great corner." pic.twitter.com/a5gamcyH4U — Matt Schneidman (@mattschneidman) January 2, 2023
Jaire Alexander had a terrific game, living up to his contract by holding one of the best receivers in the league to a single catch. And I'm never against people making Skip Bayless look like an idiot and telling him to shove it. But maybe – just maybe – your tough talk doesn't quite carry the same weight when you're wearing a cartoony cap five sizes too big, looking like Homer Simpson in his camera hat.
12. It comes down to this
After this wild and unpredictable season, it all comes down to this: Packers versus Lions. Rival versus rival. Win and you're in. Let's see how former Green Bay running back Jamaal Williams is feeling about this high-profile, high-tension, critical game that will decide the fate of two teams' seasons.
Jamaal Williams (@jswaggdaddy) is a treasure.

He doesn't care if Aaron Rodgers talks trash about the Lions. He just wants to play football and go home and play Pokémon. And don't you dare mispronounce Pokémon. 😂😂 pic.twitter.com/Q0W7UtOGjt — Jeanna Trotman (@JeannaTrotmanTV) January 2, 2023
As much as it is a gigantic cliché to say that one has always had a passion for film, Matt Mueller has always had a passion for film. Whether it was bringing in the latest movie reviews for his first grade show-and-tell or writing film reviews for the St. Norbert College Times as a high school student, Matt is way too obsessed with movies for his own good.
When he's not writing about the latest blockbuster or talking much too glowingly about "Piranha 3D," Matt can probably be found watching literally any sport (minus cricket) or working at - get this - a local movie theater. Or watching a movie. Yeah, he's probably watching a movie.