The Green Bay Packers made 34 roster moves on Saturday to get their squad down to the league-mandated 53 players. This was the first year teams didn't have to make two sets of roster cuts, instead doing all the trimming at once, from 90 to 53 men, which allowed them to get a longer look at fringe players and ostensibly make better-informed personnel decisions.
General manager Ted Thompson, a draft-and-develop disciple and long a believer in keeping his own draft picks, made a few surprising choices in finalizing the Packers' 53-man roster. One of the most successful GMs in football, Thompson annually fields one of the league's youngest teams while keeping Green Bay competitive – the Packers and Patriots are tied for the most consecutive playoff appearances, with eight, and could match the NFL record of nine straight this season.
The 2017 offseason already had a slightly different feel, with Thompson uncharacteristically signing multiple veteran free agents from outside the organization – tight ends Martellus Bennett and Lance Kendricks, guard Jahri Evans, cornerback Davon House – after several important contributors departed, including T.J. Lang, Eddie Lacy, Jared Cook, JC Tretter, Julius Peppers and Micah Hyde. The Packers drafted 10 players, added 20 undrafted rookies and then watched how the roster puzzle came together over OTAs, training camp and four preseason games.
When September arrived and the dust settled, 29 players had been released, three placed on injured reserve, two put on the physically unable to perform list and one was suspended. There are a couple more decisions to make, but, following a flurry of additional moves over Labor Day weekend, Green Bay's roster is mostly set.
Let's take a look at who got cut, who's on the practice squad, who made the team and why:
Player moves
Released (29): G Kofi Amichia, CB Donatello Brown, TE Emanuel Byrd, QB Joe Callahan, OLB Johnathan Calvin, WR Michael Clark, WR Montay Crockett, WR Malachi Dupre, G Thomas Evans, OLB Reggie Gilbert, G Geoff Gray, LB Cody Heiman, DT Calvin Heurtelou, QB Taysom Hill, CB Daquan Holmes, T Robert Leff, OLB Josh Letuligasenoa, DT Izaah Lunsford, LB Derrick Mathews, WR Max McCaffrey, G/T Adam Pankey, TE Aaron Peck, RB Kalif Phillips, DT Brian Price, CB Raysean Pringle, S Aaron Taylor, LB Jordan Tripp, S Jermaine Whitehead, WR DeAngelo Yancey.
Why: Some were surprised to see the release of drafted wide receivers DeAngelo Yancey (fifth round) and Malachi Dupre (seventh round), as well as impressive former practice-squad member Max McCaffrey and physically gifted undrafted rookie Michael Clark. Also noteworthy was letting go of both quarterbacks, 2016 third-stringer Joe Callahan and promising undrafted rookie Taysom Hill. But Thompson prioritized offensive line depth, keeping all of the backups on an underwhelming second unit, and that meant difficult cuts at more talented position groups. Losing Price was unfortunate.
Practice squad (10): QB Joe Callahan, WR Michael Clark, WR DeAngelo Yancey, G Kofi Amichia, G/T Adam Pankey, CB Donatello Brown, OLB Reggie Gilbert, DT Izaah Lunsford, ILB Derrick Mathews, S Jermaine Whitehead.
Why: Green Bay gambled that a few of its prized released players – especially at wide receiver and quarterback – would make it through waivers and be back on the practice squad. While Hill showed enough potential to be claimed by the Saints, Callahan returns for a second season. Yancey and the 6-foot-6 Clark will get more time to be developed. Amichia, a sixth-round pick, needs work, while the undrafted Pankey looked like an NFL-caliber lineman in camp. Brown flashed big-play ability in the secondary, and Gilbert had two preseason sacks. Lunsford, Matthews and Whitehead were decent, but unremarkable. Last season, the Packers called up nine different practice-squad players to the active roster at some point, so don't dismiss these names.
Injured reserve list (4): G/C Don Barclay, FB Joe Kerridge, LB David Talley, CB Herb Waters
Physically unable to perform list (2): OLB Vince Biegel, CB Demetri Goodson
Suspended list (1): WR Geronimo Allison
Why: NFL rules now permit two players to return from injured reserve during the season, but don't expect the Packers to use the designation on Kerridge, Talley or Waters. Barclay, who hurt his ankle in the Aug. 10 preseason opener, will be eligible and almost assuredly brought back after Week 8. Biegel underwent foot surgery in May and has been out ever since, but Green Bay still hopes the former Wisconsin standout can offer some pass rush when he returns. Goodson, who broke his leg late last year, was always expected to miss the start of the 2017 season. Allison, who was suspended one week for violating the league's substance-abuse policy, is expected to be added to the active roster in Week 2, at which point the Packers will have to make a corresponding move.
Signed (1): OLB Ahmad Brooks
Claimed (1): OLB Chris Odom
Traded (1): OLB Jayrone Elliott
Why: Despite head coach Mike McCarthy praising the outside linebacker depth before training camp, clearly Thompson thought the position still wasn't good enough after the roster cut-down. The Packers signed Brooks, who had 51.5 sacks in eight seasons with the 49ers, to a one-year contract, hoping he will help fill the pass-rushing void left by Peppers. On Sunday, Green Bay claimed Odom, an undrafted rookie edge rusher, from the Falcons; then Thompson dealt Elliott, who was a useful special-teams player for three seasons, to the Cowboys for a conditional seventh-round draft pick.
Active roster
Quarterback (2): Aaron Rodgers, Brett Hundley
Why: Rodgers, who's coming off one of the best stretches of his career late in the 2016 season, will be gunning for his third NFL MVP award. Hundley, his trusted backup, again performed well in the preseason and has improved his trade value. The Packers are hoping Rodgers, who's in great shape, can stay healthy all season for the fourth straight year.
Running back (5): Ty Montgomery, Jamaal Williams, Aaron Jones, Devante Mays, Aaron Ripkowski (FB)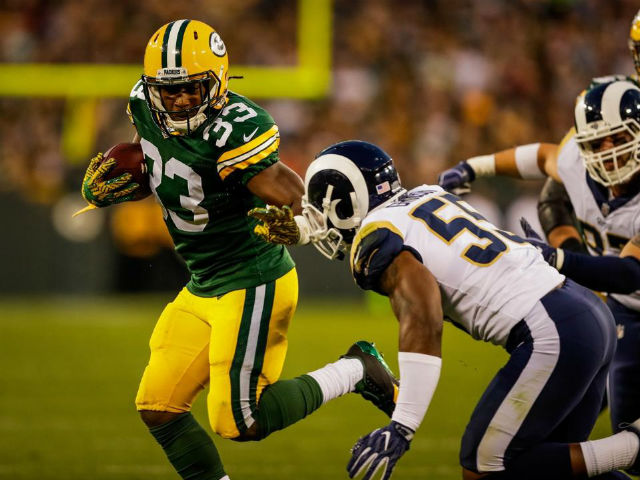 Why: One year after changing positions from wide receiver to running back, Montgomery is the Packers' starter, according to McCarthy. Behind the athletically intriguing pass-catcher, Green Bay kept all three of its 2017 draft picks – Williams and Jones looked the best in preseason, and Mays has good size – and Ripkowski, the run-blocking fullback.
Wide receiver (5): Jordy Nelson, Davante Adams, Randall Cobb, Jeff Janis, Trevor Davis
Why: Despite all the speculation during training camp that the Packers could again keep seven receivers at the talent-rich position, for now, these five familiar faces are it. Of course, after his suspension, Allison will return in Week 2. Nelson, Adams and Cobb are the incumbent regulars, while Janis, always a preseason sensation and special teams ace, and punt return man Davis, who has big-play potential but is mistake-prone, bring speed behind the starters. When he's back, the 6-3 Allison slides into the No. 4 wideout spot.
Tight end (3): Martellus Bennett, Lance Kendricks, Richard Rodgers
Why: After letting Cook walk in free agency, the Packers upgraded the talent at tight end by signing Bennett, a Pro Bowl-caliber player who's a good blocker and a great receiver, and Kendricks, a pass-catching former Badger. The ever-dependable Rodgers makes this trio perhaps Green Bay's deepest position; expect a lot more production at tight end this season.
Offensive line (10): David Bakhtiari, Bryan Bulaga, Corey Linsley, Lane Taylor, Jahri Evans, Don Barclay, Kyle Murphy, Jason Spriggs, Lucas Patrick, Justin McCray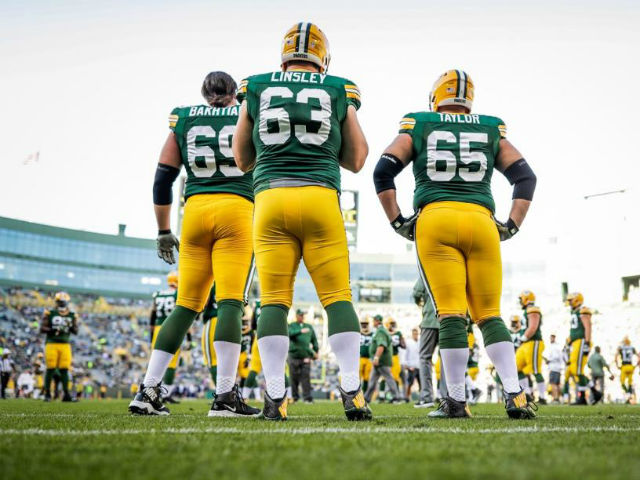 Why: The second-string offensive line didn't do much to instill confidence in the unit's depth during the preseason, but Thompson elected to go with quantity over quality. The starting five is strong – and Taylor was signed to a three-year contract extension on Monday – but it's a precarious position behind them. Because versatile center Barclay – the sole backup offensive lineman with more than a year of NFL experience – is unavailable due to injury, the Packers had to keep Patrick, the only other player who can snap the football. Spriggs, a 2016 second-round pick Thompson traded up to get, has been a huge disappointment, but it's still too early to cut bait on him. Murphy, a seventh-rounder last year, has shown more ability at tackle. McCray is mediocre at best, but he can play both guard spots and provides interior depth – until the Packers can find a better option.
Defensive line (6): Mike Daniels, Kenny Clark, Dean Lowry, Ricky Jean Francois, Christian Ringo, Montravius Adams
Why: Daniels is the best player in a group that collectively has a lot of responsibility on its shoulders. With the release of tackle Letroy Guion, 2016 first-rounder Clark needs to take a big step in his second year. Lowry has shown penetrating pass-rush potential. Francois and Ringo are OK. Adams, a third-round rookie who missed almost all of training camp with a foot injury, should make an impact when he's healthy. Green Bay would have liked to get Price, claimed by Dallas, back onto the practice squad.
Inside linebacker (3): Jake Ryan, Blake Martinez, Joe Thomas
Why: At a position of decreased importance across the NFL – inside linebackers rarely play three downs anymore, especially in Green Bay's scheme, which utilizes more defensive backs – the Packers decided they only needed three guys. Martinez is smart, instinctive and dependable, but doesn't really make big plays. Ryan is good in pursuit but makes mental mistakes too much, while Thomas is basically just a coverage 'backer. Some thought Tripp was good enough to make the team, but Thompson probably figured he didn't need four ILBs.
Outside linebacker (4): Clay Matthews, Nick Perry, Kyler Fackrell, Ahmad Brooks
Why: Matthews and Perry are as dangerous a pass-rushing tandem as any in the league, when they're healthy. If they are, this unit will be in great shape, particularly with the addition of Brooks, a physically punishing, proven veteran. If injuries hit, though, and Fackrell has to play extensively, the production will surely drop. Don't be surprised to see Gilbert called up at some point.
Cornerback (7): Davon House, Kevin King, Damarious Randall, Quinten Rollins, Josh Hawkins, LaDarius Gunter, Lenzy Pipkins
Why: Last year, this unit was deplorable. Injuries and ineffectiveness doomed the Packers to finish as the second-worst pass defense in the league. The additions of House, who played in Green Bay for four seasons until signing with Jacksonville in 2014, and King, the team's second-round rookie, give the Packers great size in the secondary. If Randall and Rollins, in their third seasons, can improve even slightly, they will have a positive domino effect on a position that last season saw the overmatched Gunter become its No. 1 cornerback. It'd be a surprise to see Pipkins active on game days.
Safety (5): Morgan Burnett, Ha Ha Clinton-Dix, Josh Jones, Kentrell Brice, Marwin Evans
Why: If cornerback was the worst group in the 2016 Packers defense, safety was the best, with Burnett playing as well as ever and Clinton-Dix becoming a Pro Bowler. Brice and Evans, 2016 undrafted free agents, improved over the course of last season and are valuable special teamers. Jones, a playmaking third-round rookie, will – along with Burnett – play some linebacker in Green Bay's "nitro" package.
Specialists (3): Mason Crosby (K), Brett Goode (LS), Justin Vogel (P)
Why: The veteran Crosby, who last year earned a four-year contract extension, has established himself as one of the best kickers in the NFL. Goode, who twice has been let go and then brought back by the Packers, will once again be the long snapper. Vogel, an undrafted rookie, won the job with his strong leg and consistent preseason performance.
Born in Milwaukee but a product of Shorewood High School (go 'Hounds!) and Northwestern University (go 'Cats!), Jimmy never knew the schoolboy bliss of cheering for a winning football, basketball or baseball team. So he ditched being a fan in order to cover sports professionally - occasionally objectively, always passionately. He's lived in Chicago, New York and Dallas, but now resides again in his beloved Brew City and is an ardent attacker of the notorious Milwaukee Inferiority Complex.
After interning at print publications like Birds and Blooms (official motto: "America's #1 backyard birding and gardening magazine!"), Sports Illustrated (unofficial motto: "Subscribe and save up to 90% off the cover price!") and The Dallas Morning News (a newspaper!), Jimmy worked for web outlets like CBSSports.com, where he was a Packers beat reporter, and FOX Sports Wisconsin, where he managed digital content. He's a proponent and frequent user of em dashes, parenthetical asides, descriptive appositives and, really, anything that makes his sentences longer and more needlessly complex.
Jimmy appreciates references to late '90s Brewers and Bucks players and is the curator of the unofficial John Jaha Hall of Fame. He also enjoys running, biking and soccer, but isn't too annoying about them. He writes about sports - both mainstream and unconventional - and non-sports, including history, music, food, art and even golf (just kidding!), and welcomes reader suggestions for off-the-beaten-path story ideas.