Last week against the Vikings, Packers wide receiver James Jones wore a hoodie underneath his jersey. He then played well, catching six passes for 109 yards and a touchdown, and Green Bay won, ending its three-game losing streak. So, naturally, everyone lost their minds and said it was all thanks to the hoodie.
Jokes were made, Twitter accounts for the hoodie were started, and reporters wrote stories about a sweatshirt. To his credit, Jones has rolled his eyes at the attention his garment garnered, saying, "Let's stop talking about the hoodie and let's start talking about the Bears."
We will, James. After we talk more about the hoodie.
Unfortunately for Jones, he plays in the modern NFL, where teams only have one game per week, little real news is generated in between and a mind-bendingly vast legion of media is relentlessly looking to supply content to an insatiable audience. Thus, no storyline is too inane!
So we will keep talking about the hoodie. Now and for the rest of the season. No doubt the first time Jones drops a ball and isn't wearing it, the hoodie's absence will be blamed. Surely, other players will be implored by fans to don a different piece of clothing to improve their play, as well.
During Tuesday's practice in Green Bay, fellow receivers Randall Cobb and Davante Adams – hopefully trolling the sensationalism – were also wearing hoodies, and so that became a story.
But the hoodie, we believe, gives its superpowers only to James Jones. The rest of the Packers' offense, which was much-improved in Minnesota but can always get better, needs special accessories, too.
Here are 15 non-hoodies that Packers players should wear Thursday against Chicago.
1. Aaron Rodgers: wedding ring
The public has spoken. The two-time MVP is only good when his personal life is good. A wedding ring would show his relationship with Olivia Munn is strong, and their entirely speculative problems are no more. Plus, good performance in the bedroom means good performance on the field, right?
2. Eddie Lacy: girdle
Lacy rumbled his way to his best game of the season against the Vikings, with 22 carries for 100 yards. But slow-motion replays still showed his ampler-than-usual belly bouncing around. The best solution for that gut? A girdle. Like a corset, for guys.
3. John Kuhn: flannel shirt
Kuhn played a season-high 26 snaps on offense in Minnesota, and Green Bay had its best day in a while running the ball. Kuhn's already got the beard and lumberjack persona; give him a flannel and let him keep chopping down linebackers like trees.
4. Richard Rodgers: polyurethane bodysuit
Banned after the 2008 Olympics because it helped all the swimmers break all the world records, the low-drag swimsuit would absolutely boost the plodding Rodgers' speed. But if it's not allowed in the NFL either, get Rodgers a pair of PF Flyers, the shoes "guaranteed to make a kid run faster and jump higher" that Benny the Jet wore when he raced the beast in "The Sandlot."
5. Randall Cobb: argyle sweater
With a couple drops recently, we'd certainly like to see Cobb put some Stickum on his hands. But no doubt his drops will disappear once he dons a long-sleeved item like Jones' hoodie. For the dapper Cobb, a smart argyle sweater is befitting.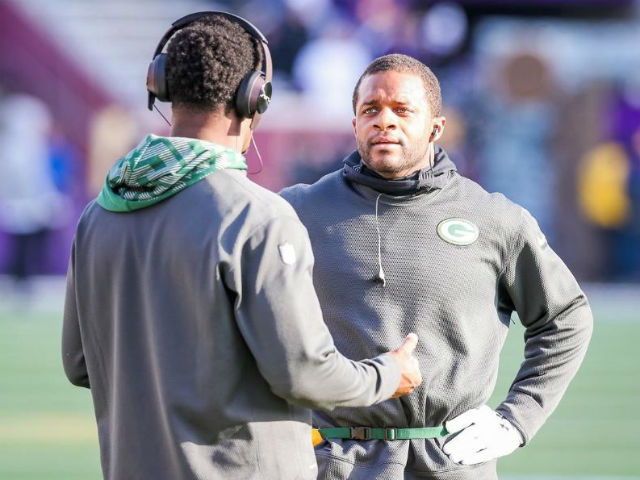 6. Davante Adams: thermal Henley
Like Cobb and Jones, Adams officially has been charged with three drops on the season. And like the other two, simply putting on another long-sleeved shirt will definitely cure what ails him. The thermal Henley should keep Adams warm and casually stylish.
7. Bryan Bulaga: titanium prosthetic legs
We'd love to see Bulaga, who's battled knee injuries much of his career and is currently limited by a balky one, take up his post at right tackle with a couple of medical science's finest prosthetics. Why keep putting on the old clunky knee braces when you could have brand-new, super-strength titanium legs?
8. T.J. Lang: Axe body spray
I'm not saying Lang smells bad, just that in my experience, people – particularly good-looking girls at bars – will get the heck away from you when you're wearing Axe body spray. That seems like the ideal thing to happen for an offensive lineman whose job is to block other players.
9. David Bakhtiari: hair tie
Like most of the Packers' offense line, Bakhtiari wears his hair long and lets it fall magnificently out the back of his helmet. Unfortunately, Bakhtiari leads the team with 10 penalties, including six for holding, so perhaps all that hair's making it hard for him to see the pass rusher he's supposed to block. Green and gold scrunchie and a man bun ought to do the trick.
10. J.C. Tretter: reading glasses
With Corey Linsley hurt and possibly not playing Thursday, Tretter might get the start at center, a position that requires intelligence. Tretter went to Cornell and, as everyone who went to an Ivy League school is required, he needs to remind people of that fact at all times. Wearing glasses will show how smart he is even in the crude and primitive trenches at the line of scrimmage.
11. Josh Sitton: seersucker suit
Just because it would be funny. Especially if it was a little coat.
12. Scott Tolzien: hat
As long as the backup quarterback is wearing something on his head other than a helmet – baseball cap or knit hat – the Packers are OK.
13. Jeff Janis: GPS watch
Janis is crazy fast, but the knock on him is he apparently hasn't learned all the routes. Really, the only route "V12" needs to know is the one where he runs really fast down the field past all the defenders, which is what he did when he drew a 50-yard pass interference penalty against the Vikings. But if Janis really needs to run the right routes to gain Rodgers' trust or whatever, give him one of those GPS watches and input whatever stupid skinny posts and hitch-and-goes he needs to get on the field.
14. Mason Crosby: steel-toed shoe
After converting all five of his field-goal attempts last week (including a 52-yarder) and scoring 16 points to be named the NFC Special Teams Player of the Week, maybe Crosby doesn't need any help. But we're still only a week removed from him missing that game-winner against the Lions. Can't be too careful.
15. Ty Montgomery: regular sweatshirt
As a wide receiver, Montgomery would benefit from wearing a Jones-like sweatshirt. But as a rookie, he hasn't earned the right to wear a hoodie. So it's the old-fashioned non-hooded sweatshirt for Montgomery, who will clearly recover from his ankle injury and catch 15 passes for 200 yards and three touchdowns when he wears it. This whole storyline is ridiculous.
Born in Milwaukee but a product of Shorewood High School (go 'Hounds!) and Northwestern University (go 'Cats!), Jimmy never knew the schoolboy bliss of cheering for a winning football, basketball or baseball team. So he ditched being a fan in order to cover sports professionally - occasionally objectively, always passionately. He's lived in Chicago, New York and Dallas, but now resides again in his beloved Brew City and is an ardent attacker of the notorious Milwaukee Inferiority Complex.
After interning at print publications like Birds and Blooms (official motto: "America's #1 backyard birding and gardening magazine!"), Sports Illustrated (unofficial motto: "Subscribe and save up to 90% off the cover price!") and The Dallas Morning News (a newspaper!), Jimmy worked for web outlets like CBSSports.com, where he was a Packers beat reporter, and FOX Sports Wisconsin, where he managed digital content. He's a proponent and frequent user of em dashes, parenthetical asides, descriptive appositives and, really, anything that makes his sentences longer and more needlessly complex.
Jimmy appreciates references to late '90s Brewers and Bucks players and is the curator of the unofficial John Jaha Hall of Fame. He also enjoys running, biking and soccer, but isn't too annoying about them. He writes about sports - both mainstream and unconventional - and non-sports, including history, music, food, art and even golf (just kidding!), and welcomes reader suggestions for off-the-beaten-path story ideas.