This article was originally published on April 28, 2016.
Before he was a two-time NFL Most Valuable Player and a five-time Pro Bowler. Before he had a championship ring and an MVP trophy from winning Super Bowl XLV. Before he was Brett Favre's quiet backup, before he was a spurned first-round draft pick. Before starring at Cal and before spending the most important year of his life at Butte. Before the growth spurt and the rejection letters and the earliest swelling of that notorious chip on his now-famous shoulder. Before he was considered one of the best quarterbacks in the world, a self-assured and mega-talented superstar with a $110 million contract, Aaron Rodgers was a skinny 18-year-old tossing a baseball on a blacktop through Northern California's thick tule fog, wondering if he should hang up his football pads and abandon his dream.
You've heard some of this story already, no doubt, about the undersized kid who got zero scholarship offers in high school, went to community college to prove he could play and, eventually, threw himself into the uppermost stratosphere of professional sports.
But his high school and community college coaches, those men that knew Aaron Rodgers before he was Green Bay Packers quarterback Aaron Rodgers, would tell you there's much more to the story. They'd sit around and talk with you for hours, offering precious anecdotes of Rodgers' exceptional intelligence and underestimated athleticism, his maturity, leadership, competitiveness and confidence, even when no one else had any in him – detailed, nuanced anecdotes that paint in the early parts of the picture most people don't know, about the person and the journey.
One of the most critical junctures of that journey was on the freezing-cold blacktop in Chico, Calif., in January 2002 when, after a dejecting senior football season, he decided to join the Pleasant Valley High School baseball team. It would prove to be a life-changing decision that set in motion the ensuing major events – going to Butte, signing with Cal, being drafted by the Packers – that now define Rodgers.
But more than three years prior to that, he was already showing glimpses of his unique gifts, albeit in a bookworm's body.
Small but smart
Former Pleasant Valley football head coach Sterling Jackson remembers a scrawny incoming freshman, not quite 5-foot-6 and maybe 125 pounds, attending the Vikings' football camp in 1998 and competing with a much bigger kid named Mark, who went about 6-foot, 150, to be the junior varsity quarterback.
Jackson remembers Rodgers being "very calculating," very smart on and off the field, a student of the game who asked a lot of questions and really seemed to want to be there.
But he says Ron Souza, then the offensive coordinator and quarterbacks coach, saw something ineffably special right away in Rodgers.
"You've got a kid that looks the part and you've got a kid that just looks young," Jackson recalls. "But Ron is going, 'This guy right here (Rodgers), he's the guy. He's going to be the guy that leads this program.'"
Both Jackson and Souza were junior college football players – the former at Citrus College in Glendora, Calif., the latter at Chico State University – and both have been around future elite athletes. Jackson went to high school with former North Carolina basketball star and Milwaukee Bucks power forward Scott Williams and says he was "the real deal" from the beginning, always dominant and destined for the NBA.
Souza, who's coached for 30 years, has been around several high schoolers that eventually played in Division I, so he knows what a good young player looks like.
But still.
"Did I know Aaron was going to be a professional, a two-time MVP, a Super Bowl MVP?" he says, laughing. "Absolutely not."
So what made him think, so early on, that a diminutive Rodgers would even be "the guy" to lead Pleasant Valley?
"Excellent mechanics," Souza says instantly when asked what he saw. "Great, great feet. Very quick release, on top of the ball. His mechanics were flawless, very easy to work with … It wasn't a short-arm action, either. He's always had his feet under him and he always had great balance and tremendous, tremendous vision."
Souza says that sound throwing motion wasn't so much inherently instilled in Rodgers, but rather a product of his mind and ability to learn. "He has a photographic memory," Souza says. "It really is incredible. I think he saw it, pictured it, was able to visualize it and then could mimic it."
Rodgers was always athletic and very talented, his coaches insist; he was just a late-bloomer. But since his fundamentals were so good, "when the man-knuckles come," as Souza says, a player like Rodgers can make major strides because the physical capability finally catches up with the mental acuity ("this was a classic case with Aaron," he says).
Plus, he comprehended the game better than any high school kid Souza's ever coached.
"You hear people talking now about how sharp he is and his memory. It's amazing, it really is, what he sees and how quickly he sees it and how he retains it. That's what really sets him apart as a quarterback.
"I'm probably biased but I think he plays at a different level; he's helped change the game."
Showing signs
By his sophomore year, Rodgers had grown a little, to about 5-7, and learned a lot. Due to his small stature and some incumbent upperclassmen, he was still on the J.V. team – Pleasant Valley was not a powerhouse program, but "we won more than we lost," Jackson says. Rodgers was working closely with Souza, getting lots of reps and, conceptually, picking up on just about everything.
"He wasn't a flyer and he's still not a flyer, speed-wise, but he moves faster than he looks," Souza says, perhaps inadvertently perking up the ears of the ever-perceptive-to-slights Rodgers. "He has tremendous instincts, great feel in the pocket, great timing, of course. We used him on the run a lot."
Rodgers had the basics down pat. Three-step drop, five-step drop, sprint-out bootleg passes – a staple of the Pleasant Valley offense, and a trademark of Rodgers' quarterbacking style still – he could do all of that. It didn't take long for Souza to realize he could "take this kid to the level 5, as far as pre-snap reads."
On a pass play, a quarterback often goes through a triangle progression, looking at and evaluating the positioning of the safety, the cornerback and the outside linebacker. It's called a triangle read and it provides more throwing options on either side of the field. Most of the game's relatively new passing concepts are based on it. The triangle read is predicated on the quarterback remaining patient and being able to accurately diagnose the defensive play.
"He was making triangle reads by the time he was a sophomore," Souza says. "And he was audibling. He was checking out. He's calling choice routes with an inside receiver. He could check his blocking – solid call and keep a tight end in or max protect.
"The knowledge at 15, to pick up on stuff that quick. He was very sharp."
These days, whether standing and waiting for a receiver to get open, telling overanxious fans to "R-E-L-A-X" or improvising behind the line of scrimmage before uncorking a game-winning Hail Mary, Rodgers always seems to display a preternatural calm. Souza says that was a characteristic of his quarterbacking even 17 years ago.
The former offensive coordinator vividly remembers a game in 1999, when Pleasant Valley was playing its crosstown rival in front of thousands of people, and Rodgers' J.V. team had the ball down by three points with less than two minutes to play. With no timeouts remaining, the sophomore methodically marched the Vikings down the field, driving them 60 yards in a no-huddle offense and running various formations.
But on one play, a set with two tight ends and two wide receivers that was supposed to feature just a single back, there was confusion among the players and the second running back stayed in the game. It was very late, the final seconds were ticking off the clock and Pleasant Valley was surely about to be penalized.
"There were 12 guys on the field," Souza says. "But before I can even say a word, (Rodgers) puts his hand up, like, 'Relax … I got it.'"
Rodgers kept his hand up, called out the cadence completely under control, snapped the ball and fired a 20-yard strike for the game-winning touchdown. It all looked so normal, Souza says, the officials never noticed a thing. Ironically, Rodgers is now known for his propensity to draw penalties on his opponent, including for offsides and too many men on the field.
"To me that was just... you don't get that," Souza says. "I've had some great drives by high-school kids, don't get me wrong. But to know the situation, know we're out of timeouts, just be very calm – 'we are going to do this with 12 people, and nobody is going to know' – was just incredible to me.
"When you watch (games), that's what really separates him from everybody else, how he has the ability to be so natural, almost in slow motion the way he sees it."
It's well-documented by now, of course, that Rodgers has a keen mind. Current and former teammates, coaches and scouts – even Rodgers, himself, in making sly allusions to his high SAT and Wonderlic test scores – they all say the quarterback is cerebral to the Nth degree. And those are NFL people that are outwitted.
So how did an intellectually advanced teenager, especially in his football sense, deal with other high school kids who just didn't understand what the future NFL MVP understood?
"Getting other players to be on the same page, yeah, that was tough for him," Souza says. "That was frustrating for Aaron."
Back then, Souza says – and to an extent still, if last season's gesticulations were any indication – Rodgers would "wear his feelings on his sleeve," slumping his shoulders, throwing up his arms, yelling at teammates or just brooding.
Throughout high school, Souza was a mentor to and close confidant of Rodgers', the man to whom the boy would go to talk about his frustrations on the field, particularly with teammates who just didn't understand, or care, as much as he did.
"He would talk often; I would just let him talk," says Souza, who'd listen and ask questions and try to help Rodgers through his vexations. "'What do you think? What you have to do to make these guys better?' I didn't tell him anything, just sort of guided him toward it. He knows what to do with it, he'll figure it out."
What Rodgers figured out was that he had to elevate the group, bring everyone else up to where he was, to go anywhere. He had to reach people at their levels, on their terms, to succeed. It brings to mind former Packers tight end Jermichael Finley, a brash player with talents more physical than mental, who said Rodgers would sit down with him the night before games in 2012 to talk and work on their oft-questioned chemistry.
"I think he started that trait and learned very early and that's when he gained a lot of compassion," says Souza, who still enjoys reading Rodgers' facial expressions as he watches games on TV. "Just like he is right now, how you hear players comment about how hard he works and how he works with the players and they're always on the same page. He was very fortunate that at a very early age he was able to do that with some people a little bit."

While Rodgers has always been celebrated for his IQ, his EQ – emotional quotient – is equally high. "And not even just as a football player, but as a person," Souza says. "Such a humble, humble guy."
'Everything you want'
As a student, Rodgers was "very conscientious," Souza says, a guy that did all the right things. He got very good grades – above a 3.8 – didn't party and acted like an eminently ordinary kid around campus. In stature and nature, he was not the BMOC.

"He was a guy that had faith in his life – family, religion came first. Everything you want," Souza says. "There's not many people like that anymore. That's who he was and he knew who he was. He was happy with that, he was confident in who he was. He wasn't arrogant at all; there was nothing arrogant about him."

Tell that last part to former San Francisco 49ers coach Mike Nolan, who's explained his reasoning for – and admitted he was wrong about – choosing Alex Smith over Rodgers with the first pick in the 2005 NFL Draft by saying Rodgers seemed "very cocky, very confident, arrogant."

Sterling Jackson, the Pleasant Valley head coach, echoes Souza's sentiment. He describes the precociously mature Rodgers as "very grounded" and "always surveying things," more concerned with grades than being an outgoing prom king.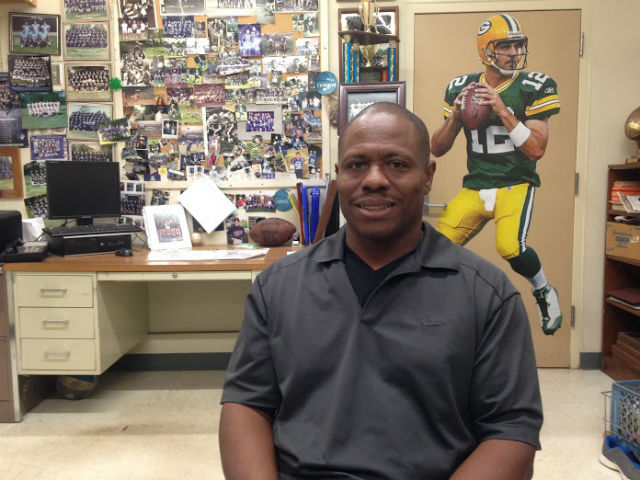 "He was into school, faith, family, football, sports," Jackson says. "Which made it great for us. We never, ever had to worry about what Aaron was doing."

In fact, given his his small size and big brain, Jackson says he and some of the coaches had Rodgers pegged for a shirt-and-tie job in the future.

"We thought that he was going to be our financial advisor. He talked about wanting to go into finance; he wanted to do all these things," Jackson says. "We thought this kid is going to be our financial advisor one day."

He had a tight-knit group of friends, most being fellow athletes, with whom he'd joke around and go see movies. He was very close with his family – parents Darla and Edward and brothers Luke and Jordan –and, though he had a nice upbringing and a good home situation, was outwardly respected by and could connect with everyone, regardless of background.

"If you could go back in a time machine, you wouldn't think that was Aaron," Souza says. "You'd think that was just a normal guy. That's who he was; that's who he is still. He's much more guarded now, of course, but that's still who he is."

"Very competitive, also," Jackson adds. "Don't ever tell him he can't do something."

By Rodgers' third season of high school, no one was telling him he couldn't be Pleasant Valley's starting varsity quarterback. "The main progression was arm strength," Jackson says of his development from age 15 to 17. He'd always thrown "a very nice ball, but it wasn't necessarily a cannon," the former head coach says. As he grew to about 5-10 his junior year and 6-foot by his senior year, his arm strength increased, too.

In his two years as the Vikings' starting quarterback, Rodgers passed for an impressive 4,421 yards. He set single-game records for touchdowns (6) and all-purpose yards (440). In 2001, he established a single-season school mark with 2,466 total yards. He was named All-Section and played in a local All-Star game.

Still, he was undersized and hadn't really stood out in a conservative offense on a .500 Pleasant Valley team.

Dismissed by some recruiters as too small and ignored by many who didn't travel north of Sacramento to scout in California ("it's changed now," Souza says, "Aaron's helped that a lot"), Rodgers was even told outright by then coach Ron Turner at an Illinois football camp that he simply wasn't good enough. After a disappointing senior season in which he'd played his heart out, Rodgers began 2002 angry, depressed and unsure about whether to give up on his dream of playing football at the University of California.

"He's a talented guy, but there's not exactly a calling for 6-foot, 180-pound quarterbacks out of high school," Souza says. "He worked very hard and not an offer, not a phone call, nothing. No responses. Poor kid was crushed. He was about ready to hang it up, take a year off from football, reevaluate what he wants to do."
Life-changing sport switch
Seeing his pupil adrift, Souza, who was also Pleasant Valley's baseball coach, made a crucial suggestion that would end up being an auspicious one. Come out for the baseball team, he told Rodgers, get your mind off football for a little while and just compete. It'll be great for you.

Rodgers hadn't played baseball in three years – "he was off the radar as far as that goes" – but Souza wanted to develop him as a pitcher, or at least "get him doing something else."

Vikings pitchers and catchers start throwing in January, a very early spring training. That year, for a month straight, Chico experienced tule fog, a heavy, soupy ground fog, not unusual in Northern California, with temperatures below 30 degrees.

"A damn bone-chilling cold," Souza says. "And he showed up every day for a month. Loved to compete, had success with baseball and you could just see he got his mind off of football. Got away from it, forgot about it. It was probably the best thing that happened to him."

Jackson saw the positive effect of baseball, too.

"Ron Souza's really good at movement, mechanics of different things, body movement," Jackson says. "He saw arm action. He saw grit. He saw someone that was going to work on getting better, someone that is not afraid of being great."

Jackson, who was also the school's P.E. teacher, saw Rodgers exert the same effort in gym class that he did in competition and says he was always striving to get better on his own.

"Ron knew that whatever Aaron was doing, Aaron was going to work on it," Jackson says.

That's where Craig Rigsbee comes in.

Rigsbee, the former Butte Community College football head coach, had known a little bit about Rodgers. He'd seen him throw at a Butte summer passing camp before his junior year, remembering that he wore a knee brace because of partially torn ligaments he hadn't gotten fixed after a basketball injury in eighth grade. Rigsbee also heard from Pleasant Valley's coaches that Rodgers wasn't very big but he was really good, and he thought he'd keep an eye on the unheralded prospect.

When Rigsbee, who says he strives to recruit every talented local kid in Butte's radius, learned Rodgers hadn't gotten any offers, he called Ed Rodgers and said, "I'm really interested in your son."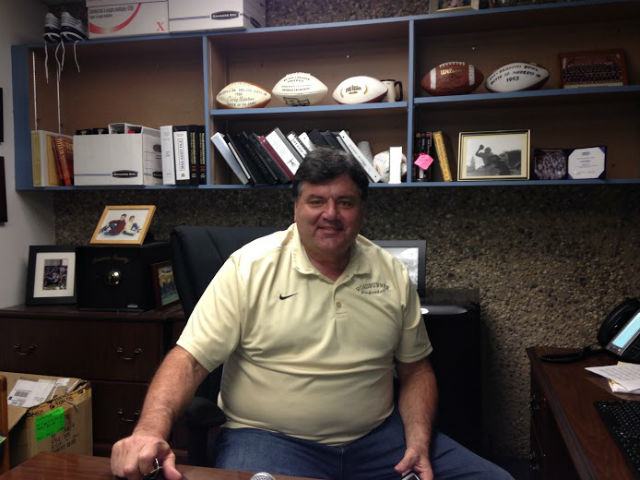 The elder Rodgers said OK and gave Rigsbee the family's address. At the time, Rigsbee lived in a not-yet-developed neighborhood and the Rodgerses house was close by, so he walked across 10 acres of empty lots and knocked on the door – to try and recruit Aaron Rodgers to Butte.

"And I'll never forget, his mom Darla answers the door," Rigsbee says. "And she's the nicest person and she says, 'Coach, I'm going to be honest with you, my son's worked too hard to go to a junior college.'"

Nevertheless, Rigsbee earned a meeting with the family in the living room, where he began to sell Butte's academics. "I said, 'You know, if you take history, the War of 1812 is still going to happen in 1812; it's not going to change because you go to Stanford or Cal,' and they laughed. We were talking and getting along really well."

Rigsbee explained that many other junior-college players he'd coached had made it to Division 1, some even to the NFL, like former Cowboys lineman Larry Allen. He talked about Butte's winning program. And he started telling the family about the positional situation and returning players at quarterback.

"Aaron says, 'Coach, let me stop you there. I really don't care who you have coming back. I just need to ask you two questions."

First, would he get a legitimate shot to win the starting job and play as a freshman? Rigsbee said of course. And second, Rodgers asked, if he had a great season could he leave after one year?

"And I'm thinking to myself, slow down a little bit, you're not even recruited by anybody and you're talking about leaving after one year? But I said absolutely. 'If I can get you out after one year, you're that good, we'll place you somewhere.'"
They talked a while longer, little brother Jordan running around as Darla brought out some cookies. And then Rodgers, who, academically, could have gone anywhere but still aspired to play football, said, "OK. Count me in. You have my word. I'm coming to Butte, that's what I'm doing."

Rigsbee liked Rodgers a lot and the two had a great rapport. But even though the coach had been given the quarterback's word and trusted him, he couldn't be too careful, especially not with Rodgers "bringing it" on the mound the way he was.

"So I go to every baseball game he's pitching," Rigsbee says. "Home and away, driving around, my wife asks, 'Where are you going?' I said I'm not going to let those other coaches talk to him."

By the fourth game, Rodgers came up to Rigsbee to reassure him he was committed to Butte, nowhere else, and to tell the coach he felt bad he was driving all over town. "I said, 'No, it's OK. I'll see you next week when you pitch. I'll be at every game. You're coming here.'"

With Rigsbee in the stands, along with some other JuCo baseball coaches, Rodgers was throwing 93 mph regularly and showing promise. Souza jokes that, even now, Rodgers could come out of the bullpen in the major leagues, even be the Brewers' closer. "Milwaukee is missing out," says Souza, who got along well with Rigsbee throughout the process. "Two hats, baseball and football. That would be awesome."
A Butte-iful year
With the baseball season ending and Rodgers graduating high school, though, the 18-year-old had to make a choice: continue to try and make it in baseball or go back to football. Or, perhaps, leave sports behind and become a financial advisor, like Jackson had predicted.

"He said, 'Football is my first love, I'm going to go back to football,'" Souza says. Rodgers' time spent playing baseball had made the picture so much clearer for him.

By the summer of 2002, before his first season at Butte, the late-blooming Rodgers had grown some more. He was now nearly 6-2 and almost 200 pounds. "He looks a lot better," Rigsbee says of the freshman. "Much more physical."

Rodgers had always been able to master the playbook and understand complicated concepts ("I started realizing how smart he was and how good he was at anticipating and reading the defense," Rigsbee says). But now the quarterback finally looked the part in pads, too. Engaged in a heated battle for the starting spot, Rodgers was playing like a guy with something to prove.

"It's about the fifth or sixth practice, and he's in shotgun," Rigsbee says. "He takes a snap, sprints right, plants his right foot – this is vintage now – runs back left and just throws a dime about 45 yards, hits the guy right in the hands, he catches it. And I looked at our coaches and I said, 'Did you guys see that? Where did that come from?'

"I hadn't seen him put him put that mustard on it before. Because he's got really loose shoulders and really good torque and he just spun the ball. I go, whoa. I've coached a lot of quarterbacks; I've never had anybody that could throw the ball that hard, that fast, running to their left.

Before the start of the regular season, Rigsbee sat down with his coaches to set the starting lineup. Many of the assistants preferred Brian Botts get the quarterback job, because he was a returning player who deserved the chance. Rigsbee, laughing, says he saw it differently and went with his gut.

"I said, 'Well, I'm gonna just tell you: Brian's been really good, but he's been with us for three years,'" Rigsbee says. "'Aaron has been with us for two weeks and he already knows the offense this much. In a month he's gonna know the offense this much better, so he's going to be the starter.'"

According to Rigsbee, Botts was "pissed," as was his mother. Two games into the season, despite Rodgers' spectacular play – he'd thrown for four touchdowns and caught a score in Week 1, and he'd gained about 600 all-purpose yards in Week 2 – Botts quit and his mom sent Rigsbee "the most scathing coaching letter I've ever received." In it, she blasted Rigsbee for not knowing talent and being a terrible quarterback evaluator and asking how he could let "that other kid" play over her son?

"I kept it," says Rigsbee, now Butte's athletic director. "And I gave it to my (current) head coach, who was our quarterback coach at the time, and I said keep that."

Interestingly, Rigsbee says he recently ran into Botts and, rather than a conciliatory laugh about losing his job to the eventual NFL MVP or admitting the coach really was right, the former player said, "I could've done that; it could've been me on the Packers. You ruined it."

Nonetheless, with the skinny freshman under center – wearing jersey No. 4, because a teammate had No. 12 and, incidentally, he admired Brett Favre – Butte's season and Rodgers' career took off. "He just started playing lights out, making play after play, running the ball and doing his thing," Rigsbee says.

Quarterbacking a team of older players – 24-year-olds who'd served in the military, guys who'd been in trouble with the law and were getting a second chance, all different types of people – gave Rodgers the confidence to become a real leader. "He was the man," Rigsbee says.

Ron Souza says the year at Butte was the turning point. He added "man muscles," grew as a person and was surrounded by superb athletes whose talent helped Rodgers' ability shine even more brightly.

When Rigsbee thinks back to that season, one of Rodgers' performances stands out above the rest.

It was a game in which Butte was trailing at halftime, 19-6, and nothing was going right. Rigsbee turned the play-calling over to Rodgers for the second half, saying, "It's on you."

With Rodgers making all the decisions based on what he saw, the Roadrunners scored 38 straight points. "We scored every drive in the second half," says Rigsbee, adding that it was "Bart Starr-like, (Rodgers) was calling everything."

The last play of that game, the one that sealed it, remains crystal clear in Rigsbee's mind. It was a play-action-fake zone pass, with one receiver running a post and another running a dig. Rodgers stood back and waited, waited, waited, before suddenly delivering the ball downfield.

"Aaron threw that sucker on a line, 50 yards through the air, and the receiver caught it going into the end zone." As players and coaches celebrated, Rodgers ran over to the sideline, pumping his fist, Rigsbee looking at him incredulously.

"'So are you going to give me tickets or what?'" Rigsbee remembers asking Rodgers. "And he looked at me and said, 'Ticket for what?' I said, 'When you're playing in the NFL, am I going to get some tickets? Guys can't throw like that.' And he pushed me back and was like, 'Oh coach, we'll see, I gotta play here first.'"
Rodgers played that season at Butte, throwing 26 touchdown passes and leading the Roadrunners to an 11-1 record and the No. 2 ranking in the country among junior colleges. And, on what Rigsbee remembers as a beautiful Monday in October, California head coach Jeff Tedford – who was actually coming to see tight end Garrett Cross – visited Butte and became smitten with Rodgers.

"Afterward, (Tedford) said, 'That's the best JC quarterback I've seen; he's going to be an NFL quarterback,'" Rigsbee remembers. "'I'm going to offer him tonight on the way home. Will you let him go?' I said, 'Hell yeah, I'll let him go.'"

That night, Rodgers excitedly called Rigsbee with the news that he'd received an offer from Cal. He expressed brief hesitance about leaving, saying Butte had the chance to be even better next season, but Rigsbee would hear none of it.

"I said, 'No. If you want to go to Cal, you need to go,'" Rigsbee says. "'What are you going to do, come back here and throw 50 touchdowns? And then what? You're going.'"
Dream come true
At Cal, Rodgers' story and success became more widely known. Despite not being able to join the Golden Bears until August in 2003 because of JuCo transfer rules and starting way behind the other quarterbacks, it took him only five games to win the job.

In the Insight Bowl, he passed for 394 yards and was named the game's MVP. Afterward, while his teammates partied, he went out to dinner with his parents and Rigsbee, joking that his Butte College MVP trophy was better than the bowl game hardware.

During his junior season, Rodgers, by now 6-foot-2, and 220 pounds, led Cal to a 10-1 record and set several school passing records. After once again powwowing with Rigsbee about his football future, he decided to declare for the NFL draft.
Despite Rodgers' standup past and seemingly strong character, Souza says he had professional scouts calling to ask him what the catch was.

"They said, 'Guys like this don't just fall out of sky; tell me about it. How come nobody in high school thought about him? Was there drugs or alcohol or trouble with the law?' And I tried to tell them, 'No, no, no, that's far from who he is. He's just a late developing kid.'"

Despite the angst and the embarrassment of sitting in the green room on draft night and waiting, interminably, to be selected, Rigsbee says he told Rodgers immediately that going to the Packers was "the best thing that could've happened." The experience has fueled Rodgers, added motivation and put more chip on the shoulder. After the franchise finally moved on from Favre, Rodgers – who wore No. 4 at Butte because of Favre – was well-prepared to make No. 12 the starting quarterback jersey in Green Bay.

There have been challenges along the way, adversity overcome, plenty of deserved good fortune and a bit of strange irony. Rodgers, a Northern California native, had the chance to be drafted first overall by his beloved 49ers, who instead took Alex Smith. Those decision-makers afterward regretted their choice, and when Rodgers returned to San Francisco a couple years later, he was cheered by the hometown fans. Now, a decade later, the 49ers are again looking for a quarterback, while the Packers have one of the best.

On Thursday night, the Los Angeles Rams are expected to take Jared Goff with the first overall pick in the 2016 NFL Draft. Goff would be the first University of California quarterback selected since Rodgers, and he will have his own Alex Smith-like comparison in Carson Wentz, the North Dakota State quarterback expected to be taken second by the Philadelphia Eagles.

Rigsbee says he sometimes thinks about all the "what ifs" of Rodgers' journey. What if he hadn't been so small in high school? What if he had gotten a Division 1 scholarship offer somewhere? What if he hadn't gone to Butte for that vital year? What if he never fulfilled his dream of playing for Cal? What if he had been drafted by the 49ers instead of the Packers?

"The whole mystic thing – to have him do so well, and it seems to wind back through all these hardships, and now it seems like it all just worked out perfect," Rigsbee says. "If you look back it seems like it all just fits together. But all those things put him in a spot to do the things he could do and be one of the best guys there is."
Born in Milwaukee but a product of Shorewood High School (go 'Hounds!) and Northwestern University (go 'Cats!), Jimmy never knew the schoolboy bliss of cheering for a winning football, basketball or baseball team. So he ditched being a fan in order to cover sports professionally - occasionally objectively, always passionately. He's lived in Chicago, New York and Dallas, but now resides again in his beloved Brew City and is an ardent attacker of the notorious Milwaukee Inferiority Complex.
After interning at print publications like Birds and Blooms (official motto: "America's #1 backyard birding and gardening magazine!"), Sports Illustrated (unofficial motto: "Subscribe and save up to 90% off the cover price!") and The Dallas Morning News (a newspaper!), Jimmy worked for web outlets like CBSSports.com, where he was a Packers beat reporter, and FOX Sports Wisconsin, where he managed digital content. He's a proponent and frequent user of em dashes, parenthetical asides, descriptive appositives and, really, anything that makes his sentences longer and more needlessly complex.
Jimmy appreciates references to late '90s Brewers and Bucks players and is the curator of the unofficial John Jaha Hall of Fame. He also enjoys running, biking and soccer, but isn't too annoying about them. He writes about sports - both mainstream and unconventional - and non-sports, including history, music, food, art and even golf (just kidding!), and welcomes reader suggestions for off-the-beaten-path story ideas.