Eddie Lacy is no longer the Packers' starting running back.
Coach Mike McCarthy made that announcement during a press conference in Green Bay on Wednesday, and both Lacy and backup-turned-starter James Starks confirmed and commented on the move.
You can read about the news and get context elsewhere. We're not really concerned with that right now. All we care about, like most Packers fans, is one thing.
Is Eddie Lacy fat?
(PHOTO: Packers.com)
The third-year running back, who was mocked and maligned in his first training camp for being out of shape (largely because of this picture), has endured questions, concerns and conditioning drills for being overweight before. But in his first two seasons – a Pro Bowl year in 2013 and an arguably more impressive campaign in 2014, when he averaged 4.6 yards per carry – Lacy was productive. Dominant even.
He looked like a big, powerful back and he was doing what big, powerful backs are supposed to do. So what difference did it make if he filled out his pads a little more than other players? As Lacy said a couple weeks ago, "Some people can carry a lot of weight, some people can't."
(PHOTO: Packers.com)
This season, though, after an ankle injury slowed him out of the gate, his rushing average has slipped to 3.7, he has just 308 yards through eight games and he's scored only twice. Lacy's fumbled three times in the past three games, including one that he lost last week against the Panthers. He's also been bothered by a groin injury.
Expected to be one of the league's best backs, health and ineffectiveness have caused fan and media focus to return to his possibly suspect fitness level.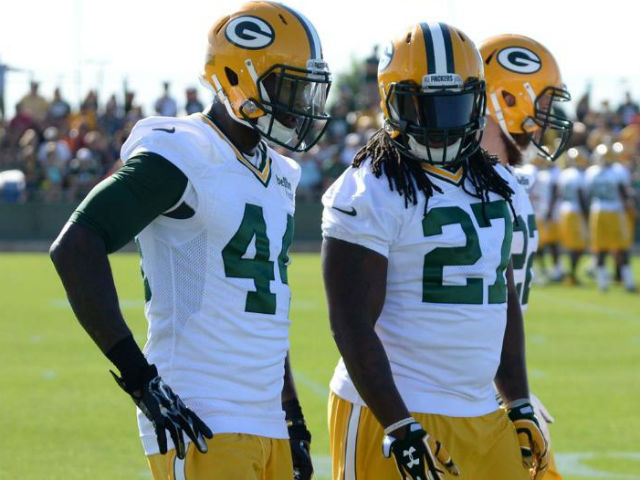 (PHOTO: Packers.com)
And meanwhile, Starks has managed a 4.3-yard average and showed his game-breaking ability with a 65-yard touchdown against the Chargers. He's clearly considered the more dynamic of the two runners right now. Certainly, he's the more svelte.
In the locker room on Wednesday, Lacy spoke graciously about the demotion, which he called "the best move for the team." He said he supports Starks, his friend, and understands the reasoning behind the change, admitting that "this season, he's definitely been the better player between the both of us."
(PHOTO: Packers.com)
Lacy said he didn't know why he's struggled this season – "if I knew the answer to that, we probably wouldn't be having this discussion" – but seemed sure of one thing. Surrounded by reporters of various levels of corpulence, he was asked a couple of times if he thought his weight had any impact on the team's decision to replace him. And while talking openly overall for more than six minutes, Lacy dismissed the question both times with a curt "no" and did not elaborate.
A player denying he's out of shape is no surprise; but it's hard to argue with production – and pictures. (Note: All of the embedded photos are from the team's website and were taken during the 2015 season.)
(PHOTO: Packers.com)
A couple weeks ago, when asked about Lacy's seemingly ampler size, McCarthy said, "I'm not going to get into guys' weights." But the coach later added, "I think players do get bigger in their career. He's bigger than he was as a rookie."
At the 2013 NFL Draft Combine, Lacy weighed 231 pounds. The Packers' website and others currently have him at 234, but it's common for players' listed weights to be left unchanged for long periods of time, even when they've clearly fluctuated.
(PHOTO: Packers.com)
After the Packers announced the running back change, there were a couple of reports from national media outlets that Lacy's weight was, in fact, the reason he lost his job.
#Packers starting James Starks over Eddie Lacy likely related to Lacy weight gain. In last 4 games, Lacy is 33 attempts, 78 yards, 2.4 avg. — Ed Werder (@Edwerderespn) November 11, 2015
Perhaps a couple extra pounds have indeed impacted Lacy's speed, quickness, agility or flexibility. In the NFL, hundredths of seconds and the slightest of edges can make a huge difference.
(PHOTO: Packers.com)
But look, Lacy is a professional athlete who's capable of doing things physically that 99 percent of humans cannot do. He's stronger, faster and more athletic than nearly every person who says or tweets that he's fat.
He's almost certainly not actually fat.
(PHOTO: Packers.com)
Still … Eddie Lacy looks kind of fat, right?
Born in Milwaukee but a product of Shorewood High School (go 'Hounds!) and Northwestern University (go 'Cats!), Jimmy never knew the schoolboy bliss of cheering for a winning football, basketball or baseball team. So he ditched being a fan in order to cover sports professionally - occasionally objectively, always passionately. He's lived in Chicago, New York and Dallas, but now resides again in his beloved Brew City and is an ardent attacker of the notorious Milwaukee Inferiority Complex.
After interning at print publications like Birds and Blooms (official motto: "America's #1 backyard birding and gardening magazine!"), Sports Illustrated (unofficial motto: "Subscribe and save up to 90% off the cover price!") and The Dallas Morning News (a newspaper!), Jimmy worked for web outlets like CBSSports.com, where he was a Packers beat reporter, and FOX Sports Wisconsin, where he managed digital content. He's a proponent and frequent user of em dashes, parenthetical asides, descriptive appositives and, really, anything that makes his sentences longer and more needlessly complex.
Jimmy appreciates references to late '90s Brewers and Bucks players and is the curator of the unofficial John Jaha Hall of Fame. He also enjoys running, biking and soccer, but isn't too annoying about them. He writes about sports - both mainstream and unconventional - and non-sports, including history, music, food, art and even golf (just kidding!), and welcomes reader suggestions for off-the-beaten-path story ideas.