There were many things about the final play of the Packers' win over the Lions on Thursday that were truly incredible.
Green Bay's offense had been "terrible" for most of the game, to quote its quarterback. Three of its five offensive linemen on the play were backups that had been beaten all night. Aaron Rodgers, known more for his accuracy than arm strength, threw a pass that traveled 65 yards through the air. There were six Lions defenders in the end zone, including five clustered right around the ball's landing spot. There have only been about a dozen game-ending Hail Marys in the history of the NFL, and the Packers' 61-yarder was likely the longest, though records are a little unclear.
But the most unbelievable thing about the whole thing was the guy who caught the ball, Richard Rodgers.
The much-maligned tight end was supposed to take a major step forward in his second season and emerge as a pass-catching weapon up the middle for the Packers' offense. Simply put, he hadn't done that through 11 games this year. With 40 receptions for a measly 293 yards (just 7.3 yards per catch), he could be depended upon to catch most passes thrown to him and then go nowhere with the ball. Going into Thursday's game, Rodgers – who has been a redzone threat with six touchdowns – was the figurehead of a group of Packers tight ends that was producing at a historically low rate.
At 6-foot-4 and 257 pounds, Rodgers is considered, by NFL standards, unathletic. At the 2014 NFL Draft Combine, he ran the 40-yard dash in 4.87 seconds, which was the 17th-fastest time out of 22 tight ends selected. His vertical jump of 31.5 inches was 12th among the 17 players at the position who competed in the drill. His 16 reps on the 225-pound bench press was 15th of 16.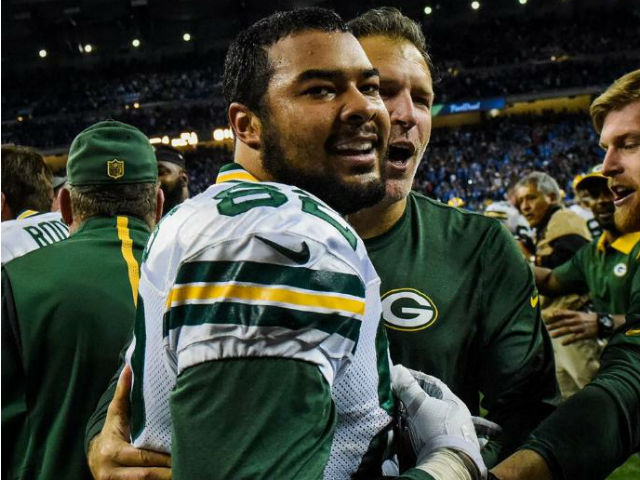 And yet, it was the plodding, earth-bound and relatively weak Rodgers who managed to sprint down the field, leap into the air and out-muscle a half-dozen other players to make one of the most sensational catches in Packers history, an instant-classic league highlight that just might turn around his team's disappointing season.
But that's not even the most amazing thing about it.
That would be the fact that his dad, Richard Rodgers Sr., was a crucial part of another of football's most astonishingly memorable game-ending plays. During the epic 1982 Stanford-Cal game, he threw two of the five laterals during "the band is out on the field!" winning Bears touchdown return with no time left. Surely, the elder Rodgers was smiling as he watched the University of California connection from Rodgers to Rodgers.
Like father, like son.
But, seriously, given Rodgers' athletic limitations and poor season to that point, what are the odds it was the one player with the pedigree for preposterously improbable playmaking that came down with the ball?
The Bears finished 7-5 this season and, when the College Football Playoff Selection Committee announces its picks on Sunday, will be headed for an unexceptional bowl game. Still, Packers fans should mark it on their holiday calendars and cheer loudly and proudly for Cal, the school that produced the Rodgerses who may have saved their season.
Born in Milwaukee but a product of Shorewood High School (go 'Hounds!) and Northwestern University (go 'Cats!), Jimmy never knew the schoolboy bliss of cheering for a winning football, basketball or baseball team. So he ditched being a fan in order to cover sports professionally - occasionally objectively, always passionately. He's lived in Chicago, New York and Dallas, but now resides again in his beloved Brew City and is an ardent attacker of the notorious Milwaukee Inferiority Complex.
After interning at print publications like Birds and Blooms (official motto: "America's #1 backyard birding and gardening magazine!"), Sports Illustrated (unofficial motto: "Subscribe and save up to 90% off the cover price!") and The Dallas Morning News (a newspaper!), Jimmy worked for web outlets like CBSSports.com, where he was a Packers beat reporter, and FOX Sports Wisconsin, where he managed digital content. He's a proponent and frequent user of em dashes, parenthetical asides, descriptive appositives and, really, anything that makes his sentences longer and more needlessly complex.
Jimmy appreciates references to late '90s Brewers and Bucks players and is the curator of the unofficial John Jaha Hall of Fame. He also enjoys running, biking and soccer, but isn't too annoying about them. He writes about sports - both mainstream and unconventional - and non-sports, including history, music, food, art and even golf (just kidding!), and welcomes reader suggestions for off-the-beaten-path story ideas.