GREEN BAY – Five years ago – the last time Green Bay was a Wild Card entrant – everyone remembers the Packers riding through the postseason on the back of Aaron Rodgers' emergent offense and Charles Woodson's opportunistic defense.
And while Rodgers, a talented corps of wide receivers and the surprising ground attack of James Starks – along with the big-time playmaking of Woodson, Nick Collins and Clay Matthews – were essential to Green Bay's march to Super Bowl XLV, there was another, equally crucial element: a rampaging pass rush that racked up the most sacks of any team in the playoffs.
Indeed, after ranking second in the NFL in sacks during the 2010 regular season (47), that squad notched 11 more on its way to the title, including five in the Divisional Round win over Atlanta. During an injury-plagued year, the Packers got major pass-rushing contributions from, besides Matthews, some real no-names. Undrafted rookie Frank Zombo, practice squad-promoted Robert Francois and street free agent Erik Walden filled holes at linebacker and made plays – including Zombo's Super Bowl sack, the only one Green Bay recorded in the game.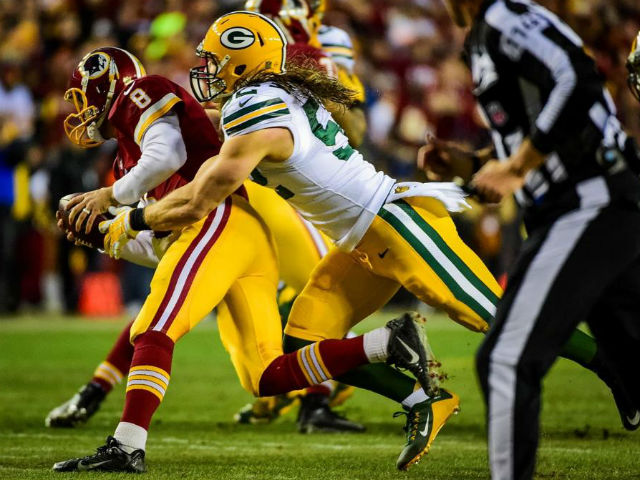 Those unheralded players, save for Matthews, are long gone, replaced by high draft picks that came in with lofty expectations. The 2010 draft brought Mike Neal in the second round, though he played in only two games before being placed on injured reserve. In 2012, Green Bay selected Nick Perry in the first round, but he played in just six games before being put on IR. In 2013, Datone Jones was taken in the first round and had a strong rookie campaign before a quiet second season.
Until this year, the three played in a combined 113 of 160 possible games (71 percent). Between them over that time, they totaled 28.5 sacks, or one in every 5.6 games. Each battled adversity with injury and lack of productivity; each faced questions about unfulfilled potential and whether they'd be retained by Green Bay. But this season, the trio played 45 of 48 games (94 percent), recording a sack every 4.2 games.
The high-pedigree pass-rushers' stalls are all right next to each other in the Packers' locker room, bookended by revered veterans Matthews and Julius Peppers. Finally healthy in 2015, Neal, Perry and Jones helped a defense that tied for seventh in the league in sacks (43) and carried the team down the stretch.
Earlier this week, Neal said, "Sometimes the stat book don't do you any justice; you can be relentless every game, and sometimes (sacks) don't fall." But regardless of what the box score showed, the three players still made an important impact.
That impact hit an apex in the Wild Card win at Washington. Neal (two sacks) and Perry (2.5) made life miserable for quarterback Kirk Cousins, hitting him a combined six times, plus one more by Jones. Their constant pressure off the edge contributed to a rabid pass rush that had six sacks (Matthews had the other 1.5) and 13 quarterback hits overall.
The hulking Neal, who set weightlifting records at Purdue, has endured banned-substance rumors and qualms about his health over a six-year tenure in Green Bay. On Wednesday, he was defiant in saying that validating the outside world meant nothing, though he did acknowledge the perception some have about his pass-rushing output.
"I really don't care about what anybody's got to say because I think the biggest thing is they look for the highlights, the flash plays, the stuff that captures people's attention on TV, and I haven't had too many of those in my six years," Neal said. "But I think I've consistently been a productive player in this system, and each year I've gotten better and minimized mistakes, and to me that shows growth."
Still, as someone who'd never accumulated more than 1.5 sacks in a game, he admitted it was satisfying to have such a strong performance, including a forced fumble and recovery, when it mattered most.
"Yeah, of course, whenever you get into the playoffs that's what you need to have, and to have it at that time is the best time you can come up with something that good," he said. "Those two sacks definitely helped, but it's nothing if you can't replicate it the next week."
On Thursday, Perry echoed Neal's sentiment about disregarding the doubters. "Everybody says one thing or another, the main thing for me is just controlling what I can control and that's playing ball," he said. "Every game I always think I'm playing my best; I'm giving it all I got."
Perry certainly did that against Washington, setting his career high in sacks. But the goateed former defensive ends were adamant the team has been playing that way all season and didn't do anything differently within the scheme to so effectively get to the quarterback.
"Everybody feeds off one another, we're in playoff mode now, so everybody's trying to get there and we're competitive, so once one player gets (a sack), everybody's excited and we want to get more," Perry said. "We're all brothers, we always give each other props when we make those plays, and it was just big seeing Mike make those plays."
Perry credited the Packers' pass-rusher rotation with keeping everyone fresh. That group should get another boost with the return of second-year linebacker Jayrone Elliott, who had three sacks in 14 games this season but missed the last three with a quadriceps injury.
Neal, Perry and Matthews all talked this week about the importance of Green Bay pressuring Arizona's Carson Palmer, a gifted but immobile quarterback, when the Packers play the Cardinals in the Divisional Round.
The 35-year-old Peppers, who's amassed 10.5 sacks in his two seasons in Green Bay, said he's seen improvement in the three players with lockers between Matthews' and his. And he doesn't see that development ending on Saturday night.
"They've gotten better, definitely," Peppers said, specifically noting the Washington game. "With the pass rush, that's the perfect thing, you want to be disruptive, you want to affect the quarterback and make him uncomfortable and you want to collect sacks. I thought we hit the mark on all those things and we need it again this week."
Born in Milwaukee but a product of Shorewood High School (go 'Hounds!) and Northwestern University (go 'Cats!), Jimmy never knew the schoolboy bliss of cheering for a winning football, basketball or baseball team. So he ditched being a fan in order to cover sports professionally - occasionally objectively, always passionately. He's lived in Chicago, New York and Dallas, but now resides again in his beloved Brew City and is an ardent attacker of the notorious Milwaukee Inferiority Complex.
After interning at print publications like Birds and Blooms (official motto: "America's #1 backyard birding and gardening magazine!"), Sports Illustrated (unofficial motto: "Subscribe and save up to 90% off the cover price!") and The Dallas Morning News (a newspaper!), Jimmy worked for web outlets like CBSSports.com, where he was a Packers beat reporter, and FOX Sports Wisconsin, where he managed digital content. He's a proponent and frequent user of em dashes, parenthetical asides, descriptive appositives and, really, anything that makes his sentences longer and more needlessly complex.
Jimmy appreciates references to late '90s Brewers and Bucks players and is the curator of the unofficial John Jaha Hall of Fame. He also enjoys running, biking and soccer, but isn't too annoying about them. He writes about sports - both mainstream and unconventional - and non-sports, including history, music, food, art and even golf (just kidding!), and welcomes reader suggestions for off-the-beaten-path story ideas.