It's a strange and unfamiliar place in which we find ourselves here in Packerland, as the usually so-well-oiled offensive machine is stalling and the wide receivers are the main failing part.
In the Thanksgiving loss to the Bears, just two wide receivers caught a pass while tight ends and running backs made nearly two-thirds of the team's 22 receptions. Davante Adams dropped a possible touchdown and hauled in just two of the 11 passes thrown his way. James Jones, coming off his best game in weeks and bereft his hoodie, was held without a catch, as was Jeff Janis, the speedy fan favorite who can't seem to translate his online popularity into on-field production.
For the better part of a decade, the Packers have been able to depend on Aaron Rodgers and a deep receiving corps to power a potent passing attack. Not since 2003 has Green Bay finished a season outside the NFL's top 10 in passing offense. The current iteration, plagued by injuries and ineffective play, is ranked No 22.
What's the problem? How big is the problem? How many problems are there? Can they be solved? And if so, how? Is this all as big a deal as we're making it?
There are plenty of questions – and plenty of opinions – about the Packers' wide receivers. Here, we offer five thoughts on the position and its players:
There's less talent
In Rodgers' first few seasons, he was surrounded by a cast of accomplished veterans (Donald Driver, Greg Jennings) and capable young wideouts (James Jones, Jordy Nelson). Jermichael Finley, the physically gifted tight end, was another dangerous weapon. In 2011, as Driver was phased out, second-round pick Randall Cobb was added to the room.
From 2008, when Rodgers took over, through 2012, the Packers always had at least two wide receivers that had made the Pro Bowl on their roster. In 2013, Nelson, Jones and Cobb made up a still-formidable group. Last year, after Jones left in free agency, Nelson and Cobb had Pro Bowl seasons, and Adams showed promise.
This season, after Nelson got injured, Cobb was the only proven pass-catching threat and, as such, he's gotten extra defensive attention all season. Adams was hurt for much of the early portion of the season and has yet to get into a groove (more on that later). Jones was effective early, seeming to take opponents by surprise, but hasn't consistently been able to get open, especially deep, like he could in past years.
The Packers' team-wide mantra is "next man up," but at some point, the talent drop-off is too much to overcome with replacement players. They tried inserting Jarrett Boykin as a No. 3 wide receiver last season, and the former undrafted player was overmatched. They hoped Montgomery, a third-round pick this year, would be the next man up, but not coincidentally, he's been injured during Green Bay's offensive swoon. They've given snaps to Janis and Jared Abbrederis, but those are seventh- and fifth-round picks that simply might not be difference-makers. Perhaps there just isn't enough skill at the position anymore.
Concepts need to be more creative
After the loss to the Bears, head coach Mike McCarthy was adamant that the preparation was good and the scheme was sound, seemingly acquitting himself and his staff from blame, while indicating the players' execution must improve.
That's true to an extent, but nearly three-quarters of the way through the season, the players you have are the players you have – especially at wide receiver, the level of ability isn't likely to skyrocket. Therefore, it's on the coaches – and not just McCarthy; Alex Van Pelt, who's in charge of both quarterbacks and wide receivers, and offensive coordinator Edgar Bennett are also responsible – to come up with adjustments and ways to get more out of their players.
In the past, the Packers' offense was successful using a bounty of short and intermediate patterns – especially slants, quick outs and back-shoulder passes – to open up the field and make the defense susceptible to the killer deep balls. This year, slants have been virtually nonexistent, and with Nelson out, there isn't anyone Rodgers trusts to throw to for a back-shoulder pass.
Defenses are playing physical press-man coverage on the Packers, and the receivers aren't winning the one-on-one battles. Much blame has been thrown at the wideouts' lack of overall speed, but in actuality, they aren't even getting off the line, which makes it more an issue of strength and technique. Bennett, who was the well-respected receivers coach until he was promoted last year, and Van Pelt, who was the running backs coach and now perhaps is overloaded with quarterbacks and wide receivers, need to put their heads together to figure out how to do things differently.
Injuries have hurt
Injuries have been a problem, especially hurting the passing offense, but it's football. As Packers players have said for years, injuries aren't an excuse. The players still need to perform.
Obviously Nelson's absence has been hugely detrimental. Besides the top receiver being out all season, Adams missed time early, Montgomery has missed time of late and Abbrederis bookended an impressive Nov. 15 performance with multiple injuries that have limited him to five games.
Cobb and Jones have played in every game, but neither is a true No. 1 wideout, with Cobb more comfortable operating underneath in the slot and Jones unable to get reliable separation from defenders. Janis has not earned regular playing time for some reason.
Montgomery's ankle injury has been especially untimely – arguably the most blatant common denominator coinciding for and explaining the Packers' struggles in the passing game. He hadn't been hugely productive (136 yards and two touchdowns in six games), but he'd caught 15 of the 18 passes thrown to him and showed strong, speedy playmaking ability that could occupy opposing defenses' attention. McCarthy said Monday that Montgomery is "not making progress."
Adams is just in a slump
It wasn't pretty Thursday night for the 2014 second-round pick. Amid a season that was already more ebbs than flows, Adams dropped three passes against the Bears, one more than he caught. One post-route drop could very well have been a 47-yard score. After the game, Adams wasn't in the locker room to discuss his horrid performance, but on Sunday, he told reporters he was "pissed off."
Naturally. And naturally, Adams said he doesn't try to drop the ball. But he has seven this season, tied with Cobb for the team high despite playing in just eight games. Is it becoming a chronic issue?
Maybe, but let's not forget, Adams' hands had heretofore been considered his best asset. Not a speed receiver in college, he led the Mountain West Conference in receptions as a freshman with 102. As a sophomore, he led the nation with 131 catches. In just two seasons, he set Fresno State career records for catches and touchdowns. Last year, in his rookie season with the Packers, he had only four drops on 80 targets.
Let's not forget, too, the infamous cases of the drops had by Jones and Nelson. Both players had trouble catching the ball in 2010, with Jones dropping six passes during the regular season and Nelson dropping three in the Super Bowl, before making a few huge plays to help Green Bay win the title.
Adams hasn't forgotten how to catch the football; he can still do it. While he hasn't been able to do it lately, odds are he'll break out sooner or later – and hopefully will make up for lost time.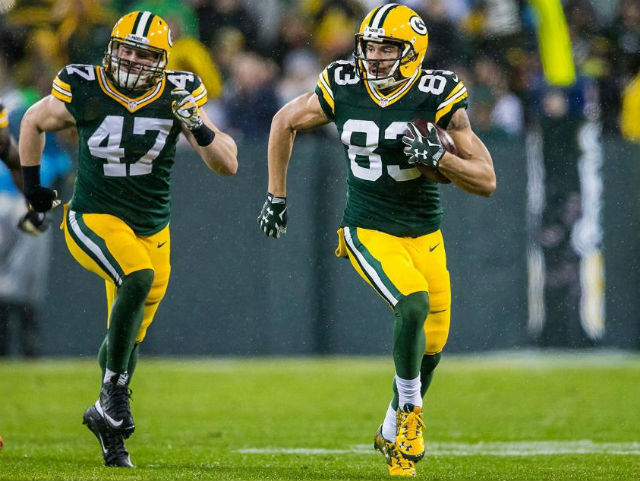 Why not Janis?
All the arguments have been made – both cerebrally football-sophisticated and common-sense spectator – for and against Janis being the Packers' answer at wide receiver. The truth is we really don't know why he hasn't gotten more playing time, but there must be a reason.
Before the season, Janis lent credence to the idea that he hadn't yet earned Rodgers' trust, saying "I think the biggest thing with Aaron is he wants us to be mentally on the same page. … He knows physical mistakes are going to happen, like dropped balls and things like that, but mental errors are unacceptable to him. So I think that's where I'm really trying to take a step."
It's hard to believe a dedicated player couldn't have made progress in getting on that same mental "page" as the quarterback after three months of practicing and playing with him. Janis did play a season-high 20 offensive snaps against the Bears, but he didn't catch a pass and may have missed a crucial assignment as a blocker.
On Monday, Janis said he was "definitely ready" for a bigger role in the Packers' offense, whenever the opportunity came. He added that the trust with Rodgers was "building" through frequent conversations and "things are coming along well."
He's the fastest player the Packers have on offense, caught three long touchdown passes in the preseason and has two kickoff returns of at least 60 yards in the last two games. Janis is a playmaker and, at the very least, can run go routes that could probably help jumpstart the Packers' sputtering pass offense. He's no sure thing, but at least he's something different.
If it ain't broke, don't fix it. But this thing's broke; it needs fixing.
Born in Milwaukee but a product of Shorewood High School (go 'Hounds!) and Northwestern University (go 'Cats!), Jimmy never knew the schoolboy bliss of cheering for a winning football, basketball or baseball team. So he ditched being a fan in order to cover sports professionally - occasionally objectively, always passionately. He's lived in Chicago, New York and Dallas, but now resides again in his beloved Brew City and is an ardent attacker of the notorious Milwaukee Inferiority Complex.
After interning at print publications like Birds and Blooms (official motto: "America's #1 backyard birding and gardening magazine!"), Sports Illustrated (unofficial motto: "Subscribe and save up to 90% off the cover price!") and The Dallas Morning News (a newspaper!), Jimmy worked for web outlets like CBSSports.com, where he was a Packers beat reporter, and FOX Sports Wisconsin, where he managed digital content. He's a proponent and frequent user of em dashes, parenthetical asides, descriptive appositives and, really, anything that makes his sentences longer and more needlessly complex.
Jimmy appreciates references to late '90s Brewers and Bucks players and is the curator of the unofficial John Jaha Hall of Fame. He also enjoys running, biking and soccer, but isn't too annoying about them. He writes about sports - both mainstream and unconventional - and non-sports, including history, music, food, art and even golf (just kidding!), and welcomes reader suggestions for off-the-beaten-path story ideas.