The Packers went on the road for their season opener Sunday in Jacksonville, taking on an unfamiliar and supposedly up-and-coming AFC opponent, battling hot weather such as they hadn't endured since about three weeks ago in Green Bay, overcoming communication issues and offensive mediocrity and, ultimately, taking care of business. Basically, they waited for Jaguars coach Gus Bradley to beat himself.
And thanks to yet another Aaron Rodgers miracle play (that included Davante Adams!), hearteningly competent O-line play and a defense that clamped down in the second half and made big plays when it had to, Green Bay emerged from sweaty, sprawl-y Jacksonville (did you know it's the most populous city in Florida and the largest by land area in the contiguous United States?) with a 27-23 victory against a team it had played just five times in the previous 20 years, which finished 5-11 last season. Also, they waited for Gus Bradley to beat himself.
It wasn't pretty or all that convincing, but that's not really a surprise; this team was 11th in the NFL in point differential last year and, before Sunday, had lost three of its last four season openers. The Packers tend to start slow and look rusty early on, and releasing a Pro Bowl guard who was tied for being the second-longest-tenured offensive player a week before the game probably didn't help with cohesion.
The offense is no longer of the record-breaking caliber; it is now merely good – potentially very good, at least as long as No. 12 is at quarterback. But defensively they showed up, special teams didn't hurt them against talented Jaguars units and head coach Mike McCarthy made good, smart and, at times, even aggressive decisions.
But enough lame preamble. Let's get to the good stuff. Here's everything you need to know, or missed, or just be reminded of, as well as plenty of other zany takeaways, from the Week 1 win over Jacksonville.
Who starred?
Damarious Randall. The Packers gave up 320 passing yards to quarterback Blake Bortles, but the 2015 first-round pick didn't allow any of Jacksonville's big completions, broke up two passes and had a touchdown-saving play in kickoff coverage. On the Jaguars' last play, the cornerback made the right read, moved quickly into position and was first on the scene to stop receiver Allen Hurns for no gain, clinching the win.
Who stunk?
Quinten Rollins. While fellow second-year man Randall was probably the game's best player, Rollins struggled throughout. Playing outside in base and as the slot corner in the nickel package, Rollins was beaten outside and inside, by wide receivers and tight ends, and was benched for part of the second half. He also wasn't in position to make the initial tackle on Marcedes Lewis, who gained 37 yards on a screen before Randall brought him down. Rollins was burned by Hurns for a 30-yarder and allowed a 22-yard touchdown to Julius Thomas. Though he did have a couple of key pass breakups, it was a rough day.
Unsung hero
Joe Thomas. When the undersized, undrafted second-year linebacker won one of the two inside spots, there were some eyebrows raised. But Thomas, who added weight in the offseason, had an interception (and fumbled it), some good pressure on interior blitzes and was almost always in the right position at the right time, including in the gang tackling of Hurns on the final play. It's nice to see a Packers inside linebacker pursuing opponents upfield, rather than chasing and bringing them down after they've already gained eight yards.
McCarthy Score
(Mike McCarthy isn't renowned for his play-calling, having fired and then rehired himself for that role last year, but he does try his best. Here we rate his coaching performance, on a score from one to 10 McCarthy heads.)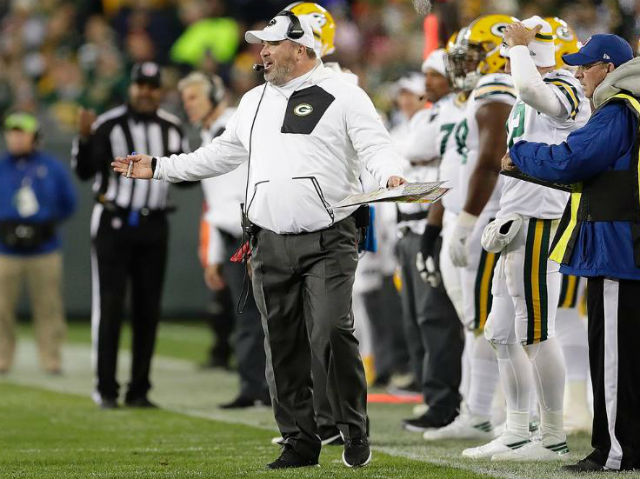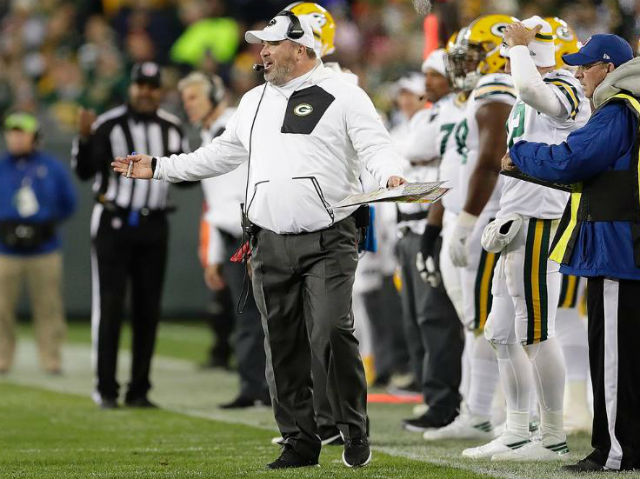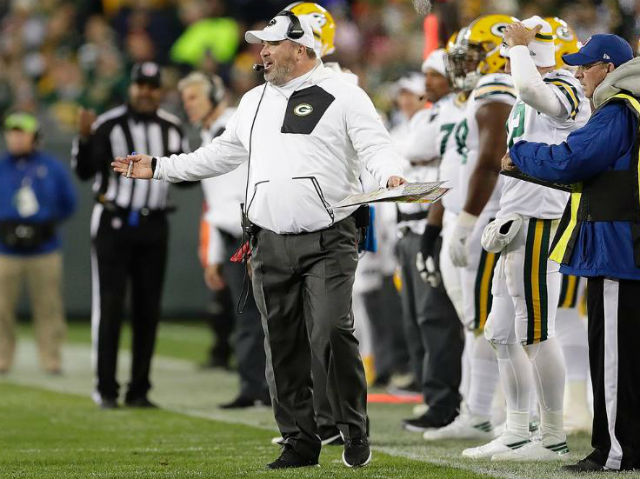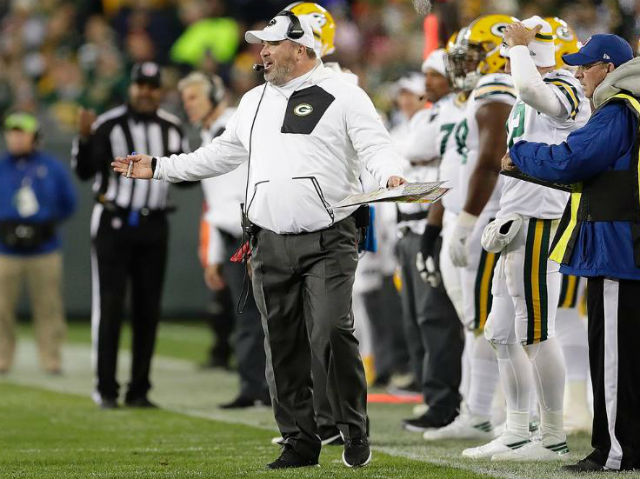 After the way last year ended – with the Packers completing a miraculous Hail Mary as time expired in the Divisional Round at Arizona, then kicking the tying extra point rather than going for the jugular, only to watch the Cardinals win immediately in overtime – you'd think McCarthy would be guns blazing every chance he got. He was in the first quarter, calling a fourth-and-1 Eddie Lacy run over new left guard Lane Taylor and gaining nine, which led to a touchdown; but in the fourth quarter, he again reverted back to snatching nonmathematical caution from the wind. With Green Bay up 24-20 and facing a fourth-and-goal from the 2-yard line, McCarthy – despite Rodgers' clear intentions of going for it and taking a two-possession lead, evidenced by his quickly trying to get off a play – decided to kick a field goal that extended the lead only to seven points.
Possessing one of the best and brightest quarterbacks in the game – and knowing the recent history of close losses, as the last three playoff defeats came on the final possession – McCarthy simply has to be determined to go for the win. If not every opportunity, at least in the most crucial and logical situations.
Afterward, McCarthy said this: "I wish I had a call or two back. We were kicking field goals down there instead of scoring touchdowns. We weren't maybe as aggressive as I would have liked." That's weird, because it's literally up to you on how aggressive to be.
And then, there's the general sloppiness the Packers displayed, looking out of sorts offensively – except when Rodgers was in charge and leading the no-huddle, hurry-up offense to two second-quarter touchdowns – and then having a costly miscommunication on the play preceding the fourth-and-2 when half the team thought it was a run play and the other half thought it was a pass. Green Bay's starters barely played in the preseason and it showed in terms of preparation.
Two-word reaction
Improvised adequacy.
Eddie Lacy, fat or phat?
He looked pretty good, particularly on that two-cut-and-go 28-yard burst. Of course, take that run out and Lacy rushed 13 times for 38 yards (2.5 average), which is less than pedestrian, but you could say that each game for every back. Big plays decide the game, and we didn't see a Lacy gain that long until Week 12 of 2015, when he was hurt, fat or ineffective for most of the year. Let's say he was fair.
Who wore it best?
Rodgers' tube. With mid-90s temperatures and that much-overhyped Floridian humidity – seriously, many of the best NFL players are either from or played college football in Florida, including numerous Packers, so can we stop with this tired storyline any time a team from the north plays below the Mason-Dixon Line? These guys all live down there anyway – players used cooling tubes on the sidelines to try and beat the heat. Rodgers' tube kind of made him look like Doctor Octopus, another obsessive genius with a chip on his shoulder. In this picture he certainly seems to be enjoying its effects.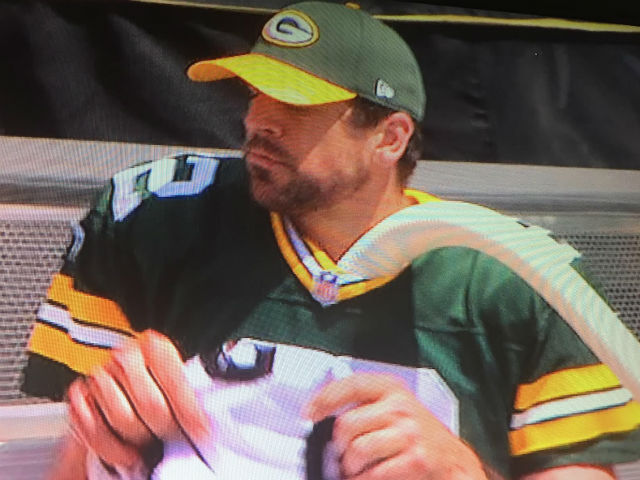 Top tweet
The fact that the jags had a pool in the corner of the end-zone made me even hotter. So wrong for that. 🏊🏾🏄🏽 #HaHa #21 😂 — Ha Ha Clinton-Dix (@haha_cd6) September 12, 2016
Good quote
"It was a situation where it's fourth-and-1. We have to make a big play. It's us against them. It was just find ball, hit ball. That was my whole mentality. Damarious and Micah did a great job of slowing him down, so the troops could get there and I was able to cap it off and finish it off." – Safety Morgan Burnett, who led the team with eight tackles and had a sack, on the final defensive play
Best photo
Besides subtly flexing, Clay Matthews has his hands there because Micah Hyde and Randall Cobb surely must've said they were going to punch him in the Favres if he wore those stupid sunglasses for the captain's photo. Or maybe Matthews was just trying to stay incognito, since he's a big TV commercial star now.
Did they miss Josh Sitton this week?
Actually, not really! Taylor was the player we expected, but even a little bit better. Big and strong, we knew he was a good run blocker, and he was on Sunday, most notably on the Lacy fourth-down run. Nowhere near the pass protector that Sitton is, Taylor was nonetheless respectable in that area against the Jaguars, not allowing any significant pressures, though Rodgers elected to scramble often out of the pocket. While Sitton's Bears line gave up five sacks to the Texans, Taylor and the Packers yielded just one.
Did the defense bend or break?
It's easy to laugh off Blake Bortles (what a dumb name!) and his single-season passing records last year (they're for the Jaguars!), but the guy threw the second-most touchdowns in the league in 2015 and can sling it to a slew of speedy wideouts. He did that, and the Packers should have had both better push from the undermanned defensive line and cleaner coverage in the secondary. But that run defense though! Green Bay limited Lacy's Alabama replacement, power back T.J. Yeldon, to 39 yards on 21 attempts, allowed a miniscule 1.8-yard rushing average to the and didn't give up a run longer than seven yards to Jacksonville. The Packers were outgained in total yards, 348-294, but the bending defense didn't break.
Encouraging thing
The run defense. Clearly, coordinator Dom Capers learned over the offseason that you're allowed to defend the run, as well as the pass. His men didn't seem to miss big B.J. Raji in the middle, either, as the for-now-retired nose tackle's absence was masked by superb, stout work from Letroy Guion (two tackles for loss) and Mike Daniels (one), as well as solid edge contain from hybrid outside linebackers/defensive ends Datone Jones, Julius Peppers and especially Nick Perry (two tackles for loss, one sack).
Alarming thing
Offensive efficiency. It's not terribly troubling yet, but Rodgers and McCarthy always make a big deal about two types of conversions: those on third down and in the red zone. Green Bay completed 50 percent on both, which isn't good enough for this offense. On third down, the team was 7 of 14, punting four times (Jacob Schum had a 46-yard average, sending one 56 yards but shanking another that he fortunately got to retake because of a penalty). In the red zone, it was 2 for 4, with two drives stalling out inside the 10-yard line because of miscommunications, resulting in Mason Crosby field goals.
Rookie review
Of the Packers' 12 rookies, six were active (Joe Callahan, Trevor Davis, Josh Hawkins, Kyle Murphy, Jhurell Pressley inactive), and four of the top five draft picks played defensive snaps. Inside linebacker Blake Martinez (fourth round) had six tackles and put vital pressure on Bortles on the final play, forcing him to dump down early; his roommate, outside backer Kyler Fackrell (third round), as well as defensive linemen Dean Lowry (fourth) and Kenny Clark (first) each had one tackle.
Weekly Aaron Rodgers OMG play
What else could it be but this – a falling-down broken play as he's being sacked in which he hurls a pass to Adams, who beats the coverage and the pass interference to haul in the 29-yard, go-ahead touchdown. This is your weekly reminder that Davante Adams – who would make diving, one-handed circus catches down the sideline in training camp and then on the next play get hit in the back with a throw because he ran the wrong route – will be both spectacular and infuriating in every game this season. Just understand and accept that now.
Aaron Rodgers is unstoppable.
It's that simple.#GBvsJAX https://t.co/KI1rGSLUvG — NFL Network (@nflnetwork) September 11, 2016
Milwaukee's Marwin Evans...
Got to play! The Oak Creek High School product, an undrafted rookie who made the team with his athleticism and high effort, was on the 46-man game-day active roster and even saw the field for some special teams work. That's good hustle.
Hail Mary counter
Zero, for now.
Body count
(The NFL Public Relations department has done a lot of work publicizing that the game has been made safer. How'd the Packers endure the week?)
Starting cornerback Sam Shields suffered what appeared to be a concussion late in the fourth quarter. Shields had concussion problems last season and, if he's indeed diagnosed again, he could miss extended time for precautionary reasons. Backup corner LaDarius Gunter left the game with cramps.
Game day site, food and beer
My apartment, Domino's, Hinterland IPA. It's important to start the season right, with no distractions or green mystery shots clouding my observational discernment. I won't pretend to be in midseason form, though, which is why, with my fantasy lineup setting taking more time than I expected and noon approaching, I panicked. Like Jay Cutler with Matthews bearing down on him, I just threw it up there and called one of the three pizza places for which I have a mobile app on my phone, settling on a pizza (sausage and mushrooms) and a chicken-bacon-ranch sandwich. They were who I thought they were! And I ate them both before halftime! As for the brew, Hinterland's out of Green Bay and their IPA is one of the best I've had. On a day where I'm not going out for the game and having just one beer, this was a good one. Suggestions for this category encouraged.
Fantasy hero, fantasy jerk
Sigh, Rodgers. He was 20 of 34 passing for 199 yards and two touchdowns with no interceptions, plus an eight-yard rushing score. Surprise, surprise, he's really good. But then on the other hand, where you at, Jared Cook? We heard a lot about Cook being the big-play tight end the Packers have been missing since Jermichael Finley, and Cook is bigger, faster and supposedly has better hands. In his first game with Green Bay, Cook was targeted twice (one pass interference penalty drawn) and caught just one ball for seven yards. C'mon dude!
Looking ahead
Next week, the Packers travel to Minnesota to take on the defending division champions in their first NFC North game. The Vikings, who lost starting quarterback Teddy Bridgewater to a knee injury late in training camp, are expected to use veterans Shaun Hill and Sam Bradford in a terrifying (for Minnesota fans) tandem. They still have Adrian Peterson and they surprised a lot of people with a Week 1 win over the Titans, thanks largely to a dangerous, touchdown-scoring defense. Green Bay takes on Minnesota on Sunday night at 7:30 p.m. on NBC.
Born in Milwaukee but a product of Shorewood High School (go 'Hounds!) and Northwestern University (go 'Cats!), Jimmy never knew the schoolboy bliss of cheering for a winning football, basketball or baseball team. So he ditched being a fan in order to cover sports professionally - occasionally objectively, always passionately. He's lived in Chicago, New York and Dallas, but now resides again in his beloved Brew City and is an ardent attacker of the notorious Milwaukee Inferiority Complex.
After interning at print publications like Birds and Blooms (official motto: "America's #1 backyard birding and gardening magazine!"), Sports Illustrated (unofficial motto: "Subscribe and save up to 90% off the cover price!") and The Dallas Morning News (a newspaper!), Jimmy worked for web outlets like CBSSports.com, where he was a Packers beat reporter, and FOX Sports Wisconsin, where he managed digital content. He's a proponent and frequent user of em dashes, parenthetical asides, descriptive appositives and, really, anything that makes his sentences longer and more needlessly complex.
Jimmy appreciates references to late '90s Brewers and Bucks players and is the curator of the unofficial John Jaha Hall of Fame. He also enjoys running, biking and soccer, but isn't too annoying about them. He writes about sports - both mainstream and unconventional - and non-sports, including history, music, food, art and even golf (just kidding!), and welcomes reader suggestions for off-the-beaten-path story ideas.