(*slowly opens door*) Hello? Is anyone there? What year is it? ... Who's president??
Sorry, I fainted Sunday night after Aaron Rodgers' third fumble. I don't know how long I was out and am just coming to now. I assume this is some sort of alternate universe? Where Donald Trump is a presidential nominee, basketballs shoot people and Sam Bradford is a better quarterback than ... (shudder) ... Right?
Hey, remember "Freaky Friday," one of the seminal movies of our time? As you surely know, it's a 2003 film that stars Jamie Lee Curtis and Lindsay Lohan as a sparring mother and daughter whose discordant characters somehow switch bodies overnight, forcing each to masquerade as the other until a solution is found – creating some zany hijinks – and, in the process, they learn to respect and better understand each other. Heartwarming, endearingly pre-meltdown Lohan and probably more narratively coherent than that summary, but my main takeaway from it was the body-switching.
So all of that is to say the only logical explanation I can come up with for the bizarrely backward, role-reversed quarterbacking of Aaron Rodgers and Sam Bradford in the Packers' Week 2 loss to the Vikings was the result of some sort of cosmically kooky body-switching experience that enabled the two-time MVP and NFL career leader in passer rating to suddenly play like the twice-traded and oft-injured draft bust, and vice-versa.
Maybe it happened when Hall of Fame coach Bud Grant blew the Viking vuvuzela, dramatically waving his arms, whipping the crowd into a purple-throated frenzy and casting an ancient Norse spell on Rodgers and Bradford. (Remember: Grant was born in Superior, Wisconsin, but he went to college at Minnesota and never returned to our fair Dairyland.) That wily old wizard.
Anyway, Rodgers wasn't the only Green Bay player to shrink under the bright lights of Sunday Night Football (or perhaps be blinded by the reflection off nearly 200,000 square feet of glass) in the first regular-season game at the Vikings' brand new, inarguably impressive, billion-dollar polygon, otherwise known as U.S. Bank Stadium. Plenty of Packers – including the head coach – seemed to forget that it's no longer 2010 through 2014 (we miss you, Christian Ponder!), and they actually have to show up for these games.
Man, that stupid stadium was loud.
As Mike Daniels, one of the defenders that played well, reminded everyone afterward, this team won the division last year. Not the Packers. The Vikings. No, really, they did! The 2015 NFC North champs were far from flawless, themselves – Bradford was making his first start after being acquired just two weeks prior, running back Adrian Peterson was ineffective and then injured – but Mike Zimmer's defense showed why it's among the best in the league, forcing Green Bay out of sync and into turnovers. "You do have to give them credit," Daniels said.
You do.
Maybe it just wasn't the Packers' night; after all, Blair Walsh didn't even miss an extra point. In "Freaky Friday," the mom and daughter perform several acts of selfless love and then there's an earthquake and they miraculously switch back to themselves. I think. Who knows? But after Strange Sunday, let's just hope Rodgers, who hasn't looked like Rodgers in a lot longer than a week, turns back into himself soon.
Here's all the stuff you need to know, or just forgot, or missed because the girl in the Randall Cobb jersey started talking to you at the bar and dollar Miller Lites go down so easy, plus all kinds of other wacky what-nots, from the Packers' 17-14 loss to the Vikings in Week 2.
Who starred?
Julius Peppers. He didn't do anything last week against Jacksonville (or is zero tackles still something?), but the old pass rusher showed he's still got some moves. Peppers had a team-high three quarterback hits, including 1.5 sacks of Bradford, and demonstrated to Andre Smith what the mid-2000s were like for NFL offensive linemen. The Packers' plan has been to limit the 36-year-old Peppers' snaps to maximize his impact; against the Vikings, who allowed four sacks and 10 QB hits, Peppers was efficiently disruptive.
Who stunk?
Aaron Rodgers. It's well-chronicled by now that Rodgers – whose career passer rating is an all-time NFL-best 103.8 – has been less-than-stellar for a while. He hasn't had a rating of 100 or better since Oct. 18 of last year, though that's a little bit misleading since he's been above 95 four times since then. Still, arbitrary benchmarks aside, he looked bad against a well-coached and physical Vikings defense that knows him and the Packers' offense as well as any team. Rodgers overthrew guys on short passes, missed open receivers and uncharacteristically turned the ball over twice on a fumble and an interception, and that's not even counting his other two fumbles Green Bay recovered.
Rodgers' hallmark, and the area of his own game he angsts over the most, is taking care of the ball. He's never before been as careless with it as he was Sunday, and he's hearing all about that. With the famously large chip on his shoulder and the perpetual goal of disproving doubters, it'll be interesting to see if he suddenly goes into domination mode.
Unsung villain
Damarious Randall. Last week, he was the star, playing one of his best pro games versus Jacksonville. On Sunday, he got worked, mostly by electric wide receiver Stefon Diggs (nine catches for 182 yards and a touchdown), who grabbed receptions of 44, 46 and 25 yards on him. In a game that frequently felt less like football and more like competitive pass interfering, Randall was penalized for it twice, including on a critical third-down play on Minnesota's final drive. Afterward Randall said, "I just didn't have it." Word.
McCarthy score
(Mike McCarthy isn't renowned for his play-calling, having fired and then rehired himself for that role last year, but he does try his best. Here we rate his coaching performance, on a score from one to 10 McCarthy heads.)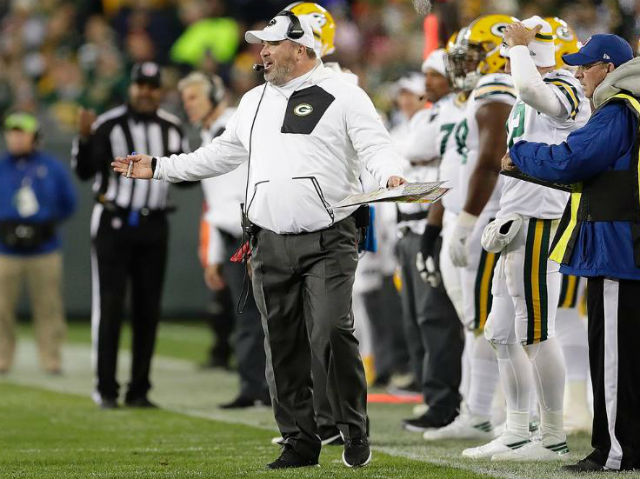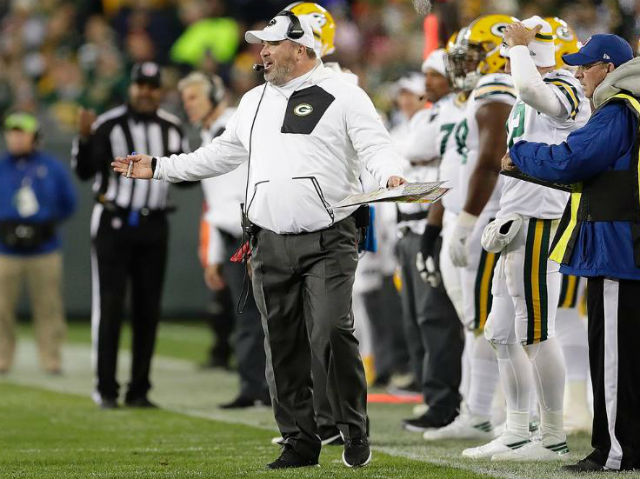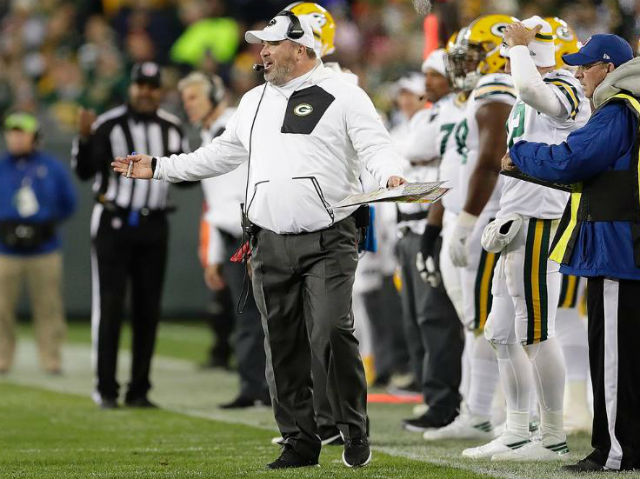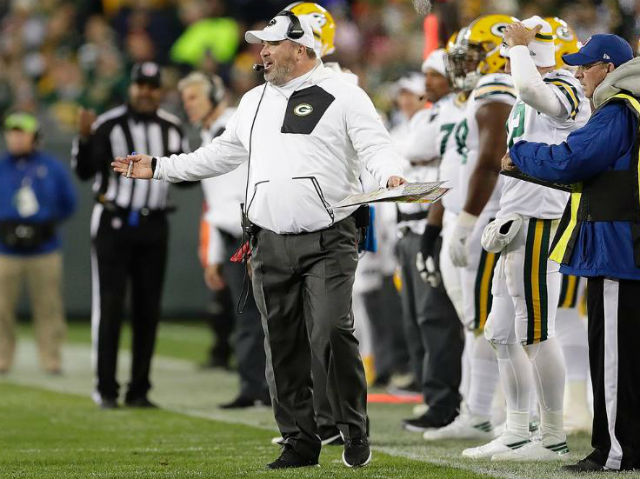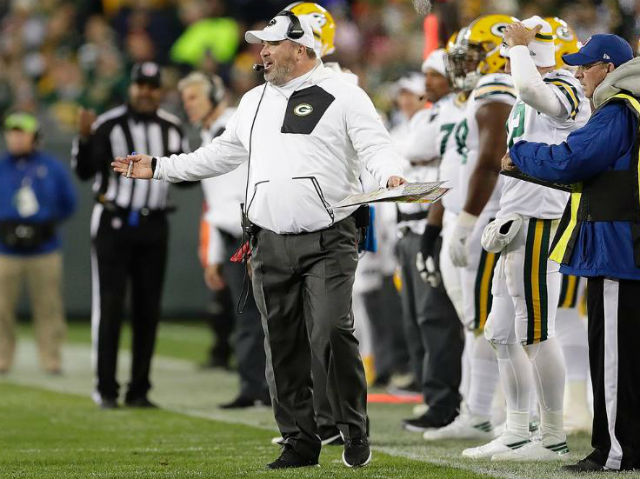 Well … huh. Last week, we implored McCarthy to be more aggressive in his playcalling, especially because he has Rodgers as his quarterback and particularly in fourth-down, gut-check situations. Yeah, and so he was … sort of. Down by three points in the third quarter, McCarthy decided to go for it on a big fourth-and-two at the Vikings' 14-yard line, rather than kicking the tying field goal, which, OK, sure. But he elected to give the ball to backup running back James Starks, who has averaged less than a yard per rushing attempt so far this season. Starks was stuffed, Green Bay turned it over and we were all left to scratch our McCarthy-style beards in befuddlement.
On Monday, the coach said he wants to get the running backs more involved, but he also insisted that if the offense just plays better, then it will be better, so I guess there's that, too. For his part, Rodgers said, "I like the call. It was an aggressive call. We were moving the ball and we have to convert there." In any event, one McCarthy head improvement.
Two-word reaction (plus punctuation)
Sam Bradford?????
#dumbtake
Aaron Rodgers is declining; he's no longer an elite quarterback. But, that Sam Bradford on the other hand … Ugh, god, no. Shut up.
Eddie Lacy, fat or phat?
He carried 12 times for 50 yards (4.2 average) and had long gains of 12 and 13 yards. On those runs, he looked fierce, one-cutting and breaking tackles to get to the second level. Unfortunately, he doesn't have the speed to take any of those promising runs to the house, but at least he was again useful. And yo, he's not the one averaging 0.9 yards a rush.
Who wore it best?
Mike Daniels' belly. This picture makes me so happy. As a formerly fat kid (1995-2001), I know this look. It's called the "Let it all hang out" and it comes when you're comfortable with your body. Daniels is basically daring someone to say something. "What'd you say about my weight?" "No, nothing, sorry!" He knows he's a bad dude, possibly the actual best player on the defense (rather than just the most popular or pervasive in TV ads), and he doesn't need to suck in anything. My roommate howled with laughter after one play Daniels made Sunday, yelling, "He's so fat!" (my roommate is sports fan-adjacent). But Daniels doesn't care how he looks in his jersey, just what he does to the guys in the other jerseys. He was destructive in the first half, finishing with two tackles for loss, two quarterback hits and a sack.
Here's me going for that same belly-of-a-boss look in third grade:
Top tweet
Fact of the Day: The Green Bay Packers have never won here. pic.twitter.com/ViKRcMQl0P — Vikings Huddle (@VikingsHuddle) September 19, 2016
Good quotes
A couple different perspectives on the offensive performance from two of Green Bay's leaders:
"We didn't execute. That's 100 percent on the offense. The defense I thought played a really good game, gave us multiple opportunities, kept us in the game. As an offense, we didn't do our part." – wide receiver Jordy Nelson
"We're not going to overreact. It's been two weeks. We haven't been able to quite find our rhythm yet, but we'll trust the process and believe we can get the thing turned around." – Aaron Rodgers
Rodgers is right, of course, and the Packers often start the season slow, especially on offense. But anytime you find yourself sounding like ex-76ers general manager Sam Hinkie, in regards to trusting the process, you might want to reevaluate.
Best photo
This was taken before he had what was probably one of the worst games of his life, but Damarious Randall looks loose and confident in this picture. Also kinda resembles Dipsy, the green Teletubby, which may explain why he was terrible.
Did they miss Josh Sitton this week?
Yep. The Packers allowed five sacks and the quarterback was hit eight times total. A couple of those resulted from nothing being open downfield and Rodgers holding onto the ball, but frequently he had little time to throw and was scrambling. On a couple of plays, Rodgers didn't see an open receiver underneath because he was under too much pressure.
Left guard Lane Taylor actually held his own, though he didn't have to face Minnesota's talented starting d-lineman Sharrif Floyd, who was injured. But especially in such a loud venue, the offensive line looked out of sorts and could have used Sitton's veteran presence and awareness.
Did the defense bend or break?
The defense bent, but only a little bit. Led by Daniels and rookie Kenny Clark, who replaced Letroy Guion after the latter exited with a knee injury, the defensive line dominated the line of scrimmage, holding All-World Adrian Peterson to 19 yards on 12 carries (and 30 on 12 overall for the team). The linebackers looked good, with Peppers, Matthews and Nick Perry combining for three sacks, and Jake Ryan making plays inside (six tackles, one for loss and a pass defensed) while covering well outside.
But on the back end, Randall was bad and the rest of the secondary was merely mediocre. Making Bradford look like a Pro Bowler – when he is not and has barely even had time to practice with his only real weapon, Diggs – is never a good thing, but this game was decided on the other side.
Cool moment
When Rodgers ran it in for his 10-yard rushing touchdown, he was popped late by safety Andrew Sendejo, after Rodgers had already crossed into the end zone. Two cool things about that: First, Rodgers sturdily withstood the hit, while Sendejo fell to the ground; second, a legion of Packers teammates, led by Cobb and center JC Tretter, rushed to Rodgers' side to protect him and get in Sendejo's face. "Leave our quarterback alone!"
Encouraging thing
The Packers committed only six penalties for 72 yards, compared to Minnesota's 13 for 137. Through two games, Green Bay has drawn half as many flags as its opponents (11 to 22). So that's something.
Alarming thing
These wide receivers. Every year, it's the same thing: In training camp, the Packers have 10 vaguely promising young pass-catchers and everyone loses their minds and we get countless stories about how many wideouts they could keep. Seven? Eight? Nine? Fifty-three? But then we get two games where Nelson, Cobb and Davante Adams play 85 percent of the snaps and we wonder why we got so excited during preseason.
Nelson looks like he'll at least be close to the receiver he was before the knee injury; Adams will probably always be a boom-or-bust, potential-filled but vexing option. But what about Cobb? We found out last year he can't be a No. 1 receiver, but he's barely registered as a weapon so far. If Jeff Janis can't catch with his club cast and Jared Abbrederis is condemned to only play special teams, can we at least see rookie Trevor Davis? Maybe he'll run the wrong routes and still get open like Cobb did when he was a rookie.
Gratuitous Clay Matthews pic … for the girls!
Rookie review
Of the Packers' 12 rookies, nine were active (Joe Callahan, Josh Hawkins, Kyle Murphy inactive), with five of the first six draft picks playing snaps. Clark (first round) was stout against the run and knocked down a pass; outside linebacker Kyler Fackrell (third) and inside linebacker Blake Martinez (fourth) were in the right places at the right times and didn't look overmatched at all; defensive end Dean Lowry (fourth) didn't make an impact, positive or negative. The fifth-rounder, Davis, got a few snaps on offense, as well as a chance to field a punt late in the game. Safety Marvin Evans, an undrafted free agent from Milwaukee, had a big tackle in kick coverage. The first-years all passed this week.
Weekly Aaron Rodgers OMG play
This week, it's not a good OMG. Rodgers was scrambling, buying time like he does so well and looking downfield, and it felt like he would surely pick out an open receiver and deliver a big completion. Instead, Minnesota defensive end Brian Robison got to him from the back side for a strip-sack – his third fumble of the game – that left the quarterback looking less frustrated or disappointed than shell-shocked and defeated.
Local connection
Kenosha Bradford product Trae Waynes, the Vikings' first-round pick last year, got picked on all game, targeted often against Nelson and flagged for a few penalties. But late in the fourth quarter, with the Packers down three and driving, Waynes made one of the biggest plays of his life, intercepting Rodgers to allow Minnesota to secure the win. K-Town represent!
Hail Mary counter
Still zero, but maybe they outta dust that play off, given the success of the offensive gameplan so far.
Old Packers nostalgia
Remember Don Beebe? Super-fast white wide receiver? He was like the Jeff Janis of the late 90s. So cool. When I was a kid, my friend and I used to fight over who would get to "be" Don Beebe running routes in the yard, and who would have to settle for being Brett Favre. I remember one time I got a framed photo of Beebe from a sports memorabilia store and I forged his autograph on it in bad fourth-grade cursive. Wasn't even trying to sell it; just thought having a fourth wide receiver's fake signature on a photo made me cool. I was an idiot.
Game day site, food and beer
My apartment, Bar Louie carry-out and Goose Island 312. Had a few friends over this week, where we enjoyed Bar Louie chicken nachos, burgers (and a portabella burger) and the above-average-but-unspectacular Chicago brewery's flagship swill. I like 312, but in the way that I like reruns of "The Office." Familiar, enjoyable, predictable. I went on the Goose Island brewery tour when I was in college and it basically consisted of walking down a hot, tiny hallway and looking down through glass windows at the process from above. Chicago knows nothing about brewery tours; on the Milwaukee Brewing Company tour, which is excellent, you could probably fall into the fermentation tank without anyone noticing (not that I'm advising it).
Fantasy great, fantasy jerk and who to start next week
I mean, I guess Nelson, if only because he's scored twice in two games. Dependability is good in fantasy. But nobody on this Packers team is exactly winning you a matchup right now. Rodgers hasn't played up to his own lofty standards, but a passing touchdown and another rushing score this week really helped his fantasy output. The jerks this week are Lacy and Cobb; even cheesehead simpletons who drafted them too high out of misguided home-team love are getting shafted by their apparent ambivalence toward statistical production.
Next week, Green Bay hosts the Lions, who are dreadful defending both the run (allowing 126.5 yards per game) and the pass (300.0). Green-light your Packers starters and expect them to rebound and have a big game against the Lions. Given Rodgers' subpar performances thus far and his penchant for erupting after he's been criticized, the quarterback's the best bet. The prediction here is 340 yards and three touchdowns.
Looking ahead
The Packers face the Lions at noon on Sunday (FOX) in Green Bay, the first of four straight home games at Lambeau Field. Detroit is 1-1, coming off a one-point loss to the Tennessee Titans. Quarterback Matthew Stafford is spreading the ball around to different receivers, since he no longer has the retired Calvin Johnson, but the Lions aren't getting much of a ground attack. On defense, they're allowing 406.5 yards per game, seventh-most in the league. After playing Detroit, Green Bay will have its bye in Week 4.
Born in Milwaukee but a product of Shorewood High School (go 'Hounds!) and Northwestern University (go 'Cats!), Jimmy never knew the schoolboy bliss of cheering for a winning football, basketball or baseball team. So he ditched being a fan in order to cover sports professionally - occasionally objectively, always passionately. He's lived in Chicago, New York and Dallas, but now resides again in his beloved Brew City and is an ardent attacker of the notorious Milwaukee Inferiority Complex.
After interning at print publications like Birds and Blooms (official motto: "America's #1 backyard birding and gardening magazine!"), Sports Illustrated (unofficial motto: "Subscribe and save up to 90% off the cover price!") and The Dallas Morning News (a newspaper!), Jimmy worked for web outlets like CBSSports.com, where he was a Packers beat reporter, and FOX Sports Wisconsin, where he managed digital content. He's a proponent and frequent user of em dashes, parenthetical asides, descriptive appositives and, really, anything that makes his sentences longer and more needlessly complex.
Jimmy appreciates references to late '90s Brewers and Bucks players and is the curator of the unofficial John Jaha Hall of Fame. He also enjoys running, biking and soccer, but isn't too annoying about them. He writes about sports - both mainstream and unconventional - and non-sports, including history, music, food, art and even golf (just kidding!), and welcomes reader suggestions for off-the-beaten-path story ideas.