GREEN BAY – Everyone says there's nothing to do in Green Bay.
Cultural wasteland, critics complain. Ghost downtown with a dull nightlife scene, socialites cry. Medium-sized place with a small-place vibe, undescriptive detractors contend. Cold city and ethnically whiter than the snow that covers it, meteorologically inclined anthropologists lament. Possessing a critical lack of precious, urban-enriching millennials, grumble those annoying people who talk about millennials all the time.
Those may all be different variations of the same hackneyed device used to lazily disparage the supposed smallness, boringness and uncoolness of the town – and actually, yes, they definitely are that – but is it true?
Is there really nothing to do in Green Bay?
Anecdotally, pretty much.
I'm here for a couple days each week, have been recommended on different occasions Buffalo Wild Wings as a going-out spot and was told by the front-desk clerk at a hotel located downtown that there "isn't much in downtown."
A friend of mine, who now resides in Chicago, lived in Green Bay for two years after college and, when asked for suggestions, responded, "Um, things to do? There is nothing to do. Appleton has more things to do if you want to drive 40 minutes."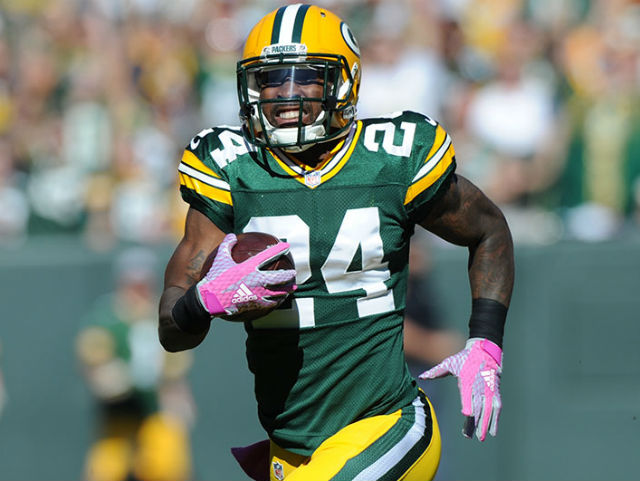 But it's not just me and my friends. One visiting ex-NFL star, in a 2009 OnMilwaukee article, lambasted Green Bay, saying, "Everything about this place is terrible, to be honest with you." In 2010, former Packer Will Blackmon tweeted that it was "sooo boring." Last year, then-rookie cornerback Demetri Goodson more-diplomatically echoed that sentiment, saying to the Fort Worth Star-Telegram, "Trust me, it's boring – but it's not bad."
Indeed, one year later, Goodson is still there. "I like living here. It keeps you out of trouble," he said in the Star-Telegram story. "Once the season is over, that's when we all go have our fun."
Aye, there's the rub.
The historic franchise in the smallest market of the four major sports trades on Green Bay's reputation – and reality – as the humble, hardworking, all-American heartland that eats, drinks, sleeps and breathes Packers football (OK, not drinks, it still drinks mostly beer). And to the team's credit, it typically seeks out players with certain characteristics, those that conform to the vaunted, so-called "Packer Way."
But that still doesn't change the fact that the players are mostly young men with lots of cash (that's not code for anything debaucherous; money can buy many types of entertainment) who are stuck in a relatively vanilla burg for eight to nine months out of the year. What do they do?
Particularly, what do the rookies do, the greenest guys coming right from college where they were BMOCs in vibrant places like Los Angeles, Tempe, Ariz., Miami (both of Ohio and Florida!) and Ann Arbor, Mich. What's the social life of 23-year-old professional football players in Green Bay? How do they amuse themselves? What do they do for fun?
The short answer: video games. Video games and movies, preferably at home. Sometimes bowling and poker, too.
I talked to each of the nine rookies on the Packers' active roster to more fully answer these vital lifestyle questions as the Packers prepare for their playoff push. You won't want to miss undrafted free agent John Crockett's excellent responses – and favorite Wisconsin beer – at the end.
1. Damarious Randall, first-round pick from Arizona State
Do you like Green Bay? It's different because I came from nice, warmer places, Arizona State and Florida, so I've been trying to get familiar with the cold weather. That was kind of a culture shock for me and my family. A lot of people have been giving me trouble since the summer, saying how cold it was gonna get, but this has been, I guess, one of the best winters since, like, 1911 in Green Bay, they told me.
What do you do in Green Bay? I've been enjoying it and learning the city. The rookies, we go out bowling now and then, go out to eat, so we've just been trying to make the best of the little time that we do have outside of work. But right now, we've been mostly busy from 6 to 6, so once you get home you just want to eat, watch a little TV and film, and go to sleep.
2. Quinten Rollins, second-round pick from Miami (Ohio)
Do you like Green Bay? For the most part, I'm a homebody, so I really don't get out much. Being here since May together, (the rookies) had a lot of time to get to know each other, especially at the hotel, then when we kind of branched off to our own areas as far as finding apartments and we all just ended up in Hobart.
What do you do in Green Bay? I'll just be in the home, relaxing, especially after finishing up at work. Mostly when we get together, just leisure activities like bowling, poker at somebody's place, obviously there's a mutual interest in video games. I was the same way in college; I was a homebody, really wasn't getting crazy on weekends.
3. Ty Montgomery, third-round pick from Stanford
Do you like Green Bay? I like it. I don't do a whole lot, and I don't need to be doing a whole lot. I like the feel; I like how it feels small. I think it's got 100,000 (population), so I guess it's not that small, but it's got the small feel to it.
What do you do in Green Bay? Honestly, hanging out with my fiancée, going out to eat, watching movies, hanging out with some of the guys. I went fishing in Sturgeon Bay once, and I caught a pike.
4. Jake Ryan, fourth-round pick from Michigan
Do you like Green Bay? I like it. It's all about football, that's always good. I grew up in Cleveland, so it's a little different, but it's similar, Midwest.
What do you do in Green Bay? I mean, I live with (Aaron) Ripkowski, and we'll go to the shooting range sometimes when we've got some time off. But, jeez, I don't know. We'll go to, like, the Black and Tan (Grille), that's always a good time. Those are two things that we would get into. Mostly, it's film, film, but in the off time, that's how we enjoy ourselves.
5. Brett Hundley, fifth-round pick from UCLA
Do you like Green Bay? It was different, obviously, coming from California, but I like it. This winter hasn't been a bad winter. It's fun to be a rookie in Green Bay because everybody is one big family, and I really like that. I love the rookie class. It's just a fun atmosphere.
What do you do in Green Bay? There's not much to do in Green Bay, but, you know, there's enough to where you get together as rookies and go bowling or play poker, just sort of have fun and figure out ways to enjoy this time that we have. We don't have much time, but when we do we like to enjoy ourselves.
6. Aaron Ripkowski, sixth-round pick from Oklahoma
Do you like Green Bay? It's an incredible place – not too big, not too small. The people, the fans are amazing, but it's not too claustrophobic because there's not much going on, but at the same time it's enough to keep you happy. It's kind of like a Texas atmosphere. Football is a religion down there, and the town treats it the same way here, so it's not really much of a change it's just a bigger scale here. It's just perfect.
What do you do in Green Bay? Being a rookie, there's not too much time. But if I am off, I'm usually just at the house relaxing – haven't really gone out too much to see the areas. I know there's some great hunting up here, but I haven't really had time to do any of that. I've actually got two fishing trips set up for this summer. Jake and I play a lot of "NHL Live"; usually I win, and you can ask him about that – he'll say otherwise. But besides that, we relax at the house. Me and him play heads-up poker with some chips, not for money.
7. Kennard Backman, sixth-round pick from UAB
Do you like Green Bay? It's been unique. First off, I heard we've been sheltered, at least our rookie class, in terms of the weather – it hasn't been very cold. I've been enjoying it. I can't complain as far as the weather. Things are a little bit slower here, but I think that's a good thing, especially being a rookie.
What do you do in Green Bay? I'm a gamer now. I'm starting to get into video games and it gets pretty competitive with the guys. "Call of Duty," "NBA 2K," surprisingly, I don't really play Madden that much. I guess I've got to get away from the game a little bit. (Hunting and fishing) is a little bit out of my element, but I know there's a lot of stuff I'm going to be doing for the first time. As far as hunting, I know I'm planning on doing that. Someone was trying to get me to go ice fishing, but I don't really know about that one. Maybe they bring alcohol out there.
8. LaDarius Gunter, undrafted free agent from Miami (Fla.)
Do you like Green Bay? I mean, basically, Green Bay is a small town, so there's not much to do. Coming from Miami, it's something to get used to. Green Bay is a place you have a lot of time to yourself to think, so you can find out who you really are.
What do you do in Green Bay? Nothing really, I'm a homebody. The only thing that fazes me is maybe the cold weather. I like to play games, watch a movie. I don't do much else. Usually we just hang around, play video games, go out bowling.
9. John Crockett, undrafted free agent from North Dakota State
Do you like Green Bay? It looked just like my college town, it looked just like Fargo. Everything's the same – the fans, the colors, the town. Green Bay's a little bigger, but it was all the same, it just felt like I was back in school.
What do you do in Green Bay? We try to have little poker nights, rookie bowling, go to the movies together, do what normal young men do. It's basically like college, except you've got a little bit more money (laughs). There's a bunch of us that stay in the same apartment complex in Hobart, so it's cool to have everyone around. But it's kind of hard to figure out whose place we're going to go to because everyone's got the big TVs and sofas and game systems. I'd probably say mine looks the best – clean, looks nice, the misses takes care of that. They call it the mini-mansion.
We don't really go out (to bars), especially not here. You've got to be smart with those types of things because not a lot of good stuff can happen there – that's something we try to stay away from. And at the end of the day, we all have our own houses, so if you ever want to hang out, have a couple brews with the guys, you don't need that extra stuff. I tried a beer that's called Spotted Cow – delicious, man. That's probably my most favorite is the Spotted Cow.
Born in Milwaukee but a product of Shorewood High School (go 'Hounds!) and Northwestern University (go 'Cats!), Jimmy never knew the schoolboy bliss of cheering for a winning football, basketball or baseball team. So he ditched being a fan in order to cover sports professionally - occasionally objectively, always passionately. He's lived in Chicago, New York and Dallas, but now resides again in his beloved Brew City and is an ardent attacker of the notorious Milwaukee Inferiority Complex.
After interning at print publications like Birds and Blooms (official motto: "America's #1 backyard birding and gardening magazine!"), Sports Illustrated (unofficial motto: "Subscribe and save up to 90% off the cover price!") and The Dallas Morning News (a newspaper!), Jimmy worked for web outlets like CBSSports.com, where he was a Packers beat reporter, and FOX Sports Wisconsin, where he managed digital content. He's a proponent and frequent user of em dashes, parenthetical asides, descriptive appositives and, really, anything that makes his sentences longer and more needlessly complex.
Jimmy appreciates references to late '90s Brewers and Bucks players and is the curator of the unofficial John Jaha Hall of Fame. He also enjoys running, biking and soccer, but isn't too annoying about them. He writes about sports - both mainstream and unconventional - and non-sports, including history, music, food, art and even golf (just kidding!), and welcomes reader suggestions for off-the-beaten-path story ideas.