GREEN BAY – The chorus in the Green Bay Packers locker room after a divisional playoff victory over Dallas last week was that they are a better team than the one the Seattle Seahawks trounced in week one.
"A lot of times you don't get that second chance at a team, so it's definitely something we're looking forward to," Packers tight end Andrew Quarless said. "From the first game I think we're a completely different team."
That is true. Much has changed, especially in personnel and attitude.
But the Seahawks are different, too, and heading in to Sunday, still better.
Let's take a look at each team:
Quarterback
Aaron Rodgers, the NFL MVP according to the pro football writers, has had a great season by all measure, whether it be by the stat book or by the heart displayed the last two weeks by playing through a painful calf injury. But for as good as Rodgers has been, facts are facts, and the fact is that in 2014, he has played like an average quarterback against top 10 defenses. In five games against defenses ranked in the top 10, including against Seattle in week one, Rodgers completed just 59 percent of his passes and averaged just 6.7 yards per attempt, as opposed to his season averages of 65 percent and 8.5 yards per attempt. He's also thrown just seven touchdowns against three interceptions against those teams.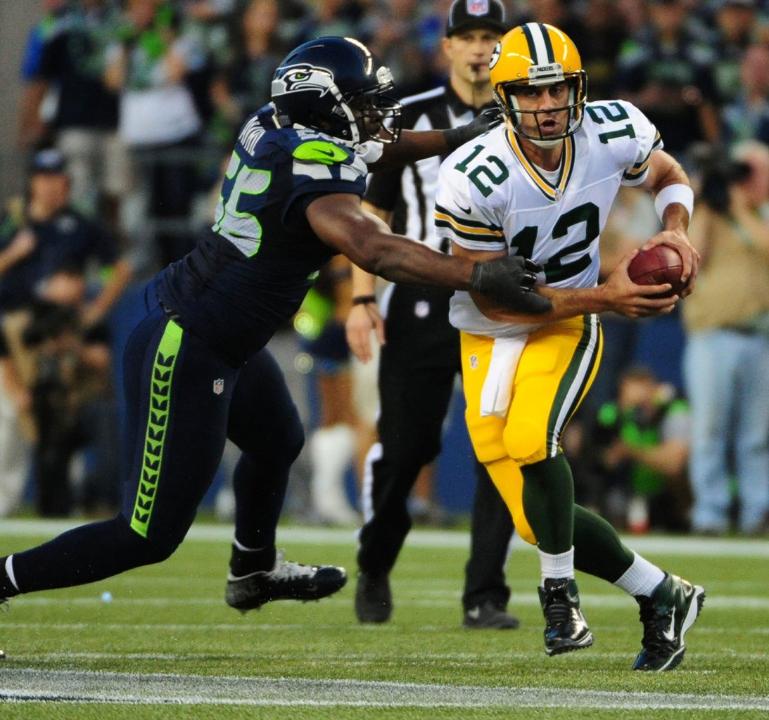 Rodgers has also, historically, had more uneven performances on the road than at Lambeau Field. He's played 110 regular season games, 55 on the home and 55 on the road. Rodgers has a worse completion percentage, fewer touchdowns, more interceptions and a lower quarterback rating away from Green Bay.
Conversely, Russell Wilson is 22-2 at CenturyLink Field, completing 63 percent of passes with 37 touchdowns against 13 interceptions and a 100.9 rating. That said, Wilson is more likely to throw passes that are likely to be picked off, and the Packers did drop two interceptions in week one. And with Rodgers' calf injury, Wilson is a more dangerous threat in the run game, picking and choosing his spots to eat up big chunks of yardage and keep plays alive.
Edge: Even
Running back
Marshawn Lynch rushed for 1,306 yards on 280 attempts and shows no signs of slowing down despite being 28 years old and having injury issues with his neck and back. He still has breakaway speed (for example, a long TD run of 79 yards) and he's, perhaps, underrated as a pass catcher. He was Wilson's third-most targeted receiver and caught 37 passes for 367 yards and four scores. Lynch also fumbled four times this year.
Eddie Lacy rushed for 1,139 yards and caught another 42 passes for 427 yards, but says he feels great as he enters uncharted territory in terms of the number of games played in one season. Lacy has fumbled three times this year.
The backups for Seattle (Robert Turbin and Christine Michael, 485 combined yards) and Green Bay (James Starks, 333 yards) are definitely capable of spelling the starters and providing production.
Edge: Even
Pass catchers
The Seahawks' pass catching group was severely hurt last week when Paul Richardson blew a knee last week. Richardson wasn't lighting the world on fire, but he had 13 catches on 19 targets over the last three regular season games. Percy Harvin was traded after five games and still finished the year sixth on the team in targets, and they're essentially a one-trick pony with Doug Baldwin (98 targets, 66 catches, 3 TD). Jermaine Kearse (38 catches, 367 yards, TD) is just a guy, though tight end Luke Willson has emerged as a threat of late.
The Packers are clearly deeper and more talented in this regard, especially with rookie Davante Adams emerging as a legitimate pass catching threat in the No. 3 role after Jordy Nelson and Randall Cobb. Tight ends Andrew Quarless and Richard Rodgers aren't going to dominate anyone, but they have Aaron Rodgers' trust and have proven they can catch the few opportunities they are given – especially in the end zone
Edge: Packers
Advertisement
Suit up for Sunday.
Offensive line
The Seahawks are breathing a sigh of relief as center Max Unger appears healthy after having his legs rolled on last week, but few offensive lines have had as much success and continuity as the Packers have since rookie Corey Linsley joined the unit just a week before week one. Linsey had another bad snap last week, but for the most part he's been solid. This group is also healthy, and proved in the last two weeks they can protect a hobbled Aaron Rodgers well.
For as mobile as Russell Wilson is, he was sacked 42 times. But, the strength of the Seahawks line is in its run-blocking as the Seahawks were the No. 1-ranked running team in the NFL averaging 5.3 yards per rush and earning 144 first downs on the ground, along with 20 touchdowns.
Edge: Packers
Defensive line
In week one the Packers were adjusting to life without B.J. Raji, and Leroy Guion wasn't healthy. Since then, Guion has become a force on a rotating line with 3.5 sacks. Mike Daniels added 5.5 and Datone Jones had 1.5 and has been in position for several more.
Seattle is anchored by Michael Bennett (7 sacks) Tony McDaniel, Kevin Williams (3 sacks) and Cliff Avril (5 sacks), and like the Packers, they distribute the pressure. But, they are missing two playmakers with Brandon Mebane and Jordan Hill (6.5 combined sacks) on injured reserve.
Edge: Seahawks
Linebackers
In week one, Brad Jones and A.J. Hawk started inside. Now, it's Clay Matthews and Sam Barrington is next to him, with Hawk and Jones in more diminished roles. Julius Peppers has been revitalized and kept the Packers in the game in the first half last week, and Mike Neal and Nick Perry have continued to capitalize on single blocks. Matthews can be exposed in coverage, but Peppers has had a knack for it. This unit combined for 27 sacks this year.
Bruce Irvin, Bobby Wagner and Bobby Wagner are instinctive and sure tacklers for Seattle, with Irvin being the more noted pass rusher with 6.5 sacks. This group is very disciplined, with Wright and Wagner each recording over 100 tackles.
Edge: Even
Defensive backs
Sam Shields and Tramon Williams haven't been spectacular this year, but they've been very solid in man-to-man coverage. Safety Ha-Ha Clinton Dix was playing in his first game in week one, and he dropped an interception and his college-level tackling form was exposed. He's a much different player now, and has solidified the back end with Morgan Burnett. Micah Hyde and Casey Hayward are also able to cover one-on-one, though Hyde does get beat at times.
The Packers chose not to challenge corner Richard Sherman at all in week one, but don't expect that again. Sherman has showed he's willing to gamble at times, but he does have four interceptions and 10 passes defensed.
Fellow corner Byron Maxwell is also expected to be back after battling some respiratory issues, and even if he doesn't have his full wind and his snaps are limited, the Packers won't be able to take advantage of any issues he may have because Rodgers can't run a hurry-up.
Safety Kam Chancellor (89 tackles, INT, FF) is coming off one of the greatest individual performances a safety can have last week against Carolina, and oh by the way, Earl Thomas forced four fumbles and broke up eight passes alongside him.
Edge: Seahawks
Advertisement
Suit up for Sunday.
Special teams
Don't underestimate the loss of Richardson here, as he was averaging 22.8 yards per kick return after taking over for Percy Harvin. The Seahawks will now need to work in a new returner, which could be interesting. The team's leading punt returner, Bryan Walters (7.7 yards per return) is just there, with a long of 21 yards. Jon Ryan is one of the league's best punters and kicker Steven Hauschka made 31 of his 37 attempts, but can't be counted on from long range – all of his misses have come from beyond 40 yards.
The Packers have some playmakers in this aspect, with Randall Cobb and Micah Hyde returning kicks and punts. Hyde has two touchdowns on punts this year. Cobb did fumble on a return last week but promised to not be as careless this week. You cannot overlook the seven blocked kicks this year and punter Tim Masthay's struggles, but Josh Sitton and T.J. Lang have returned to the protection units of late, which have solidified them.
Edge: Packers
Coaching
It's rare to see a matchup of two Super Bowl-winning head coaches in Seattle's Pete Carroll and Green Bay's Mike McCarthy who have had such continuity with their assistants, even though Packers offensive coordinator Tom Clements was not in that position in 2010 (he was the team's quarterbacks coach). Both staffs have proven to be flexible in their game plans in 2014, creative, and are willing to change those plans and personnel if something isn't working.
Edge: Even
Intangibles
This is an odd game for the Packers in that usually, they have clear edges in coaching and quarterback play, but with Rodgers' mobility limited by the injury and the fact that this Seahawks coaching staff has gone 29-7 (and 18-1 at home) the last two years, including playoffs, those clear advantages have faded.
And while you cannot discount the offensive advantages the Packers may have, and the fact that the Seahawks rarely light up the scoreboard, it's hard to say that this Seahawks defense which just obliterated one of the greatest offenses the NFL had ever seen last Super Bowl and held four of the top five scoring offenses in football (Packers, Denver, Philadelphia and Dallas) to an average of 18.3 points per game cannot be ignored.
Edge: Seahawks
"It's going to be a tough game," Lang said. "I mean, they're very hot right now. I think they've won their last seven games. Going up to Seattle, you know it's going to be loud, you know they're going to play just fast and physical and we have got to be prepared for it. But we like the way we're playing too. Grinded out some wins here lately.
"It's going to be a good matchup, so we're excited about going back out there and, like I said, we're a lot different team than the first week when we went out there. We tried to form an identity. We still didn't know what we had yet, but I think we know what we have now. We like what we have so it's going to be a great matchup. It' going to be a tough one, we understand that, but we'll be ready for the challenge."
Jim Owczarski is an award-winning sports journalist and comes to Milwaukee by way of the Chicago Sun-Times Media Network.
A three-year Wisconsin resident who has considered Milwaukee a second home for the better part of seven years, he brings to the market experience covering nearly all major and college sports.
To this point in his career, he has been awarded six national Associated Press Sports Editors awards for investigative reporting, feature writing, breaking news and projects. He is also a four-time nominee for the prestigious Peter J. Lisagor Awards for Exemplary Journalism, presented by the Chicago Headline Club, and is a two-time winner for Best Sports Story. He has also won numerous other Illinois Press Association, Illinois Associated Press and Northern Illinois Newspaper Association awards.
Jim's career started in earnest as a North Central College (Naperville, Ill.) senior in 2002 when he received a Richter Fellowship to cover the Chicago White Sox in spring training. He was hired by the Naperville Sun in 2003 and moved on to the Aurora Beacon News in 2007 before joining OnMilwaukee.com.
In that time, he has covered the events, news and personalities that make up the PGA Tour, LPGA Tour, Major League Baseball, the National Football League, the National Hockey League, NCAA football, baseball and men's and women's basketball as well as boxing, mixed martial arts and various U.S. Olympic teams.
Golf aficionados who venture into Illinois have also read Jim in GOLF Chicago Magazine as well as the Chicago District Golfer and Illinois Golfer magazines.